The beauty of fall has helped it overtake spring and summer as the most popular wedding season. Fall brings colorful harvests, lovely weather, and the changing of the leaves. What could be better? If you're planning a fall wedding, consider incorporating the rustic beauty of fall into your centerpieces to celebrate the season. Fall-themed centerpieces are not only charming and beautiful, they can also be more affordable than traditional floral centerpieces. Looking for some fall centerpiece inspiration? Here are 10 rustic-themed centerpieces perfect for a fall wedding.
1. Sprigs and Fruits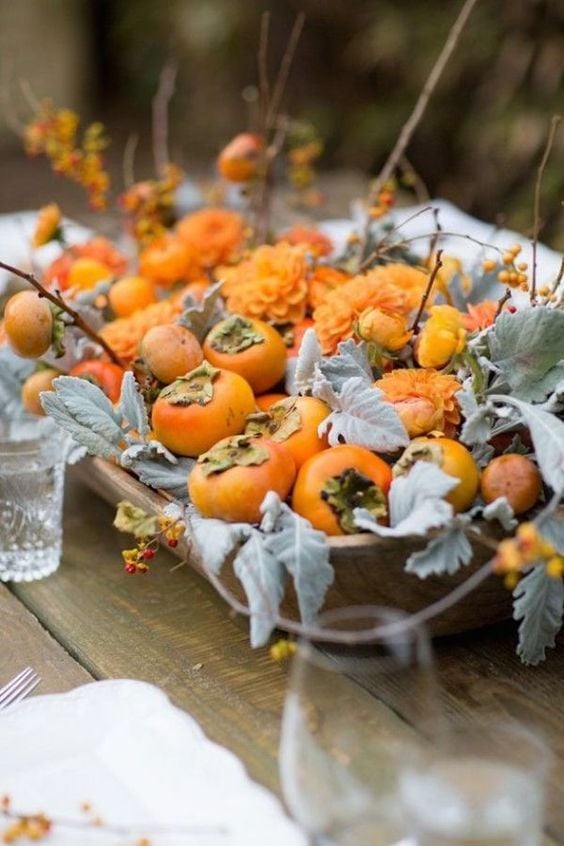 Add a touch of bountiful whimsy to your centerpiece by using fall fruits as the main focus. You can pair sprigs of deep green leaves with fall fruits like pomegranates, persimmons, and cranberries for a richly colorful display.
2. Cinderella Pumpkins In Fairytale White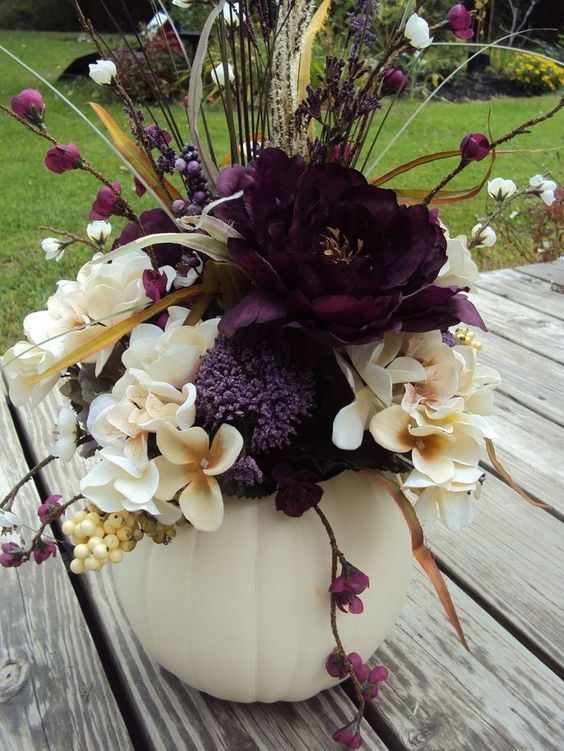 White Cinderella pumpkins are beautiful and have a fairytale feel. Using these as your centerpieces, or adding smaller cinderella pumpkins to accent a floral arrangement, is as charming as it is pretty. Consider placing small and medium-sized cinderella pumpkins on gilded pedestals for an elevated look.
3. Gold and Silver Pumpkins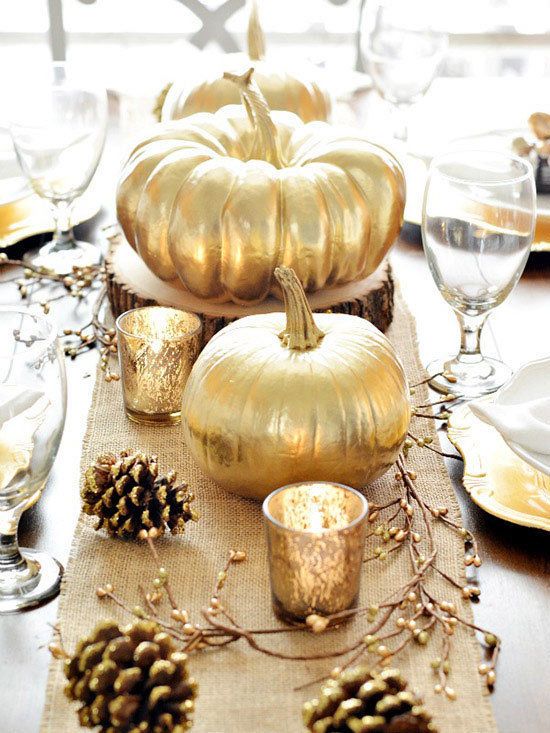 Another of our favorite pumpkin centerpiece ideas is using painted pumpkins to add sparkle. You can spray paint clusters of pumpkins in varying sizes to add a touch of whimsical glimmer to your table. If you want even more sparkle, consider bedazzling your pumpkins for a rustic yet glamorous look.
4. Colorful Vegetables and Herbs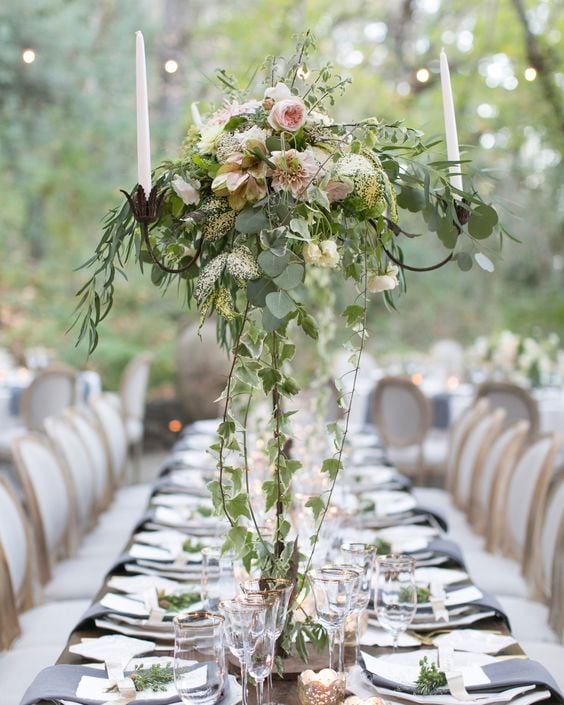 Using scattered fall vegetables and herbs is a lovely way to decorate your fall wedding. The rich colors of fall vegetables like artichokes, small carrots, and eggplants pair beautifully with deep green of delicate herbs like rosemary and thyme.
5. Tall Wheat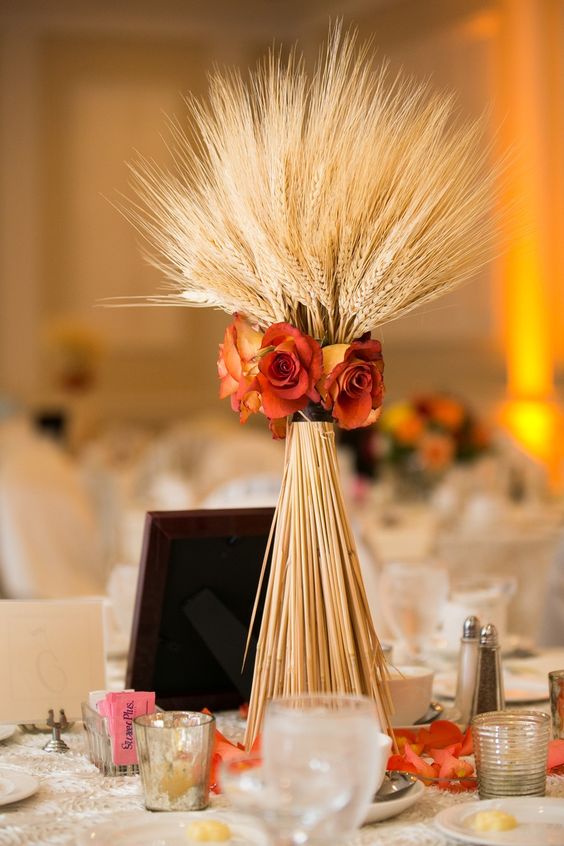 Reach for the skies with tall centerpieces of bundled wheat. Wheat can be used as an accent piece in a floral arrangement or it can stand boldly alone in a tall glass vase with a twine accent.
6. Vine Table Runner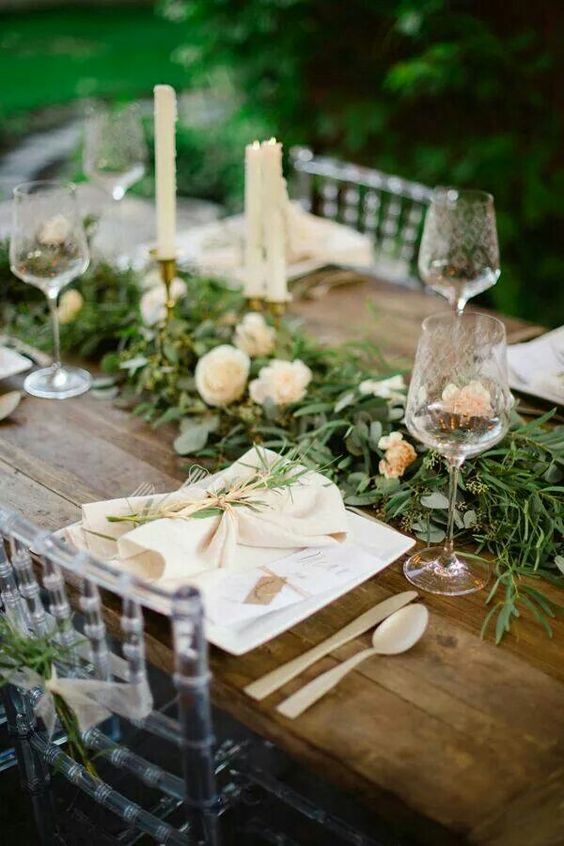 A long, leafy vine used as a table runner adds a dramatic touch to rustic decor. You can choose to let your vine runner stand alone or decorate it with fall blooms or apples.
7. Vase of Mixed Produce and Pine Cones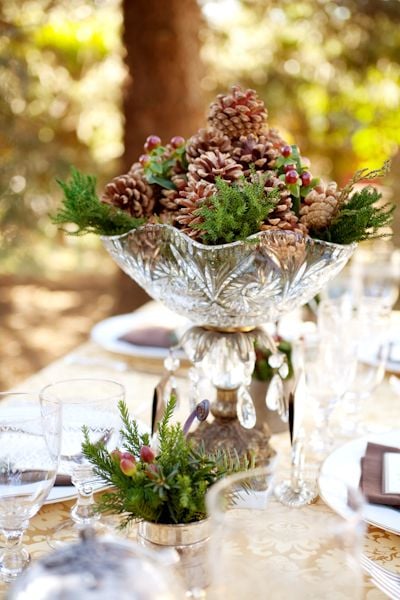 A tall glass vase full of fall's harvests is a beautiful way to display the bountiful colors of the season. Add accents of warm wood by mixing pine cones into your display.
8. Driftwood and Soft Blooms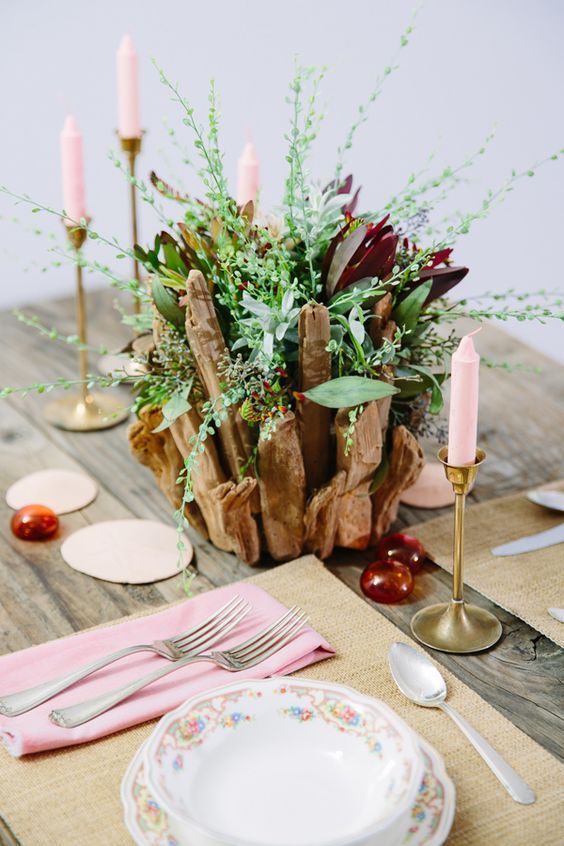 Using beautifully colored driftwood to accent your table is a lovely way to add an outdoorsy touch to your table. For a more romantic version of this look, try placing soft white blooms with your driftwood.
9. Bundles of Wildflowers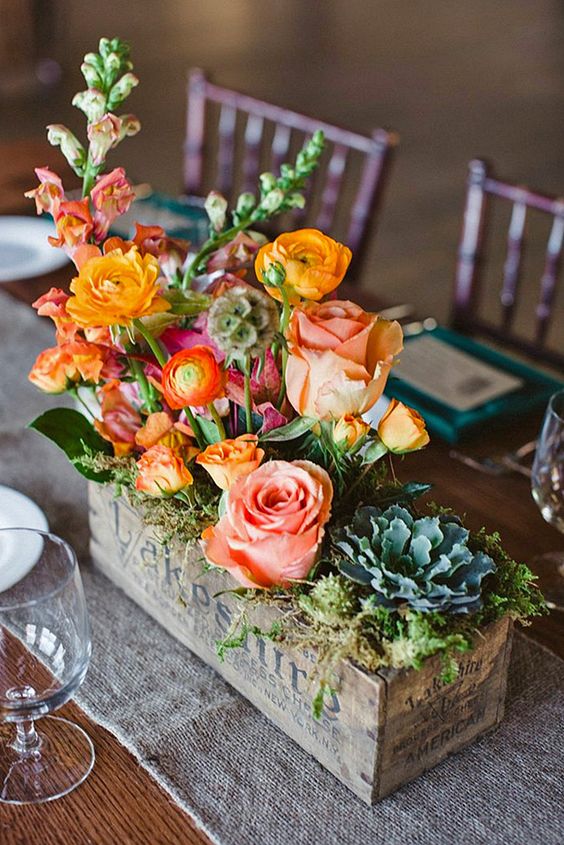 Using an eclectic mix of small wildflowers is a fun and pretty take on a traditional floral arrangement. You can use small vases to scatter these blooms across your table or place larger arrangements in rustic mason jars.
10. Succulent Gardens
Succulent gardens are a beautiful way to add a touch of nature to your table. You can use flat clay dishes to display your succulents or try using small glass containers. You can also try using hanging succulent gardens for a delicate, magical touch.