Most proposals happen between Thanksgiving and Valentine's Day, which means this year's proposal season has only just begun. In the coming months, you're sure to see a flood of engagement ring selfies on social media, since this modern tradition has all but replaced the practice of calling friends and family to break the good news.
If you're freshly engaged (congratulations!), you may be thinking about posting a ring selfie of your own. You also may be wondering how to take a great picture, how to write a good caption, and when you should post your ring selfie. There's more than one way to post a great ring selfie, but there are some universal tips that will help you craft a post you'll love. We're sharing them below as we go over the how and when of posting the perfect ring selfie.
How to Take a True-To-Size Picture (And Why You Want To)
The key to a great engagement ring picture is getting your ring and your hand to look their best, while also making sure your picture looks true-to-life. It's all about enhancing natural beauty, rather than trying to make your ring look different.
Many people are tempted to use photography tricks to make their ring look a bit bigger than it really is, but we don't recommend doing that. If your ring looks different in real life, your less tactful or kind acquaintances could comment on it, and that's just not something you should have to deal with during this happy time.
The best way to photograph a ring and have it look true to size is to photograph the top of the ring. You want a straight-on, top-down, table view shot of your new ring since angled shots can make your ring look larger or smaller than it actually is.
Another thing that can affect how big your center stone looks is other jewelry. It's generally best to remove any other jewelry, including watches before you take your ring selfie. Why? Because it can make your ring look much larger or smaller by comparison.
How to Make Your Ring Shine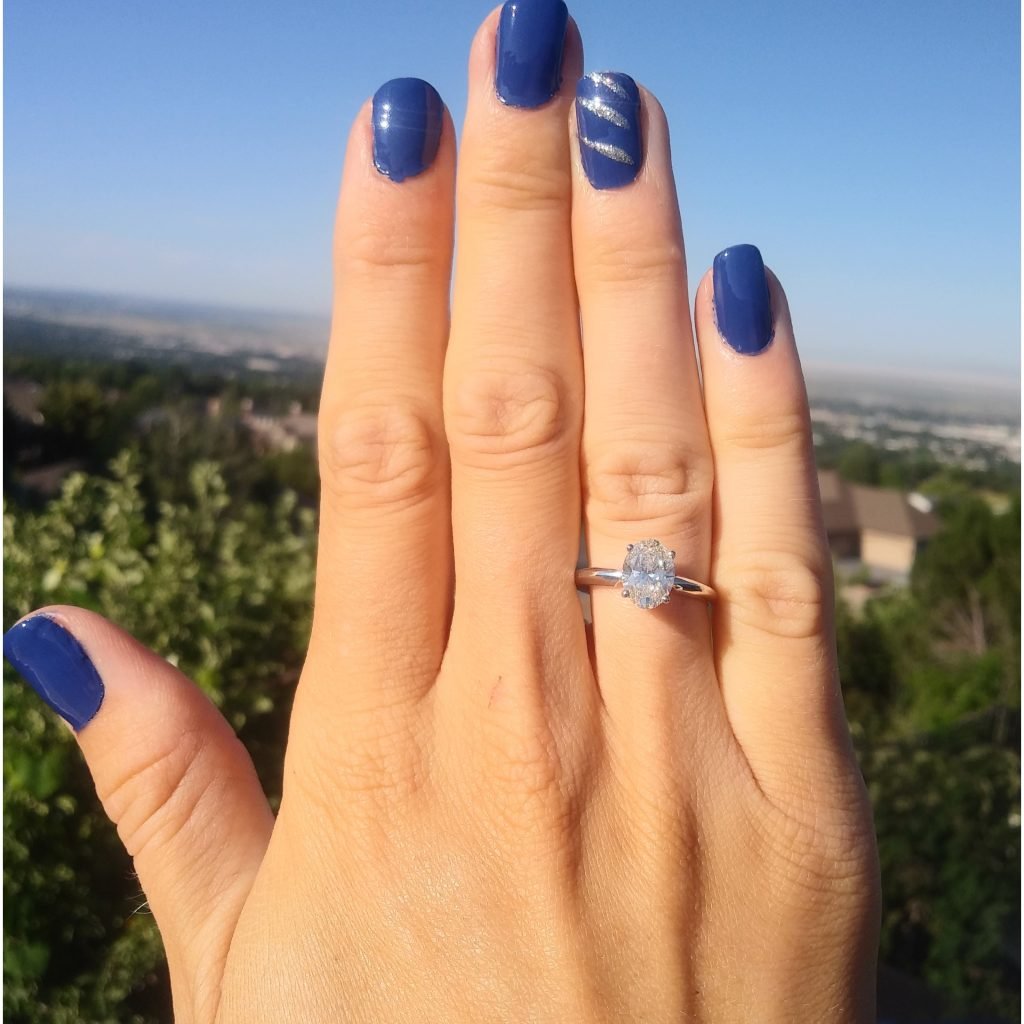 If you want your ring to pop in your selfie, photograph it in the right light. Ideally, you want to take your picture in natural light, which will make your diamond sparkle beautifully and show off the true color of your ring.
As an added bonus, taking your picture outside gives you easy access to plenty of great backdrop options. Use whatever beautiful backdrop you have in your area, whether it's the ocean, a scenic lookout point, a pretty plant in your garden, or perhaps the exterior wall of a trendy neighborhood business.
One type of light you want to avoid when photographing jewelry is dim or yellow-toned light, which is the type of light in many people's homes. While this lightning can look lovely in person, it tends to photograph poorly. It makes it hard to get a picture that isn't blurry or yellow, which can be very frustrating, especially when it makes a colorless diamond look yellow.
Another type of light to avoid is the light emitted from a camera flash. Flash photography tends to be extremely unflattering for fine jewelry since it creates strong shadows and reflects back off shiny surfaces.
How to Get Your Hand to Look Good in Your Picture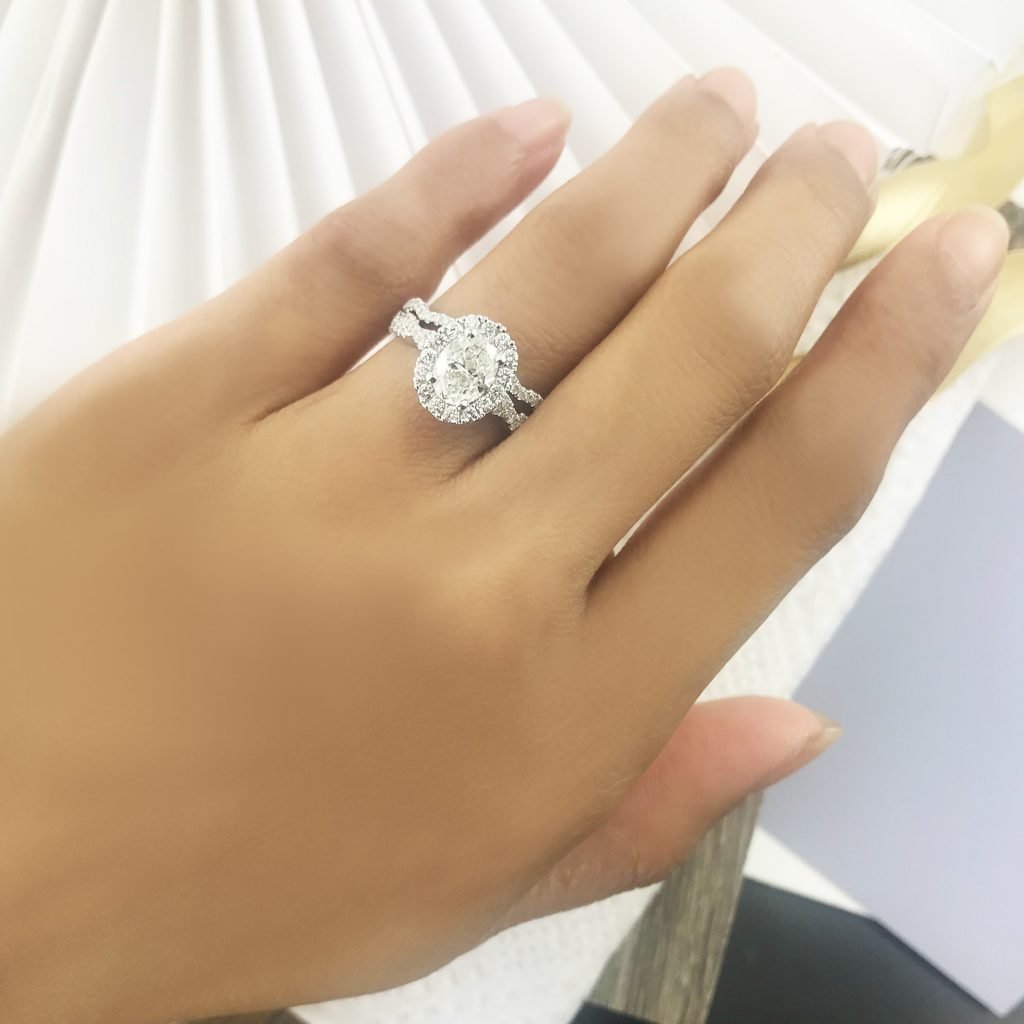 You want your hand to look its best, so having neat nails and moisturized skin is key. If you can get a manicure before you take your picture, do so. But if a professional mani isn't an option, just make sure your nails look clean and even, then put on a good lotion or hand cream shortly before you take your picture.
Something else to consider is how you pose your hand. Keeping your hand flat and holding your fingers together is a top pose choice that will help your ring take full focus in your picture, like the way the Alice Oval Ring stands out above. Another popular option is letting your hand have a natural, relaxed arch, as seen in the above picture. If neither of these poses works for you, consider resting your hand against something or holding something. Giving your hand something to do usually helps it look more natural in pictures.
How to Write the Perfect Engagement Ring Selfie Caption
The best engagement ring picture caption is different for everyone since a good caption needs to be in line with the poster's unique personality. The best engagement ring selfie caption is honest, positive, and usually brief (unless you always post long captions). If you can't think of anything to write, consider posting a song lyric or a quote that speaks to you. You can also simply post an emoji or two if that's what feels authentic.
While everyone's perfect ring caption is different, there are a few things that no one should include in their caption. You probably don't want to mention anyone else's engagement or engagement ring, since that may invite comparisons or create awkward feelings. It's also not the best idea to price-related ring details, such as your center stone's carat weight. That may spark jealousy and prompt unwanted comments or criticism. If you want to include details about your ring, stick to sentimental details.
When to Post a Ring Selfie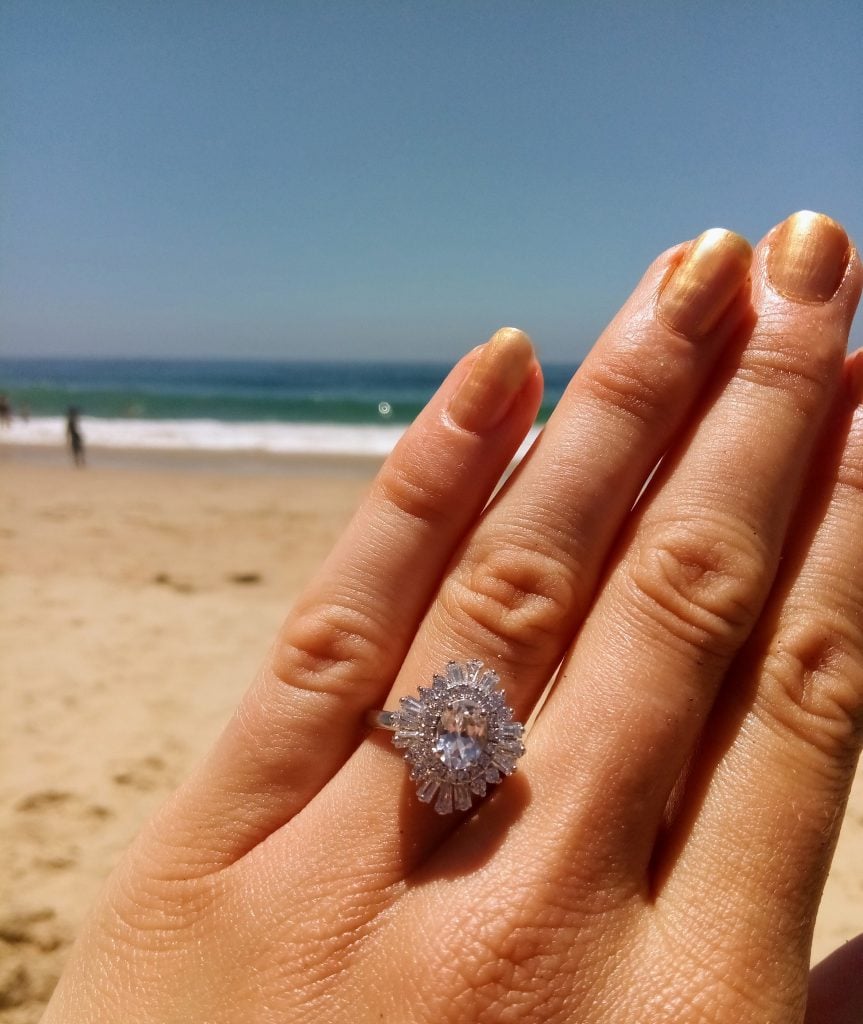 Finally, let's talk about when to post a ring selfie. While posting a unique engagement ring picture on social media has largely replaced other types of engagement announcements, you probably want to personally reach out to some people before sharing the big news with the masses. For example, you probably want to call or text your parents, your siblings, and your best friends before posting about your engagement online. You may also want to text close friends instead of having them find out you're engaged via social media.
After you've personally shared the news with your closest loved ones, you can post your ring selfie anytime you like. If you want instant feedback on your post, try to post at a time when you know people are more likely to be on their phone, like in the morning before work, around the start of lunchtime, after standard work hours, or anytime during waking hours on a weekend.`