With an affection towards all things lavish and luxurious that has been televised since 2006, it should come as no surprise that many of the women from The Real Housewives series boast over-the-top and extravagant engagement rings that are as beautiful as they are expensive. In this article, we guide you through the engagement rings of some of the biggest personalities on The Real Housewives, giving you the inside scoop and all the details you need to know before providing a very similar alternative to each ring that our team at DiamondWish.com has expertly picked out.
Meghan King Edwards' Pear-Shaped Yellow Diamond Engagement Ring with Halo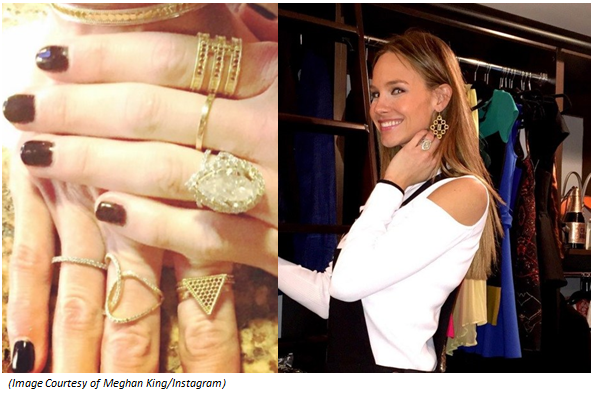 We begin with Meghan King Edwards from The Real Housewives of Orange County and her colossal pear-shaped yellow diamond engagement ring. The massive center diamond has a halo setting with additional yellow pave diamonds outlining the pear-shape and features an elegant gold band.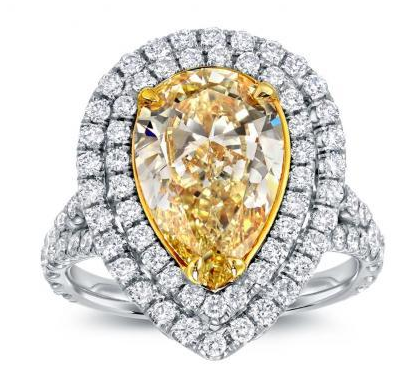 Here at Diamond Wish, we have quite the similar alternative to Meghan King Edwards' engagement ring if a pear-shaped yellow diamond stone tickles your fancy. What's different (and quite possibly more fab) is the double halo setting that surrounds the center stone.  It also features a pave-set split-shank band instead Megan's quadruple-split shank. These particular details add an extra dash of sophistication making this type of engagement ring even more breathtaking.
Find this ring here: Fancy Yellow Pear Diamond Engagement Ring
Kim Fields' Round-Cut Diamond Engagement Ring with Channel-Set Band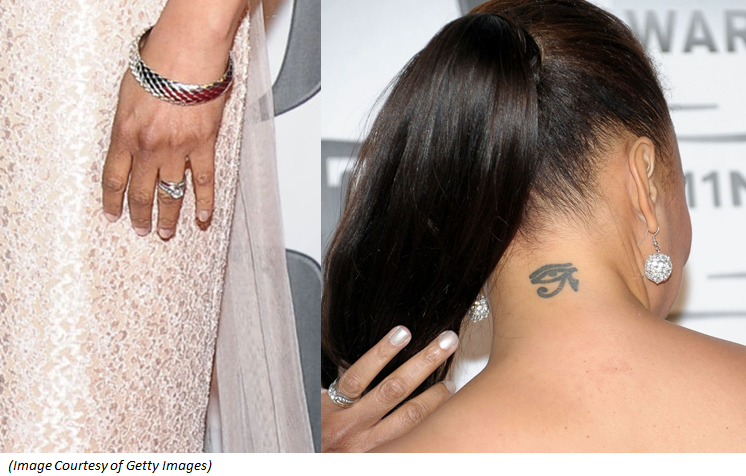 Next on our list is Kim Fields from The Real Housewives of Atlanta. Although Kim's place on The Real Housewives of Atlanta was short lived (she was on air for only one season!), her engagement ring (and marriage) continue to thrive.  Her husband, actor Christopher Morgan, proposed with an engagement ring that boasts a large round diamond with channel-set diamonds along the band that beautifully complement the center stone.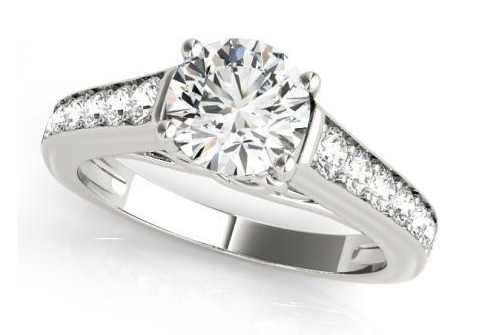 Our alternative to Kim Fields' ring is this round cut diamond engagement ring with a 4-prong setting. The 4-prong setting paired with a brilliant round cut center stone allows more light to reflect on it and thus creates a brighter diamond. In addition, this ring features a total of twelve channel-set diamonds on the shank of the ring. This extra touch of brilliance makes this engagement ring quite the eye-catcher.  
Find this ring here: Diva Diamond Engagement Ring
Kyle Richards' Cushion-Cut Diamond Engagement Ring with Halo and Pave Split-Shank Band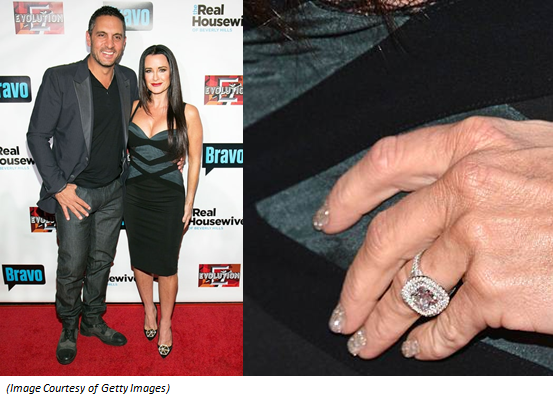 Kyle Richards' engagement ring is certainly one of the most unique on this list. The ring of The Real Housewives of Beverly Hills star includes a huge cushion-cut diamond with a halo setting and pave diamonds that sparkle along the distinctive split-shank band. This one-of-a-kind ring has a look that exudes grace and grandeur.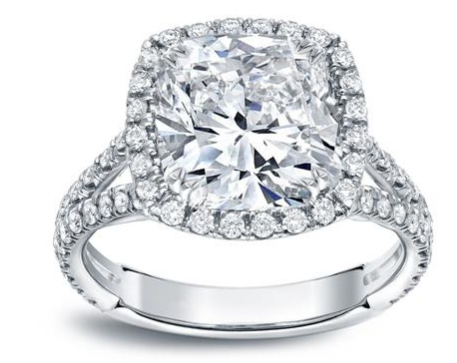 Our team at DiamondWish.com loved Kyle Richards' flawless ring so much that our goal was to find one exactly like it, which fortunately we were able to do! This ring also features a cushion-cut diamond with a halo setting and a pave diamonds along the split shank band. The large center stone on this ring, with a total weight of 3 carats, creates a jaw-dropping display of shine and reflection that's a sight to behold.
Find this ring here: Cushion Cut Diamond Halo Engagement Ring
 Lisa Vanderpump's Double Halo Emerald-Cut Diamond Engagement Ring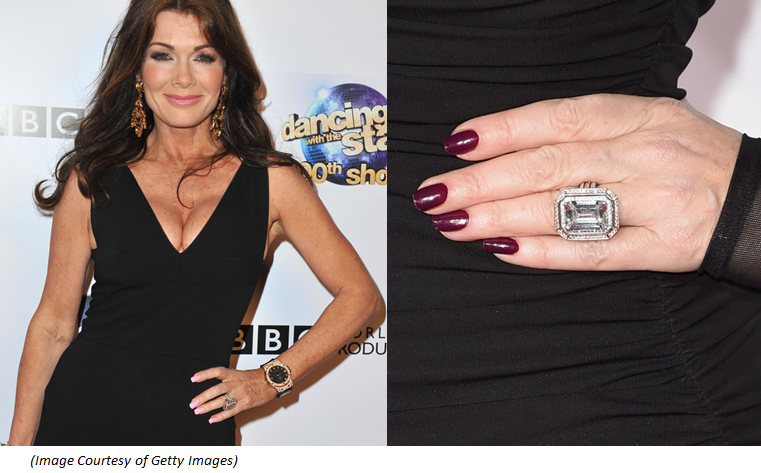 A favorite among fans of The Real Housewives of Beverly Hills is Lisa Vanderpump, whose awe-inspiring engagement ring radiates lavishness. Adorned with an oversized emerald-cut diamond that's accented with a double halo, this engagement sparkles and shimmers with the faintest movement or flicker of light.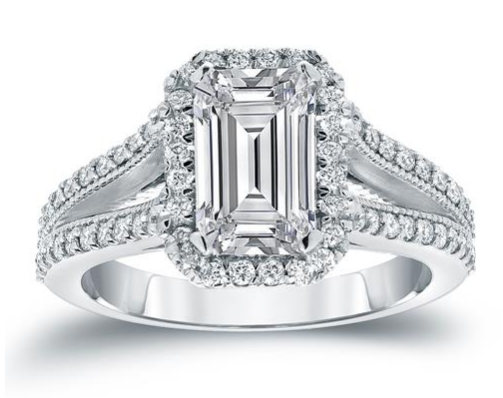 A similar alternative to Vanderpump's ring is this emerald-cut diamond ring that is also outfitted with halo diamonds around the center stone. If you prefer an engagement ring that is less flashy, this one is it. This ring also features a split shank band with pave set diamonds, creating a cohesive design that highlights the many details of this ring as opposed to only focusing on the center stone.
Find this ring here: Emerald Cut Diamond Halo Engagement Ring