If you have decided to click on this article, then we might assume that you are planning a proposal of marriage. If that is the case, then the first thing to say is congratulations!
Once the excitement of your decision has abated, it's time to get down to the nitty-gritty of purchasing an engagement ring to present to your partner when you get down on one knee!
Most people will decide on a diamond engagement ring but that's about as far as the initial decision goes. Until the process of choosing a ring begins, not many people give much thought to diamonds beyond the general view of them being the world's favorite and most coveted precious stone.
Diamond experts, retailers, and those in the know will tell you that when choosing a diamond you should consider the 4 Cs – cut, carat, color, and clarity. That's all very well, and certainly of importance if you are buying a loose stone to be set into a ring. But, if you want a simple buying process and still want a stunning ring, you can take inspiration from elsewhere.
While round brilliant cut diamonds have ruled the roost for centuries, there are plenty of other different shapes that you might consider. One shape that has increased in popularity in recent times, thanks in part to celebrities like Blake Lively, Ariana Grande, Kourtney Kardashian, and Hailey Bieber, is the oval-cut diamond engagement ring.
If you too are inspired by this gorgeous shape and think your intended will love an oval diamond engagement ring, here's everything you need to know in our user-friendly oval diamond buying guide.
What Is An Oval Engagement Ring
An oval engagement ring is defined by the inclusion of an oval-cut diamond or other oval-cut gemstones like sapphire or ruby.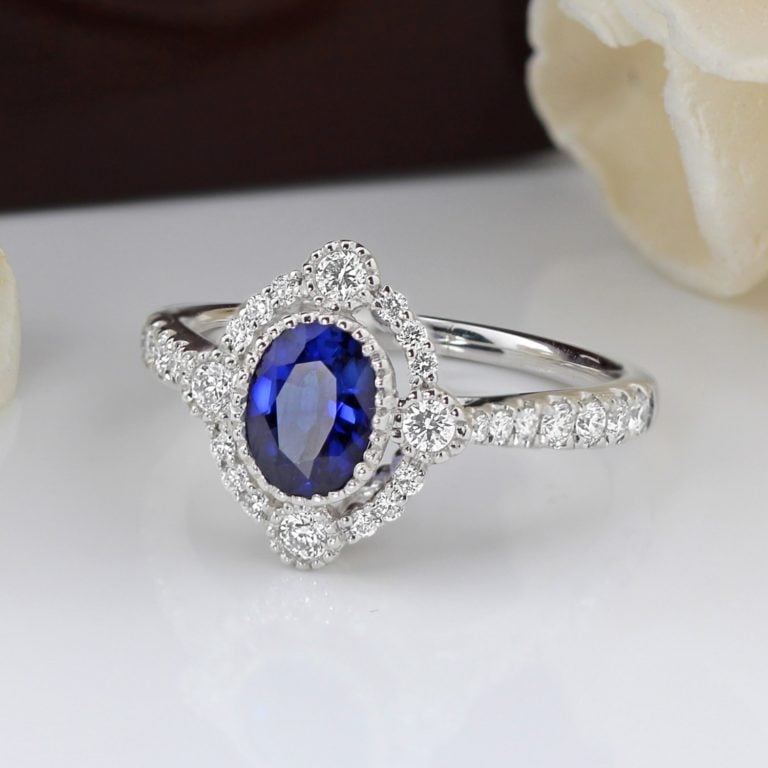 Probably the most famous oval engagement ring of all time is the one that Prince Charles (now King Charles III) presented to Lady Diana Spencer (Diana, Princess of Wales), now worn by Kate Middleton, the Duchess of Cambridge. The oval stone in this halo engagement ring is a sapphire, not a diamond but it inspired the desire for oval-shaped center gemstones in engagement rings.
The oval shape is an elongated shape. It's simply a replication of the geometric shape we all know as an oval.
While a round-cut diamond and an oval diamond have the obvious shape difference, the diamond cutter creates 57 or 58 facets to create both shapes from a rough diamond.
According to industry insiders, oval-cut diamond rings were the most popular choice for engagement rings in 2022 and oval will likely remain one of the most popular diamond shapes through 2023 and beyond for their superior brilliance and elongated ship.
The Origin Of The Oval Shaped Diamond
Although oval diamonds existed in a general form previously, the credit for the modern shape of the diamond goes to Lazare Kaplan, a Russian-born diamond cutter who created it in 1957.
Kaplan was a professional diamond cutter born into a family of jewelers. His particular skill was his ability to make exquisite-looking finished diamonds from flawed or cracked natural stones. His talent for cutting was pretty much unrivaled within the industry, but it wasn't until he created the classic oval cut that he hit the big time.
The most famous individual oval-cut diamond is the Koh-i-Noor. Originally presented to Queen Victoria in 1850 and weighing 105.6 carats (21.12 g) it is part of the United Kingdom's crown jewels.
The Anatomy of an Oval Diamond
The oval cut is considered one of the fancy shapes.
Essentially when you look at a loose diamond cut into an oval, it has three defining areas:
Head or end – these are the "tips" or the "culet" of the oval.
Belly – the central part where the sides are most curved.
Shoulder – the curved area that reaches from the head to the belly.
An oval diamond has 57 or 58 facets which give it similar visual qualities to a standard round brilliant diamond. The facet arrangements are most commonly 8 main bezel facets on the crown (the upper part of the diamond) and 8 main facets on the pavilion (the bottom part of the diamond).
What To Consider When Looking For The Perfect Carat Oval Diamond
When looking for an oval cut diamond online, whether it is in a solitaire ring or halo ring, you should still look to the 4Cs – so, talk to the jeweler about clarity grade, color grade, and carat weight. When searching online, it is simple to view all these statistics as your search and narrow down to your desired selection.
If you are buying online, these details should be in the product description or specification.
General Shape Appeal
You want to choose a stone with Very Good or Excellent grade polish and Excellent graded symmetry, as this ensures the maximum amount of sparkle.
The depth percentage and table percentage of a diamond are also crucial when it comes to assessing the sparkle and beauty of the stone. Ideally, you should look for an oval-cut diamond that has a depth percentage of between 58% and 62% and a table percentage of between 53% and 63%. You may have to contact an online retailer directly to ask for this information about a specific stone you are interested in.
A handy tip is to consider buying just shy of your desired carat weight. In essence, this means going for 0.90-0.99 if you are seeking a 1-carat stone. The industry trick is that while these stones will appear completely identical in size to the naked eye, you can stand to save hundreds of dollars!
A beautiful oval-shaped diamond will have a graceful outline and harmoniously proportioned parts. Compare different stones to see the difference between stones that have flat shoulders, bulging shoulders, or elegant swooping shoulders.
Length To Width Ratio
When looking for the most ideal oval shape, consider the length-to-width ratio. Some people prefer a slightly skinnier oval shape, and others go to the other end of the spectrum with a wider oval. It is all down to personal taste and preference.
There is no 'right' or 'wrong' when it comes to choosing a length-to-width ratio, but if you are looking for the gold standard, then look for a stone that falls within the ratio of 1.30 and 1.50.
Girdle Thickness
The girdle defines the perimeter of the diamond. It is where the crown and pavilion intersect. The GIA certificate will detail the girdle's thickness in its proportion diagram and will indicate if it is too thin or too thick.
This is very relevant because a thin girdle can increase a stone's propensity to chipping damage and a too-thick girdle can make the diamond look heavier than its face-up appearance warrants.
The Bow Tie Effect
Something to pay close attention to is called the bow-tie effect. Most oval-cut diamonds have this abnormality to a certain extent, and it is up to you to choose the least impacted stone in the bunch. It is worth noting that this can also affect pear-cut diamonds and marquise diamonds.
The bow tie effect, aptly named, is exactly what it sounds like, the effect of a bow tie-like shape that can appear right at the center of the stone, across its table.
This effect occurs as the result of poor light reflection within the stone. The way to see the effect is to hold the stone. Your head and shoulders will block the light entering the diamond, interrupting the light from bouncing around the facets that act like mirrors. The closer you hold the stone to your face, the darker the bow-tie effect will be.
To avoid owning a diamond that suffers from this affliction, you need to choose a well-cut stone that places perfectly on the depth and table percentage charts.
When shopping online, check out listings that have high-quality HD images and videos that allow you to get the best virtual assessment of the stone possible.
How Much Will An Oval Engagement Ring Cost?
The answer to this question depends on the stone that you choose to buy. To cover the basics, you should be looking for a stone that has a good cut, color, and clarity as well as possessing a GIA certificate to confirm authenticity.
To give a general idea of cost, a 1-carat diamond can cost around $2,000 and above depending on the quality of the stone. If you choose lab-grown oval diamonds, you can expect to pay 30 to 50 percent less as compared to mined stone.
The total price of an oval diamond engagement ring will depend not only on the size and quality of the diamond. and where it sits on the various grading scales.
Then there is the basic cost of the center stone but then it all depends on the ring's details. There might be a price differential if you choose 14kt white gold over 18kt yellow gold or rose gold ring. There will be additional costs if you choose a three-stone engagement ring or rings with embellishments such as side stones or pave diamonds.
The artistry of the jewelry designer also comes into play. the more intricate or detailed the design, the more likely there will be a higher price tag. A vintage style halo engagement ring, for example, may cost more than a modern hidden halo ring even if they have the same carat size or weight and the best oval stones.
Ultimately, all of these factors should be determined by the personal preferences of the wearer, after all, it is going to be their lifelong ring so follow their lead to find the most perfect oval-cut engagement ring.