Each gemstone is a precious treasure with its own unique history. Since ancient times, people have used gemstones for not only adornment, but also as talismans for things like protection, healing, and attracting love.
Different cultures have associated gemstones with different purposes over the ages, giving each gem layers of meaning and symbolism. Below, we're sharing the legends connected to some of history's most treasured gems.
Green Emerald Meaning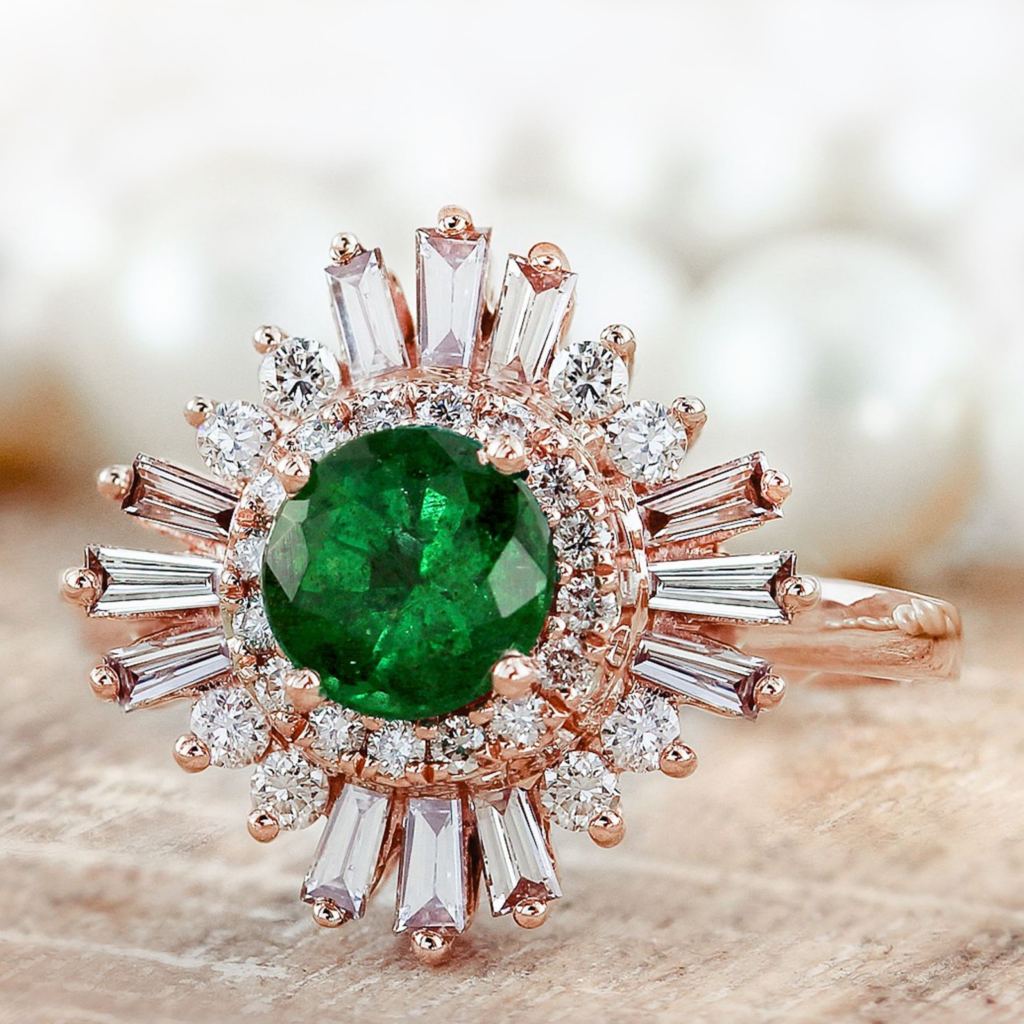 One of the four precious gemstones, emeralds are a symbol of love, wit, and power. Many ancient cultures believed emeralds had healing properties and psychic powers. People thought emerald talismans could attract wealth, reveal hidden truths, and sharpen one's wit, as well as guard against poison and infection.
Emeralds were beloved by Cleopatra, who frequently wore emeralds and gave them as gifts. In Ancient Egyptian times, these green stones were seen as a symbol of wealth, fertility, and immortality.
Emerald is the green variety of beryl, a mineral associated with sincerity, youth, marital love, healing powers, and protection from evil spells. Pliny the Elder, the ancient Roman author and philosopher, famously used beryl as a treatment for ailments related to the eye, heart, and spine.
Today, emeralds are most strongly associated with love, luck, and intuition. Emeralds are also the birthstone for the month of May, as well as the traditional gift for the 55th wedding anniversary. In an engagement ring or wedding band, emeralds represent luck, peace, and new beginnings.
Browse Emerald Engagement Rings
Purple Amethyst Meaning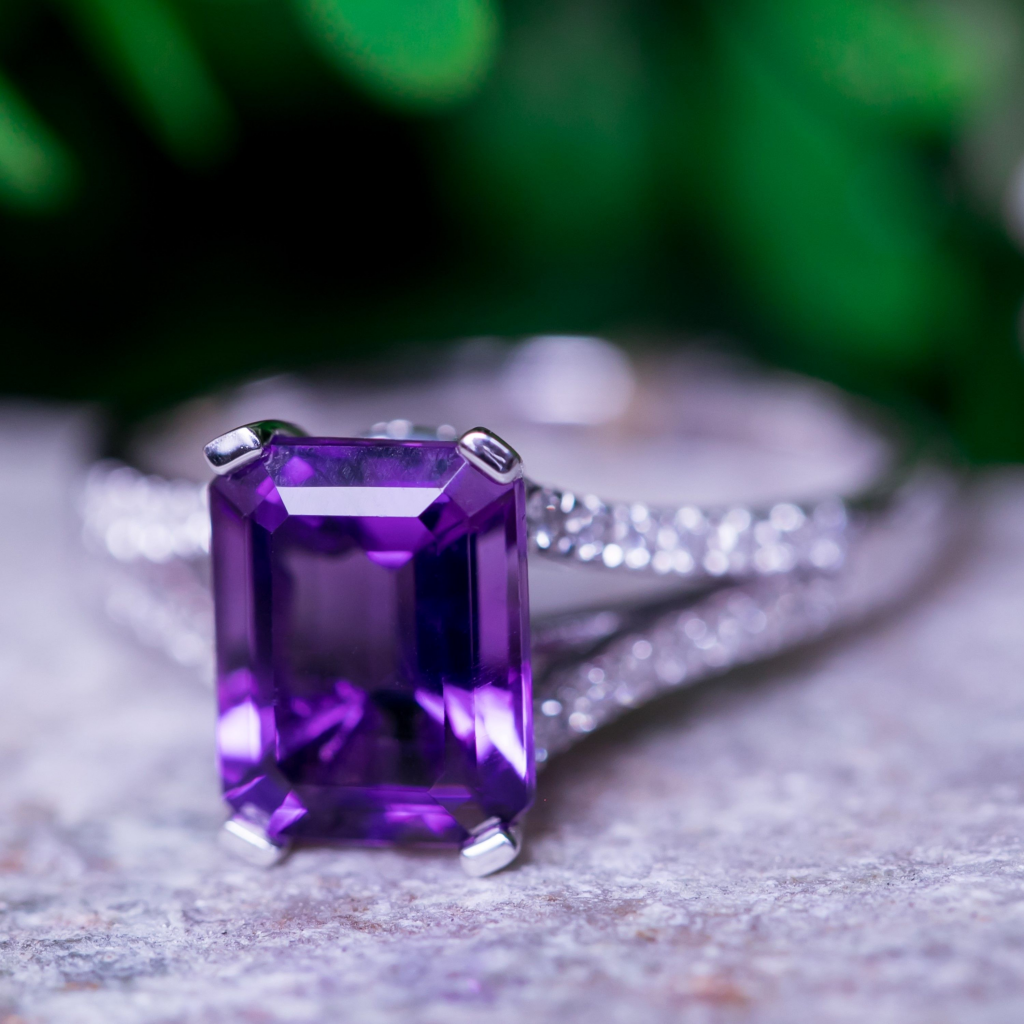 Amethyst is a beautiful purple gemstone associated with quick thinking, balance, and peace. This gem gets its name from the Greek word "amethystos," meaning not drunk. Ancient Greek people associated amethyst gemstones with Dionysus, the wine god, and believed wearing them could prevent drunkenness.
Amethysts are also associated with spiritual growth and emotional balance. Some believe that amethyst aids in meditation and strengthening the crown chakra.
Amethyst is the light purple to deep purple variety of quartz, a mineral that comes in a wide variety of colors. Other popular colors include pink (rose quartz) and gray (smoky quartz). Quartz crystals are considered powerful healing crystals with potent metaphysical properties. Healing quartz is thought to improve fatigue and amplify the healing energy of other crystals.
In modern times, amethyst is associated with serenity and peace. It's the birthstone for the month of February and the traditional gemstone associated with the 6th wedding anniversary. Amethyst engagement rings are associated with calmness, trust, and spiritual clarity.
Browse Amethyst Engagement Rings
Blue Sapphire Meaning
Blue sapphires are associated with fidelity, royalty, and innocence. This gorgeous blue gemstone was once the top choice for engagement rings, before diamonds became the more popular stone in the 20th century.
While sapphires with a deep blue color are the most popular variety, this precious stone comes in an array of colors. Other popular colors include pink, peach, yellow, and purple. All colors of sapphires are associated with wisdom, sincerity, abundance, and strength.
Today, blue sapphires are still strongly associated with fidelity and royalty. Blue sapphires are also the September birthstone. In engagement rings, blue sapphires symbolize honesty, love, and faithfulness.
Browse Blue Sapphire Engagement Rings
Aquamarine Meaning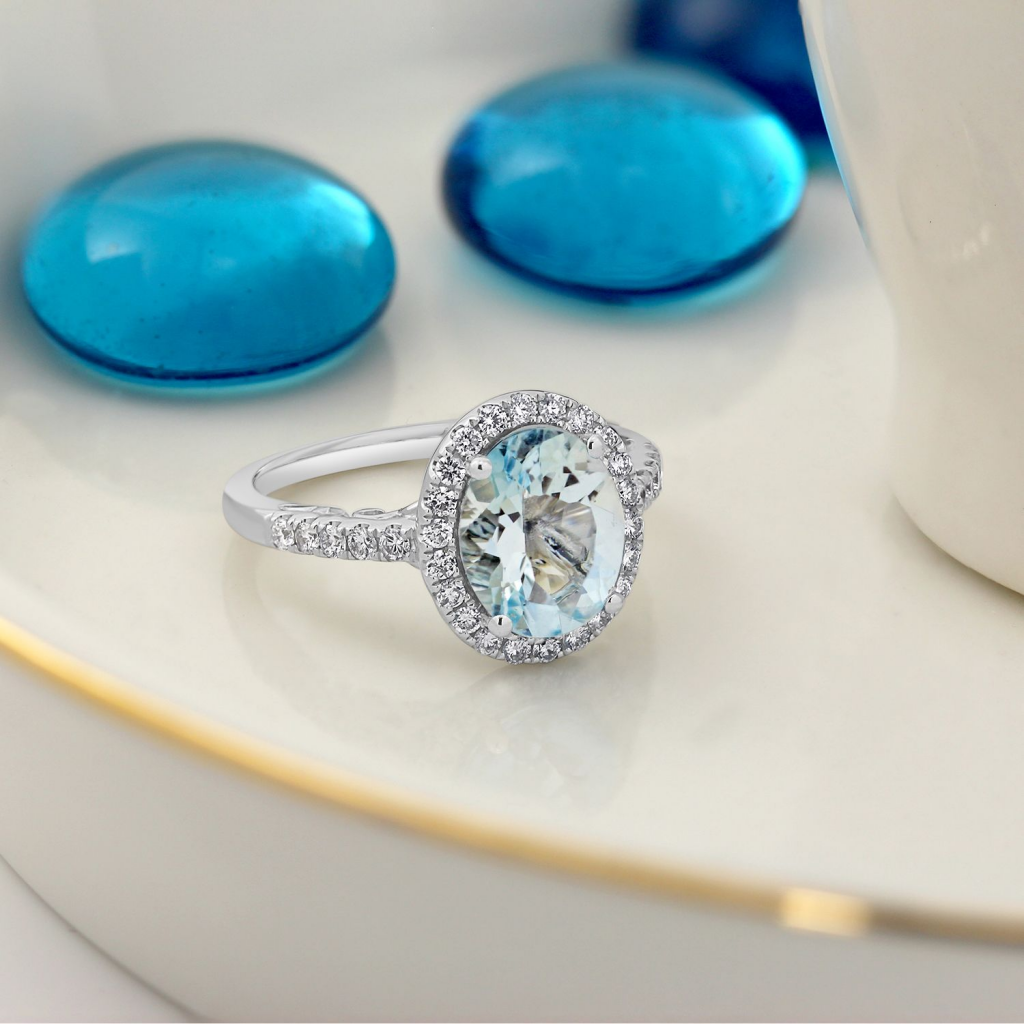 Aquamarine, the glittering blue variety of beryl, is associated with the energy of the ocean. Ancient myths often tie aquamarine to mermaids and sirens, and tout the gem as a powerful talisman of protection for sailors. Aquamarine has also been thought to purify water, wash away negative energy, and promote emotional balance.
In modern times, aquamarine is considered a symbol of happiness and mental clarity. It's the birthstone for the month of March and the traditional gemstone for the 19th wedding anniversary. In an engagement ring, aquamarine symbolizes honesty, eternal love, and long-lasting harmony.
Browse Aquamarine Engagement Rings
Ruby Meaning
Rubies are striking red gemstones that symbolize strength, passion, and wealth. This powerful stone has been beloved since ancient times for its uniquely lush red color and purported properties.
Many different cultures have believed that rubies held special powers. Ancient Hindus believed that presenting the highest quality rubies to Krishna would result in rebirth as a powerful emperor. People in ancient India believed rubies could bring peace among enemies, while people in Burma believed that rubies could make warriors invincible in battle. In medieval Europe, people thought of rubies as protective stones that could attract wealth, good health, and love.
Today, rubies are seen as a symbol of romance, luxury, and success. Rubies are the birthstone for the month of July and the traditional gift for the 40th wedding anniversary. Ruby engagement rings represent devotion, happiness, and true love.
Morganite Meaning
Morganite, the pink variety of beryl, is associated with positive energy, joy, and unconditional love. This beautiful stone was discovered in the 1900s, so it's quite modern compared to most other gems.
Morganite has become a popular gemstone for engagement rings in recent years thanks to its blushing pink color and the meaningful symbolism it carries. This soft pink hued gemstone is associated with love and compassion. It is believed to carry a gentle, soothing energy that promotes enduring love, understanding, and empathy. Morganite gemstone rings, like the Melanie Morganite ring, seem to be an ideal gem selection for promoting healthy relationships. It's also considered a gentle stone with a decidedly romantic look, making it the perfect stone to give a significant other.
Browse Morganite Engagement Rings
Peridot Meaning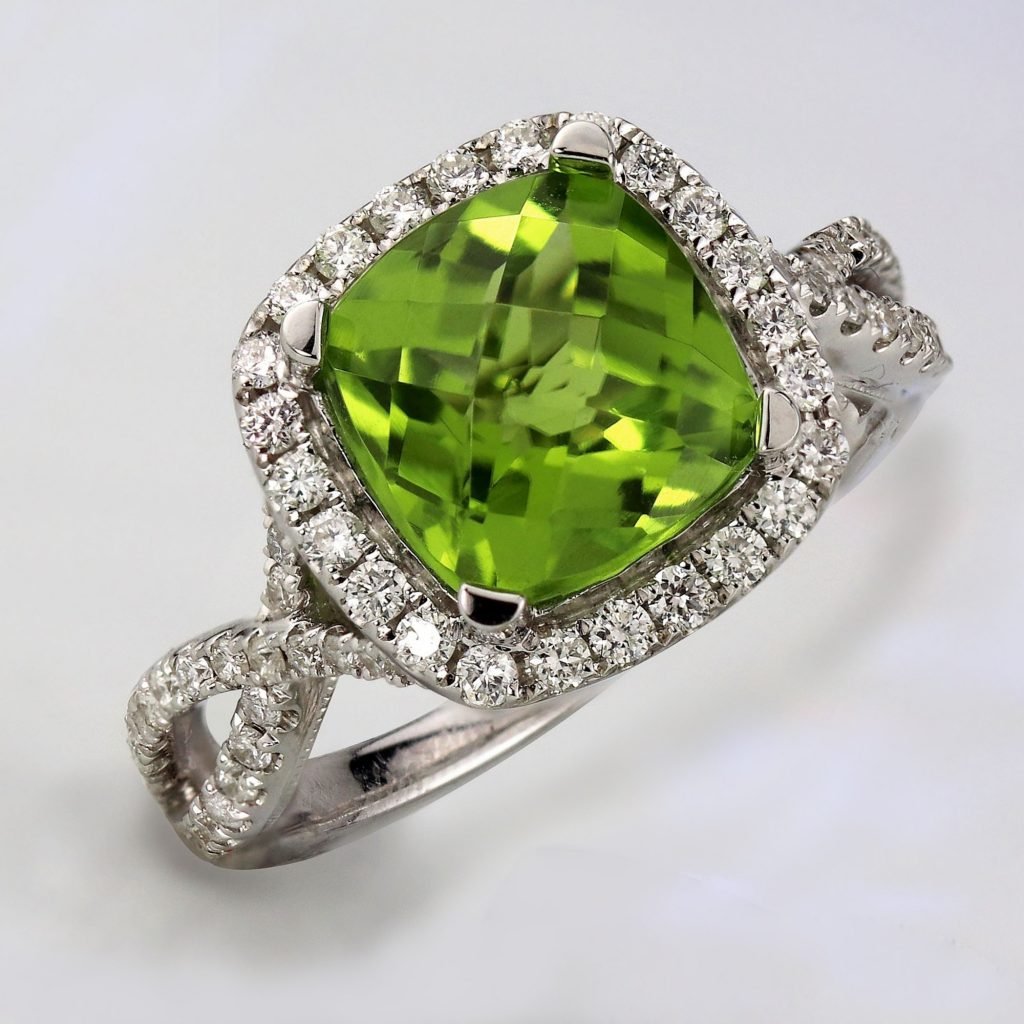 Peridot is a striking green gemstone associated with prosperity, good fortune, and good health. Ancient healers believed that peridot was excellent for healing digestion, the liver, and skin issues. It was thought to be a potent healing stone that could detoxify the body and wash away stress.
Peridots have special significance in Hawaiian culture. These green gems are said to be the tears of the goddess Pele, the goddess of volcanoes and fire who created the Hawaiian islands. These tears are considered a gift that gives the wearer spiritual growth, beauty, and strengthened life force.
In ancient Egypt, peridots were referred to as the "gem of the sun." Ancient Egyptians believed that peridots protected the wearer from nightmares, warded off evil spirits, attracted good luck, and improved confidence.
Thanks to their bright green color, peridots are associated with the heart chakra. Peridots are thought to be able to help you share love with others, and experience universal spiritual love.
Today, peridot is most-well known as the birthstone for the month of August. In an engagement ring, peridot is considered a symbol of strength, love, and prosperity.
Browse Peridot Engagement Rings
Final Thoughts
The symbolic meaning of a gemstone can add depth and significance to a beautiful piece of jewelry, making it even more meaningful. Exploring our collections of gemstone rings, gemstone earrings and pendants, and discover customizable jewelry pieces that let you pick the ideal stones that resonate with the receiver on so many levels. It's a wonderful way to create a unique and cherished piece of jewelry that tells a story or holds sentimental value.
Whether you're drawn to the vibrant colors of gemstones, their ageless qualities and beliefs or metaphysical properties, there's a gemstone out there that can perfectly capture the essence of your individuality and the moments you wish to celebrate!