Finding your dream engagement ring has never been easier with our Design Your Own Engagement Ring builder. Choose from a selection of setting styles, precious metals, and gemstones to create a ring that will sweep her off her feet. Want to know how it works? Let's take a look at how you can design your own engagement ring online by following a few simple steps!
1. Choose Your Style
The first step in the engagement ring design process is to choose your desired setting style. We have an array of vintage, modern, and classic setting designs to fit any taste. To find your perfect setting, you can browse the entire collection at once or view by style or price to narrow down your options.
2. Choose Your Metal
Once you've selected your setting style, it's time to choose your precious metal. Our ring designs can be made in platinum and many different types of gold, including 14k and 18k versions of white, yellow, and rose gold. Once you've found your ideal setting, simply click the drop-down menu that says "metal" to customize your ring's precious metal.
3. Select Your Diamond
After you've got your setting and precious metal selected, you can move on to selecting your center stone. Diamonds are the traditional choice for engagement ring center stones, and we have an incredible selection of diamonds for our customers to choose from.
Within our engagement ring designer, you can choose your desired diamond shape, then sort by the qualities that are most important to you in a diamond. You can select your desired range options for color, clarity, carat, cut, and price. Then, our diamond finder will show you a selection of incredible options for you to choose from.
4. Select a Gemstone or Colored Diamond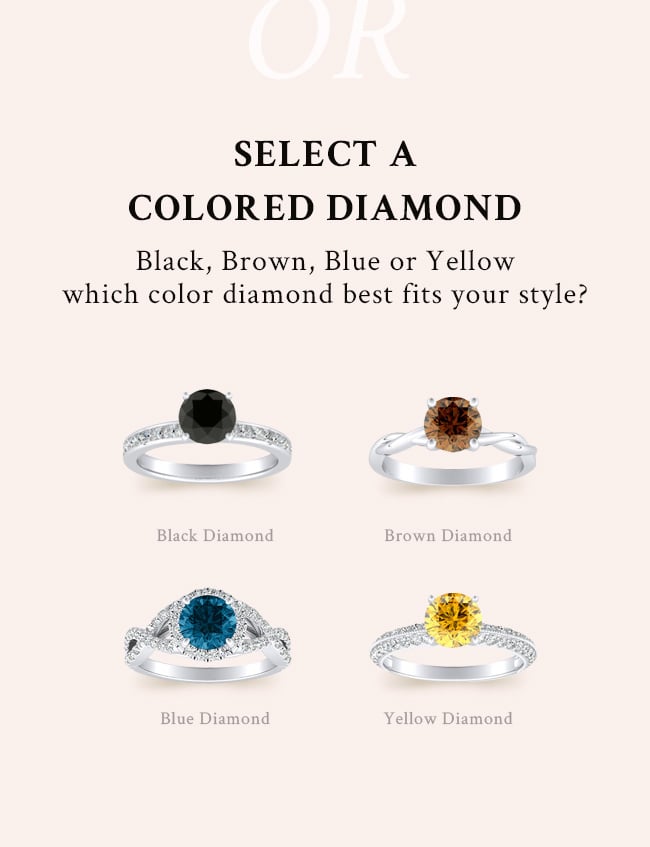 While white diamonds are the traditional choice for engagement rings, more and more couples are seeking out diamond alternatives to give their ring a more personalized look. If you're looking for a unique style, look no further— our engagement ring designer offers a selection of stunning gemstones and colored diamonds to add to your ring.
You can choose from gemstones like emeralds, sapphires, morganite, and rubies, or go with a colored diamond in black, brown, blue, or yellow.
5. Enjoy Your One-of-a-Kind Ring
Once you've selected your style, metal, and center stone, the only thing that's left to do is for you to enjoy your custom-made, one-of-a-kind engagement ring!
Ready to design your dream engagement ring? Head over to our Design Your Own Engagement Ring page to start making your dreams into reality.