Gemstones are a beautiful and unique choice for your engagement ring. They can add color, distinctive style, and lovely meaning to your ring. Though diamond engagement rings are still the most popular option, gemstone engagement rings have been rapidly rising in popularity. As this trend has continued, we've seen many unique and exciting trends pop up within the gemstone engagement ring category. To celebrate the best of these trends (and to give you some gemstone engagement ring inspiration!), here's our list of the top gemstone engagement ring trends of 2019.
Ruby Engagement Rings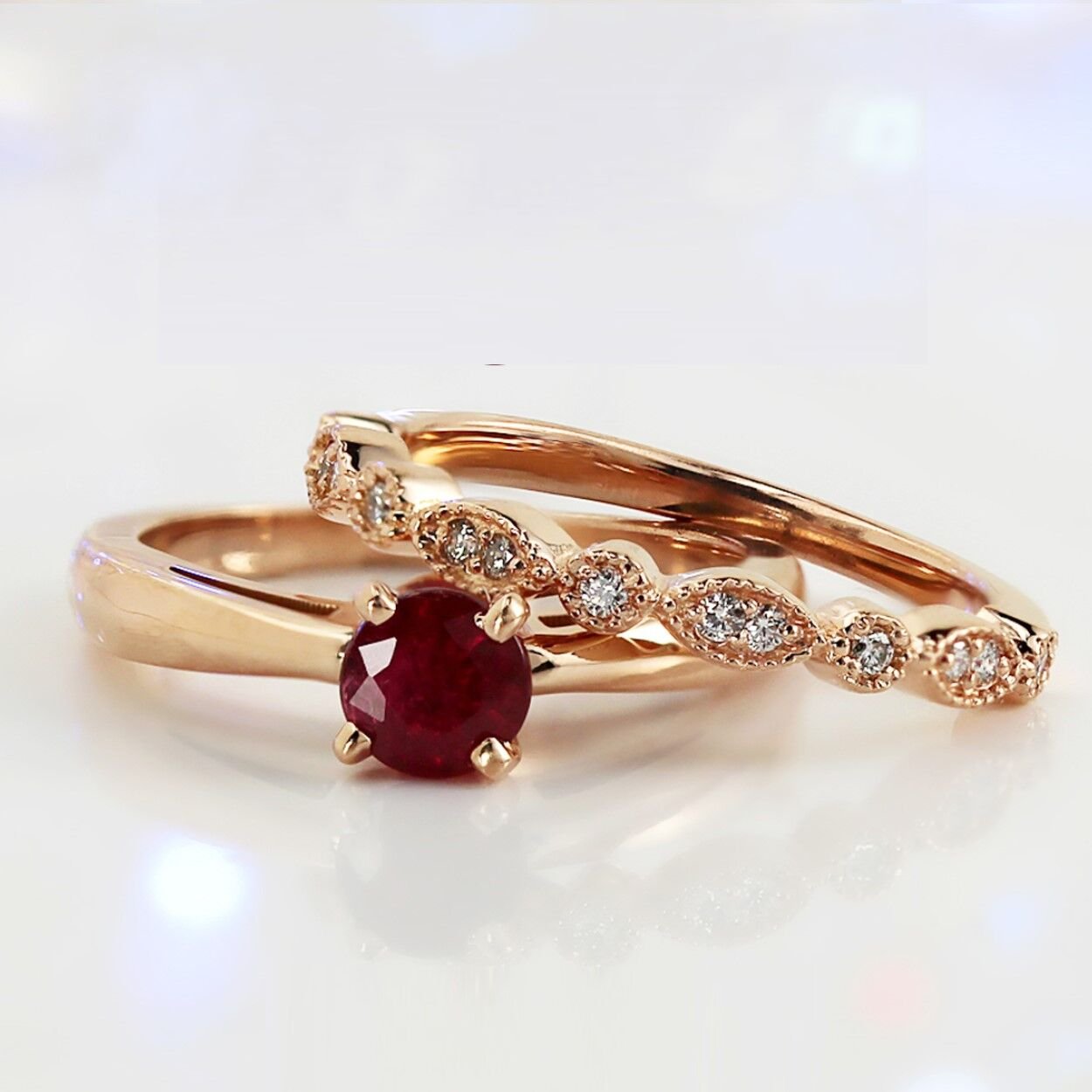 Ruby engagement rings are one of the hottest engagement ring trends of 2019. Rubies are a gemstone classic. They're one of the four gemstones that have have been popular since ancient times, alongside sapphires, emeralds, and diamonds. The rise in the popularity of ruby engagements is likely due to the rise in another trend: antique-style engagement rings. Rubies are the perfect choice for an antique-style engagement ring, as they were one of the most popular stones for jewelry in the antique era.
Since ancient times, rubies have been prized for their gorgeous red color and powerful meaning. Due to their deep red hue, rubies are associated with passion, love, and the heart. This deep meaning makes a ruby a lovely choice for your engagement ring's center stone.
The ruby engagement ring set pictured above is the perfect example of an antique-inspired ruby engagement ring pairing. In the pictured engagement ring, a round ruby rests in a rose gold solitaire setting. This ring has been paired with a delicately detailed wedding band. This wedding band features vintage details like a scalloped silhouette and ornate engraving that enhance the set's antique look.
Gemstone Engagement Rings With Unique Halos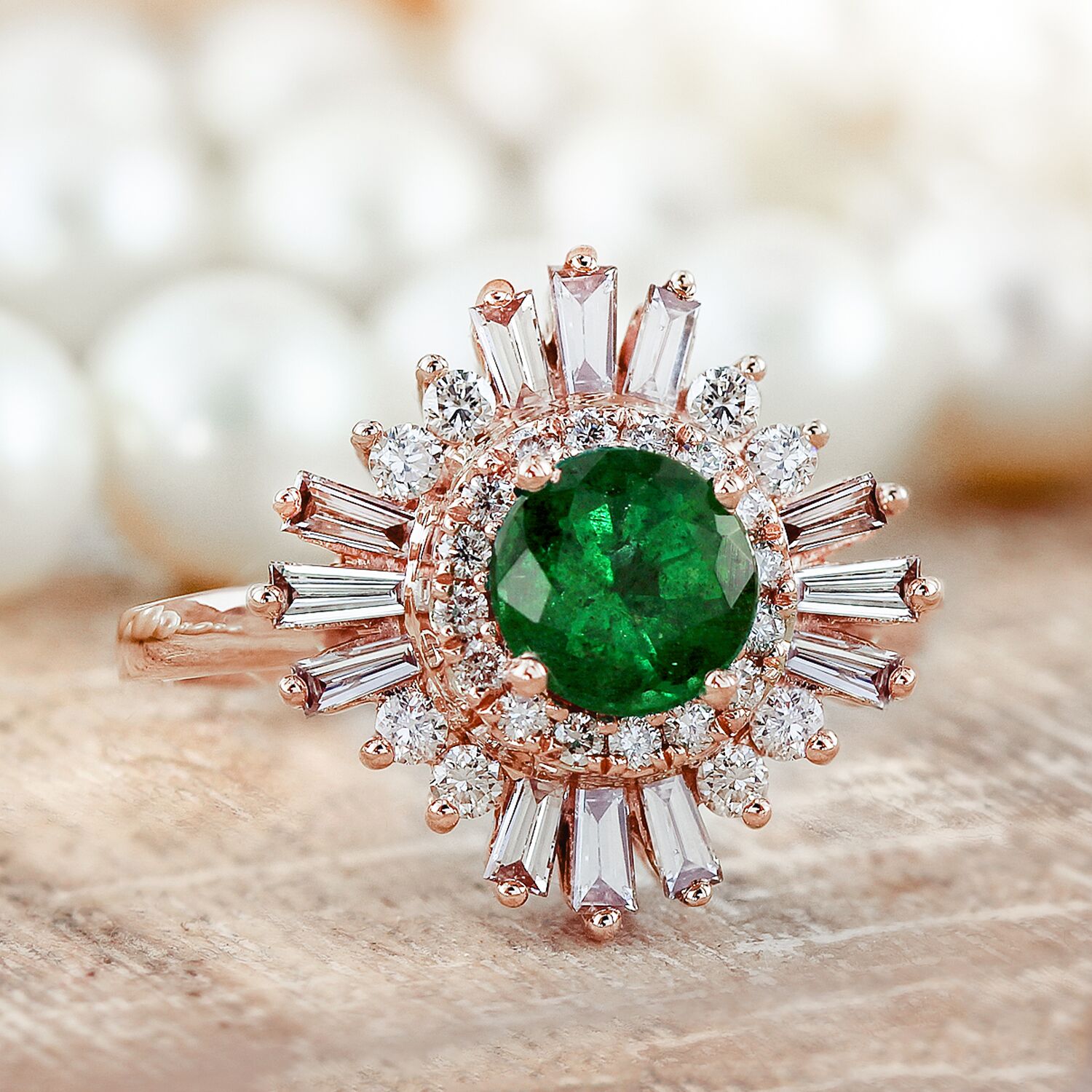 It's very popular to choose a diamond halo setting when selecting a setting for a gemstone engagement ring. A diamond halo always adds impact and glamour to an engagement ring. Then, they also add brilliance, which can make a gemstone engagement ring more appealing. Gemstones have beautiful color and depth. However, they're usually lacking in brilliance when compared to diamonds. A diamond halo can amp up the sparkle of a gemstone ring. It also provides a bright white backdrop that makes a deeper gemstone "pop."
A big trend within the halo set gemstone ring category is unique halo settings. A traditional diamond halo setting surrounds the ring's center stone, echoing its shape. However, there are many types of halo settings that can add unique style to your engagement ring.
One of our favorite unique halo settings is the Charleston setting, pictured above with a center emerald. The Charleston setting is romantic, geometric dream. This setting features one traditional halo that is echoed by second halo comprised of diamonds in varying shapes. Larger round diamonds and tapered baguette diamonds spring from the inner halo to create an eye-catching starburst effect. Unique halo settings like the Charleston setting are perfect for those looking to add even more distinctive beauty to their gemstone engagement ring.
Crystal Vibes
In years past, those who chose gemstone engagement rings often stuck to traditional gemstones like sapphires, emeralds, and rubies. Today, however, brides-to-be seem to be looking for much more variety. This has led to our next big trend: semi-precious gemstone engagement rings.

Semi-precious gemstones have been used in jewelry for thousands of years. They come in so many different colors and textures, which makes them extremely versatile. Semi-precious gemstones are also popularly used in crystal healing, which is perhaps another reason they've become more commonly used in engagement rings. Every crystal is associated with different properties. So, selecting a crystal gemstone for your engagement ring gives you an opportunity to add unique meaning to your engagement ring.

Beyond adding beauty and meaning to an engagement ring, semi-precious gemstones have another benefit: their price. Semi-precious gemstones tend to be much more affordable than precious gemstones, which makes them great for those shopping on a budget. Or, just for those who would prefer to spend less on their engagement ring. Semi-precious gemstones are still beautiful and durable, yet offer a big price advantage.

One of our favorite semi-precious stones for engagement rings is aquamarine. Aquamarine is a crystal-clear, light blue gemstone. This gorgeous gemstone is associated with good luck, trust, and truth. It's also associated with the sea, so it's a popular choice for those with a connection to the ocean.

The Skylar Aquamarine Engagement Ring, pictured above, shows how glamorous a unique semi-precious gemstone ring can be. In this design, a soft blue emerald cut aquamarine is surrounded by a glittering diamond halo. More diamonds rest along this ring's slim yellow gold band, adding to the brilliance of the engagement ring.
Morganite and Rose Gold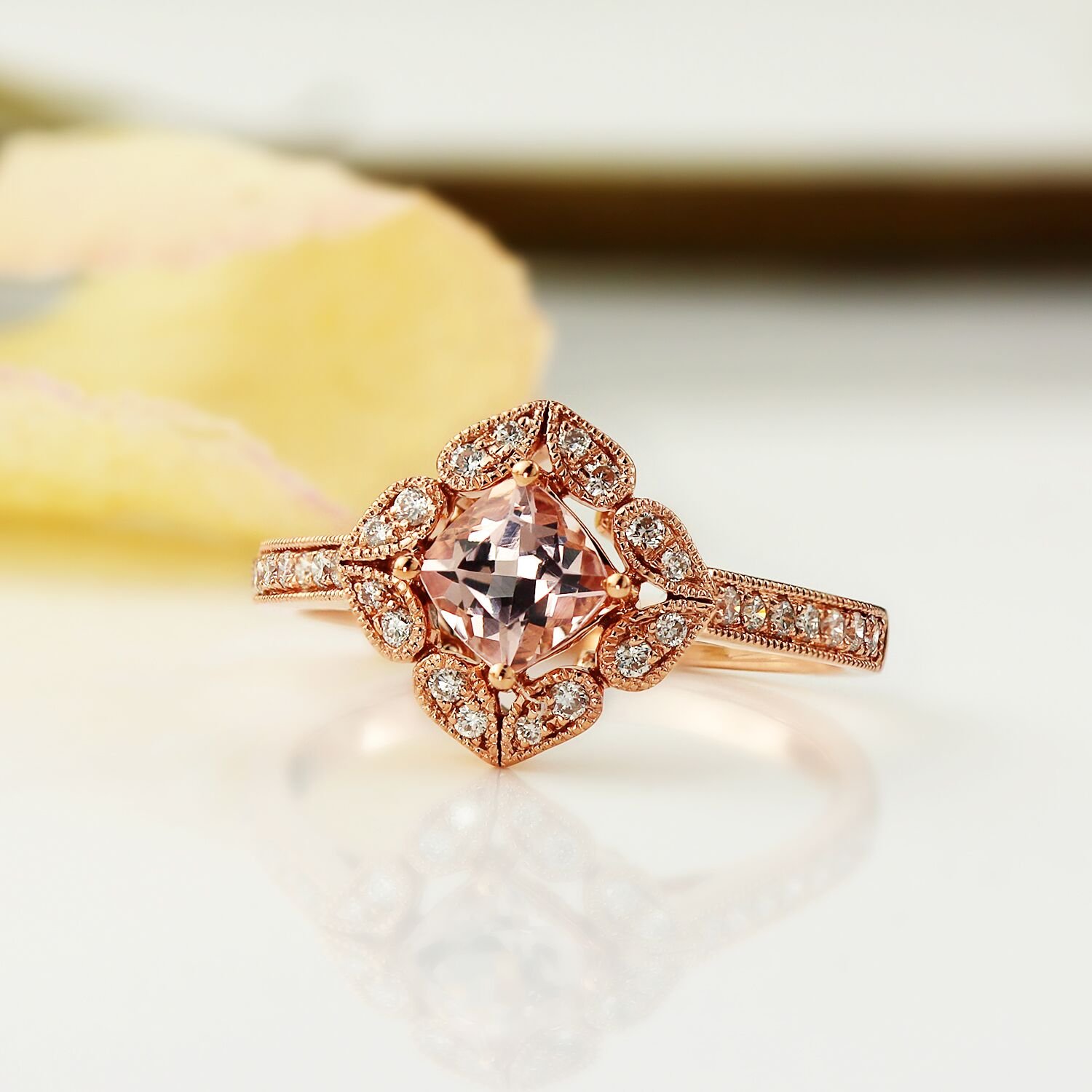 Our list of the top gemstone engagement ring trends of 2019 wouldn't be complete without mentioning morganite. This millennial pink gemstone has been incredibly popular in recent years, due to its lovely color and attractive price. Morganite is particularly popular when paired with rose gold, a blush pink precious metal that perfectly complements the color of morganite.
You can see just how beautiful morganite looks with rose gold in the ring pictured above. In the Melanie Morganite Engagement Ring, a cushion cut morganite rests in a unique halo setting. This halo setting is comprised of rose gold petals set with pave diamonds, which together create a floating diamond shape. This beautifully detailed halo rests atop a delicately detailed band. This ring's rose gold band features engraving and is set with sparkling white diamonds that add brilliance to this enchanting ring.