If you're looking for an affordable engagement ring, you might think that you have limited options. But that couldn't be less true! Today, there are so many affordable engagement ring options that prove an engagement ring doesn't have to be absurdly expensive to be absolutely beautiful.
But if you've never shopped for an affordable engagement ring before, you might not know all your options. We're here to help! In this post, we're breaking down everything you need to know about finding the perfect affordable engagement ring for you. We'll cover what you need to know about budgeting, the best affordable center stone options, and how to choose an affordable engagement ring setting you'll love.
Know Your Budget
So, you're looking for an affordable engagement ring. Great! But before you even start shopping, you should consider: what makes an engagement ring affordable to you? What's your engagement ring budget?
People often say that you need to spend a certain amount on your engagement ring (the most common "rule" is that you should spend the equivalent of three months of your salary on an engagement ring). But, truly, there are no rules on what you need to spend on an engagement ring. You should really only spend an amount that's comfortable for you. So before you shop for an engagement ring, just think about the budget that would be right for you.
If your budget is on the smaller side, don't worry. Shopping on a limited budget doesn't mean you won't be able to find a stunning engagement ring. There are so many engagement rings that are beautiful and affordable. And we're here to show you them!
Affordable Center Stones for Engagement Rings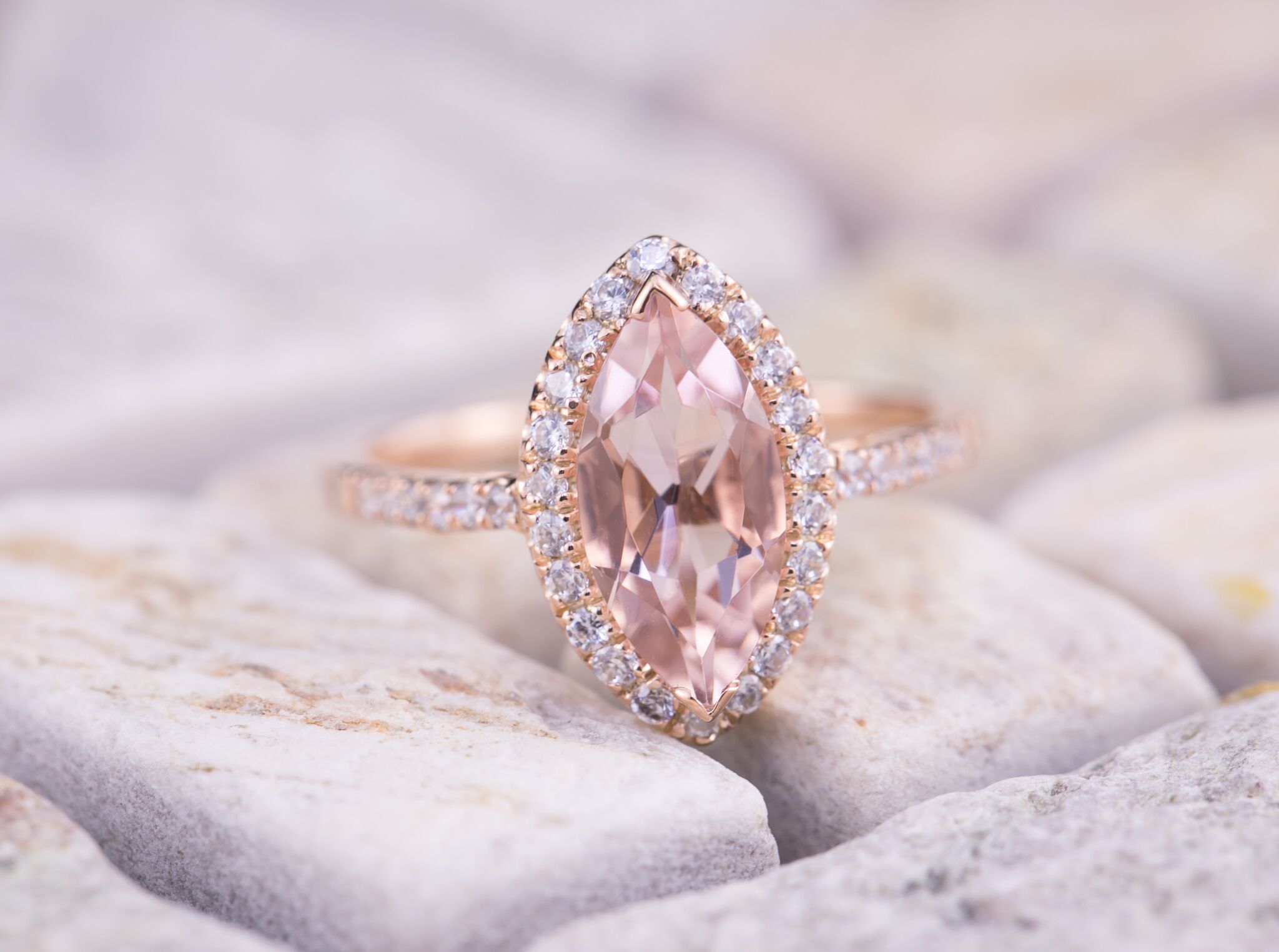 Morganite, pictured here in a stunning marquise halo setting, is romantic, beautiful, and comes with an attractively low price tag. Shop the Skylar ring featured above here.
As you shop for an affordable engagement ring, know that there are two components that affect an engagement ring's price: the ring's setting and the ring's center stone. Generally, ring settings are more affordable than center stones (the only exception might be if the setting has large diamonds or gemstones). So if you're looking for an affordable engagement ring, your choice of center stone is key.
Our top tip for choosing an affordable center stone is to go alternative. Not sure what that means? An "alternative" center stone is basically any center stone that isn't a white diamond. Some beautiful options for an alternative center stones include blue sapphires, morganite, black diamonds, topaz, amethyst, and moissanite. Alternative center stones like gemstones are just as beautiful as diamonds but are much more affordable. And on top of that, they offer you more style variety, allowing you to choose something more unique.
If you're shopping for an affordable engagement ring but have your heart set on a white diamond, you still have options. For a more affordable diamond, you can always choose a lower carat diamond and/or go with a less expensive diamond shape. Fancy shaped diamonds (which are any diamond that's not a round brilliant) are usually more affordable than round brilliant diamonds of similar quality and carat.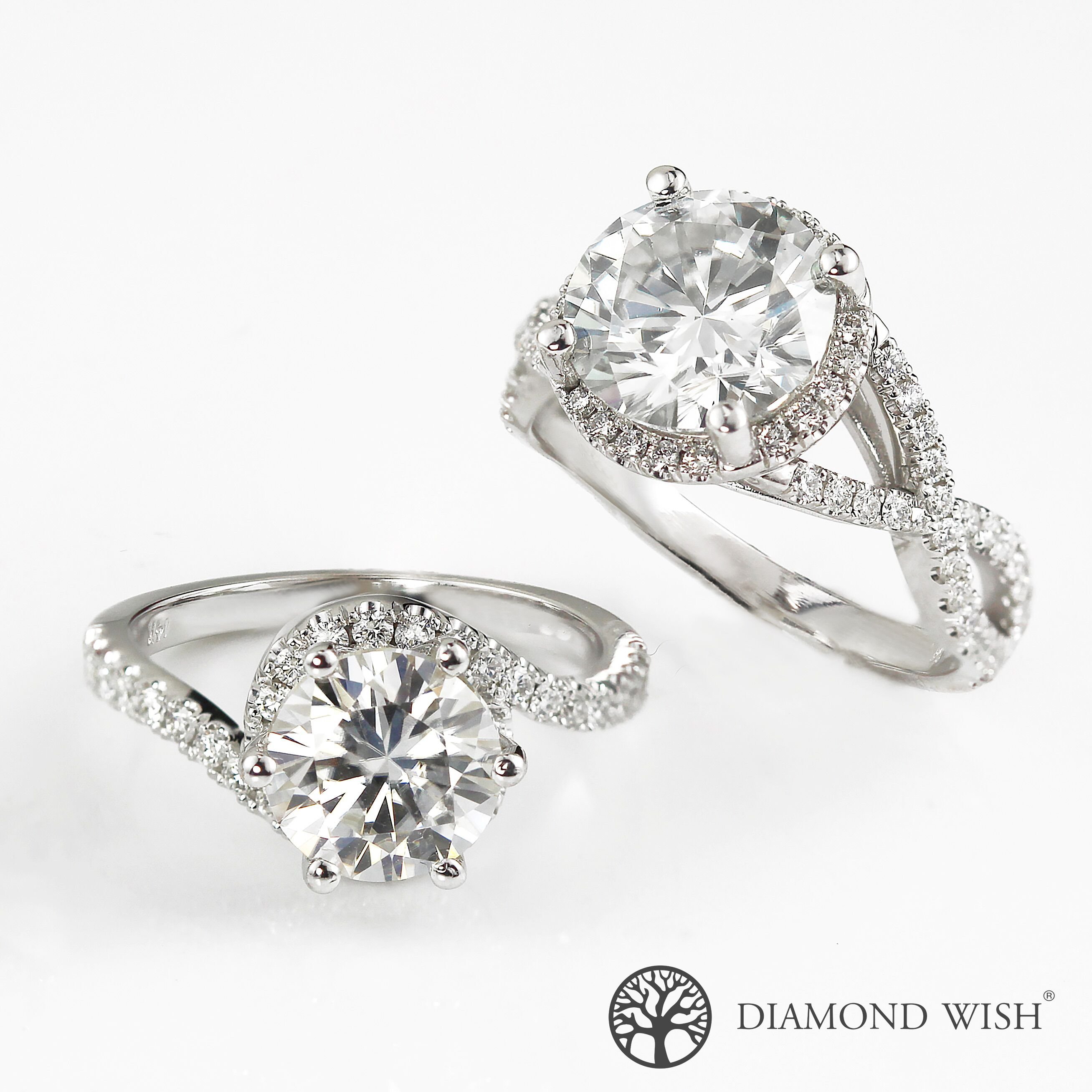 If you love the look of a white diamond but just don't think you can fit one you'd be happy with into your budget, you can also consider choosing moissanite for your center stone. Moissanite (featured above) is a stunning, highly brilliant white gemstone that looks remarkably like a diamond but costs around 90% less.
Ring Settings and Affordable Engagement Rings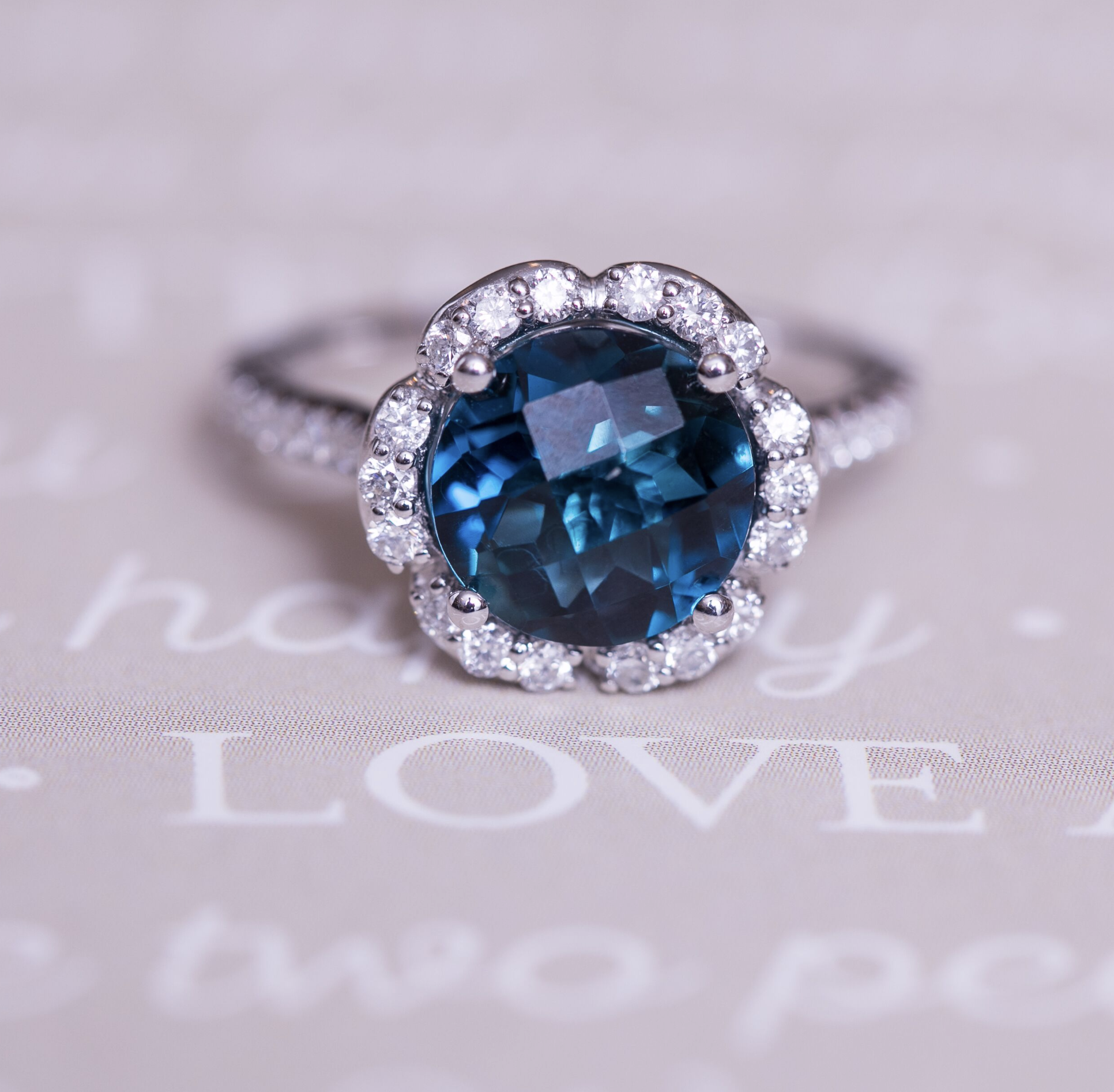 A scalloped halo setting adds glamour and impact to this beautiful— and, remarkably, still affordable— blue topaz engagement ring. Shop the London blue topaz engagement ring featured above here. 
We've already covered some ways to choose an affordable center stone— but what about the setting? The most affordable type of setting would be a simple, chic solitaire in gold (yellow gold, white gold, and rose gold are all similarly priced). If you're looking for affordable ring settings, you'll want to avoid platinum, which is by far the most expensive precious metal.
While solitaire settings are generally the most affordable option, settings with pave diamonds can also be affordable and are a great way to up the glamour and impact of your center stone. Settings with pave diamonds add brilliance to your engagement ring, which tricks the eye into thinking it looks larger, even if the pave diamonds are small and only along the band.
Halo settings are particularly good for enhancing an engagement ring when you're on a budget. A halo of diamonds will make your center stone look more glamorous and sizable for a fraction of the cost of upping the size or quality of the center stone itself.