Sapphire engagement rings are rapidly rising in popularity. While the rich blue sapphire has always been a classic choice for an engagement ring, the unique engagement ring trend has brought sapphires back to the forefront. And, of course, it doesn't hurt that many of today's most famous figures (like Kate Middleton, Penelope Cruz, and Victoria Beckham) sport sapphire engagement rings.
There's a lot to love about the sapphire. Sapphires have a rich, mesmerizing color and a lovely meaning. (Sapphires are thought to symbolize faithfulness, sincerity, and good fortune.) Plus, sapphires tend to be more affordable than diamonds, which can help you maximize your engagement ring budget. 
Sapphires are a lovely, eye-catching choice for your engagement ring— but how do you choose a sapphire engagement ring? In this post, we're giving you all our top tips on how to select the ideal sapphire engagement ring for you! We'll cover what you need to know about sapphire quality, how to pick the best sapphire shape for you, and how to pick a sapphire engagement ring setting you'll adore.
Color is Key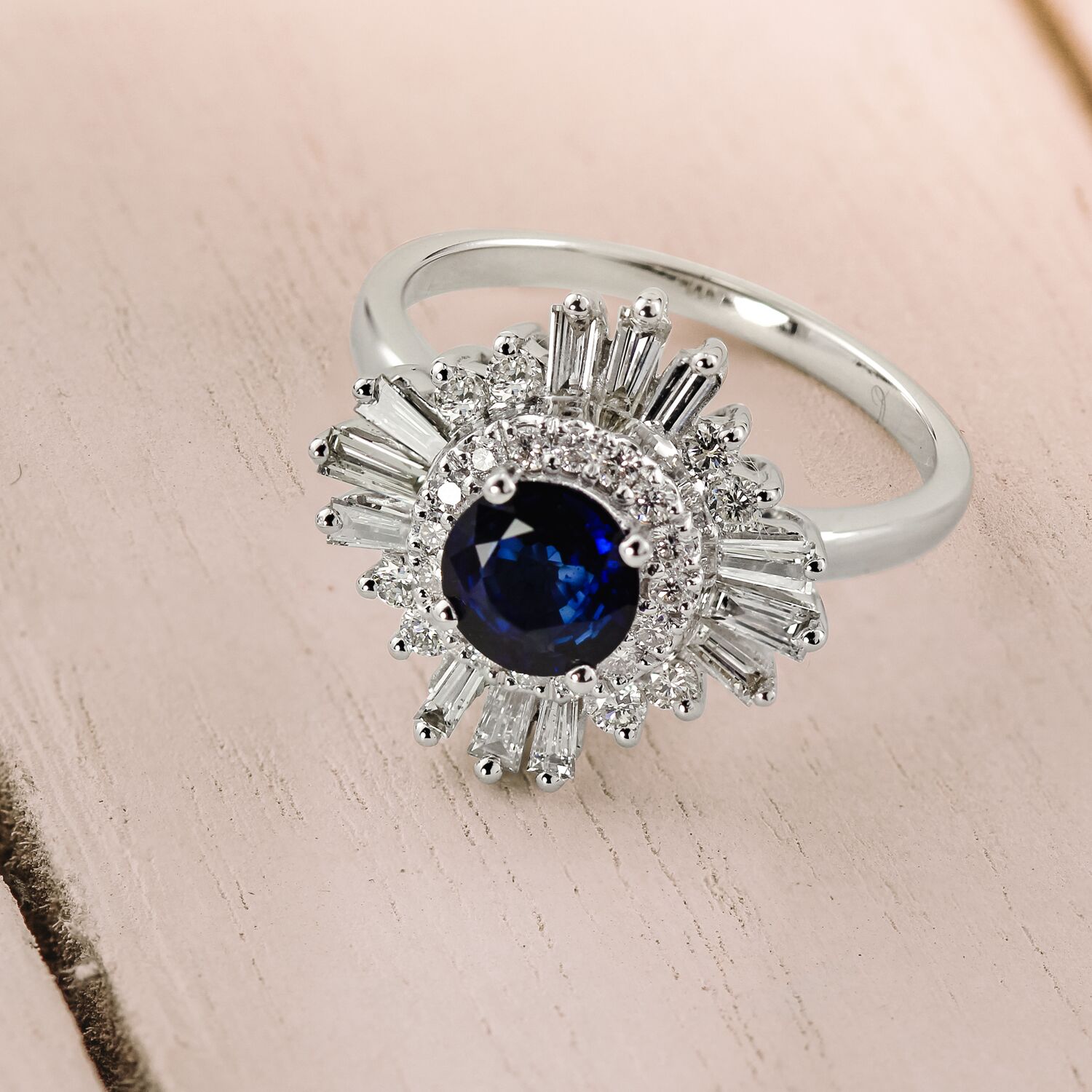 Like diamonds, sapphires are graded by their 4Cs (color, cut, clarity, and carat). But color is the top priority for sapphires, since they are a colored gemstone. So when selecting a sapphire, you'll want to pay special attention to its color.
Sapphires actually come in many different colors, like pink, yellow, orange, purple, and blue. No matter which color of sapphire you're shopping for, you will want to make sure that its color is rich and evenly spread across the gemstone. Among blue sapphires, the most popular hue of sapphire, look for a gemstone that is medium to medium dark in color, with even color saturation.
You can see an example of a beautifully colored blue sapphire in the Charleston Engagement Ring pictured above. The round blue sapphire in this ring is medium dark, with beautifully dispersed color.
Shape Rules Style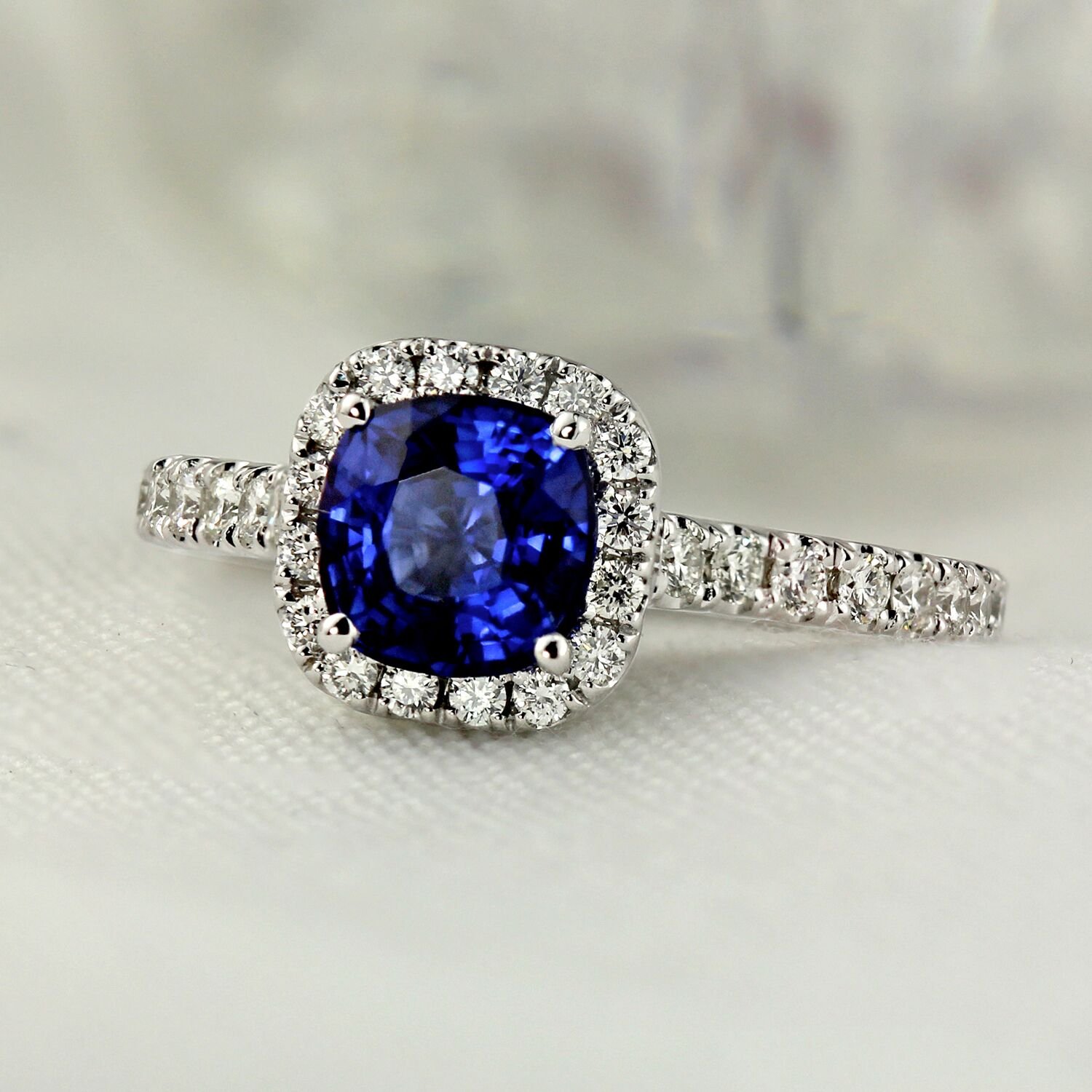 Shape is another important thing to consider when you shop for a sapphire engagement ring. The shape of your center gemstone tends to dictate the overall style of your engagement ring, so it's important to pick a shape with a style you love.
Like diamonds, sapphires come in many different shapes, such as round, cushion cut, and princess. Each of these shapes has its own style. For example, round is a classic shape, cushion cut is a vintage-style shape, and princess is a highly modern shape. When you shop for a sapphire, do a bit of browsing and see which shape's style you're drawn to.
Sapphires are beautiful in every shape, so we would say that there is no "best" shape for a sapphire. And we would recommend that you simply choose the shape you love the most.  However, if you're wondering which shapes are most popular for sapphires, we have an answer: oval, round, cushion, and emerald. The cushion cut is particularly popular for sapphires, as this cut tends to show color very well. This can enhance the beautiful hue of a sapphire. Plus, the cushion cut has an inherently vintage style, which many people love for a sapphire engagement ring.
The Skylar Halo Blue Sapphire Engagement Ring, pictured above, shows off just how stunning a cushion cut sapphire can look in your engagement ring. The cushion cut sapphire used in this ring gives adds a soft, romantic look to this ring's brilliant, glamorous setting.
Sapphires and Engagement Ring Settings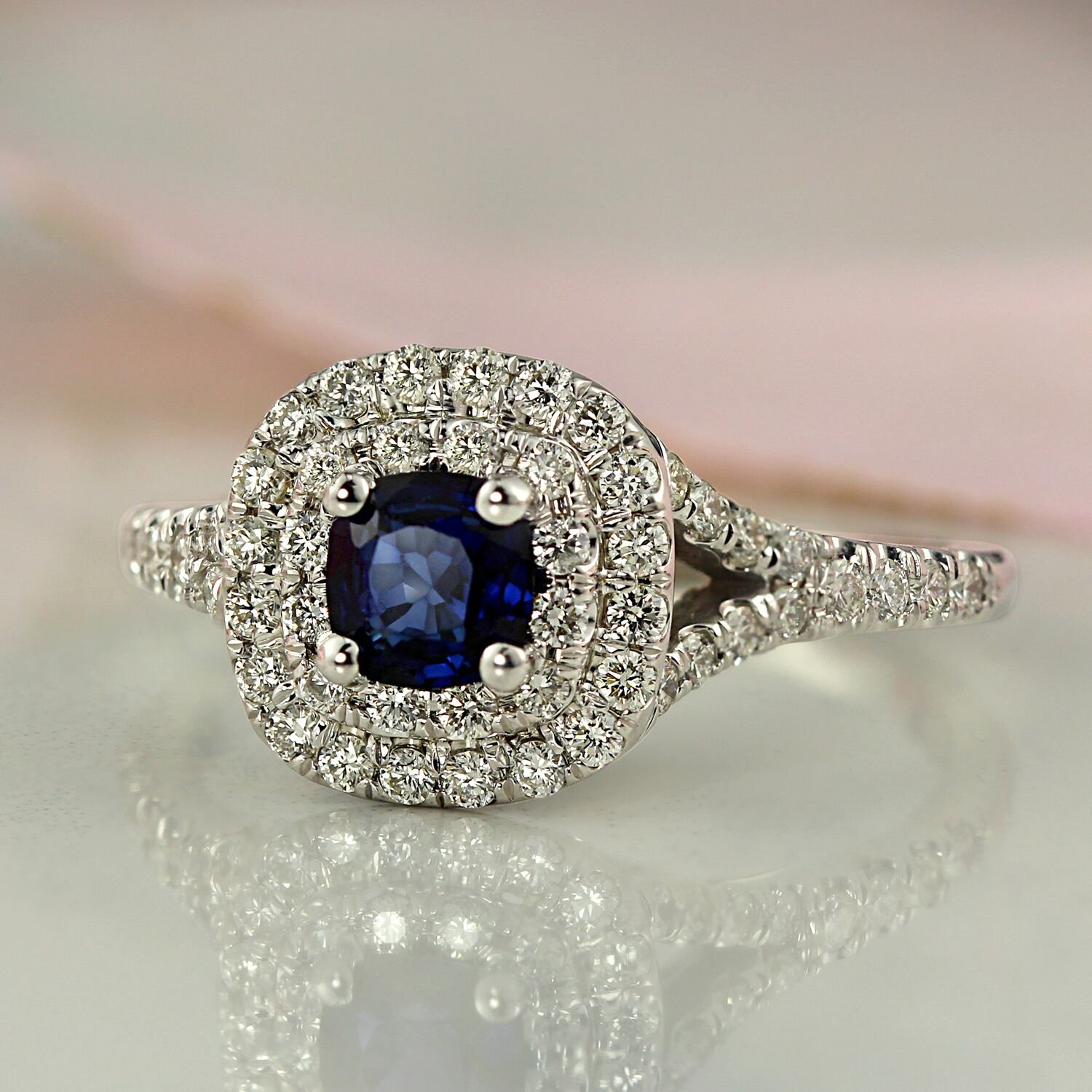 Lastly, let's talk about picking a setting for your sapphire engagement ring. Sapphires look beautiful in so many different styles of settings. Though, we will say, diamond halo settings are extremely popular for sapphire engagement rings. This is because sapphires look absolutely stunning when paired with white diamonds. The bright white brilliance of white diamonds enhances the rich depth of a sapphire, creating a contrast that is nothing short of breathtaking. A diamond halo— or a double diamond halo, as seen in the Alyssa Ring above— simply makes a sapphire "pop."
Halo settings are an excellent choice for sapphire engagement rings. Depending on the design of the halo, this setting can provide either a soft vintage look or an ultra glamorous look. But halo settings are not the only beautiful option for sapphire engagement rings. Prong solitaire settings are also lovely, as they let the beauty of the sapphire take full focus. Then, bezel settings add a sleek, modern touch to a sapphire engagement ring. There are also many sapphire engagement rings with beautifully detailed bands, which can add a gorgeous, ornate  look to a ring.
Alongside choosing the style of your sapphire engagement ring's setting, you'll need to choose a precious metal. White gold and platinum are quite popular for sapphire engagement rings, especially those that feature accent diamonds. However, rose gold and yellow gold are also beautiful options. Rose gold and yellow gold can add warmth to a sapphire engagement ring, giving it a more romantic look.