While memorial day weekend doesn't actually kick off summer, it can certainly feel like it does. This three day weekend sees a lot of people spending time with their families and friends and, because the weather is finally warming up, they are often spending this time having picnics, throwing barbecues, and heading to the water. To help you spend this weekend in style, we've put together a couple of summery outfits with patriotic touches. We've got two outfit ideas (one casual, the other more upscale) and, of course, some incredible jewelry pairings for each to give you some outfit inspiration!
Outfit One: Barbecue Party!
This look is perfect for a sunshiny day by the water or at a barbecue, or for when you're hitting the mall. This outfit embraces some of summer 2017's trends, like the statement sleeves on the red top and the lighter wash of the denim shorts, while keeping an overall classic look. Patriotic red, white, and blue make up the color scheme of this outfit without it being over the top. The paired jewelry is simple and classic, to add a little subtle sparkle to your look. These round diamond studs are the ultimate classic earring. They bring casual elegance to your look while drawing the eye upward to the face. The matching round diamond solitaire pendant, as well as a stunning blue sapphire ring, completes the look, adding visual interest and subtle detail. 
Outfit Two: An Evening Affair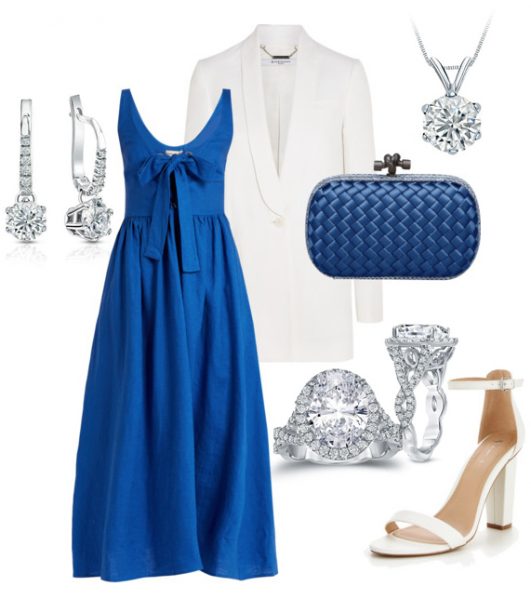 This more upscale look is great for attending parties and other events, or going out to dinner. The memorial color scheme is more subtle here, with royal blue and summery whites (though you could easily add a red lip or manicure if you wanted to add a touch of red). The paired jewelry enhances the elegance and unique elements of this look.  The six prong setting on these stunning dangle earrings not only adds glamor but makes them unique. This setting is less common than a standard four or three prong setting and compliments the other diamond jewelry in this look. The solitaire necklace has a six prong setting and pairs perfectly with the dangle earrings and beautiful diamond ring. If you need sparkle to your ensemble, this is the perfect jewelry for that. 
We hope you got some memorial day inspiration from these outfits! And, if you're thinking of stepping up your accessory game this memorial day, you're in luck: right now Diamond Wish is having a Memorial Day special! Use promo code MEMORIAL to get $50 off on $499, $100 off on $999, $500 off on $4,999, and $1,000 off on $9,999. Take advantage of this limited time sale to add some of our classic fine jewelry pieces to your collection that you will enjoy for a lifetime!