From pave split-shanks to vintage-inspired rings, 2017 has been host to a variety of beautiful engagement ring trends that have all been spectacular in their own right. Throughout the whole year, however, one trend has slowly been gaining momentum, and this fall it's going to be the absolute hottest engagement ring look: rose gold. The warm and vibrant hue of rose gold makes it truly one-of-a-kind, gracefully complementing all skin tones. Pair up rose gold with decadent diamonds and you have the perfect engagement ring. In this article, we run down a list of our top five rose gold diamond engagement rings, giving you an early look at some of the rings that are sure to take center stage this fall season.
Ashley Halo Diamond Engagement Ring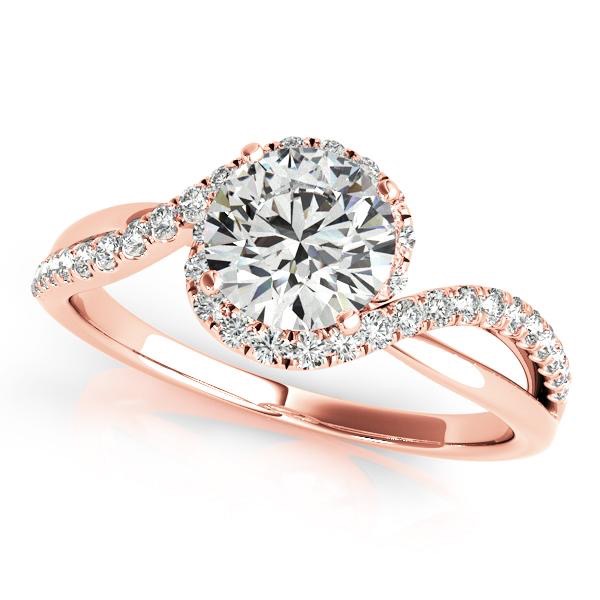 We begin our list with the dazzling Ashley ring that features an absolutely breathtaking design. Each detail contributes to the beauty of the ring individually, but they all come together in perfect harmony to create an overall cohesive aesthetic that is original, sophisticated, and refined. Scalloped diamonds embellish the graceful curves of the band which transitions into a halo as it encircles the center stone.
Find this look here: Ashley Halo Diamond Engagement Ring
Florence Vintage Diamond Solitaire Engagement Ring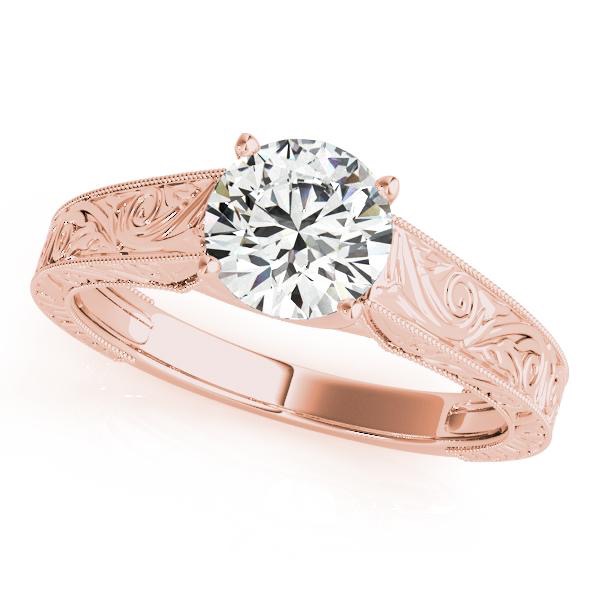 Aptly named the Florence ring, this vintage-inspired diamond engagement ring features exquisite scrolls, along the top and sides of the 14k rose gold ring, reminiscent of the rich design found in the picturesque Italian city. The rose gold backdrop of the ring provides the ultimate stage for the brilliant center diamond to shine its absolute brightest. With an old-world charm that not only looks extraordinary but also symbolizes a timeless and everlasting love, the Florence ring is a top choice of ours for this season.
Find this look here: Florence Vintage Diamond Solitaire Engagement Ring
Julia Diamond Engagement Ring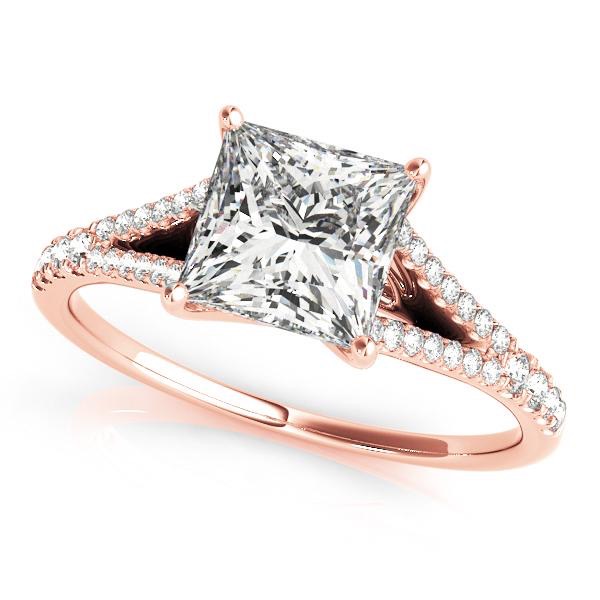 Our next ring on the list brings some of the most desired design elements of an engagement ring together in a marvelous arrangement that is sure to wow. The split shank band is embellished with a row of glimmering diamonds on each arm leading to the center stone, a jaw-dropping princess cut diamond. The tasteful 14k rose gold metal provides a luxurious touch to put this spectacular ring in a league of its own.
Find this look here: Julia Diamond Engagement Ring
Cynthia Halo Diamond Engagement Ring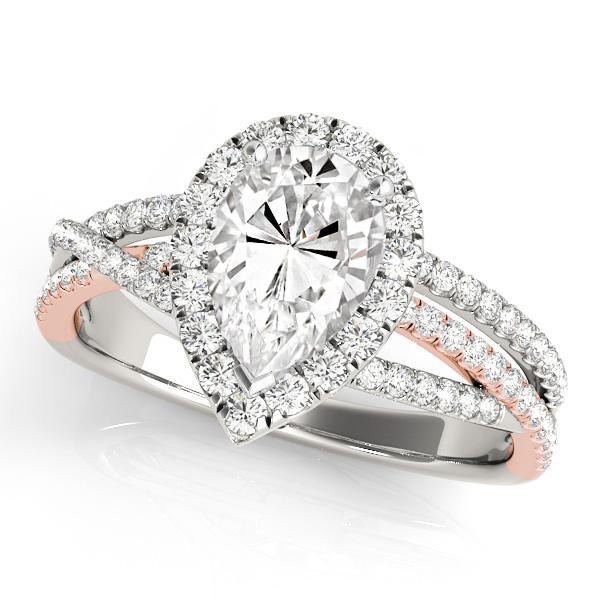 The first thing you'll notice on the stunning Cynthia engagement ring is the striking pear-shaped center stone that features a lavish halo setting. Next and arguably even more eye-catching are the multiple bands, each accented with an impressive array of sparkling diamonds. Finally, after already having been mesmerized by the brilliance of this captivating design, you'll notice the single rose gold band which adds the most subtle and refined finishing touch imaginable.
Find this look here: Cynthia Halo Diamond Engagement Ring
Blue Sapphire Halo Engagement Ring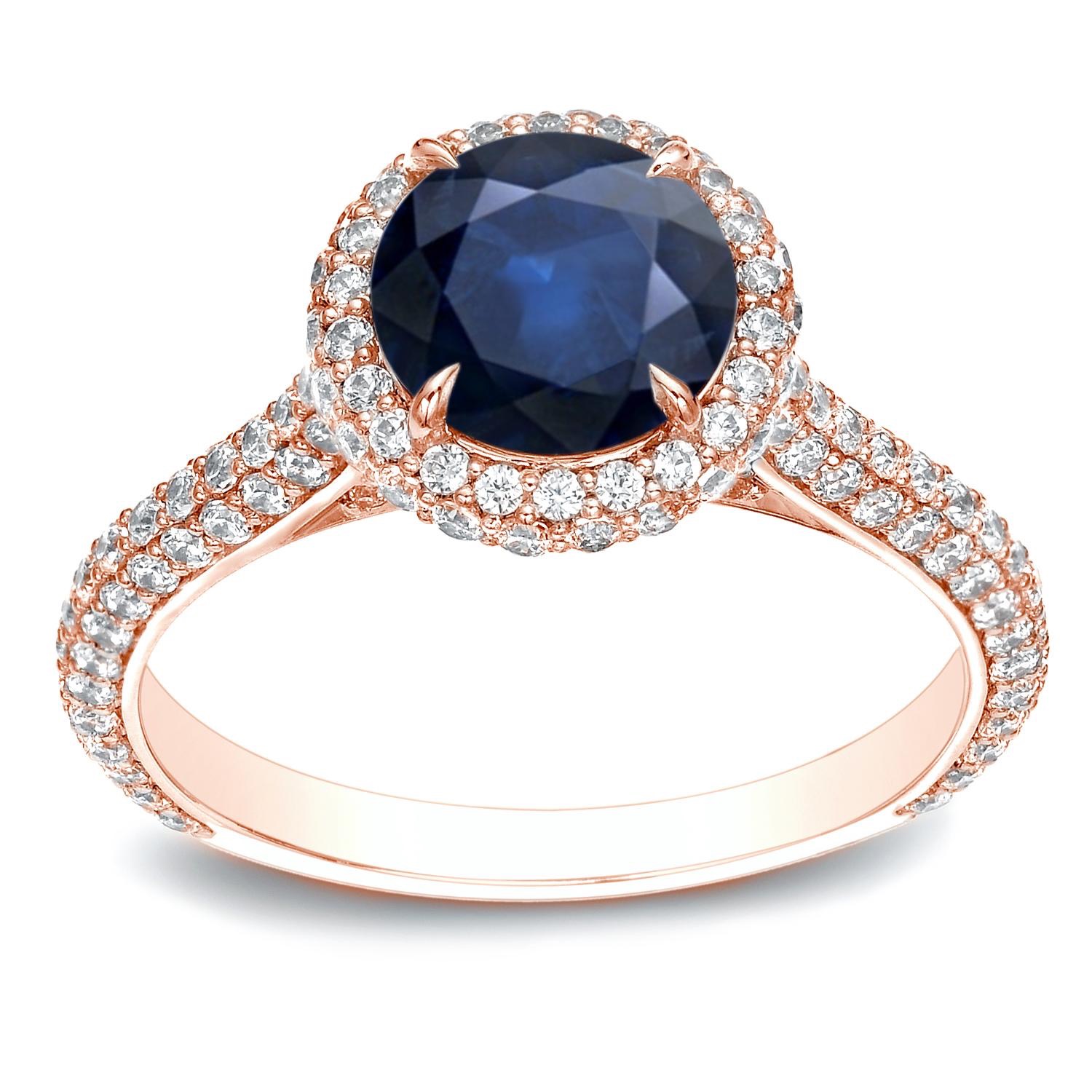 For the last ring on our list that, our team of jewelry experts at DiamondWish.com chose this alluring engagement ring that features a one-of-a-kind combination you won't find anywhere else. A majestic blue sapphire center stone is highlighted by dashing accent diamonds in the double halo setting, giving the ring the ring an undeniably royal look and feel. The spectacle of diamonds continue along the band with two rows of pave diamonds decorating nearly the whole way around. Showcasing fall's biggest trend of rose gold and pairing it superbly with a gorgeous sapphire center stone and endless accent diamonds throughout, this ring is representative grandeur at its best.
Find this look here: Blue Sapphire Halo Engagement Ring
The Proposal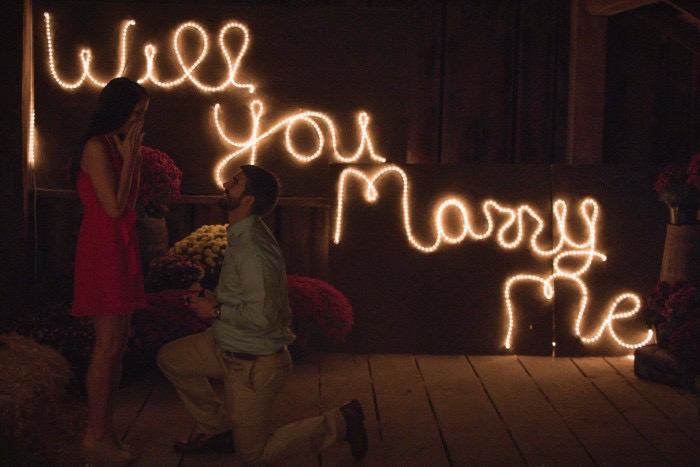 Fall makes for one of the best seasons to pop the question. The leaves provide a beautiful backdrop of vivid hues from romantic crimson to warm ochre. The scent of a burning cinnamon candle can be picked up through the crisp cool air. Pretty string lights seem extra bright against the autumn night sky. Which brings us to a great proposal idea for the love of your life. During the holiday season, spell out, "Will you marry me?" with string lights in front of your house or apartment. Call your loved ones over to station inside while you and your beau stay outside (think of a good excuse to linger!). Then, have someone turn on the light switch to display the message. All your friends and family will come out, champagne in hand, ready to celebrate. Everyone will be bubbling with excitement!