Choosing a gemstone for your ring's center stone gives you the opportunity to add more meaning and purpose to your jewelry, since every gemstone has its own unique properties. Throughout the ages, people have associated gemstones with different sentiments and healing powers. By choosing your ring's center gemstone thoughtfully, you can make your jewelry so much more special and powerful. Wondering which gemstone may be perfect for your jewelry? To help you find a gem that resonates with you, below we're going over the healing powers and meanings of some of our favorite gemstones to wear in rings.
Amethyst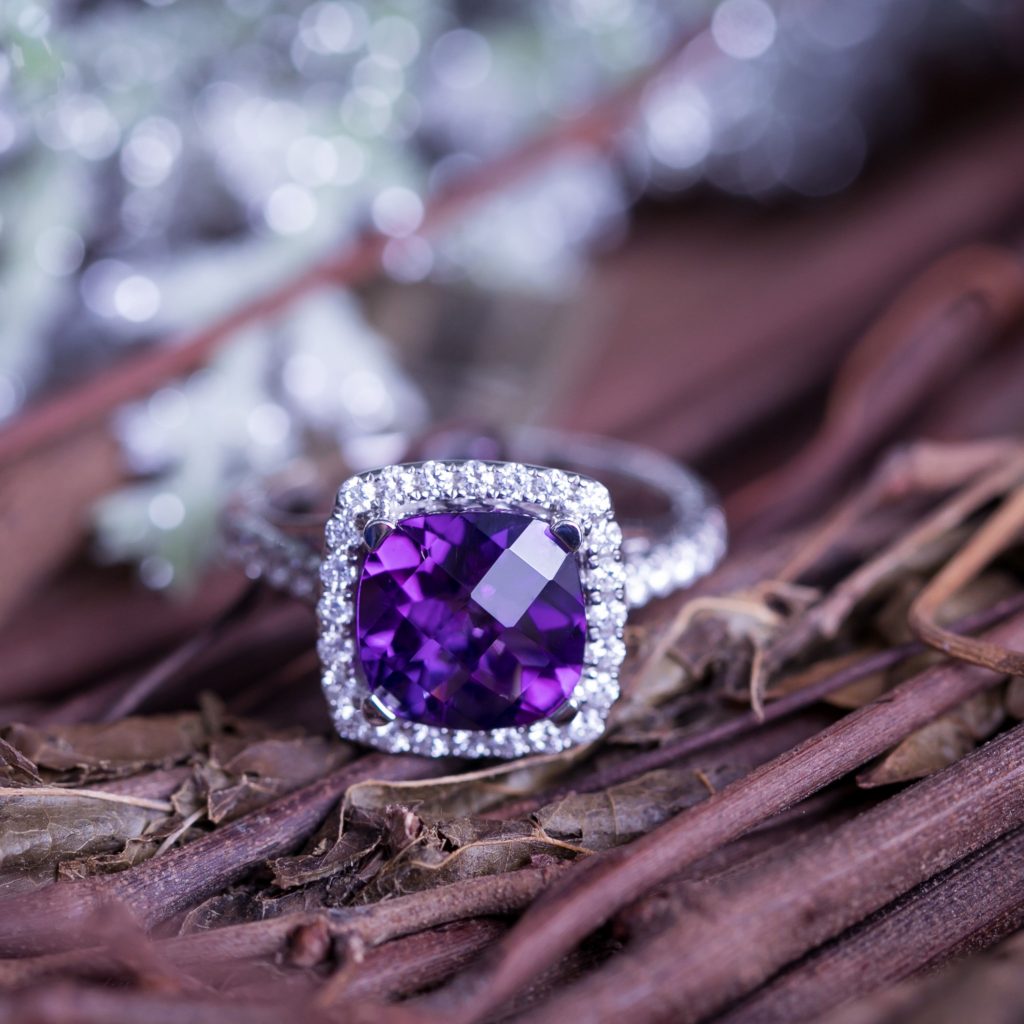 A lushly colored purple amethyst stuns at the center of this diamond halo set amethyst ring.
Amethyst is a gemstone that has long been associated with peace. Amethysts are thought to have a calming energy that balances the mind and body, allowing you to feel grounded and in touch with your spirituality. Crystal healers often use amethysts to promote more peaceful sleep, to relieve pain, and to help with arthritis or circulatory issues.
Blue Sapphire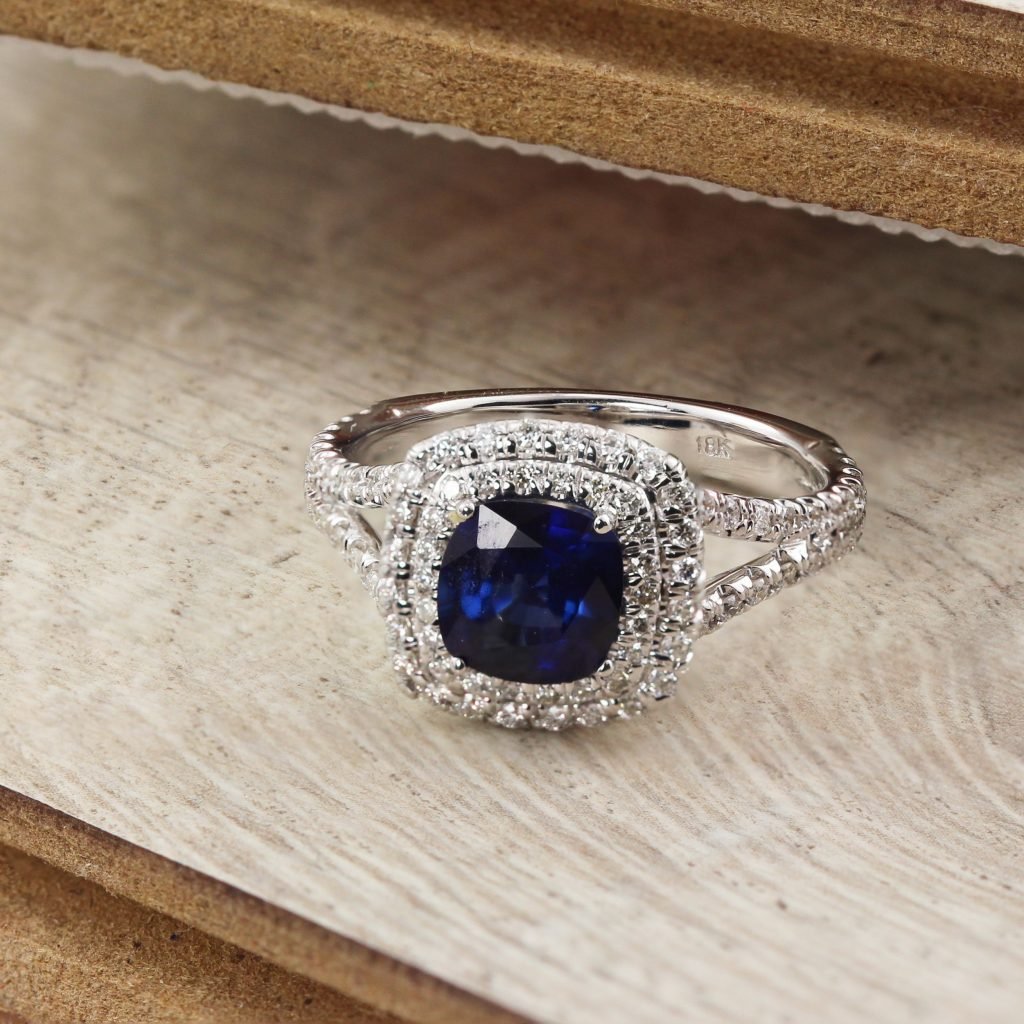 A double diamond halo setting provides a gorgeous backdrop for the beautiful blue color of the gem at the heart of this blue sapphire engagement ring.
In ancient times, blue sapphires were thought to symbolize spirituality, hope, and faith. Ancient Greeks believed that wearing a blue sapphire could bring protection, spiritual insight, good health, and good fortune. Today, blue sapphires are still closely associated with inner vision and are also a symbol of fidelity and mental focus. Many people believe that wearing a blue sapphire can help with concentration, aid in meditation, and help one practice mindfulness.
Ruby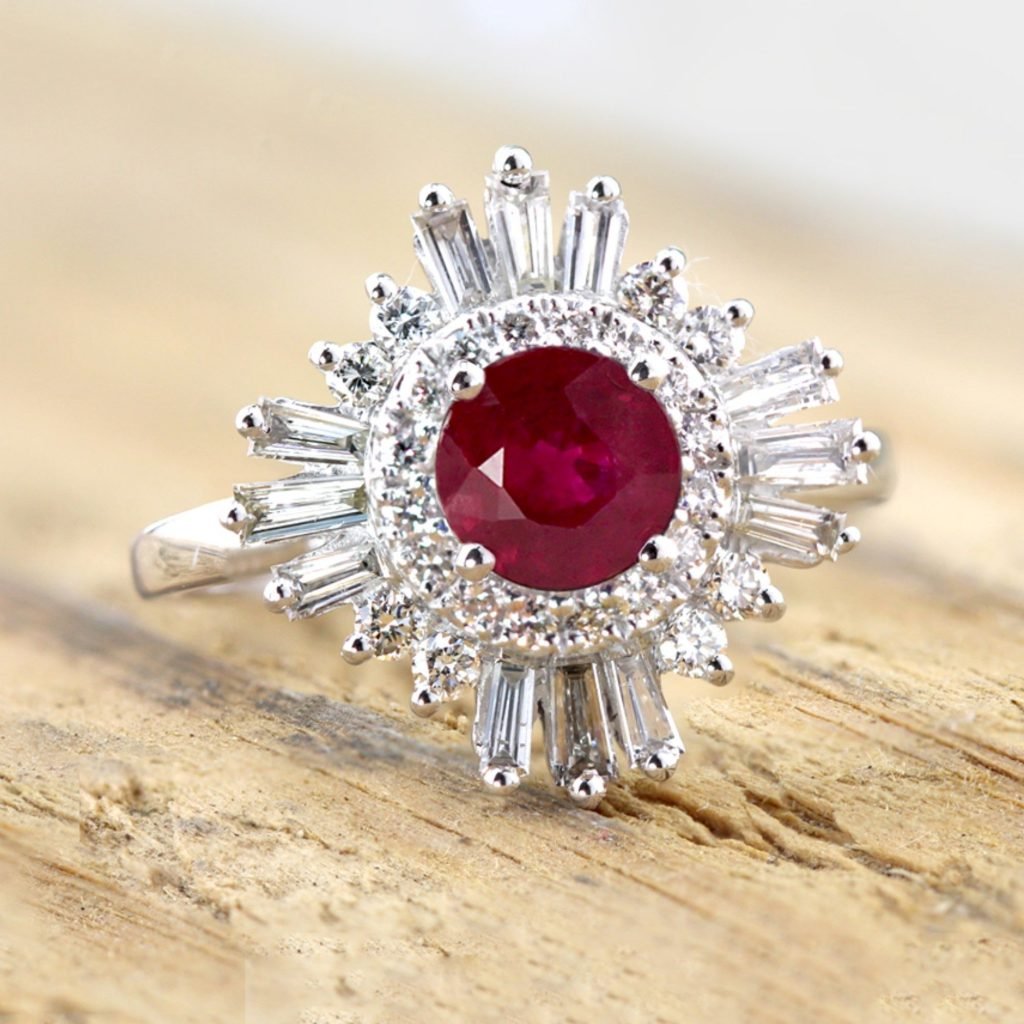 The vintage inspired diamond halo on the Charleston Ruby Engagement Ring adds to its center ruby's regal quality.
Due to their lush red color, rubies are associated with love, power, and energy. Rubies are also strongly associated with royalty, since they've been favored by royals since ancient times, when nobles valued rubies above all other gemstones. Legend has it that the Chinese Emperor Kublai Khan once offered an entire city in trade for a large ruby. Spiritually, rubies are thought to help with the emotions and increase life-force energy. Rubies are also thought to promote increased motivation, boost self-confidence, stimulate the heart, and increase passion.
Morganite
A morganite engagement ring like this brilliant rose gold halo style is a romantic choice, since morganite is a stone of the heart.
Morganite, the soft pink variety of beryl, is thought to be connected to the soul, the heart, and love. Crystal healers believe that morganite is a particularly good gemstone for attracting positive energy, calming anger, and bringing new love and romance into your life. Many healers also believe that wearing morganite will bring compassion, joy, confidence, and self-love.
Blue Topaz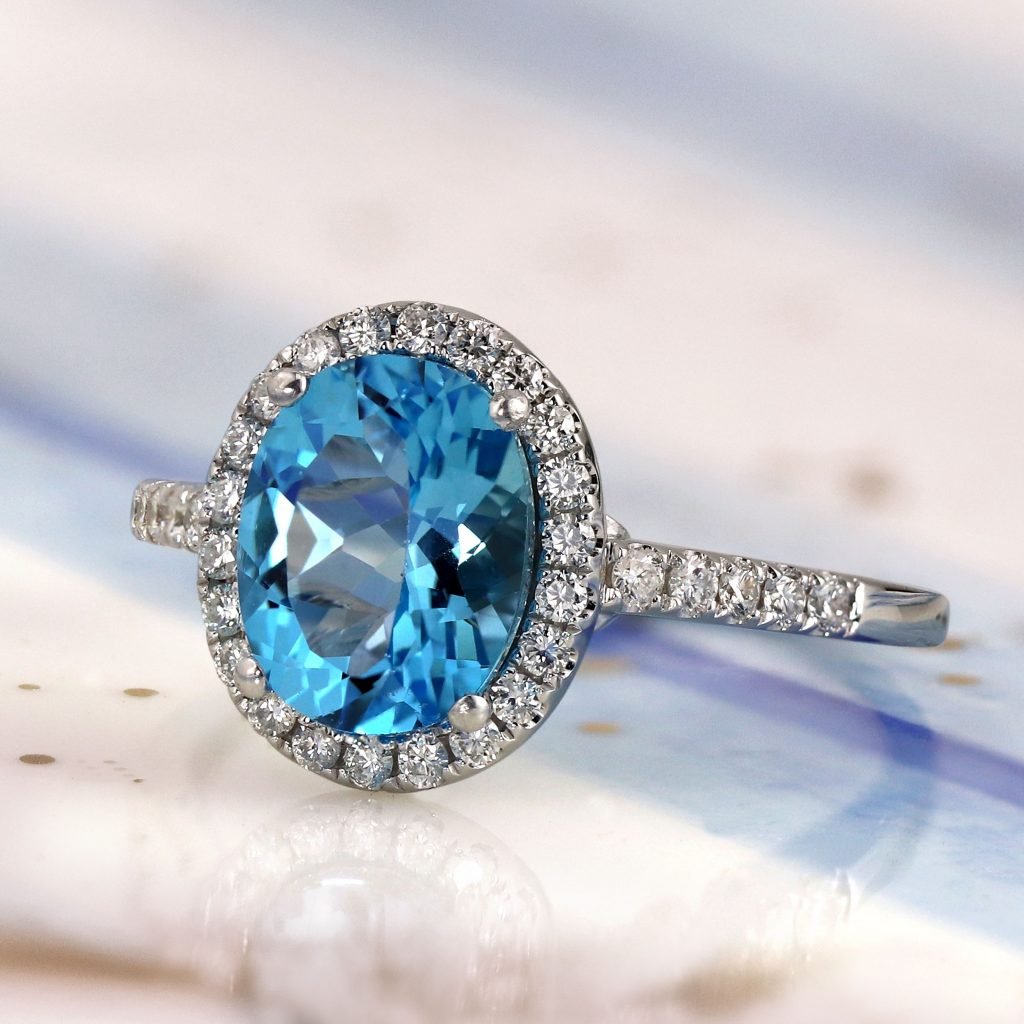 According to crystal lore, a blue topaz engagement ring will help promote peace, truth, and forgiveness.
Blue topaz is known as one of the most powerful gemstones. This gemstone reflects the energy of the mind and of knowledge, and is thought to be able to help one think clearly through complex ideas and challenging situations. Blue topaz is said to promote truth and forgiveness. It's also said to help balance the emotions, helping the wearer feel more peaceful.
_______________________

Can't get enough gorgeous precious gemstones? View our full selection of colored gemstone jewelry, which features enchanting semi-precious and precious gemstones such as aquamarine, citrine, peridot, emerald, pink corundum, green amethyst, and garnet. Discover our collection and find precious stones in a variety of colors and designs in a wide range of styles. Whether you're searching for a meaningful piece to wear everyday, personalized birthstone jewelry, a gorgeous gemstone engagement ring, or a unique wedding ring, you'll find your perfect design within our stunning selection of birthstone and gemstone pieces.