Peridot, a glittering green gemstone, is August's birthstone. While most gemstones come in many colors, peridot is comes in only one: a vibrant shade of yellow-olive green. Peridot has been loved throughout the ages for its spectacular color, as well as for its unique meaning. Today, peridots are known as a symbol of opportunity and prosperity. Throughout time, however, this gemstone has had many meanings, which we'll share with you in this post! Read on to learn all about the many meaning's of the August birthstone, as well as a bit about its history and formation.
Peridot Formation and Composition
The breathtaking peridot in this halo peridot diamond ring was formed by magma, deep in the earth.
Like diamonds, peridots form in the earth's mantle, miles into the earth. Peridots form in magma, then are usually brought to the earth's surface by volcanic eruptions. Peridots also sometimes arrive on earth via a flaming meteorite, though these celestial peridots are quite rare.
Peridots are technically a gemstone-quality variety of the mineral olivine. Like all other types of olivine, peridots get their color from their composition. The unique combination of magnesium and iron present in peridot creates its distinctive yellow green to olive green color.
The Meaning of Peridot: Throughout History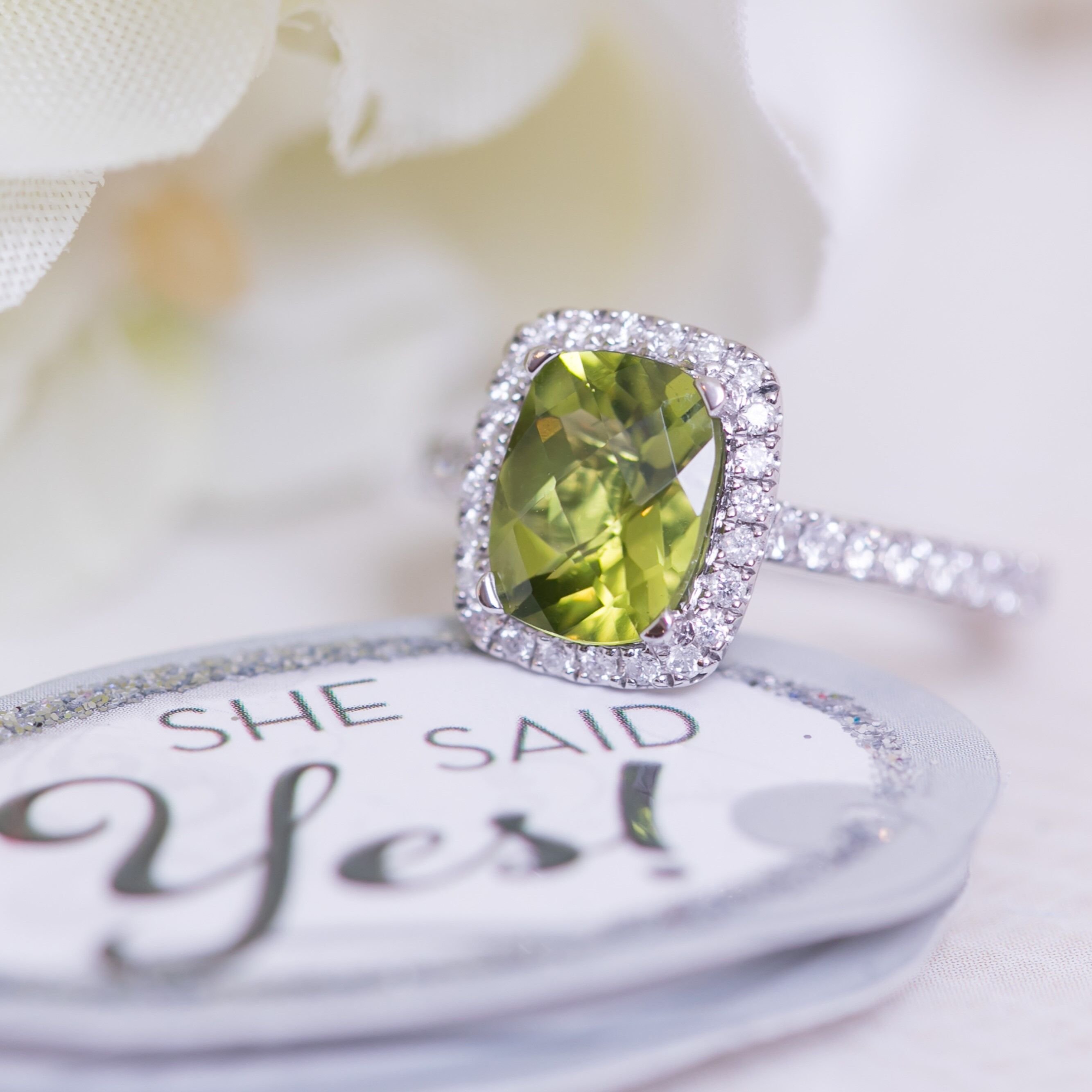 According to ancient Egyptians, the peridot in this halo peridot diamond ring will bring its wearer good luck, power, and confidence.
Peridot's many meanings are intertwined with how it's been loved throughout history. One of the first historical records we have of peridot comes from the writings of Pliny the Elder, an ancient natural historian. In his works, Pliny the Elder describes the color and appearance of Peridot, detailing its vibrant color and stating that it glows like a hot coal at night. He also states that, in his time (the first century), much peridot was sourced from an island called Topazios. Pliny the Elder states that this island was heavily protected by the ancient Egyptians, who believed it to be a source of priceless treasures.
We know from Pliny's works, as well as from numerous other texts, that the ancient Egyptians adored peridots. Egyptians referred to peridots as the "gem of the sun" and believed that they had many magical properties. Egyptians believed that peridots protected the wearer from nightmares and brought the wearer good luck, power, good health, and confidence. Many ancient Egyptians also wore peridots around their left arms to ward off evil spirits. Cleopatra is thought to have worn numerous peridots. Cleopatra was famously fanatic about emeralds and many historians believe that a large portion of the "emeralds" in her collection were actually peridots.
Peridots have also been celebrated in Hawaiian culture throughout the ages. Since ancient times, Hawaiians have associated peridots with Pele, the volcano goddess. This association makes perfect sense, since peridot is formed in magma. Hawaii, which is home to numerous volcanoes, boasts a large amount of olivine, the non-gem variety of peridot. There's even a green sand beach on the Big Island, Papakolea Beach, which is green due to large amounts of crushed olivine.
Since peridots have been associated with magical properties since ancient times, the myths about peridots have continued over the centuries. Peridots have also been associated with bringing happiness, strengthening the eyes, and aiding friendship. Due to their yellow-green color, they've also been associated with healing issues caused by the liver.
The Meaning of Peridot: Today
This beautiful peridot diamond ring features the August birthstone and six dazzling diamond side stones.
Peridot is still associated with many of the magical properties it has been tied to throughout the ages. However, today, it's much more commonly known as the August birthstone. As the August birthstone, peridot is primarily associated with strength, opportunity, and prosperity.
Can't get enough of the gorgeous, meaningful peridot? View more peridot jewelry by clicking here!