Three stone engagement rings are enduringly popular. This style of engagement ring, which features a center stone that's accented by two prominent side stones, is loved for its aesthetic appeal and its rich meaning. While all engagement rings are meaningful, three stone rings have a beautiful symbolism that can make them particularly special and romantic.
The Meaning of Three Stone Engagement Rings
The three gems at the heart of a three stone engagement ring represent a couple's past, present, and future. The largest stone in the ring, the center stone, represents the present, while the side stones symbolize the past and future.
The unique meaning of a three stone engagement ring allows it to tell a story, the story of your love and commitment. When proposing with a three stone ring, people often use their engagement ring's gems to reflect on how their love blossomed in the past, how deep their love is in the present, and how they foresee their love growing in the future.
Alternate Symbolism of Three Stone Engagement Rings
While the three stones in a three stone ring are most commonly thought to be a symbol of the past, present, and future, three stone rings have been ascribed other meanings. Some people associate the three stones in a three stone ring with a friendship, love, and fidelity, the three building blocks of a lasting relationship. Devout couples also sometimes associate three stone rings with the Holy Trinity, taking the three stones of the ring to represent the Father, the Son, and the Holy Spirit.
Three Stone Engagement Ring Styles
One of the best things about three stone engagement rings is the diverse selection of styles within the category. There are classic three stone rings, vintage-inspired three stone styles, unique modern three stone designs, and much more. So, if you're drawn to three stone rings because of their lovely meaning, you'll have no issue also finding a three stone engagement ring with a style you love.
Three Stone Round Diamond Engagement Ring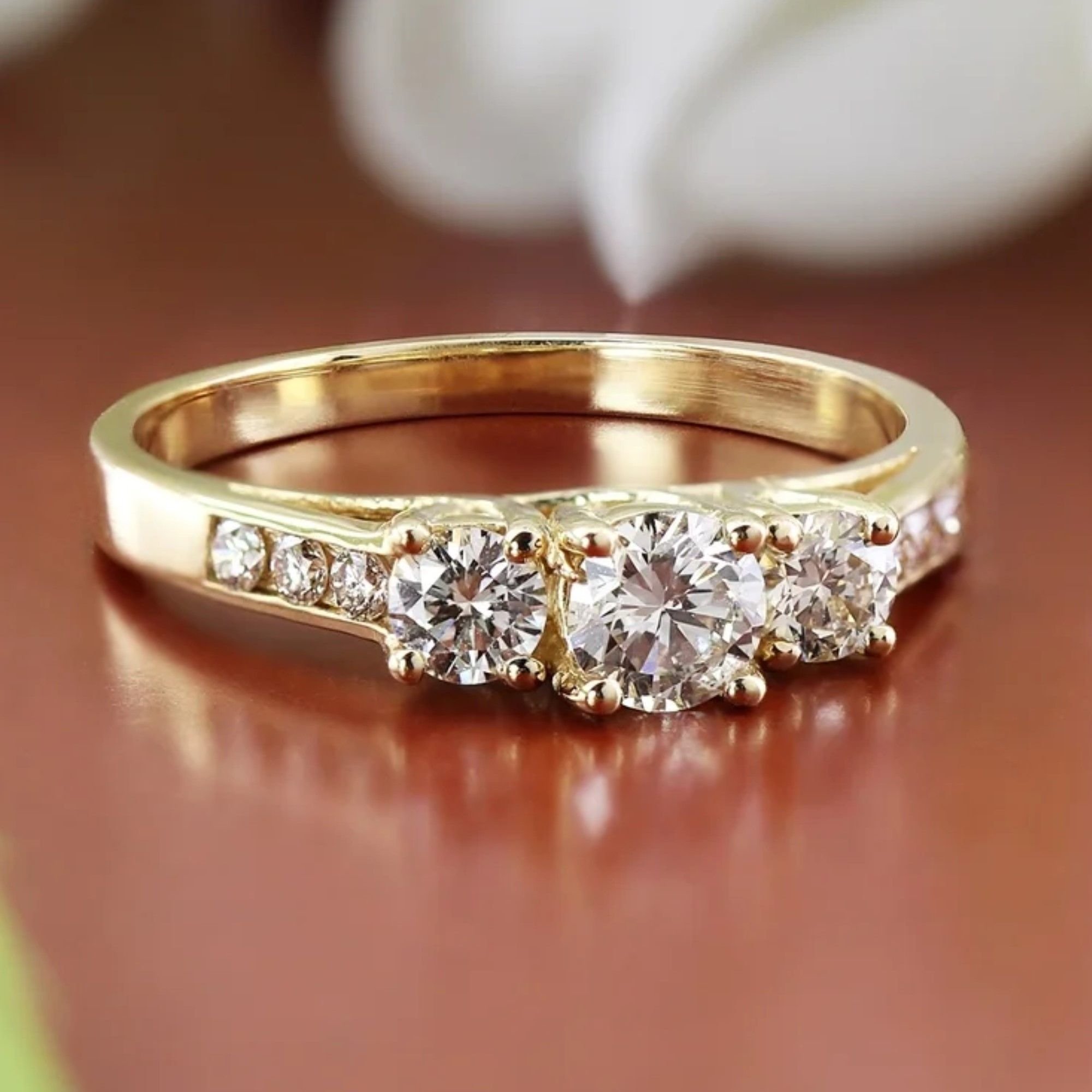 The Emerson Three Stone Engagement Ring, pictured here in yellow gold, is as beautiful as it is classic.
The most traditional three stone engagement ring designs feature three round diamonds, which can vary in proportion. Some three stone round diamond engagement rings feature a large center diamond and more petite side diamonds, which can enhance the visual impact of the center stone. Then, other three stone round diamond designs feature side diamonds that are only slightly smaller than their paired center stone, which provides a balanced look that many people find incredibly attractive.
Colorful Three Stone Engagement Rings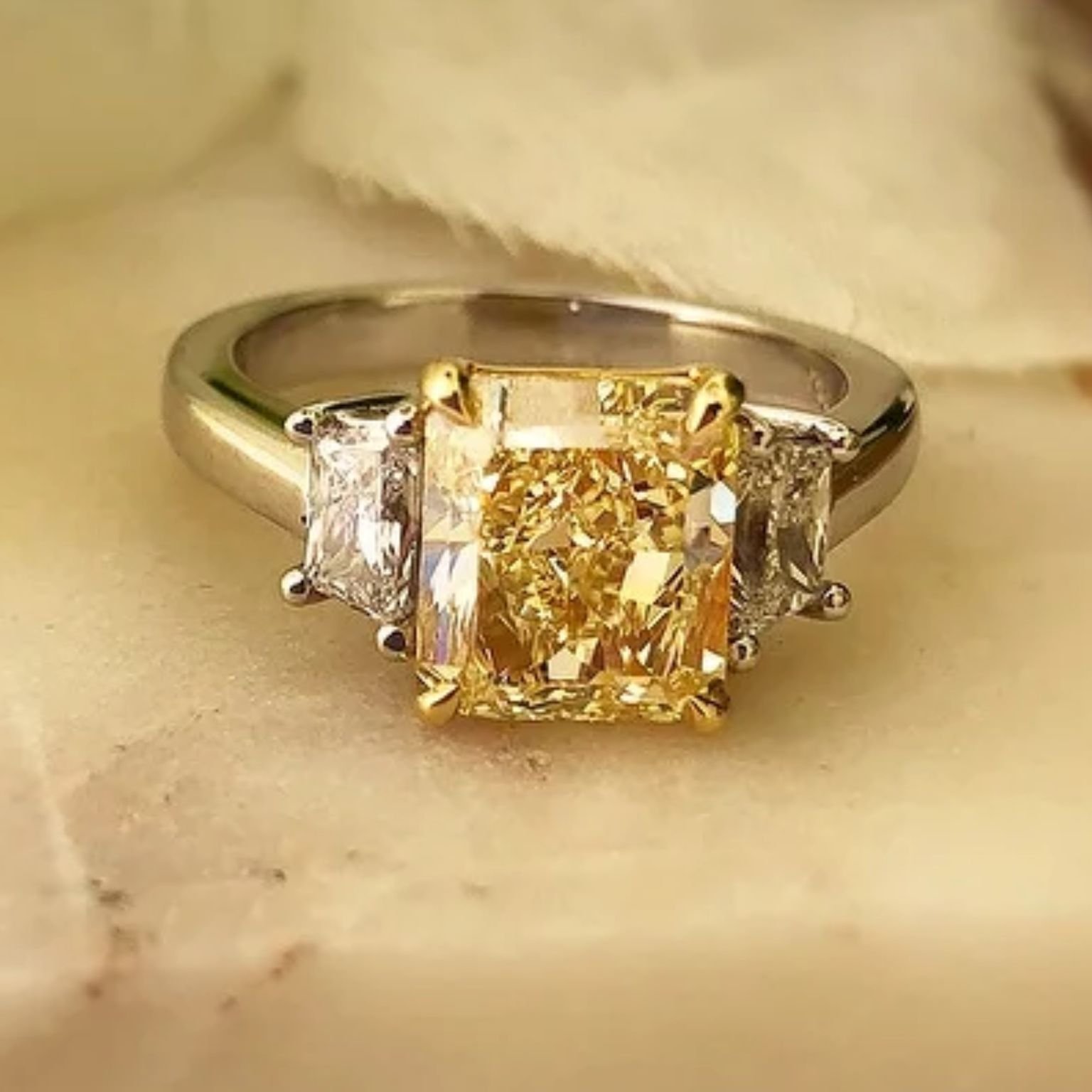 This three stone yellow diamond engagement ring from our Le Desir Collection features a captivating 3 carat radiant cut yellow diamond and two exquisite trapezoid cut side diamonds.
Three stone engagement rings that feature colorful diamond or gemstones are lush and vibrant, making them an eye-catching three stone option. Colorful three stone engagement rings can feature one colored gemstone as their center stone, two colorful side stones, or three colorful gemstones.
Fancy Shaped Three Stone Diamond Engagement Rings
Fancy shaped diamond three stone rings have a distinctively captivating look that makes them feel highly personal. This style of three stone ring tends to lean one of two ways: either more classic or more modern in style.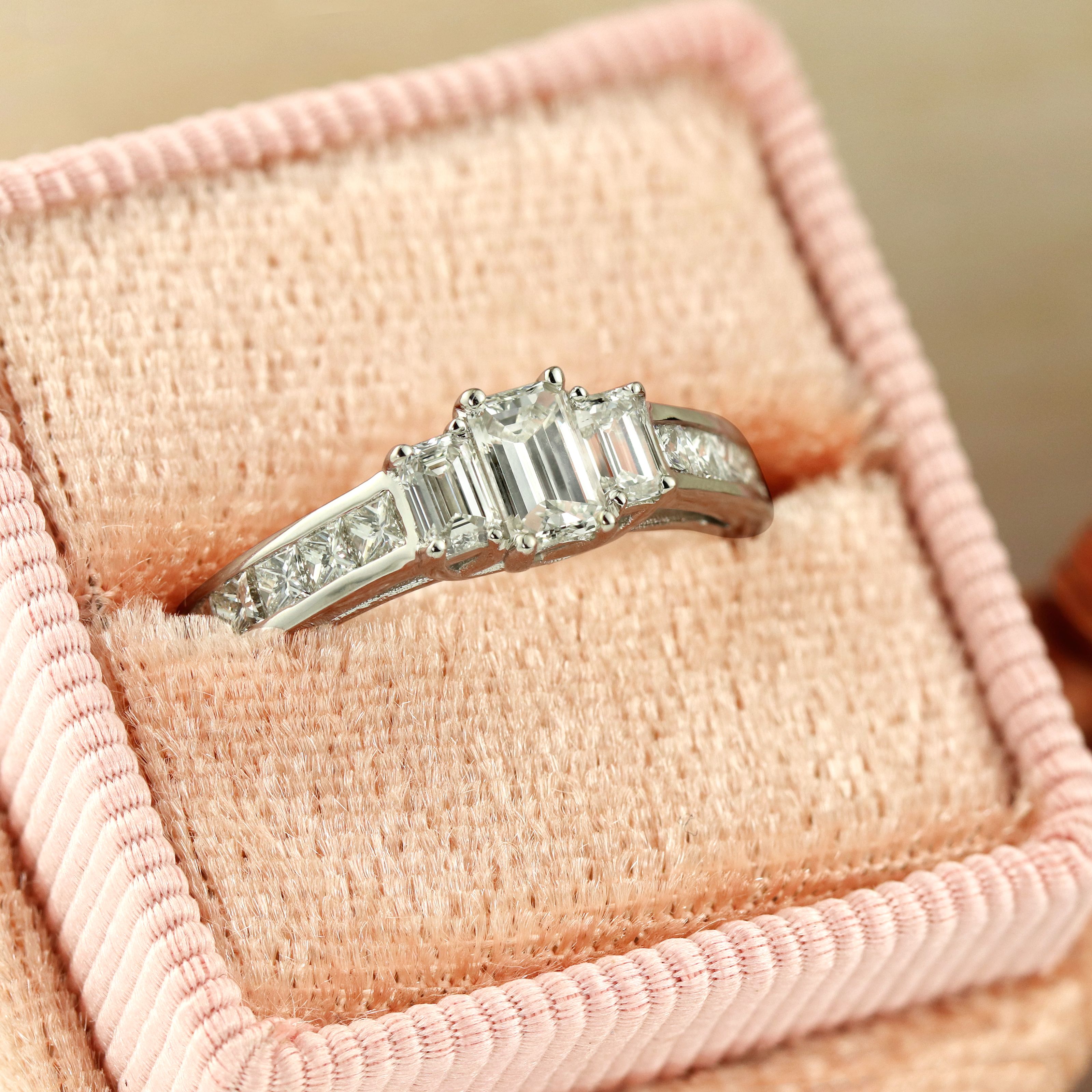 Emerald cut diamonds stun in this chic three stone engagement ring design.
This three stone emerald cut diamond engagement ring shows off a more classic fancy shaped three stone design. This 14k white gold ring features three emerald cut diamonds and a beautifully proportioned channel set diamond band, giving it an elegant and somewhat retro look.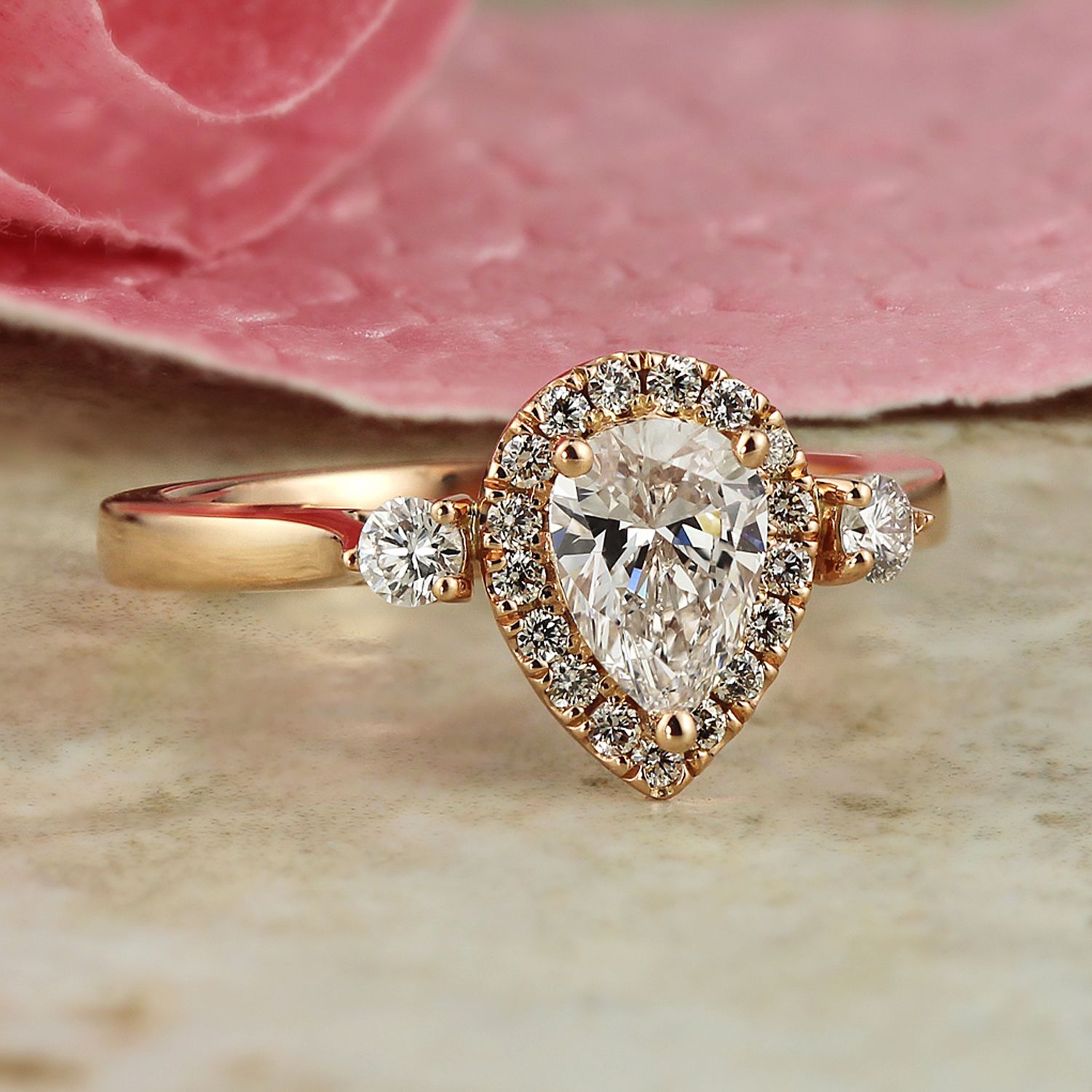 The Clara Halo Diamond Engagement Ring is a contemporary beauty.
This halo three stone pear shaped diamond ring provides an excellent example of how striking and gorgeous a more modern fancy shaped three stone design can be. Here, a pear shaped diamond rests in a halo setting atop a rose gold band. This glamorous centerpiece is accented by more petite round cut side diamonds, which make the center stone look even more bold and breathtaking.
_____________________________
Interested in seeing even more beautiful, meaningful three stone setting styles? Browse our full collection of three stone engagement rings. Or, if you're interested in browsing other traditional engagement ring styles, browse our complete fine jewelry collection, which includes round brilliant cut solitaire engagement rings, princess cut diamond solitaire rings, halo engagement rings, diamond band engagement rings, diamond wedding bands, classic bridal sets, and our gemstone ring collection, which features a wide selection of gemstone engagement rings and birthstone rings.