Today, more and more couples are looking for alternatives to traditional diamond engagement rings. Some people want a non-traditional ring because they're looking for something unique that will stand out, while other people want an alternative engagement ring because they want something that feels more personalized and meaningful.
Whatever your reason for wanting a non-traditional engagement ring, opting for an alternative engagement ring is an excellent choice. Non-traditional engagement rings are beautiful and special– and, as an added bonus, they can also be much more affordable than traditional diamond engagement rings.
Another thing we love about non-traditional engagement rings is that there are no rules on what you can choose for your gemstone. So, which gem is right for you and your partner? Learn about your options as we go over some of our favorite diamond alternatives below!
Morganite Engagement Rings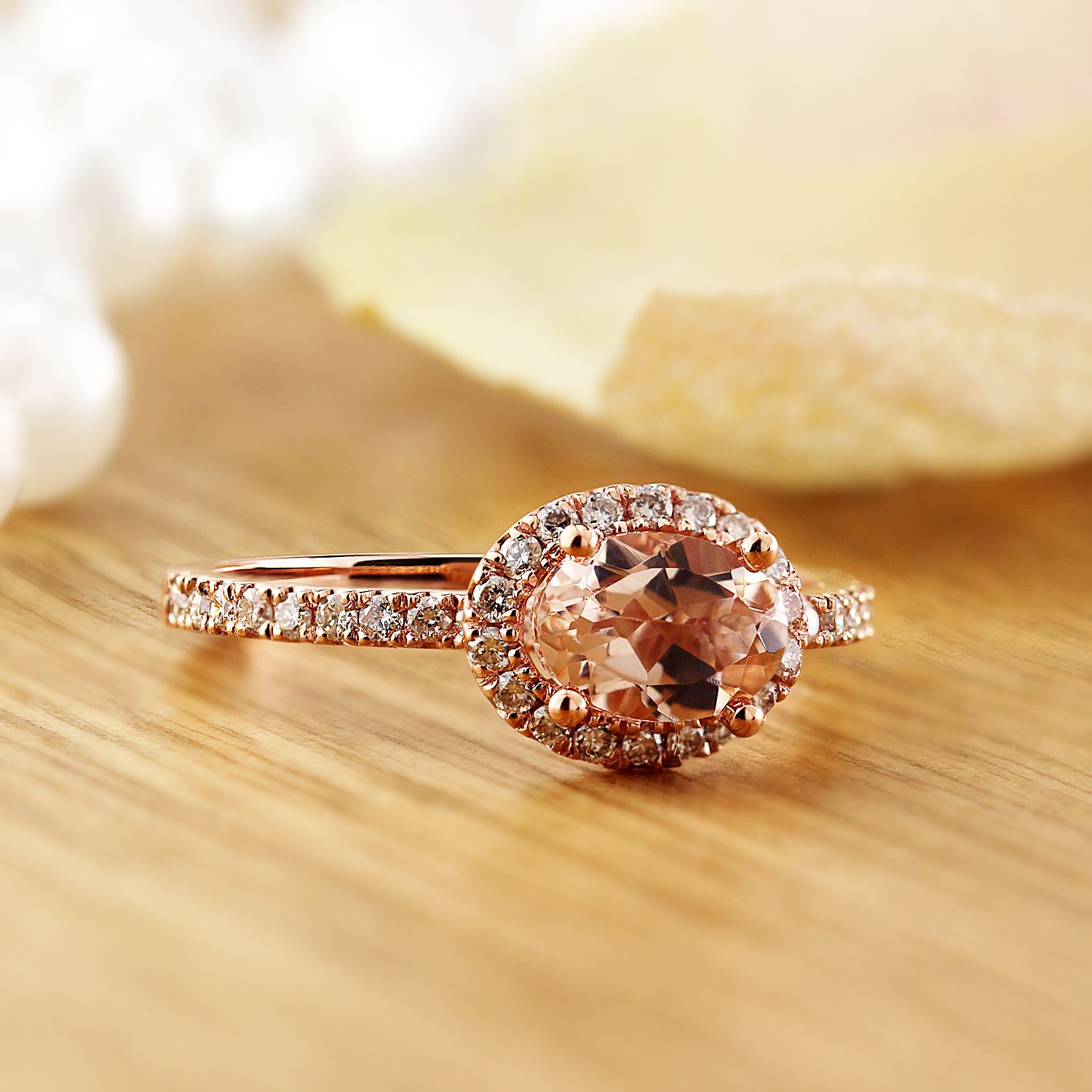 This east-west set morganite and diamond engagement ring shows off how beautiful rose gold and morganite look together.
Morganite is a beautiful pink to orange-pink variety of beryl, putting it in the same family as emerald (green beryl) and aquamarine (blue beryl). With its blushing pink hue, morganite is an incredibly romantic alternative engagement ring option. Morganite tends to be particularly popular when paired with rose gold, since the warm pink tones of these luxe materials look simply stunning together.
Shop Morganite Engagement Rings
Lab-Grown Diamond Rings
This white gold diamond ring has a classic look and a non-traditional center stone: a round cut lab-grown diamond.
Over the last few years, lab-grown diamond engagement rings have skyrocketed in popularity, quickly becoming one of the most popular non-traditional engagement ring options. Lab-grown diamonds have almost all of the same advantages as natural diamonds. Since lab-grown diamonds have the same chemical, physical, and optical properties as natural diamonds, they're just as brilliant, durable, and beautiful as natural diamonds. But lab-grown diamonds are different from natural diamonds in two ways that are very important to many modern consumers: they aren't mined and they come with a significantly more affordable price tag. So, for those who want a diamond engagement ring or wedding band but don't want a mined diamond (or just don't want to pay the premium for a mined diamond), a lab-created diamond ring is an ideal choice.
Shop Lab-Grown Diamond Engagement Rings
Moissanite Engagement Rings
A two carat moissanite stuns in this vintage-inspired engagement ring, which features a rose gold band set with marquise cut diamonds.
Moissanites are brilliant, colorless gemstones that look remarkably like diamonds, yet cost around 90% less. This gorgeous gemstone was first discovered in 1893 by the French scientist Henri Moissan. Initially, Moissan thought that he had found diamonds in a meteor crater, but later discovered that he had found an entirely new gemstone made out of silicon carbide.
Moissanites look similar to diamonds, but these gemstones do have some differences, including in light reflection. Moissanites have a higher refractive index than diamonds, so they're actually more brilliant and fiery than diamonds. Moissanites shine brightly on their own in solitaire settings, then also look gorgeous in bands with diamond accents, as moissanites and diamonds look stunning together.
Shop Moissanite Engagement Rings
Black Diamond Engagement Rings
This white gold halo diamond ring features a mesmerizing pear shaped black diamond.
Black diamond engagement rings have a luxurious, dramatic beauty, making them an ideal option for the style-setter who loves to stand out from the crowd. Black diamonds are a wonderful center stone option not only because of their striking look, but also because of their meaning. Like all diamonds, black diamonds symbolize eternal love. But then, black diamonds also have a unique meaning of their own, symbolizing passion and strength.
Shop Black Diamond Engagement Rings
Sapphire Engagement Rings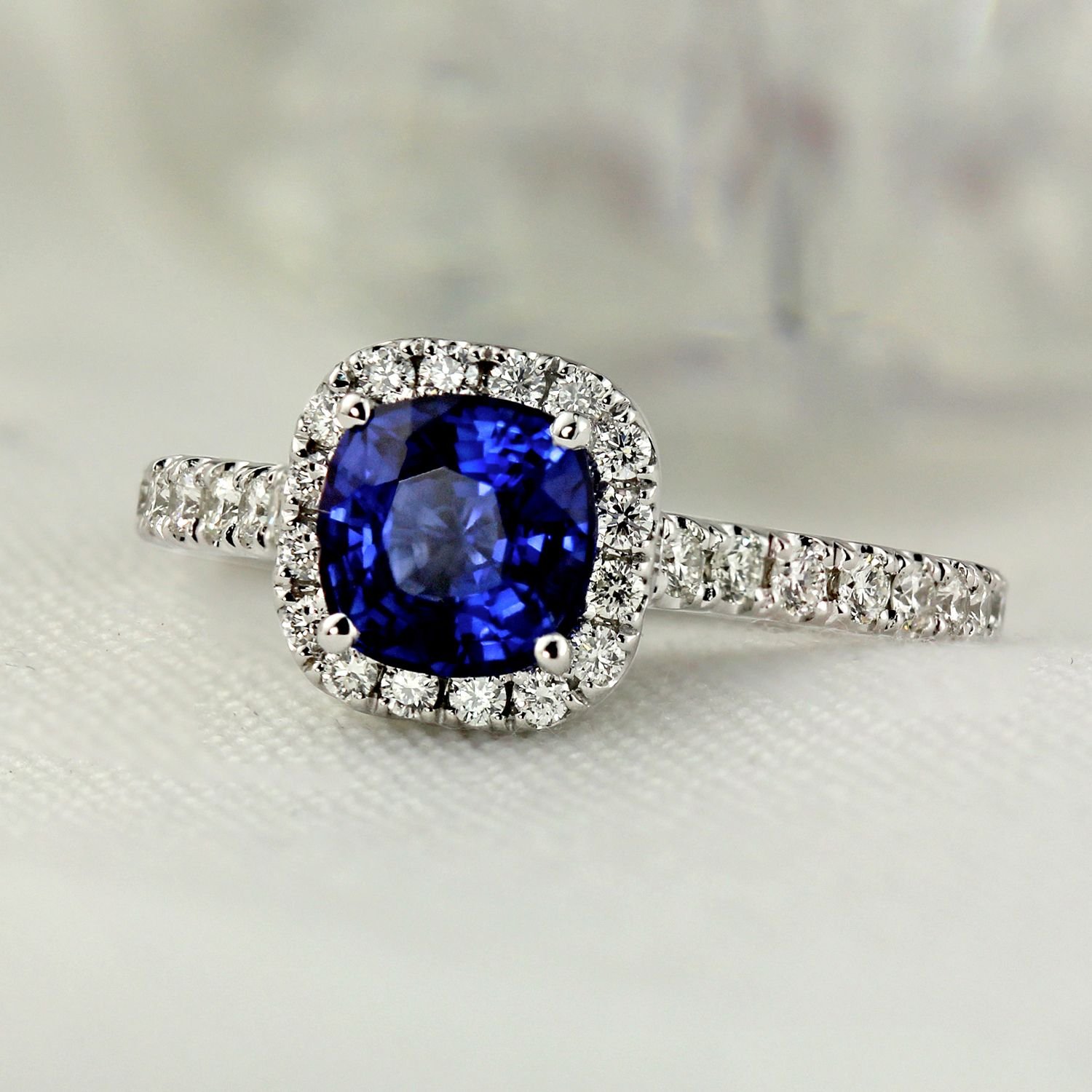 This white gold, white diamond, and blue sapphire engagement ring is the picture of classic beauty.
Blue sapphire engagement rings are somewhat rare today, but they were actually the default choice for hundreds of years. Until diamond engagement rings skyrocketed in popularity in the 19th century, almost all brides wore sapphire engagement rings. Sapphires were chosen for their beauty and durability, but also for their meaning. For millennia, sapphires have been associated with fidelity, loyalty, and truth.
Blue sapphire engagement rings are an uncommon choice in the 21st century, but they've had a couple of notable surges in popularity within the last few decades. Most notably, in the 1980s, Princess Diana's 12 carat blue sapphire and diamond engagement ring sparked a sapphire engagement ring trend. Then, when Kate Middleton started wearing the same sapphire ring in 2010, it led to another spike in sapphire engagement ring popularity.
Shop Sapphire Engagement Rings
____________________________
Still searching for your perfect non-traditional engagement ring or wedding ring? Browse our full bridal jewelry collection. Or, if you're looking for a colored gemstone style, browse our gemstone collection, which features a wide selection of gemstone engagement rings and birthstone jewelry options, including blue topaz rings, amethyst rings, morganite rings, aquamarine rings, emerald rings, and ruby rings.