There's nothing more chic, timeless, and stunning than a simple engagement ring. While intricate, bold engagement rings certainly have a place in our hearts, there's something truly special about the elegance of a simple engagement ring.
You might think that choosing a simple engagement ring means you don't have many customization options. But, really, that couldn't be less true! There are so many ways to switch up a simple engagement ring's style, giving it delicate detail and making it utterly "you."
In this post, we're celebrating the beauty of simple engagement rings and taking a closer look at some of our favorite, simply stunning engagement ring designs.
The Classically Beautiful Solitaire
When you think of simple engagement rings, you probably picture a classic solitaire engagement ring. The solitaire has stood the test of time— it's been one of the most popular engagement ring styles for hundreds of years.
Solitaire rings are, by their nature, very simple. They consist only of an unadorned band, some type of setting, and the ring's center stone. But even within this simple format, there are many different types of solitaires you can choose from.
Four and Six Prong Solitaires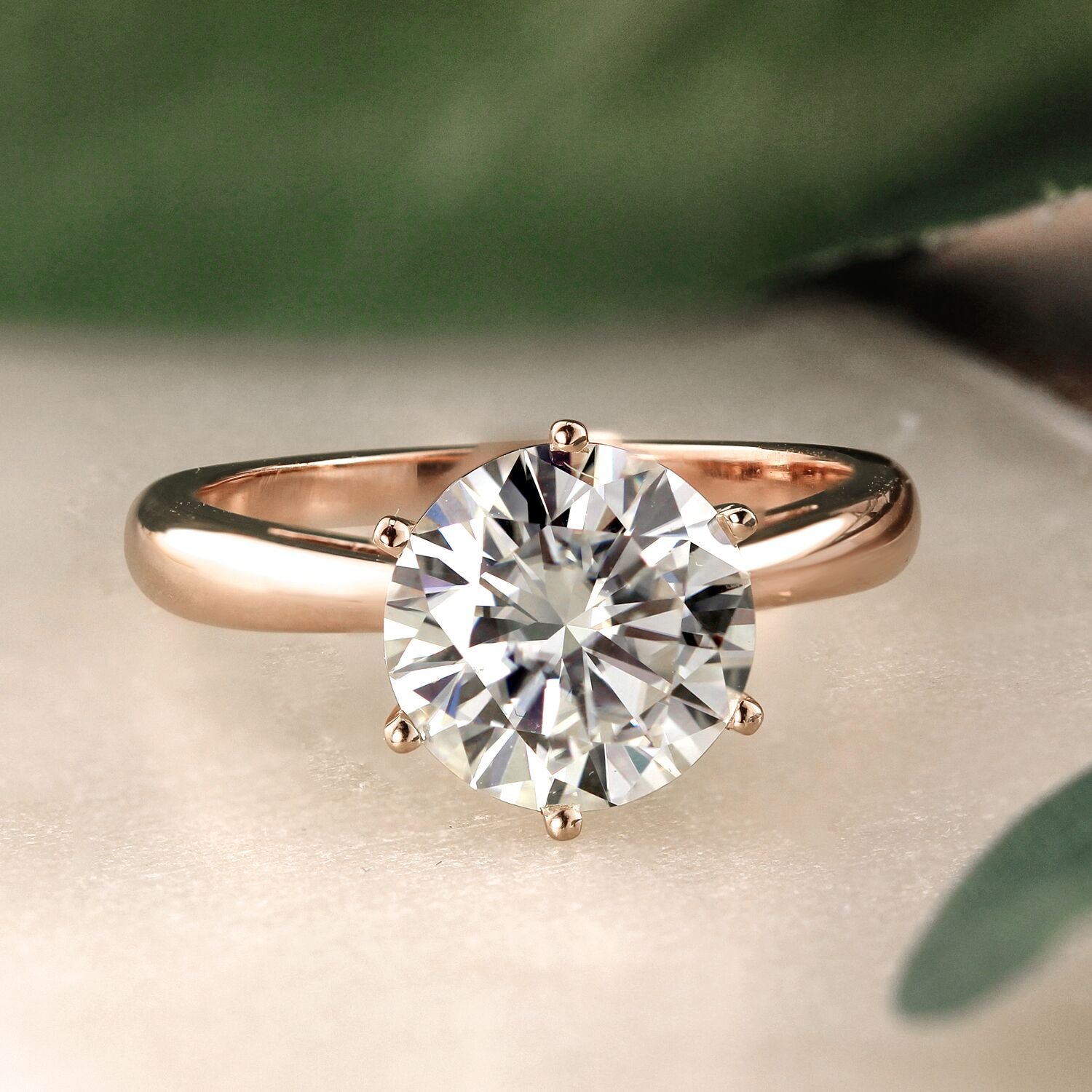 First, let's look at the most classic of your solitaire options: the four prong solitaire. In this ultra traditional design, four prongs crafted from precious metal hold the center diamond in place, allowing it to take full focus and catch excellent light (which means it will be very sparkly!).
Alongside the four prong solitaire is the very similar six prong solitaire. With a six prong solitaire, six prongs hold your center diamond in place, which adds delicate detail and a touch of extra security.
Bezel Set Solitaires
Next in the solitaire category, we have the bezel set solitaire. Bezel settings consist of a ring of metal that completely surrounds your center diamond. A bezel setting provides a sleek, contemporary look and is an exceptionally secure and protective setting. Bezel settings are loved by brides who have an eye for the contemporary, as well as by those who lead a very active life style (bezel settings are secure, strong, and will not snag your clothing like prongs sometimes do).
Selecting a Fancy Shaped Diamond
Selecting a fancy shaped diamond for your solitaire engagement ring is a great way to add a unique touch to this simple, classic ring style. A huge majority of engagement rings feature round diamonds as their center stone, which is the most popular shape. Just by choosing another diamond shape, you can add a fun, eye-catching look to your solitaire engagement ring.
All diamond shapes look beautiful in a solitaire setting. But some of our favorites include oval diamonds, emerald diamonds, asscher cut diamonds, and pear shaped diamonds.
Solitaire Rings With Unique Bands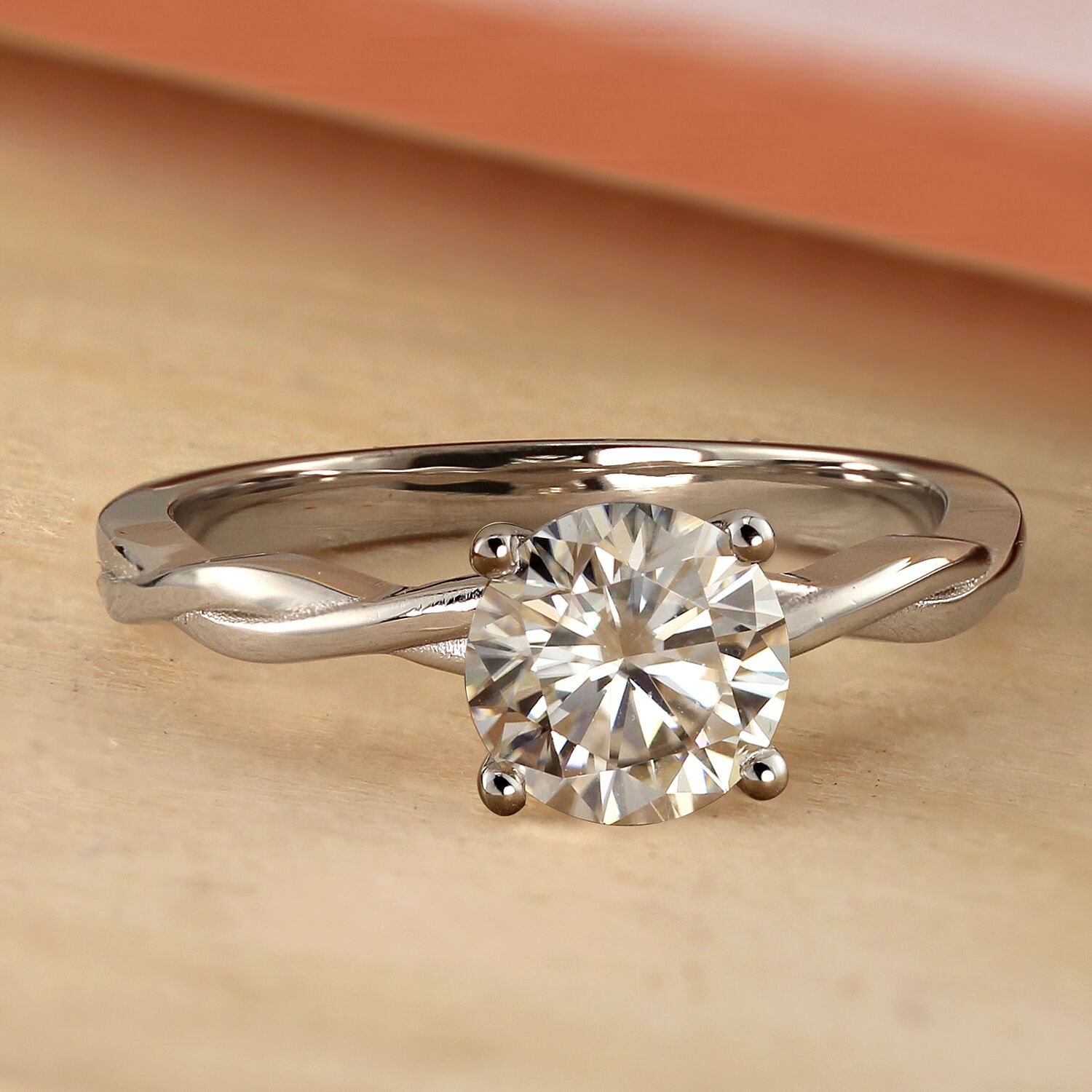 The Elise Simple Twisted Solitaire Diamond Engagement Ring
By definition, a solitaire engagement ring doesn't have diamond or gemstone accents on the band. But this doesn't mean that the band has to be completely plain! There are many types of elegant, simple bands that can switch up the style of your solitaire engagement ring.
Some lovely options for unique solitaire bands include twisted bands, split shank bands, and engraved bands. 
Gemstone Solitaire
Last up in the solitaire category is the gemstone solitaire. If you want to add a pop of rich, luxurious color to your daily life, the gemstone solitaire is the perfect choice for you! They're classic, yet utterly unique. All gemstones look lovely in a solitaire setting, though one of our favorites is the blue sapphire.
Three Stone Engagement Rings
The next category in our simple engagement rings list is the three stone engagement ring, a traditional and lovely design.
The True Classic
For the most classic three stone engagement ring, you'll want three round diamonds for your center stones. In the most classic version of this design, the center diamond is slightly larger than the side diamonds.
Switching Things Up
To add a touch of uniqueness to a three stone ring, you can switch up your choice of diamond shape. Just by going with a diamond shape that isn't round, your ring will instantly look unique. Emerald cut and oval shaped diamonds are some of our favorite alternative diamond shapes for three stone rings. Also, choosing different diamond shapes for the same ring (for example, an oval in the center and two pear shaped diamonds on the sides) can give a distinctive look to a simple three stone ring.
On top of selecting more unique diamond shapes, you can add a personal touch to a three stone ring by adding in gemstone accents (or going full gemstone) or by choosing to go with a less traditional ratio for your side stones (for example, have all three of your stones be the same size or choose very petite side stones).
Wedding Bands as Engagement Rings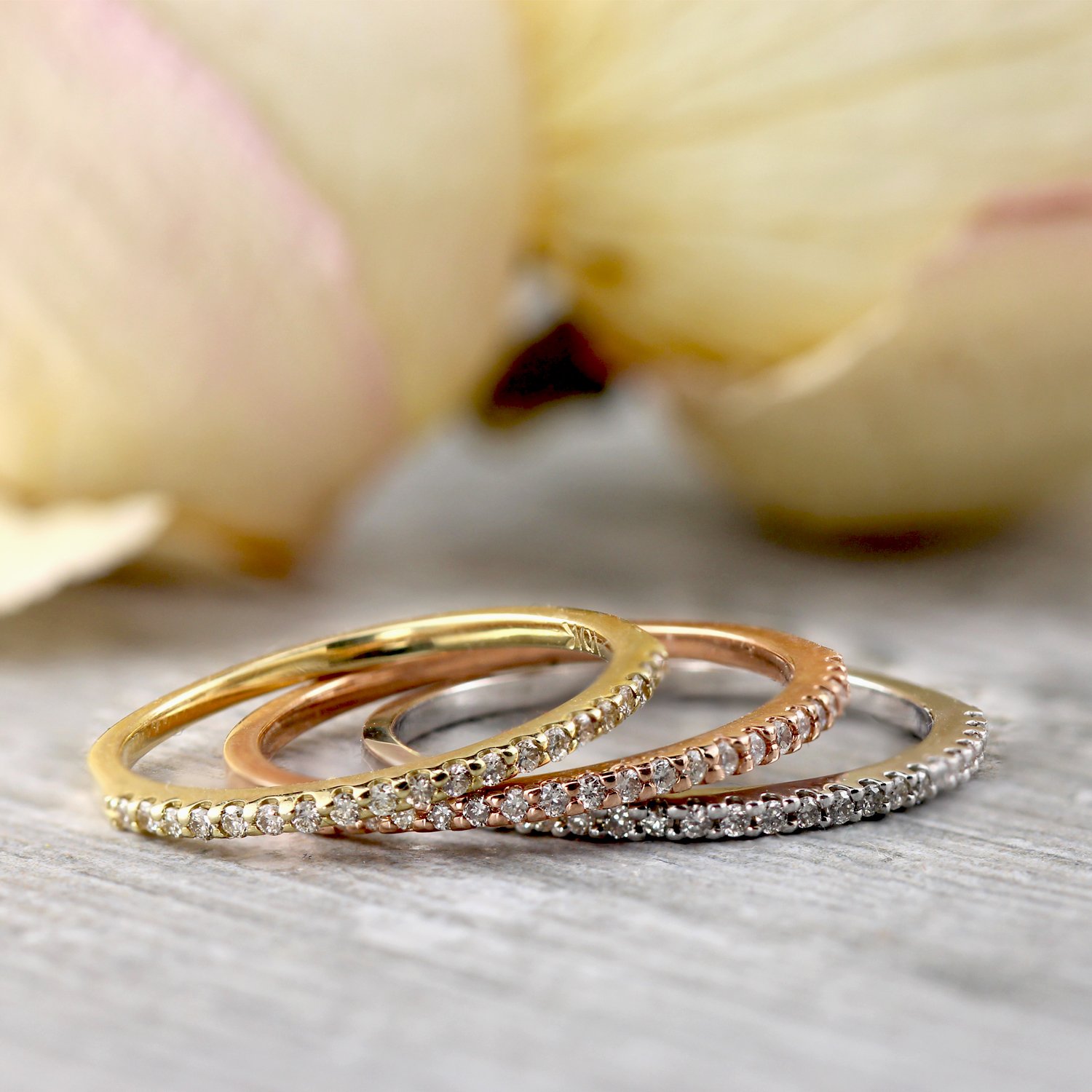 Finally, let's take a look at a modern trend. A trend among simple engagement rings is wearing a simple diamond wedding band as an engagement ring. This type of simple engagement ring is sophisticated, distinctive, and, as an added bonus, a very affordable option!