Fall is the perfect time of year to refresh your jewelry collection and add some new energy into your wardrobe. If you're on the hunt for something fresh and new this fall season, we're here to help with our list of all of autumn 2020's top trends. Below, we'll go over fall's most dominant trends, which include a range of elegant styles and lush colors that are perfect for the season.
Personalized Pieces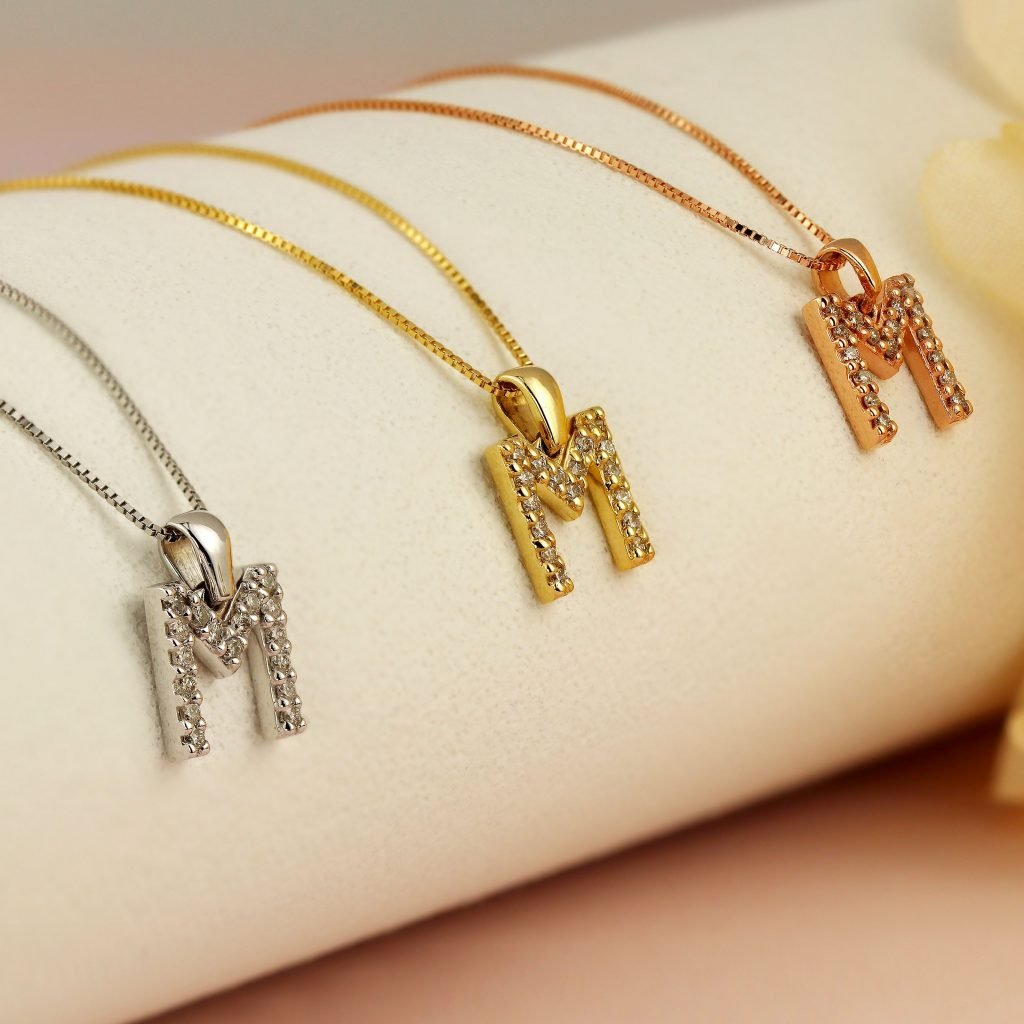 Personalize your look with a chic initial pendant charm necklace in your choice of white gold, yellow gold, or rose gold.
Initial jewelry has been trending all year and this trend is still going strong as we head into fall. And, perhaps due to the initial trend's ongoing popularity, other types of personalized jewelry have started to trend as well. Birthstone pieces, monogrammed jewelry, nameplate styles, and zodiac designs are all trending for fall. Necklaces that feature initial pendants, solitaire set birthstones, and other personalized charms are the top choices within this trending category, either worn alone or in stylish layered looks.
Simple and Petite Engagement Rings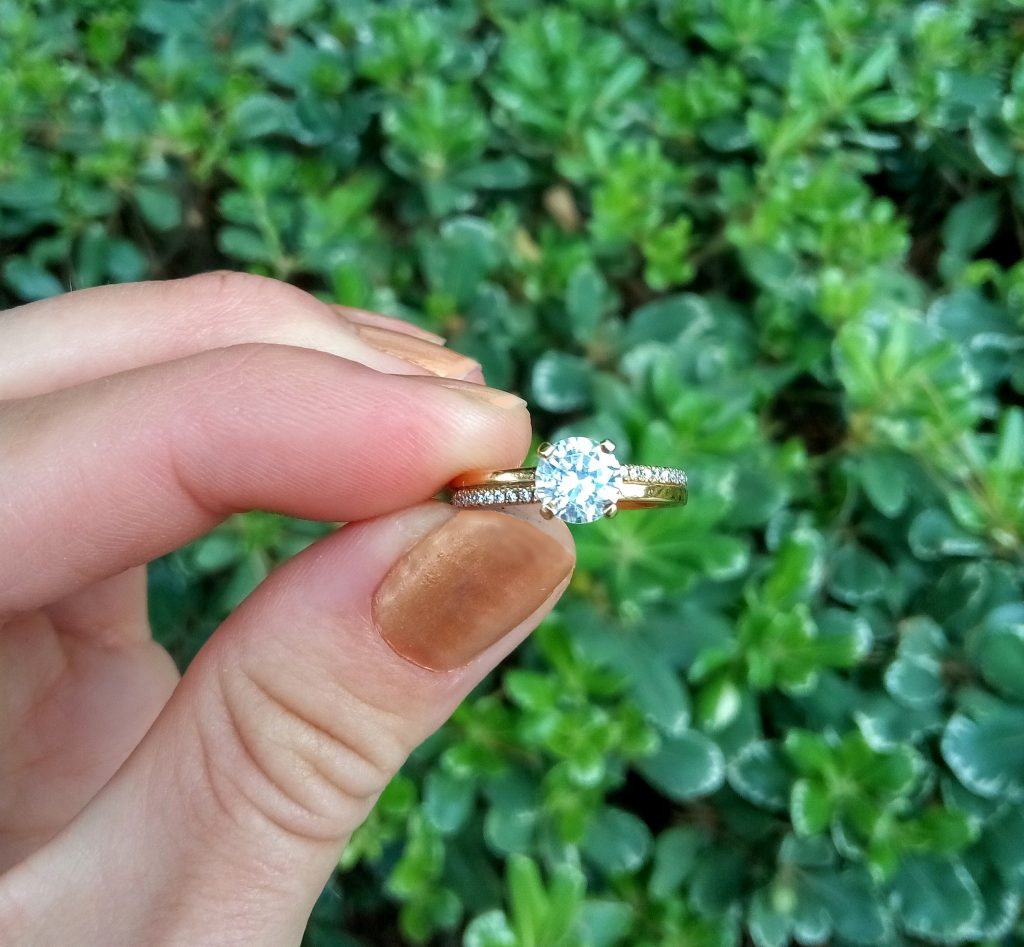 Simple and delicate, the Alison Classic Diamond Engagement Ring is right on trend for fall.
This fall, petite engagement rings and delicate classic styles appear to be at the top of every bride-to-be's wishlist. Simple solitaire styles, minimalistic diamond band designs, petite three stone engagement rings, and designs with small center stones are all top trending styles this autumn.
The rise in popularity of smaller center stones is a very interesting element of this bridal jewelry trend, since it's so different from the size-maximizing halo settings and elongated diamonds that have been popular in recent seasons. It seems that couples are shying away from ultra glam and eye-catching styles in favor of more delicately beautiful designs.
Stacked Rings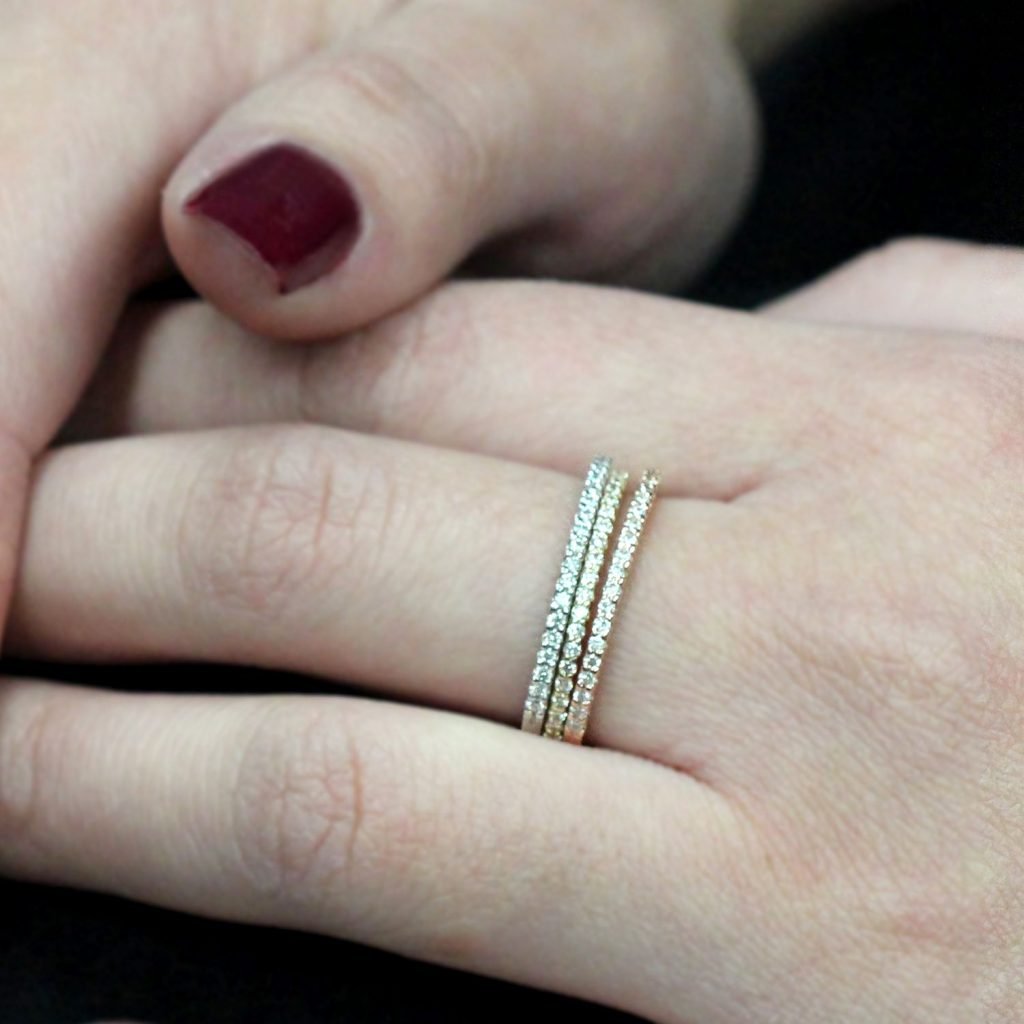 Add a dazzling touch to your fall ensembles by incorporating diamond bands into your ring stacks.
Stacked rings are a jewelry classic that have been a major trend since spring of this year. Stacking slim, minimalistic rings has been very popular in 2020 and we've seen celebs, influencers, and models alike all rocking delicate stacked rings with both casual and upscale looks. For the fall, versatile and simple slim rings are still en vogue, but they're joined by some complementary styles that can add a bit more wow factor to your ring layering combos. Delicate diamond bands, slim gemstone rings, chain link bands, and minimalistic but oversized yellow gold rings all trending this fall.
Lush and Uniquely Colored Gemstones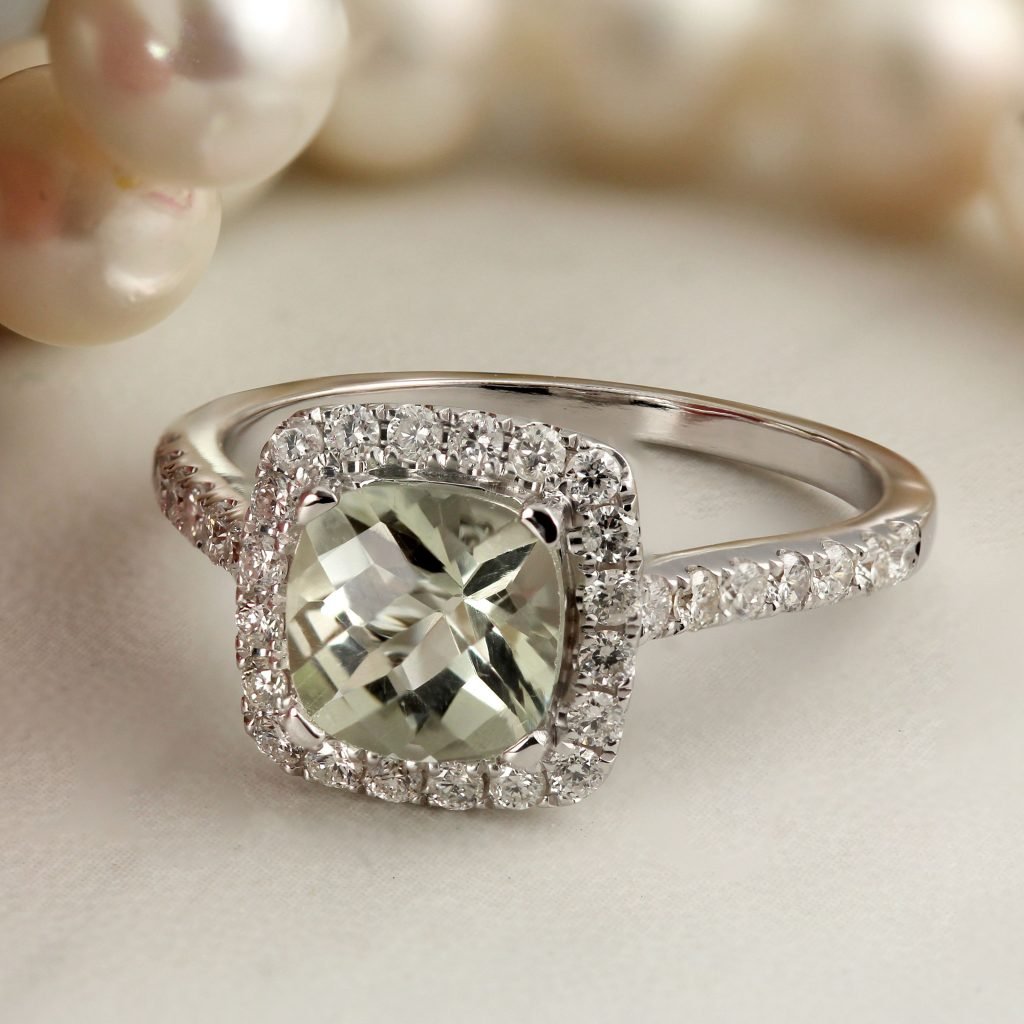 Gemstones with muted colors, like gorgeous green amethyst, are among fall's most refreshing jewelry color trends.
Gemstones of all kinds are trending this season for engagement rings, wedding bands, and every type of fashion jewelry. Fashionistas have been gravitating toward gemstones with lush, autumnal colors, such as blue sapphires, rubies, garnets, emeralds, and citrines. Then, there have also been some more muted, pale gemstones making waves this season. Luxe pastel gems like green amethyst and lightly colored aquamarines have been trending among stylish shoppers who love the unique element these gemstones can add to a fall ensemble.
Peridot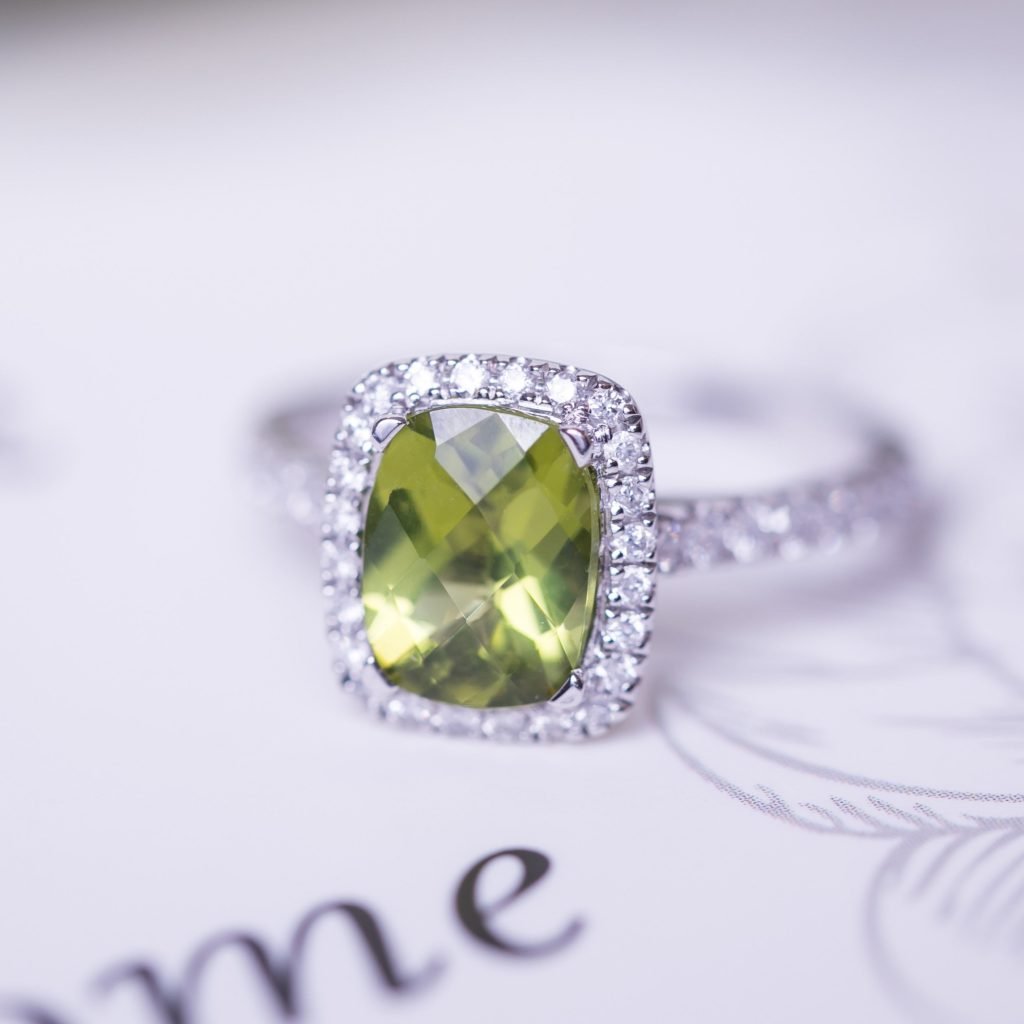 Add a vibrant pop of color to your fall style with a peridot ring.
One gemstone is so popular this fall that it demands its own category: peridot. Peridot is a gorgeous semi-precious gemstone with a lush, olive-green hue. Known by Ancient Romans as "the evening emerald," peridot's striking green color doesn't darken in dim light and instead radiates its mesmerizing color even in the weak light of lamps. Peridot is said to inspire creativity and hope, and to bring natural energy and vitality into your life. 
It's been an underappreciated gemstone in the past, but peridot is a huge jewelry trend this year. Peridot rings, pendant necklaces, statement earrings, and studs are all trending this season. In part, peridot is trending because it fits perfectly into another one of the season's fine jewelry trends: the general gemstone trend. It also fits into a color trend we saw on the fall Fashion Week runways, where olive green rose up as a dominant fashion trend. In addition to fitting both the jewelry and fashion color trends for fall, peridot has a meaning that may be more appreciated during our current times, which we'd guess may have boosted its popularity. Wearing peridot is thought to promote optimism, hope, and happiness, all things that could add a wonderful new energy to one's year.