January's birthstone is the gorgeous, gleaming garnet. January babies are lucky to have the garnet as their birthstone, since this gem is as versatile as it is beautiful. Though red is the most common (and well-known) shade of garnet, garnet can be found in an array of lovely colors, such as orange, yellow, purple, and green. Another major advantage of having garnet as your birthstone is its more affordable price. Garnets tend to be considerably more affordable than other gemstones, thanks to their abundance. So if you're searching for birthstone jewelry and you were born in January, you can go big and bold with your birthstone– without breaking the bank.
To celebrate the vibrant and stunning January birthstone, below we're talking a closer look at the gorgeous garnet. Read on to see some of our favorite garnet birthstone rings, to learn more about the history and meaning of garnet, and to get some practical tips on how to wear and care for garnet.
The History of the Garnet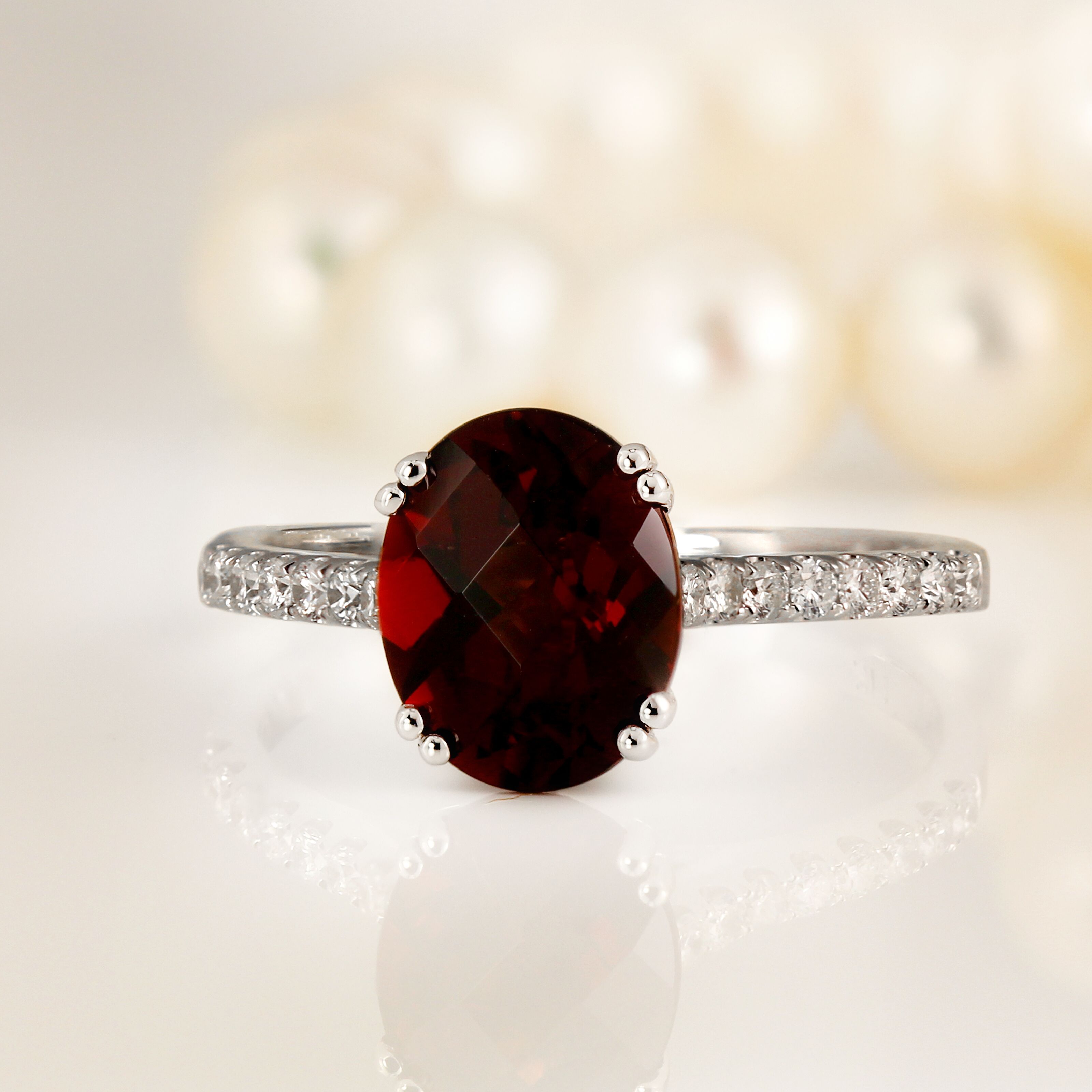 Garnet jewelry, such as this mesmerizing Oval Garnet Ring, has been loved since the time of the Pharaohs.
Garnets are an ancient gemstone that has been worn by humans as far back as 3,000 B.C. Ancient Egyptian Pharaohs were known to love red garnet necklaces and ancient Roman officials used garnet signet rings to stamp seals on important documents. In the Middle Ages, nobles and the clergy were known to love adorning themselves in garnets. Garnets have been loved throughout every era of history, including in the modern era. Some more recent examples of famous fans of garnets include Jackie Onassis, who owned an intricate garnet and diamond brooch, and Kate Middleton, who often wears a pearl and garnet ring that Prince William gifted her.
The Meaning of Garnets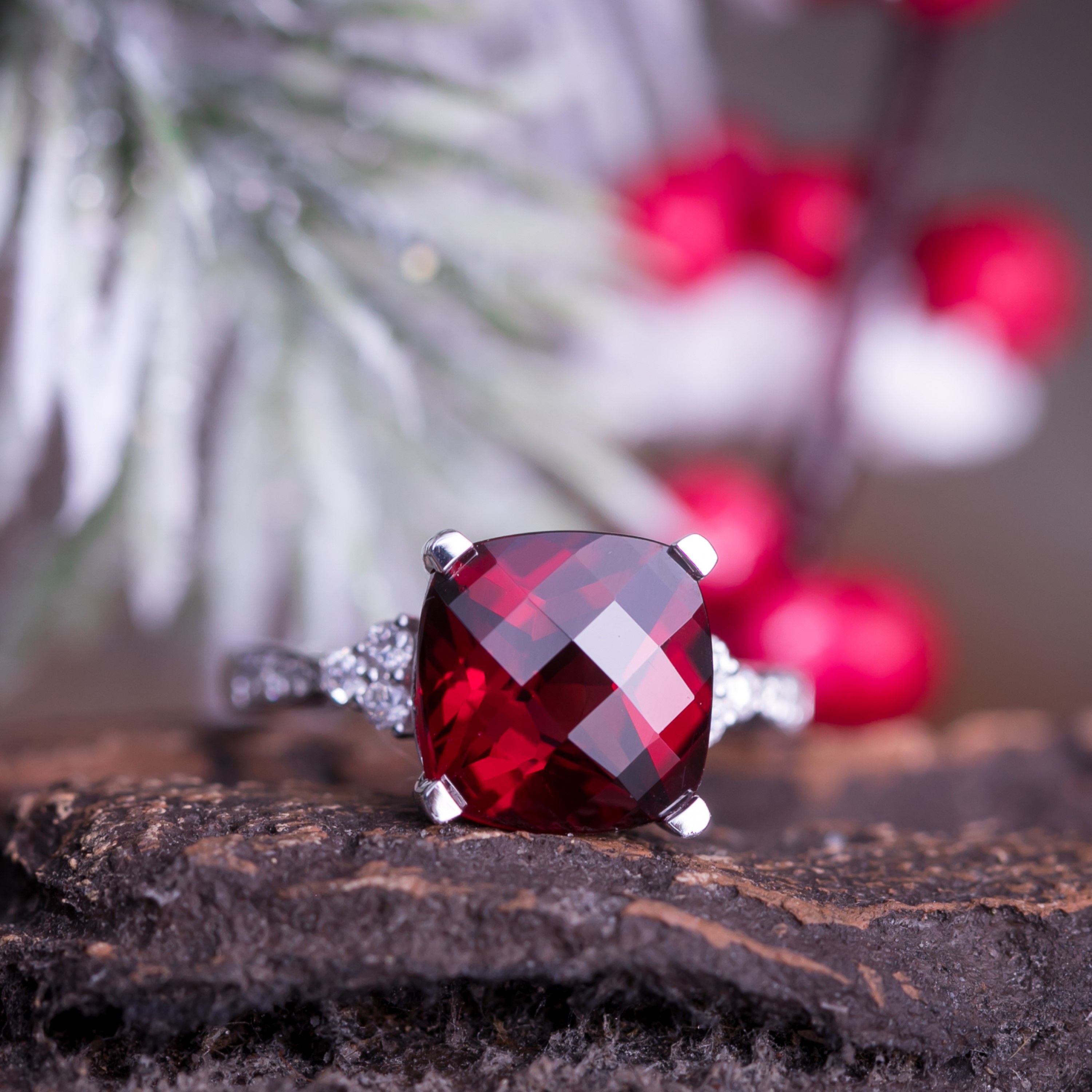 The 5.20 carat garnet in this lovely Cushion Cut Garnet Ring is thought to attract health, wealth, and happiness.
Like most gemstones, garnet has had many meanings throughout the ages. The people of Ancient Greece believed that garnets could soothe angry hearts and reconcile feuding lovers. Warriors in ancient China believed that adorning a sling bow with a garnet would aid them in battle. During the Crusades, garnets were used as talismans to protect against wounds.
Today, garnets are commonly thought to be a gemstone that attracts health, wealth, and happiness to the wearer. They're also thought to be especially lucky when worn by those born in January, since garnets are the January birthstone. In addition to being associated with January babies, garnets are associated with the second wedding anniversary, as they are the traditional second wedding anniversary gift.
How to Wear January's Birthstone: Garnet Jewelry Options and Care Tips
Garnet looks spectacular when surrounded by white diamonds, as seen here in our Halo Garnet Diamond Ring.
There are many types of garnet jewelry for you to choose from, such as garnet rings, garnet earrings, and garnet necklaces. Garnets look lovely in a solitaire setting that lets their beauty take full focus. Then, they also look lovely when accented by other gemstones, such as diamonds. Diamonds look particularly beautiful with garnets, since their bright white shimmer makes the rich depth of a garnet truly pop.
When it comes to caring for garnet jewelry, you should generally care for it like you would other fine jewelry. Keep it stored in a safe place and, if it gets dirty, clean it gently with soap and water. However, one thing you should note about garnet is its unique hardness, which can affect how it should be stored in your jewelry box.
Garnet ranges from 6.5 to 7.5 on the Mohs scale of hardness. This is a fairly high ranking and it means that garnet is great for everyday wear. However, garnet isn't quite as hard as some other gemstones, like diamonds, rubies, and sapphires. Because diamonds, rubies, and sapphires are harder than garnets, they can scratch garnets, should these gems rub up against one another. Then, on the other side of the spectrum, garnets, with their mid-range hardness, are harder than some other gemstones. For example, a garnet could scratch an opal or a pearl. So if you have other gemstone jewelry, be mindful of where and how you store your garnet jewelry.