An engagement ring doesn't have to break the bank to be beautiful. Today, there are many gorgeous and affordable engagement ring options. And, as an added bonus, these more affordable options can give you a much more unique look. Wondering which gorgeous engagement rings can help you save the most? Here are four of our favorite budget friendly engagement rings.
Morganite
Merilyn Engagement Ring With Pear Shaped Morganite
Morganite has been incredibly popular for engagement rings in recent years, thanks to its gorgeous pink hue and excellent price tag. This glimmering, blushing gemstone adds a romantic look to any setting.
While morganite looks lovely with any precious metal, it looks particularly beautiful with rose gold, which echoes the gemstone's lovely color. The Merilyn ring pictured above is the perfect example of that. In this design, an exquisite pear shaped morganite is surrounded by a shimmering pave diamond halo. Additional pave diamonds run along this ring's slim yellow gold band, adding beautiful brilliance to this ultra-romantic ring.
Moissanite
Moissanites look so similar to diamonds that the scientist who first discovered this beautifully clear white gemstone at initially thought that's what he had found. Yet, upon further inspection, he realized that he had found an entirely new gemstone.
And because the moissanite found in jewelry today is lab created (natural morganite is incredibly rare), it has a much better price tag than diamonds. On average, a moissanite costs 90% less than a diamond of a similar quality. That's an enormous price difference for such a similar look.
As you can see in the moissanite ring above, this gemstone pairs beautifully with classic settings like the Alena setting.
Black Diamond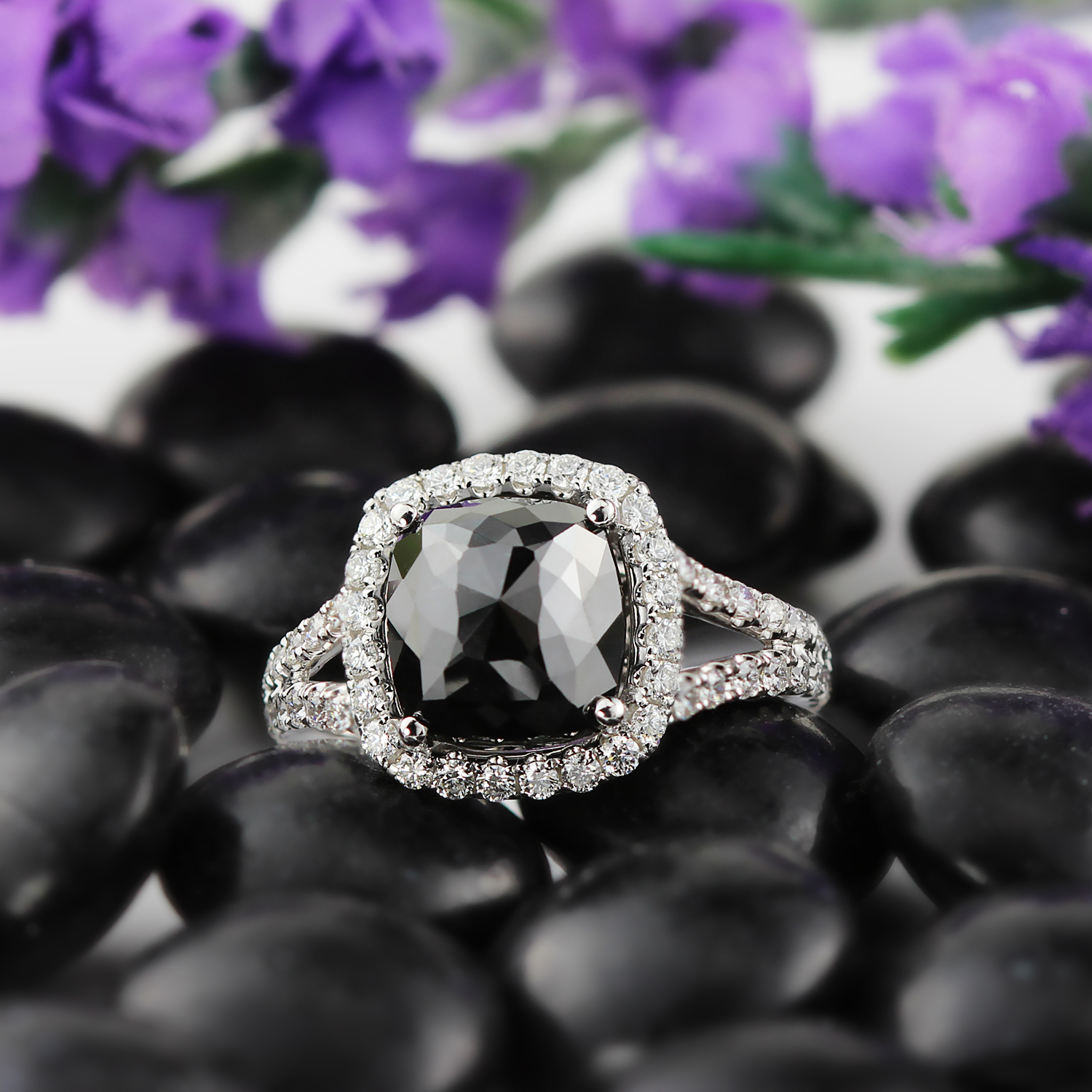 If you love a dramatic, mysterious look, a black diamond engagement ring is perfect for you. Black diamonds are genuine colored diamonds, just like yellow, blue, or pink diamonds. But unlike other colored diamonds, which are generally more expensive than white diamonds, black diamonds are very affordable.
And black diamonds look stunning in an engagement ring. Take the Maya ring, pictured above. Here, a gorgeous cushion cut black diamond is surrounded by a luxe halo of pave diamonds. Pave diamonds also run down this ring's white gold split shank band. In this design, the richness of the black diamond contrasts with the airy, shimmering beauty of the rest of the ring's materials, which creates a bold and unique look.
Sapphire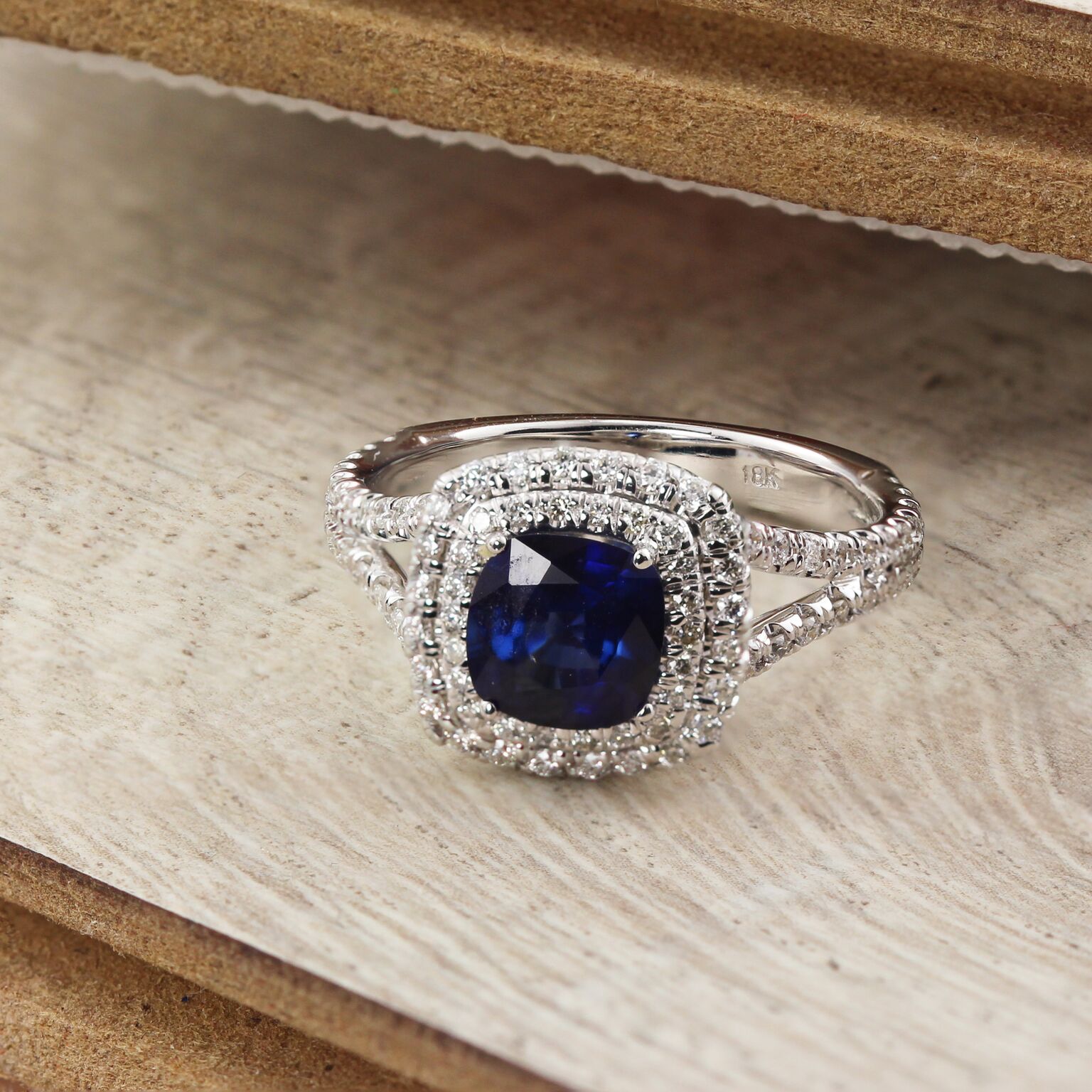 Double Halo Blue Sapphire Engagement Ring
Sapphires are known for their deep, rich blue color. While this classic gemstone has long been associated with royalty, it can also help you stay inside your budget if you opt for a sapphire center stone for your engagement ring.
Sapphires are a budget friendly option that look extraordinarily luxurious. The beautiful sapphire and pave diamond ring pictured above is the perfect example of this. Here, a breathtaking blue sapphire has been enclosed in an ultra glamorous double pave diamond halo setting. Pave diamonds continue along this ring's elegant split shank band, adding even more brilliance to this stunning design.