One of our favorite engagement ring trends is the minimalist ring trend. Minimalist engagement rings are perfect for the bride-to-be who has a more chic, understated approach to her style. Minimalist engagement rings show that there's beauty in simplicity and that bigger, more complicated designs aren't always better.
While minimalist engagement rings are, by their nature, more simple than other engagement rings, they're far from basic or boring. Minimalist engagement rings show that simple can be stunning. Also, there are many different styles of minimalist engagement rings, so you can still show off your personal aesthetic through the minimalistic approach. Minimalistic rings can be classic, vintage-inspired, unique, and everything in between. In this post, to show off just how much a minimalist engagement ring can offer, we're highlighting some of our favorite minimalist engagement rings that prove that less is more.
Twisted Band Solitaire
There's nothing more elegant, beautiful, and timeless than a classic solitaire engagement ring. For a solitaire ring with just a touch of minimalistic detail, we love a twisted band solitaire like the Elise Ring pictured above.
Vintage Minimalist Engagement Ring
The Chloe Vintage-Inspired Engagement Ring provides a minimalistic alternative to the traditional three stone engagement ring style. This ring features a round brilliant diamond that's flanked by two diamond shapes. Each of these golden shapes is set with three petite white diamonds, which add a touch of delicate, subtle shimmer. These diamond-set diamond shapes look similar to the side stones you would find a three stone ring design, yet they're much more understated, which gives this ring a more minimalistic look. 
Wedding Band as Engagement Ring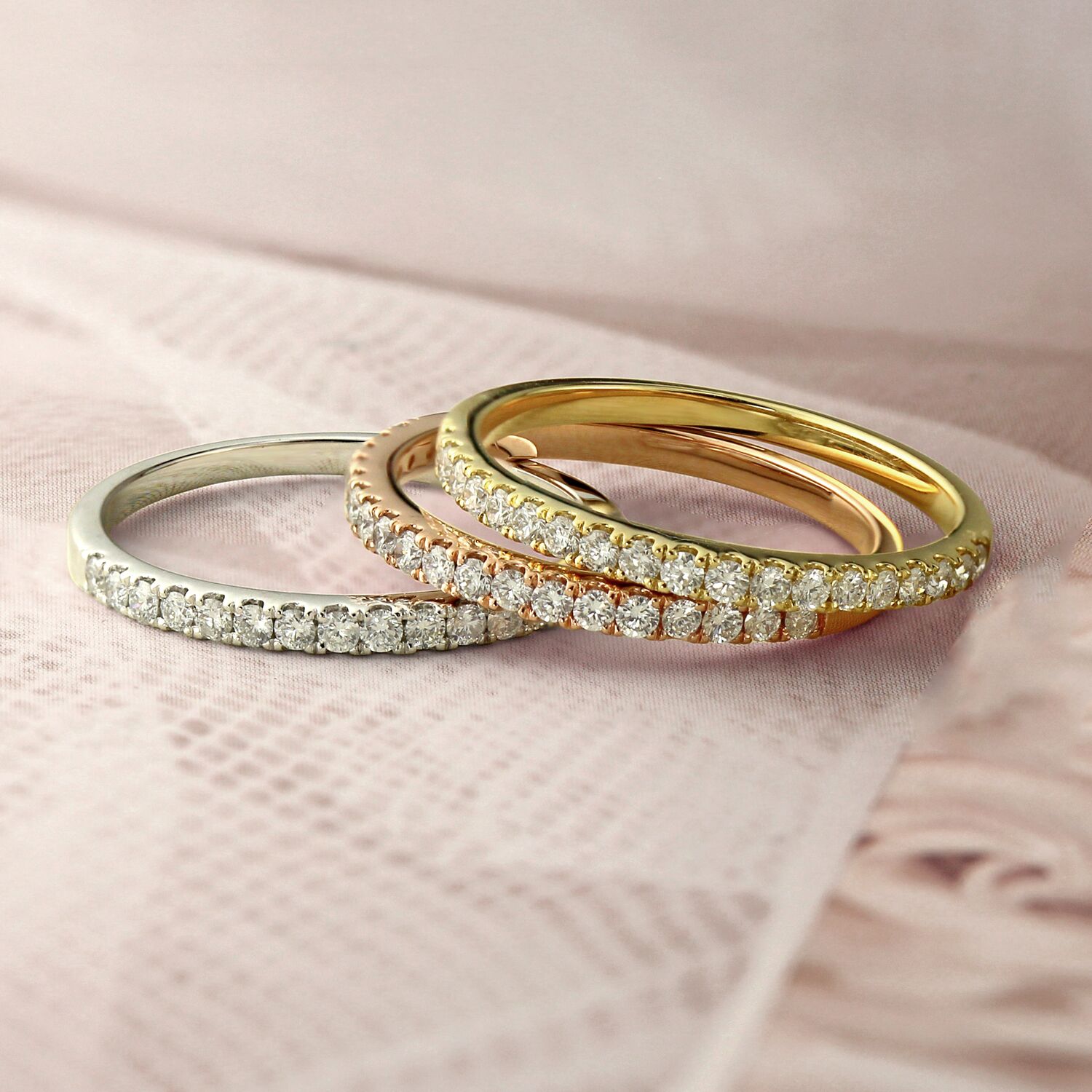 If you want to go ultra-minimalistic, embrace the wedding band as engagement ring trend. For a touch of shimmer and minimalistic glamour, go with slim diamond set wedding band, like the Merilyn Diamond Wedding Ring pictured above.
Vintage-Inspired Wedding Band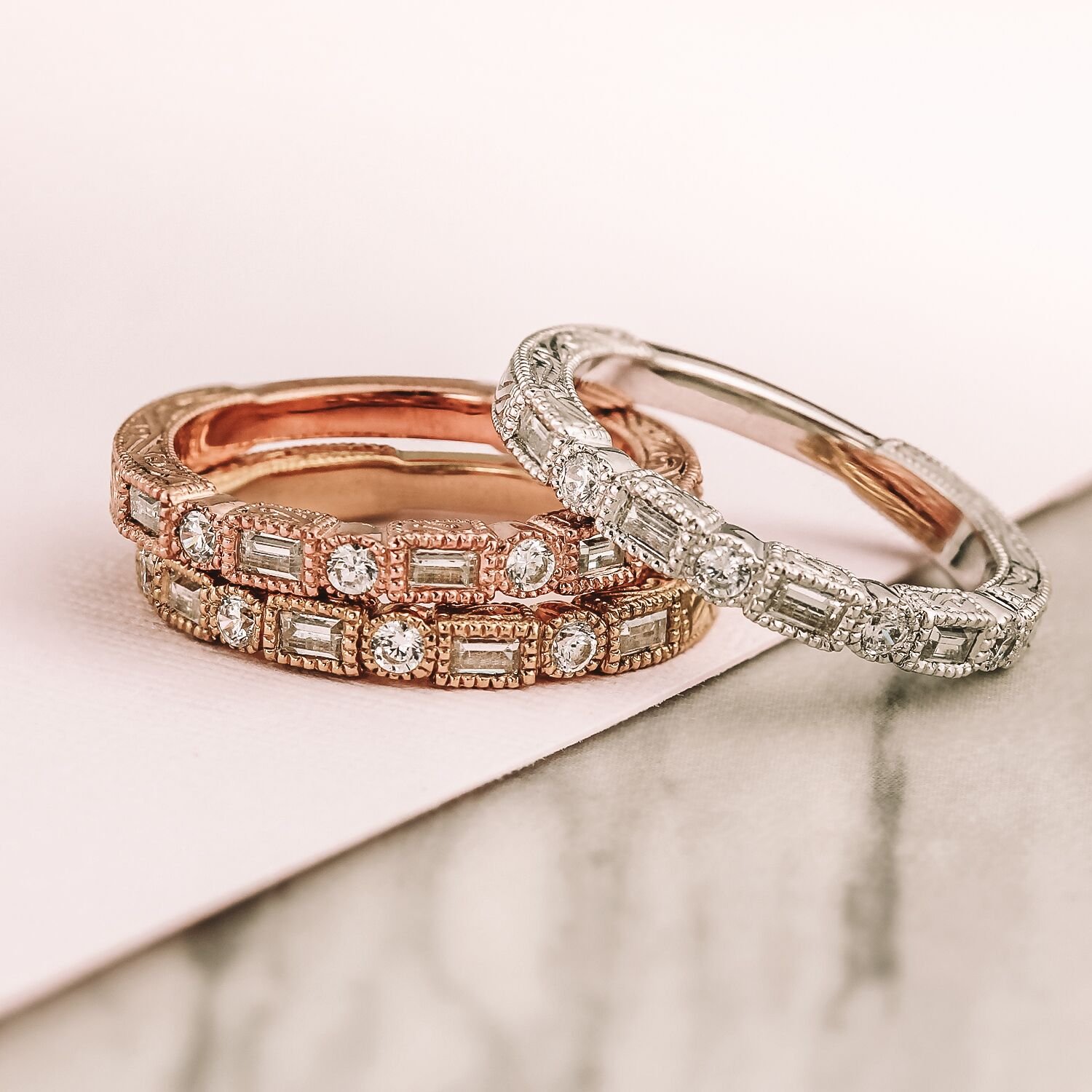 For a more intricate, yet still minimalistic, take on the wedding band as engagement ring trend, there's the Keira Ring. This vintage-inspired wedding band features round and baguette diamonds that are surrounded by delicately engraved bezel settings.
Gemstone Solitaire Ring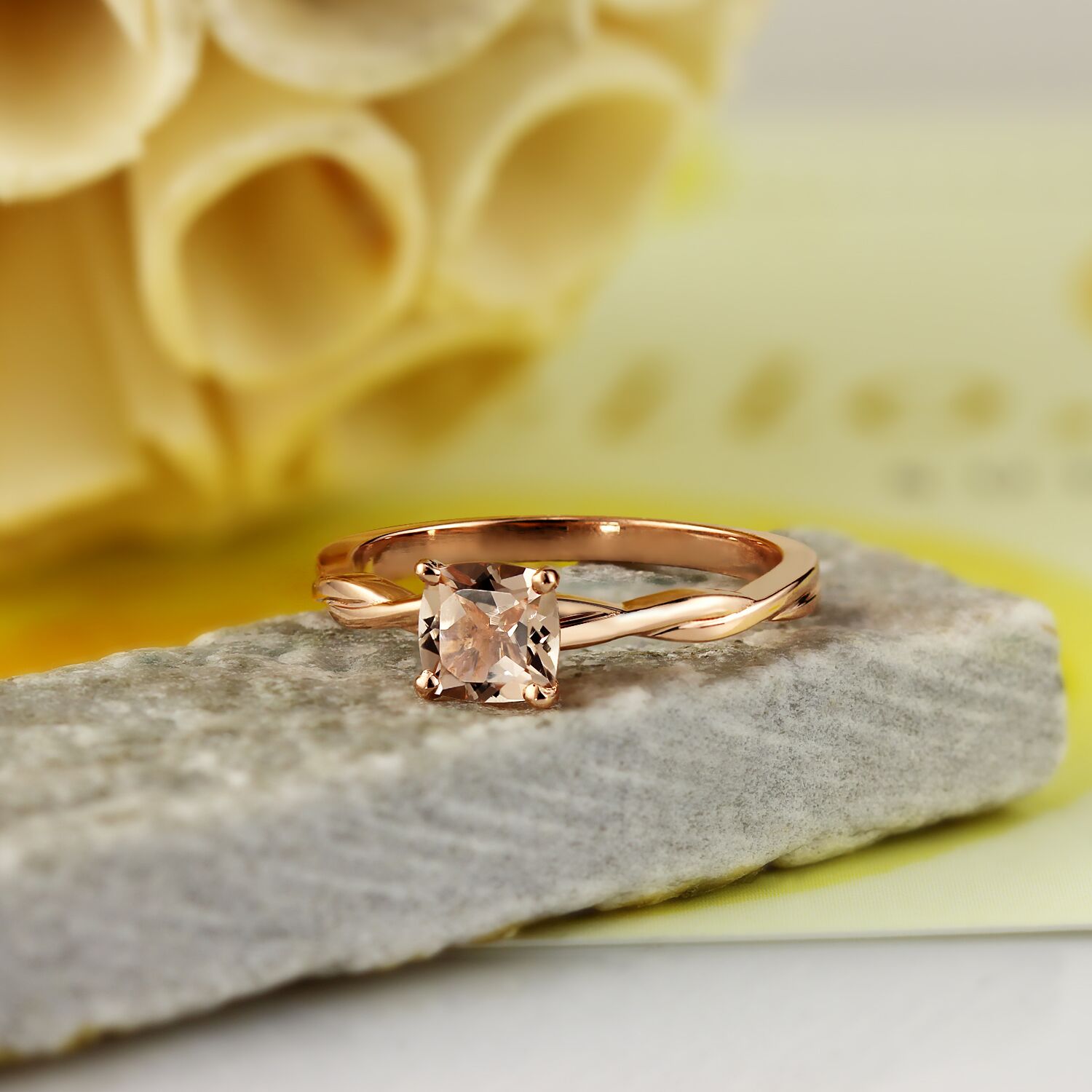 For those who love the minimalistic look, yet still want something eye-catching and unique, consider a solitaire gemstone engagement ring. The Elise Solitaire Ring looks classic when set with a white diamond (as shown earlier in this post), yet this design transforms into something super unique when set with a gemstone like morganite. We love the pairing of morganite and rose gold, which gives this ring a monochromatic, streamlined look.