Holiday engagements can be incredibly magical. The holidays are a beautiful time of year: lights are twinkling, snow is falling, and there's simply a feeling of joy in the air. Then, the holidays are also a time when we tend to start thinking of the year ahead and planning for the future. These elements make the holidays a perfect time to propose, which is why so many people choose to pop the question in the winter months.
However, if you're thinking of proposing during the holidays, there are some things you should think about to make sure your proposal goes off without a hitch. Because, though the holidays are a lovely time of year, getting down on one knee during the holidays isn't always a foolproof plan. There are many things to take advantage of that can make your holiday proposal incredible— but also a few pitfalls to avoid. To make sure your holiday proposal is as perfect as you dream of, read on to learn the do's and don'ts of holiday engagements!
DO: Use the Magic of the Season to Your Advantage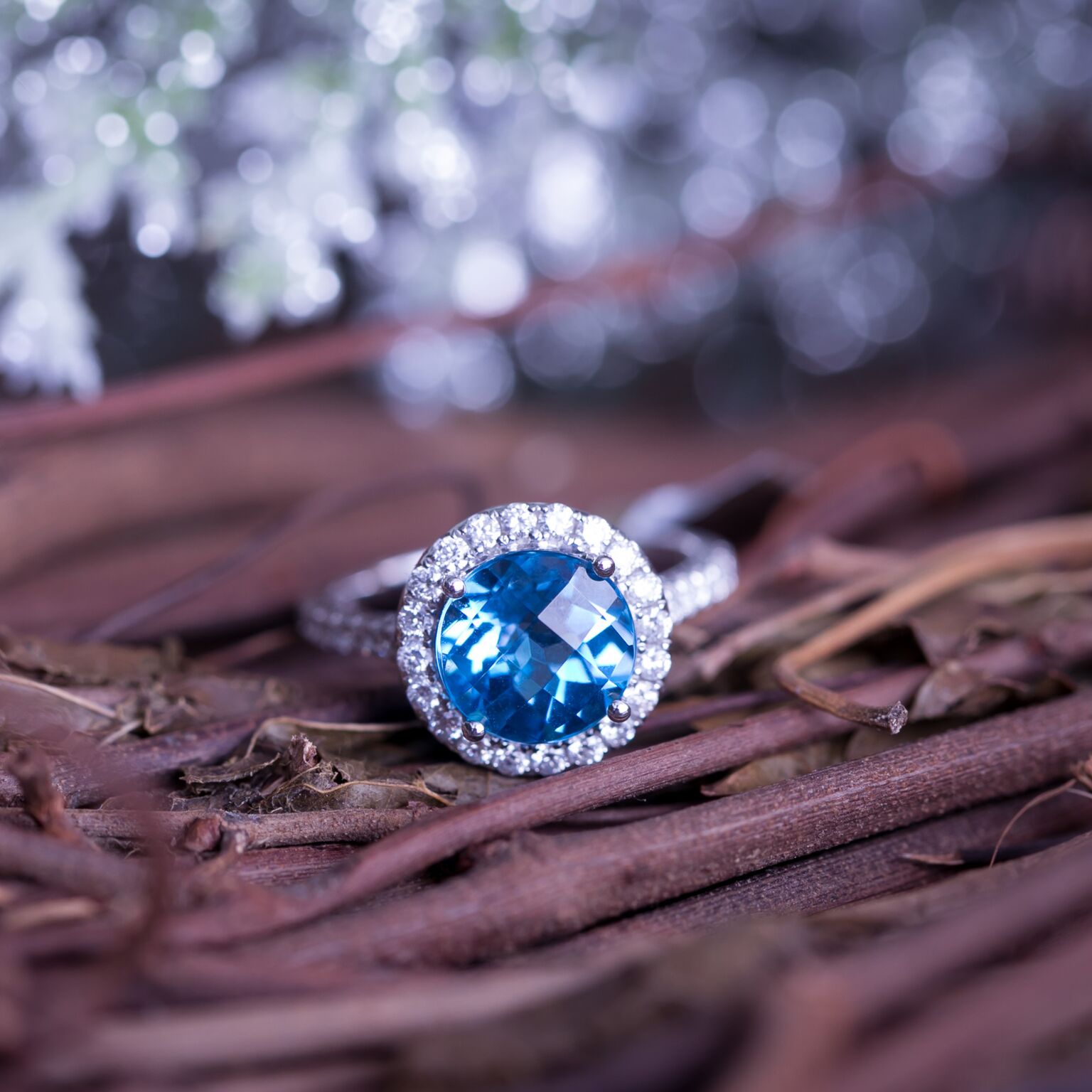 Proposing with an icy blue topaz engagement ring can add a magical, fairytale-feel to your holiday proposal.
The holidays are an incredibly beautiful time of year. The scenery is stunning and the holidays are full of fun and special activities. So, be sure to use the magic of the season to your advantage when you plan your proposal.
There are many ways to amp up your proposal with a bit of holiday magic. For example, you could propose in front of a gorgeous holiday display, like in front of the most festive Christmas display in your city. Or, you could incorporate the snow into your proposal by writing "will you marry me?" in a snowy bank. You could also incorporate a fun seasonal activity into your proposal by proposing while decorating your Christmas tree or while on a sleigh ride.
The key to using the magic of the season to your advantage is to get creative. Think about your sweetheart's favorite things to do during the holidays and find a way to incorporate them into your proposal.
DON'T: Propose in Front of Family (Unless You Know She'd Love It)
Proposing in front of your girlfriend's family can be a wonderful idea. But it can also be a terrible idea. Some people have awkward or unpleasant family dynamics. And these family dynamics can be heightened by the holidays. So if you're thinking of proposing in front of your girlfriend's family, we would advise you to seriously consider whether or not that's a good idea.
If she absolutely loves being around her family during the holidays and everyone in her family always seems to get along, then proposing with her family there could be a great idea. But if there are some negative dynamics in her family (say, she has anxiety or frustration after being around her family, she has divorced parents who argue, or perhaps she has an unhappily single relative who would be overtly jealous of a proposal), you might want to reconsider proposing around them.
DO: Propose Before the End of the Holiday Season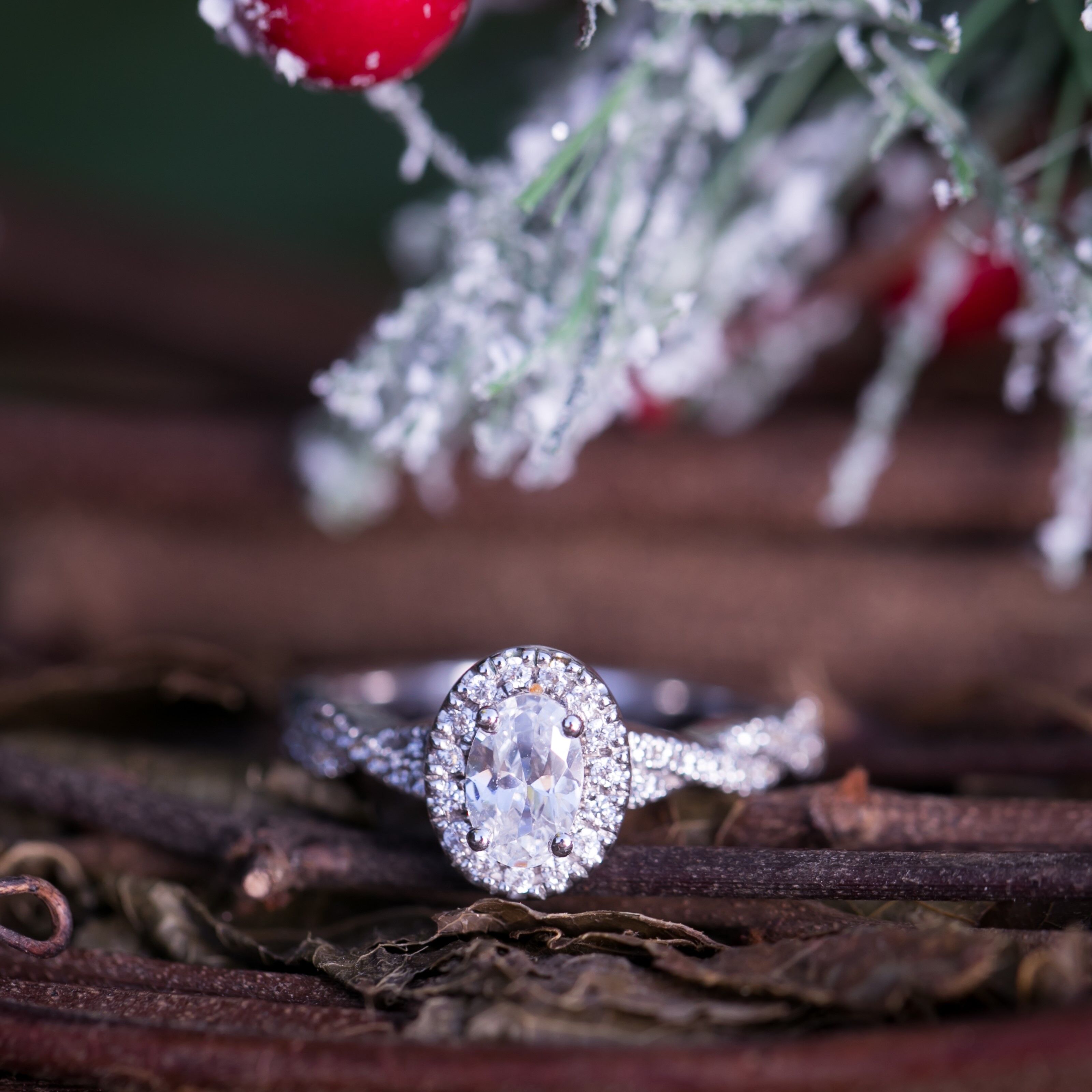 A halo engagement ring is a glamorous and classic option that will be the center of attention at every holiday gathering.
Proposing early in the holiday season is not a requirement. However, it is a great idea, since it will make the rest of the holidays even better. If you propose before the very end of the season, you and your new fiancé will get to celebrate your engagement as you make the holiday rounds. Your friends and family will all be able to celebrate your engagement with you, which will make for many happy holiday memories.
DON'T: Make Her Wait A Long Time if She's Expecting a Proposal
Some proposals come as a total surprise. But, sometimes, she may be expecting it. And if you think your girlfriend may be expecting a proposal during the holidays, you shouldn't make her wait and wait. As every holiday event or activity passes by, she could get more and more frustrated if she's expecting a proposal— but it never seems to come. So if you think, for any reason, that she could be expecting a proposal during the holidays, make sure to plan your proposal for early in the season. Use your best judgement and pick a time and date when she'll still feel excited (rather than frustrated or annoyed) about your proposal.
Final Thoughts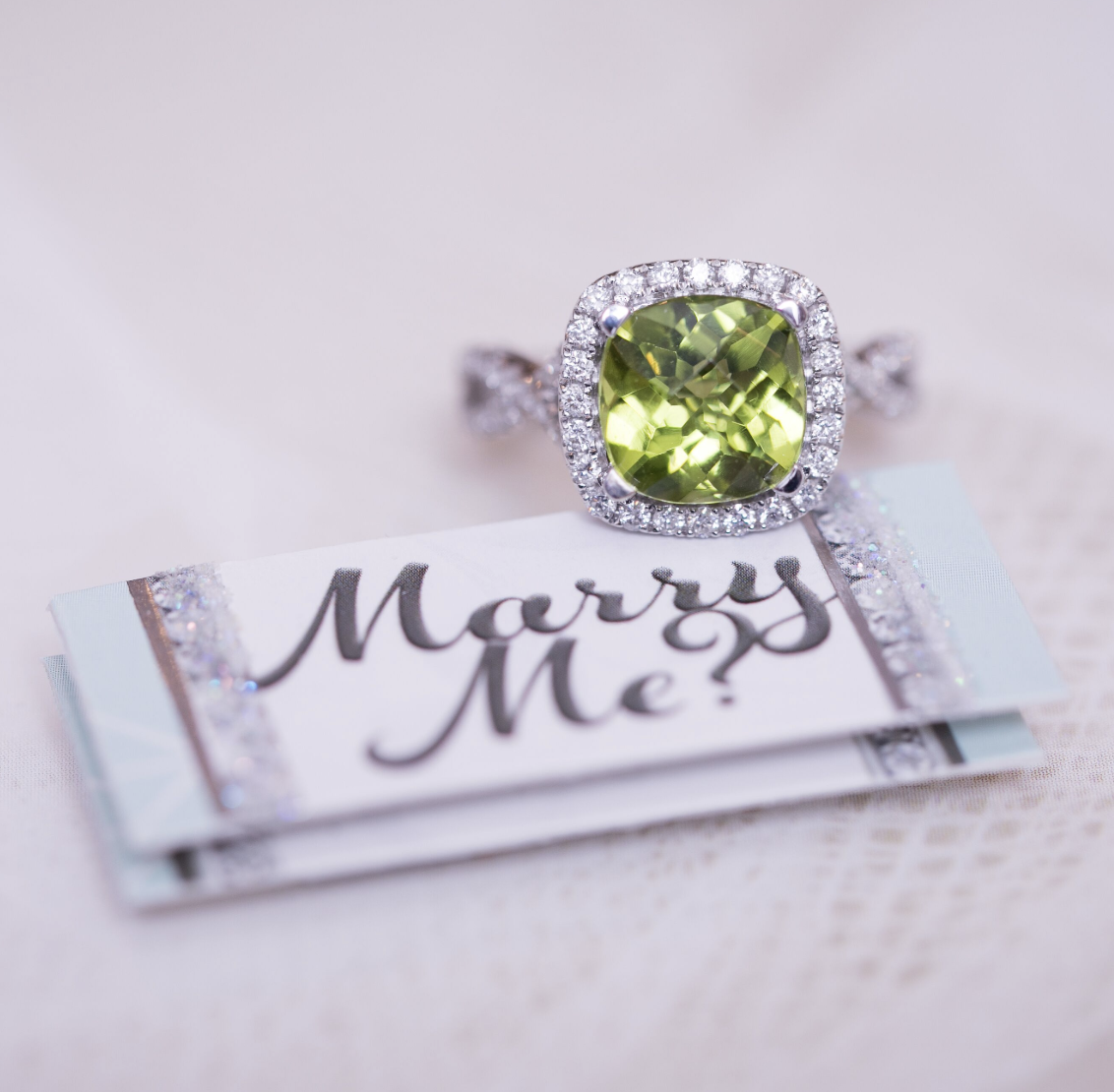 A vibrant green peridot engagement ring is a unique engagement ring she'd adore receiving any time of year.
There you have it: our holiday engagement do's and don'ts! Keep in mind that these holiday engagement tips are just guidelines. At the end of the day, you know your partner best and you should always go with your gut instinct when planning your perfect proposal.
P.S. If you're still shopping for the perfect ring to propose with this holiday season, be sure to browse our beautiful selection of handcrafted engagement rings!