There are so many ways to use winter's beauty (and many fun activities) to your advantage during a winter proposal. And in this post, we're rounding up some of our favorites! Read on to see our list of the 7 best ideas for a whimsical winter proposal, full of charming, memorable proposal ideas she'll adore.
1. Take a Sleigh Ride Together
Taking a sleigh ride with your sweetheart is undeniably romantic. So why not make it even more romantic by popping the question while you go dashing through the snow together? If you don't live in an area where sleigh rides are freely available, you can adapt this proposal idea by opting for a horse drawn carriage ride instead!
2. Head to the Ice Skating Rink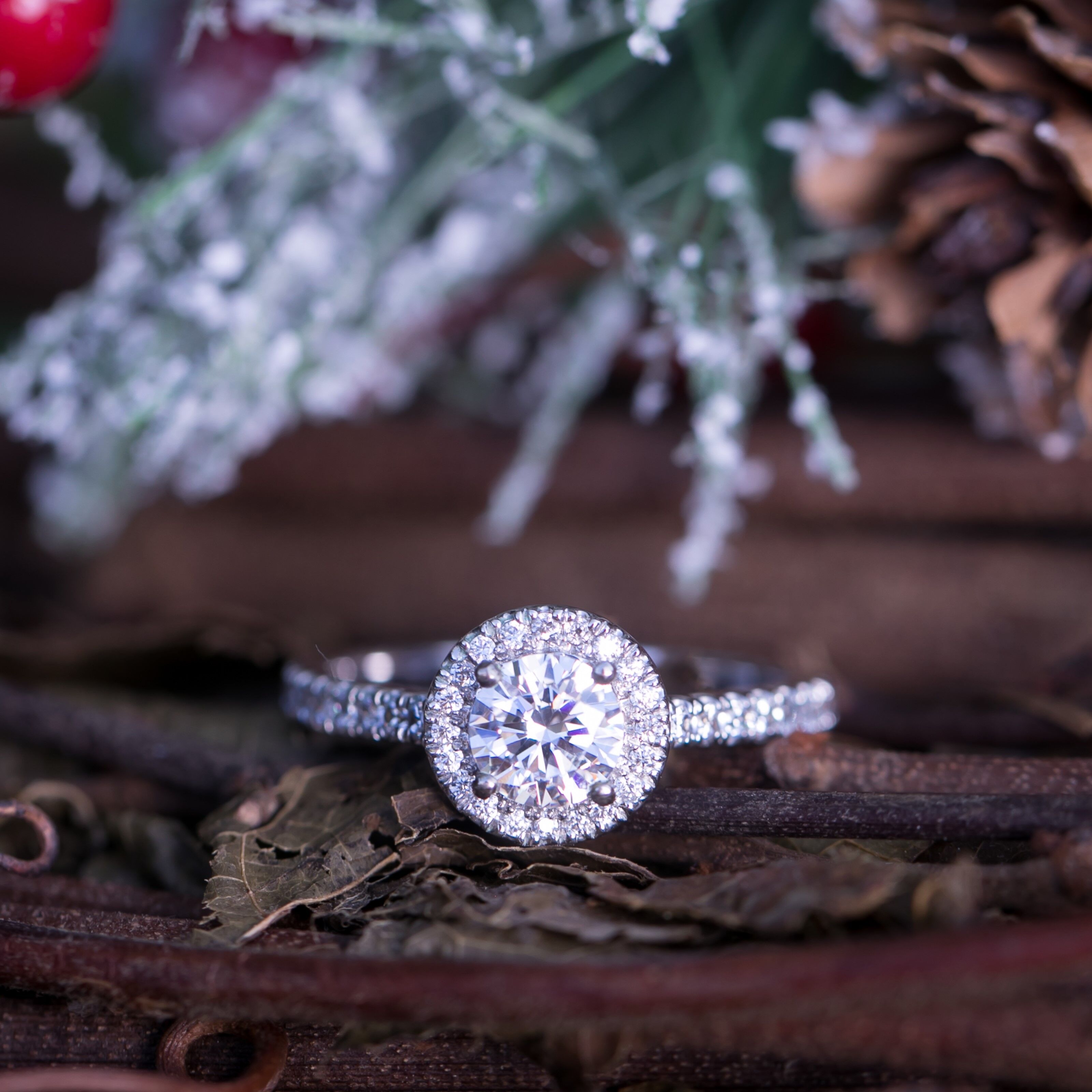 Give her an icy, glamorous halo engagement ring on the ice with this whimsical proposal idea.
If you're steady on your feet, consider proposing at an ice skating rink that's all decked out for the holidays. This proposal idea is fun, sweet, and absolutely charming.
3. Try a New Year's Countdown Proposal 
When people think of a winter proposal, their first thought is often of a Christmas or Hanukkah proposal. But there's another romantic winter holiday that can make your proposal ultra magical: New Year's Eve.
New Year's is an incredibly exciting holiday, full of optimism for the coming year. So why not start your new year with a "yes!" by getting down on one knee as the ball drops?
4. Consider a Puppy Proposal 
What's better than a puppy? A puppy that also comes with an engagement ring, such as this beautiful blue topaz engagement ring.
If you have a dog (or if you're thinking of gifting a puppy for the holidays) get your pup in on the proposal action to create a fun and memorable proposal.
There are many ways you can incorporate your dog into your holiday proposal. For example, you could have your dog deliver a holiday letter with your proposal message enclosed. Or you could dress your dog up in a festive outfit that includes a ring bearer collar. If you're gifting a puppy for the holidays, you could also try writing your proposal message on the new pup's collar or on a ribbon around their neck, then get down on one knee as your partner reads it.
5. Say it With Snow
Add a bit of winter magic to your proposal by incorporating one of the season's most beautiful features, soft white snow, into your proposal. First, find a pretty outdoor location with plenty of snow. Then, write "will you marry me" into the snow. You can carve out your message, write it with flowers, or say it with lights. This proposal idea is simple, sweet, and memorable. And, as an added bonus, it's also incredibly photogenic, so it can make for some incredible engagement pictures.
6. Give the Best Stocking Stuffer Ever
Give her the best stocking stuffer of all time by slipping her engagement ring box into her Christmas stocking. This proposal idea is so simple and easy to pull off, yet it's also something that's sure to surprise and thrill her!
7. Propose on a Romantic Holiday Trip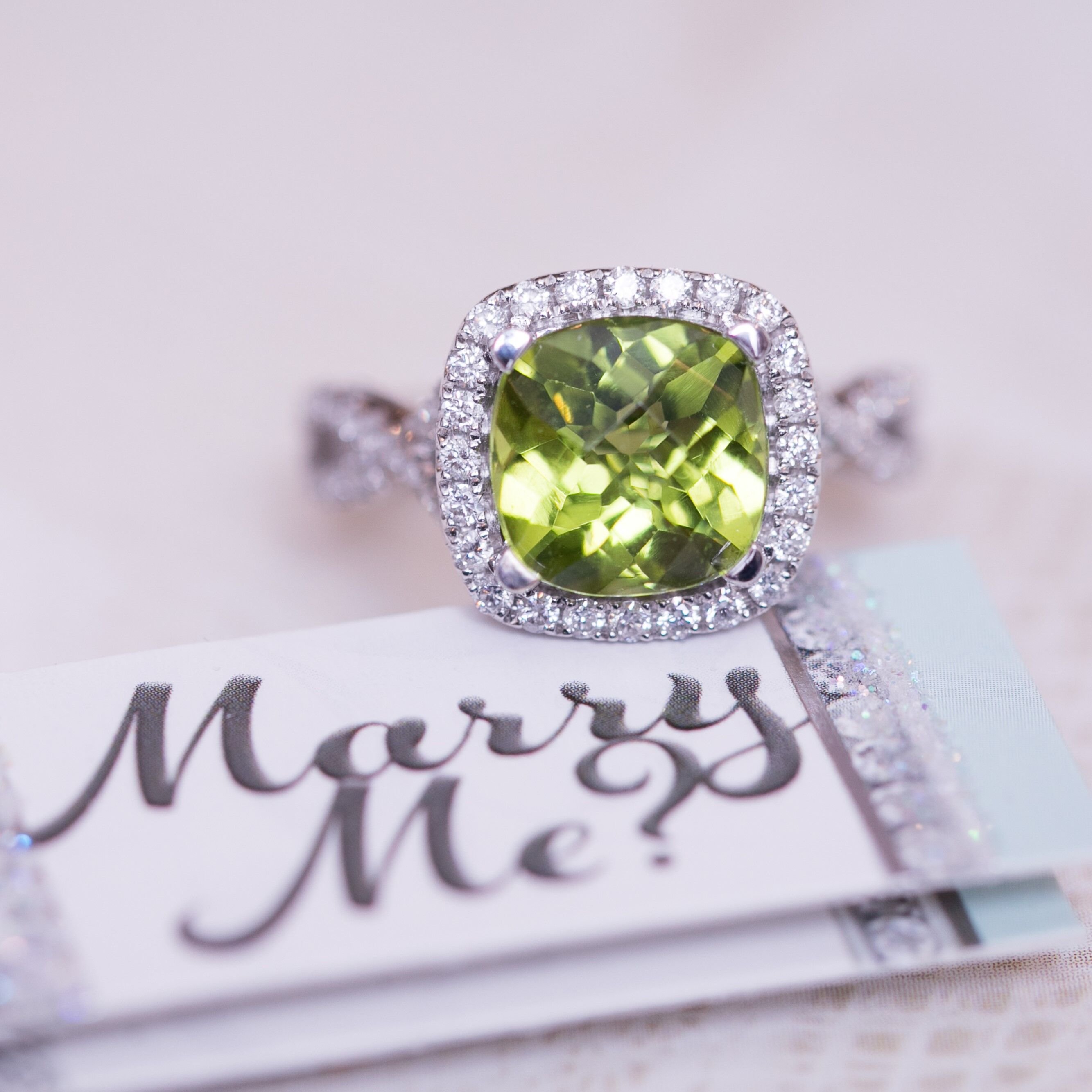 This pretty peridot engagement ring is a dazzling, unique option that will take her breath away when you propose on holiday.
If you want to wow her with your winter proposal, propose while on a romantic holiday trip. You could go to a cozy, secluded mountain cabin or perhaps visit a beautiful city that's decked out for the holiday season. Wherever you choose to visit, proposing while on a romantic holiday excursion is a sure way to wow her with your proposal!