There's a lot to love about the holidays, like the delicious food, beautiful decorations and, of course, holiday parties! With holiday party season right around the corner, we wanted to share some of our favorite holiday party accessories. Holiday jewelry is all about lighting up the night, so read on to see our favorite glittery, dazzling pieces that are perfect for your next holiday party!
Dazzling Diamond Stud Earrings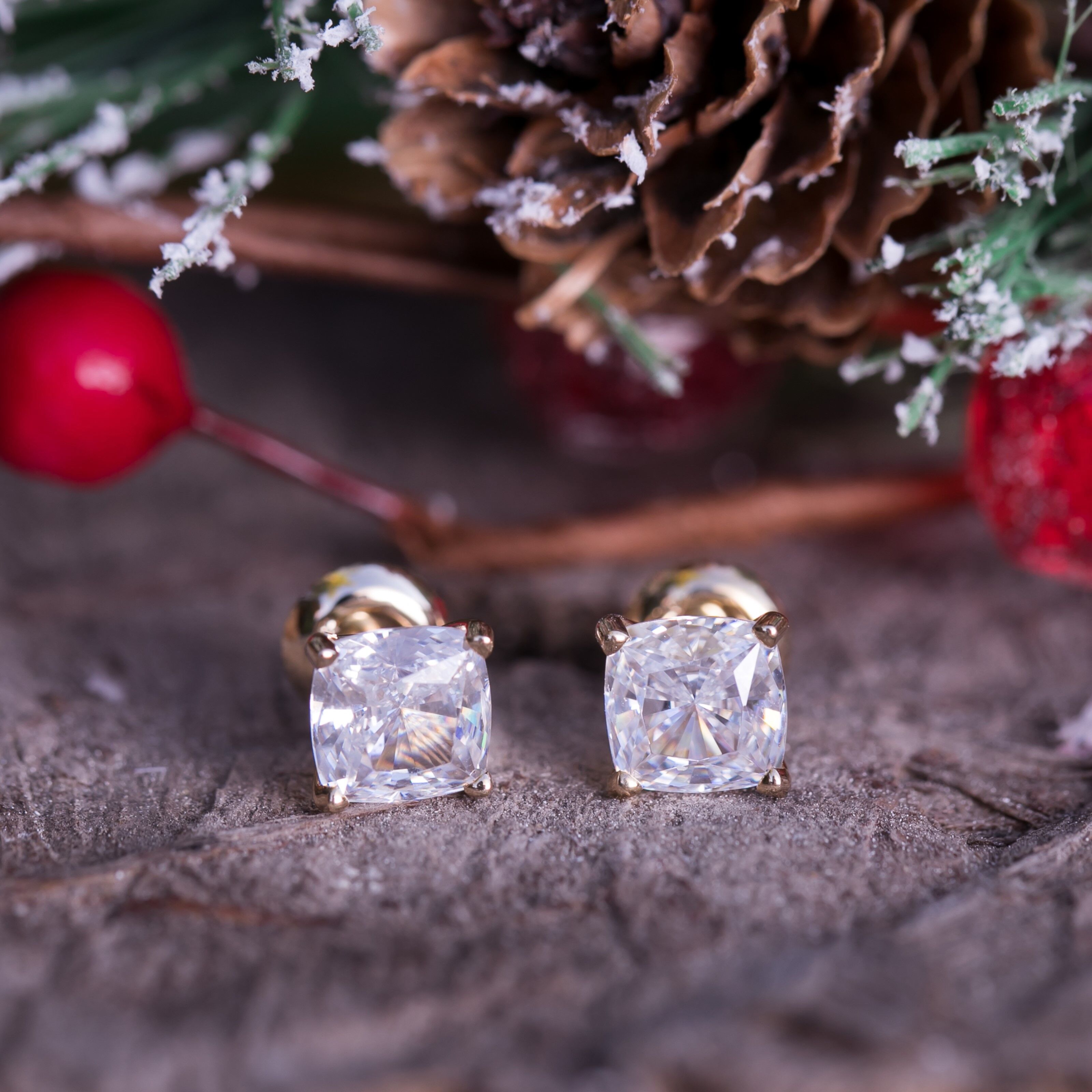 These 1 carat tw cushion cut diamond stud earrings are ready to turn heads at your next holiday party.
There's no accessory that's more perfect for a holiday party than a pair of diamond stud earrings. Diamond studs are the ideal way to round out any holiday ensemble, whether you opt for a classic cocktail dress or a more bold and edgy look.
While all diamond studs will look beautiful at a holiday party, cushion cut diamond studs are one of our favorite styles for the holidays. Cushion cut diamonds feature a modified version of the round brilliant cut diamond's faceting pattern. This modified faceting pattern gives cushion cut diamonds a more "icy" look, making them fit in perfectly during the winter months. Then, cushion cut diamonds also tend to have more fire (the rainbow light that emits from a diamond) than other diamond shapes. This gives them a warm, radiant look that will light up a winter night!
Whether you opt for our favorite holiday diamond shape, the cushion cut, or go with another shape, your diamond studs are sure to dazzle at every holiday party you attend. And the best thing about diamond studs is that they're perfect for a holiday party— yet also perfect for year-round wear. Diamond studs are an enduring jewelry classic; they simply never go out of style. So if you select a new pair of diamond studs to wear this holiday season, you'll also get to enjoy wearing them for decades to come.
A Uniquely Beautiful Blue Topaz Cocktail Ring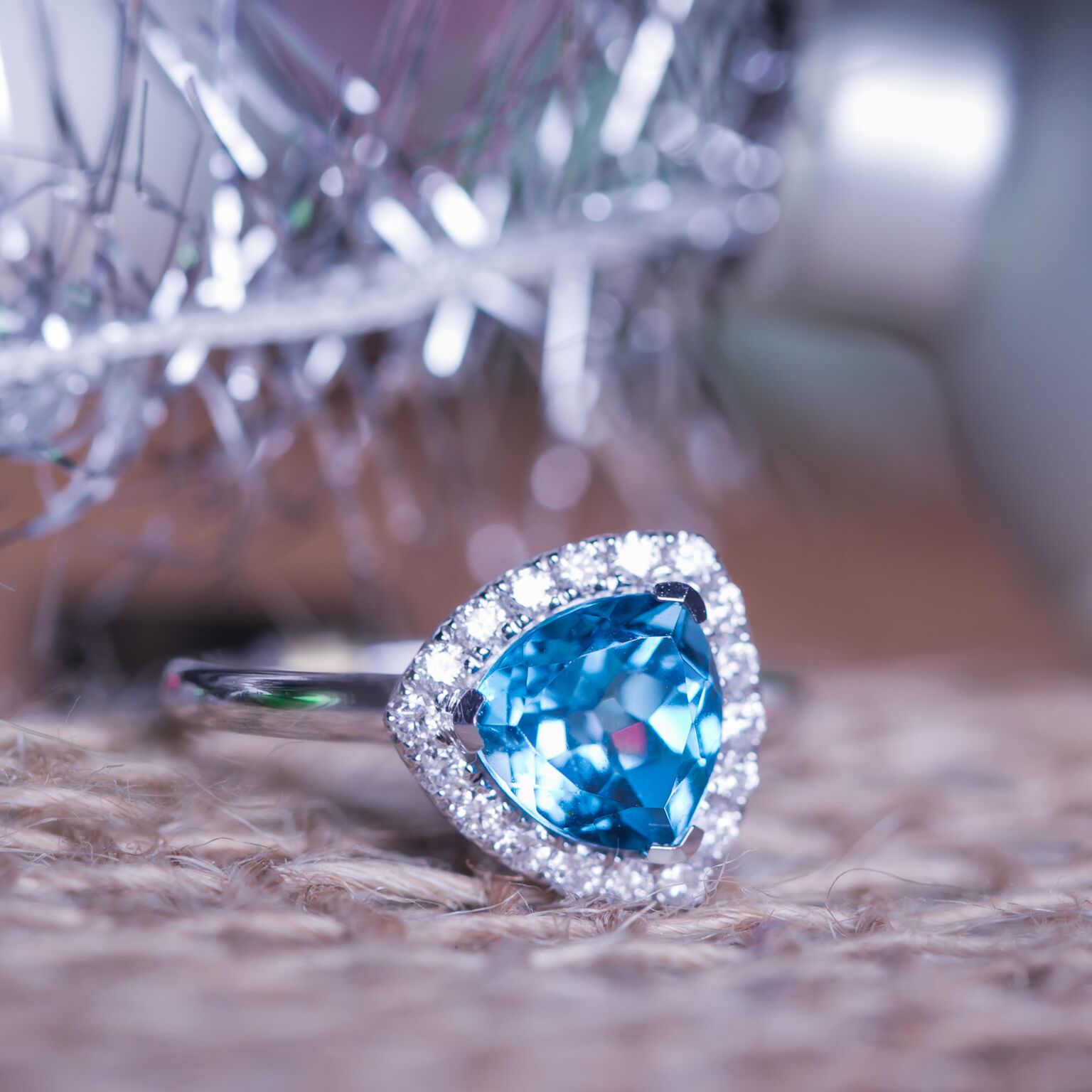 This holiday-ready cocktail ring features December's birthstone, blue topaz.
If you're looking for a unique piece that will help you stand out from the crowd this holiday season, look no further than this stunning halo set blue topaz cocktail ring. This ring features a mesmerizing blue topaz with an eye-catching trillion cut shape. Blue topaz is beautiful all year long but is particularly appropriate when you're making the rounds at holiday parties, since blue topaz is the December birthstone. Adding to this ring's icy, wintery effect is a stunning halo setting that features an array of dazzling pave white diamonds.
If you like the idea of a unique cocktail ring for the holiday season but aren't sure that blue topaz is the right gem you, view our full collection of gorgeous gemstone rings. With rings featuring sapphires, morganite, rubies, amethyst, peridot, citrine, and much more, our gemstone collection has something to fit any taste (or match any holiday outfit!).
A Simply Sublime Tennis Bracelet
A tennis bracelet will add an air of luxe elegance to any holiday party look.
If you're looking for a sophisticated way to make a statement this holiday season, opt for a classic diamond tennis bracelet. A diamond tennis bracelet adds a luxurious, brilliant touch to any holiday ensemble. A tennis bracelet is the perfect way to accessorize an elegant cocktail dress or sleek, chic gown. A tennis bracelet is also an excellent way to elevate a more casual outfit and quickly create a look that's party-ready.
Tennis bracelets look beautiful when worn on their own, but they're also quite versatile and make a great addition to an icy bracelet stack. For example, you can up the glam of a tennis bracelet by wearing it with alongside other tennis bracelets or create a stylish, unique look by wearing a tennis bracelet with a luxury watch.
Another thing we love about tennis bracelets is that they're so easy to customize to suit your personal style. If you have a more classic sense of style, opt for a traditional tennis bracelet, like the prong-set round diamond tennis bracelet pictured above. If you have a more modern aesthetic, go with a tennis bracelet that features contemporary design elements, like bezel settings or a modern diamond shape (such as the princess cut). Then, if you have an eye for the romantic, you can opt for a more romantic design, like a rose gold tennis bracelet or or a tennis bracelet with floral-inspired settings.
Find your perfect tennis bracelet style by browsing our full tennis bracelet collection!
Final Thoughts on Our Top Holiday Jewelry Guide
There you have it: our guide to our top holiday jewelry! No matter which of these pieces you select, you're sure to turn heads this holiday season.
Haven't found the perfect jewelry to round out your holiday look? To see even more holiday-party-ready jewelry, browse our full selection of finely made, handcrafted jewelry.