What happens in Vegas stays in Vegas— unless, of course, you're lucky enough to get engaged there! Las Vegas is one of the most thrilling, entertaining spots for a destination proposal. The city's colorful lights, stunning sights, and many thrilling attractions make it the perfect place for a fun, memorable proposal. Are you thinking of popping the question in Las Vegas? Check out our list of the best places to propose in Las Vegas to find your perfect location.
The Eiffel Tower at Paris Las Vegas
Photo Courtesy: Groupon
Who says you have to go all the way to Paris to propose at the top of the Eiffel Tower? If you're in Vegas, the Paris Hotel and Casino is home to an Eiffel Tower replica of its own. The Eiffel Tower at Paris Las Vegas actually has a dedicated lookout spot that is specifically designed for proposals. Just be sure to make a reservation well in advance of your trip and you'll have the perfect spot for her to say "oui."
The Fountains at Bellagio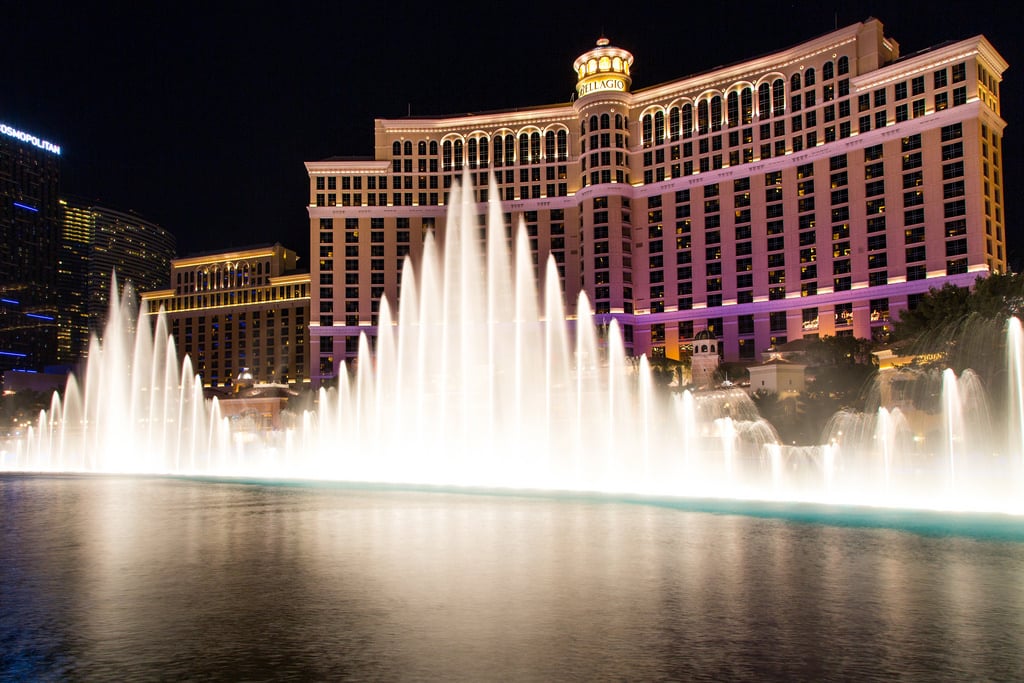 Photo Courtesy: Flickr
If you don't mind having a more public proposal, the Bellagio Fountains are an incredibly romantic spot. The Fountains are one of the hottest attractions on the strip and its regular shows always draw large crowds. So, while it will likely be busy no matter what time you propose there, if you don't mind crowds, it's a gorgeous proposal spot. And if the Fountains appeal to you but you prefer a bit more privacy, you can always book a room at the Bellagio that overlooks the Fountains.
Conservatory Gardens at Bellagio
Photo Courtesy: Vegas24Seven
Up next is another excellent Bellagio proposal spot: the Conservatory Gardens. All year long, the Bellagio has a beautiful, always changing floral display located inside their hotel. The floral displays depict whimsical, magical scenes, which are charming at any time of year but particularly beautiful during the holidays. While the Conservatory Gardens are always popular, if you want to beat the crowds when proposing there, try going very early or late.
Off the Strip: Seven Magic Mountains
Photo Courtesy: ReviewJournal
If you're looking for a spot that's a bit off the beaten path (and off the strip), consider proposing at Seven Magic Mountains, a colorful art exhibit just outside of Las Vegas. This exhibit (open to everyone) is a display of seven vibrantly colored pillars that beautifully contrast with the scenic Las Vegas desert. If your partner loves art or nature, she'll be thrilled by this hip (and Instagram worthy) proposal spot. 
The Venetian Gondolas
Photo Courtesy: Vegas Food & Fun
The Venetian hotel is known for the canals that run through the property. A ride on a gondola in the Venetian is romantic on its own, but it's even more romantic when it comes with a proposal. Luckily, the Venetian has a number of gondola proposal packages (including ones with photographers and planners) to help your gondola proposal go swimmingly.
The Shark Reef at Mandalay Bay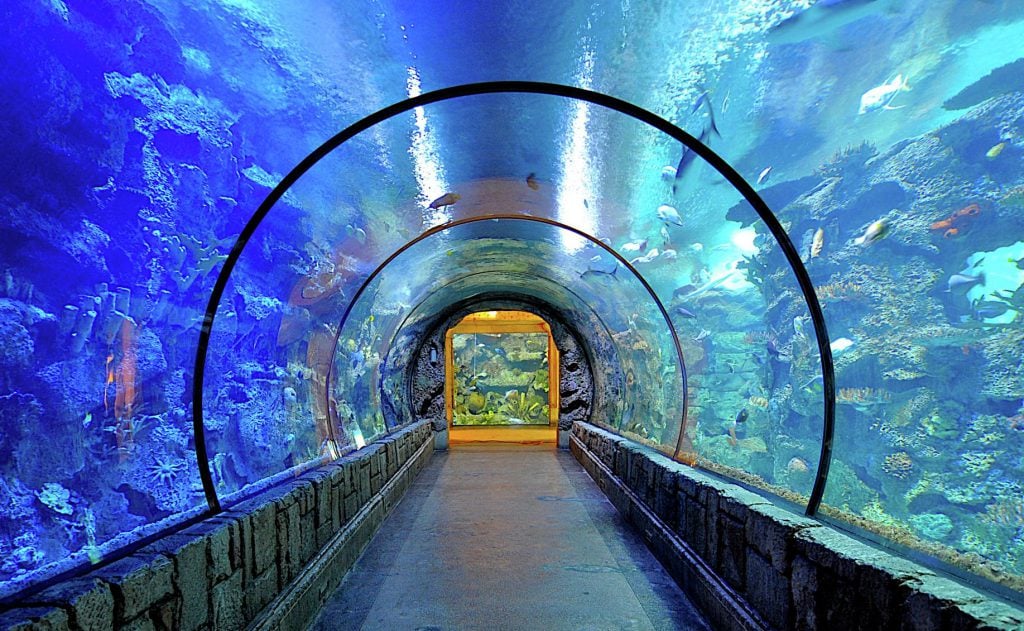 Photo Courtesy: Light Nightclub
Have you ever dreamed of proposing under the sea? Your dream could become a reality at the Shark Reef Aquarium at Mandalay Bay. Their aquarium is home to over 100 sharks and thousands of exotic fish. While there are many scenic spots inside the aquarium, the best might be in their aquarium tunnel, where sharks swim all around you (including above you).
At the Top of the Stratosphere
Photo Courtesy: Stratosphere Hotel
The Stratosphere has a rotating restaurant called The Top of the World at its peak that lets you enjoy a 360 degree view of Las Vegas while dining. If your partner loves fine dining and gorgeous views, The Top of the World is an incredible proposal spot.
Of course, for thrill seekers, there's another proposal option at the Stratosphere: before or after riding their sky high roller coaster. Attached to the hotel is the X-Scream, which takes riders 27 feet over the edge of the casino. You don't want to take an engagement ring out on a roller coaster (we wouldn't recommend that) but you could always propose right after riding, when you're both feeling that thrilling rush of adrenaline.
The High Roller at the LINQ Las Vegas
Photo Courtesy: Groupon
The High Roller is a relatively new addition to the Strip. This chic observation wheel takes riders on a 30 minute ride that delivers stunning views of the strip, which is perfect for a proposal. They even have a proposal package, which comes with a VIP cabin for 2 to 10 guests (so you can go as a couple or with some friends), champagne, and chocolate strawberries.