There may come a time when you decide you want to upgrade your diamond engagement ring, your wedding band, or another piece of fine jewelry. Luckily, if you're a Diamond Wish customer, you can take advantage of our Lifetime Upgrade Program whenever that time comes. Our Lifetime Upgrade Program allows you to never lose the value of your original jewelry. Through our Upgrade Program, you will receive a 100% credit of the original amount you paid for your previously purchased Diamond Wish Piece toward any qualifying new purchase of greater value. Want to know more about our Lifetime Upgrade Program and how you can take advantage of it? Read on to see the answers to all our Lifetime Upgrade Program FAQs!
What are the terms of your Lifetime Upgrade Program?
We stand behind the quality and value of our jewelry, which is why we offer one of the best Lifetime Upgrade Programs you'll find anywhere. Some jewelers who offer upgrade programs have harsh restrictions on what's included in their program, high minimums on how much you have to spend to participate in the program, and more. But at Diamond Wish, Our Lifetime Upgrade Program offers:
No Minimums on New Purchase Amounts
100% of Paid Value
The Ability to Upgrade Anytime
No Limits on What You Can Upgrade
Note: Learn more about the benefits of and the terms and conditions of our Lifetime Upgrade Program by clicking here.
Can I upgrade my Diamond Wish engagement ring through the diamond upgrade program?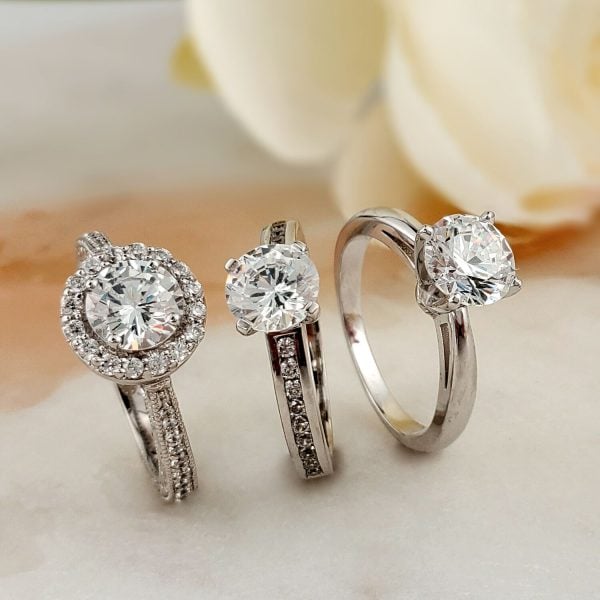 Yes! We help our customers upgrade their engagement rings through our Lifetime Upgrade Program often. Many people decide that they want to upgrade their original diamond or gemstone engagement ring later in life. Financial statuses change and so do personal tastes, so people often decide to opt for a center diamond upgrade or a setting upgrade after having owned their engagement ring for some time. If you ever decide that you want to upgrade your Diamond Wish engagement ring or wedding ring, you can do so through our Lifetime Upgrade Program at any time.
Does your upgrade policy allow me to upgrade my lab-grown diamond jewelry?
Yes, you can upgrade the lab-grown diamond jewelry you purchase at Diamond Wish through our Lifetime Upgrade Program! At any time, you can put your full paid lab-grown diamond purchase price toward another lab-grown jewelry item of your choice.
Does gemstone jewelry qualify for the Lifetime Upgrade Program?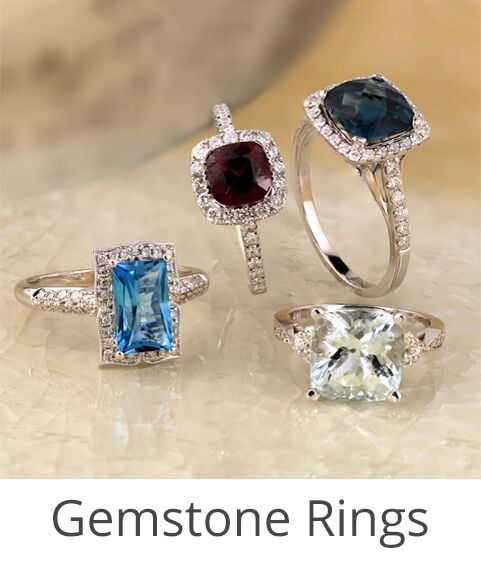 Since we guarantee the quality of all our jewelry, all Diamond Wish jewelry qualifies for our Lifetime Upgrade Program, including our gemstone rings and the rest of our gemstone jewelry. 100% of the original purchase price paid for any of our gemstone pieces can be put towards a new purchase of any greater value.
What types of Diamond Wish jewelry can I upgrade?
People sometimes assume that only engagement rings qualify for our Lifetime Upgrade Program. But at Diamond Wish, you can upgrade any piece of jewelry you purchased from us using our lifetime trade in program, including our diamond stud earrings, diamond tennis bracelets, fashion rings, pendant necklaces, and more!
Ready to trade in your old jewelry and take advantage of our trade up program? First, browse our online jewelry store and pick out your new diamond or gemstone jewelry. We offer a beautiful array of diamond rings, wedding bands, solitaire diamond studs, halo diamond studs, gemstone studs, diamond bracelets, GIA graded loose diamonds, and much more. Once you've found your perfect new piece of jewelry, visit our UPGRADE page and start the upgrade process today!