If you're a March baby, your birthstone is the aquamarine, a lovely blue gemstone named for its resemblance to a shimmering, crystal clear blue ocean. Aquamarine is a gorgeous gemstone that looks simply stunning in every type of fine jewelry. Aquamarine's soft blue hue also pairs beautifully with every precious metal, making it quite a versatile gem. But then, in addition to being beautiful and versatile, aquamarine is a gem with rich history and meaning. Curious to know more about March's birthstone, the aquamarine? Read on to learn 14 fascinating facts about aquamarine!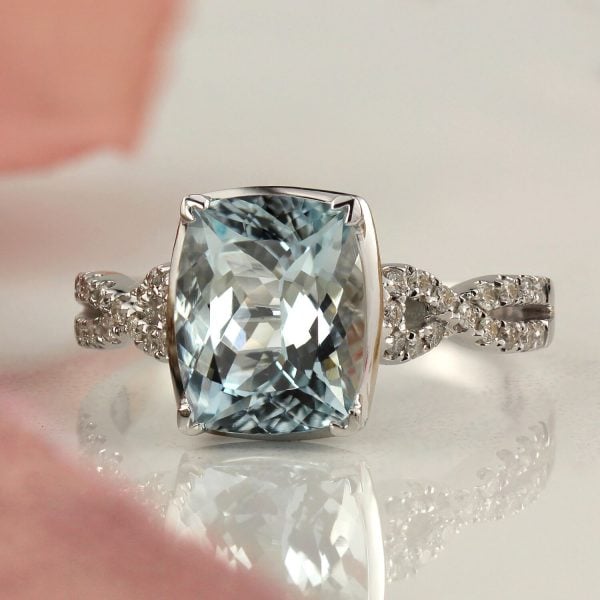 This 14k white gold twisted band ring features a gorgeous cushion cut aquamarine, the gem of the sea.
1. The word aquamarine is derived from the Latin word "aqua," which means water, and the Latin word "marina," which means the sea. So the gemstone aquamarine's name, "aqua marina," literally translates to "the water of the sea."
2. Aquamarine is the blue to blue-green variety of beryl, which means it's in the same family as emerald (green beryl) and morganite (pink beryl).
3. Aquamarine gets its mesmerizing blue color from traces of iron that reside within its crystalline structure.
4. In engagement rings, aquamarine is thought to symbolize health, clear communication, and courage.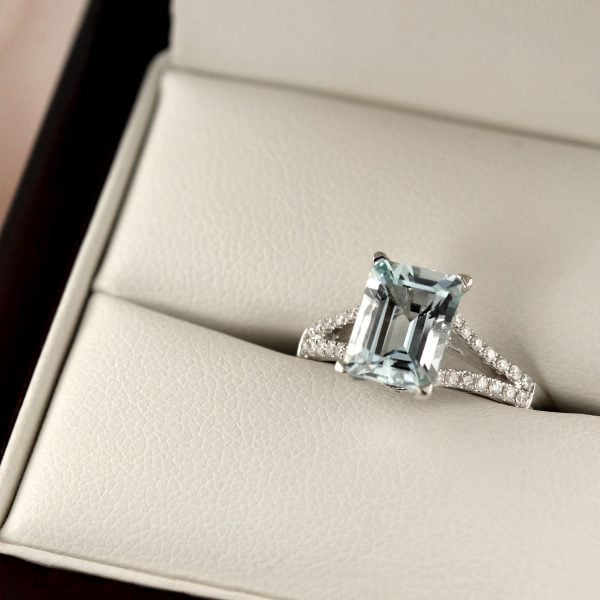 The emerald cut aquamarine within this beautiful diamond and aquamarine engagement ring is thought to help promote clear communication in marriage.
5. In modern times, aquamarine is associated with tranquility, mental clarity, and good health.
6. Due to its oceanic color, aquamarine has long been associated with the mermaids, the sea, and sailors. Since the time of Ancient Greece and Rome, aquamarine has been nicknamed "The Sailor's Stone." Ancient Greeks and Romans believed that carrying this light blue stone would ensure safe passage to sailors during their voyages and help to prevent seasickness. Greeks and Romans sometimes engraved Poseidon or Neptune, the gods of the sea, on an aquamarine stone to provide extra protection for its wearer, who would generally wear the engraved gem in an amulet.
7. The beautiful blue aquamarine is the traditional gemstone given on the 19th wedding anniversary.
This dazzling halo aquamarine ring works beautifully as an engagement ring or as a 19th wedding anniversary gift.
8. Many cultures throughout history believed that aquamarine had healing properties. Using aquamarine medicinally was particularly popular in Europe during the Middle Ages. During this time, Europeans believed that aquamarines could improve digestion, help one avoid fluid retention, and even work as an antidote against poison.
9. Aquamarine became the official modern March birthstone in 1912, when the American National Association of Jewelers gave it its new title.
10. Aquamarines rank at a 7.5 to 8 on the Mohs Scale of Hardness, making them quite a durable gemstone. Since they're a hard gemstone, aquamarines are a great option for many types of jewelry, including rings.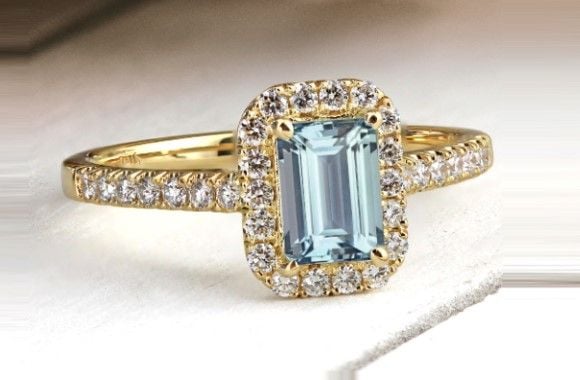 The emerald cut aquamarine within this elegant halo aquamarine ring is as durable as it is beautiful.
11. The largest gemstone-quality aquamarine ever found weighed in at a staggering 243 pounds. This aquamarine, discovered in the Minas Gerais mine in Brazil in 1910, was cut into numerous smaller stones that together weighed over 200,000 carats.
12. The largest cut aquamarine gemstone in the world has a name: Dom Pedro. The Dom Pedro Aquamarine weighs 10,363 carats and is available for public view at the National Museum of Natural History at the Smithsonian.
13. Queen Elizabeth II, a known lover of fine gems, adores aquamarines. During her coronation in 1953, the President of Brazil presented Queen Elizabeth with a fine aquamarine necklace and a stunning pair of aquamarine earrings. Queen Elizabeth found that she loved the gem so much that she added numerous aquamarine pieces to her collection of royal jewels. Some well-known aquamarine pieces within Queen Elizabeth's collection include an aquamarine tiara, an aquamarine bracelet, and an aquamarine brooch.
14. Today, most of the world's aquamarine is found in Brazil. But aquamarine has been found in many places across the globe, including in Angola, Pakistan, Kenya, Madagascar, Zambia, Malawi, Nigeria, Mozambique, Russia, Tanzania, and in Colorado, USA.
Can't get enough of the gem of the sea? View more aquamarine jewelry.