Blue sapphires have always been loved for their rich, mesmerizing blue color. This spellbinding, deep blue gemstone has been worn by royals for centuries and is always of favorite of those who favor a classic look. Yet, as we enter into 2020, it seems that the blue sapphire is experiencing a notable uptick in popularity. This year, we've noticed a strong rise in the popularity of blue sapphire engagement rings and blue sapphire jewelry in general.
Perhaps the blue sapphire has become even more popular because of the ongoing influence of Kate Middleton's iconic blue sapphire engagement ring. Or, perhaps the blue sapphire is more popular because it perfectly matches Pantone's 2020 Color of the Year, Classic Blue. Whatever the reason, blue sapphire jewelry seems to be on track to be one of the biggest jewelry trends of the year.
To celebrate the surging popularity of the rich, regal sapphire, we've put together a list of some of our favorite blue sapphire pieces. Whether you're looking for an engagement ring, a new piece of fashion jewelry, or that something blue for your wedding, we have the perfect blue sapphire piece for you.
Blue Sapphire and White Diamond Earrings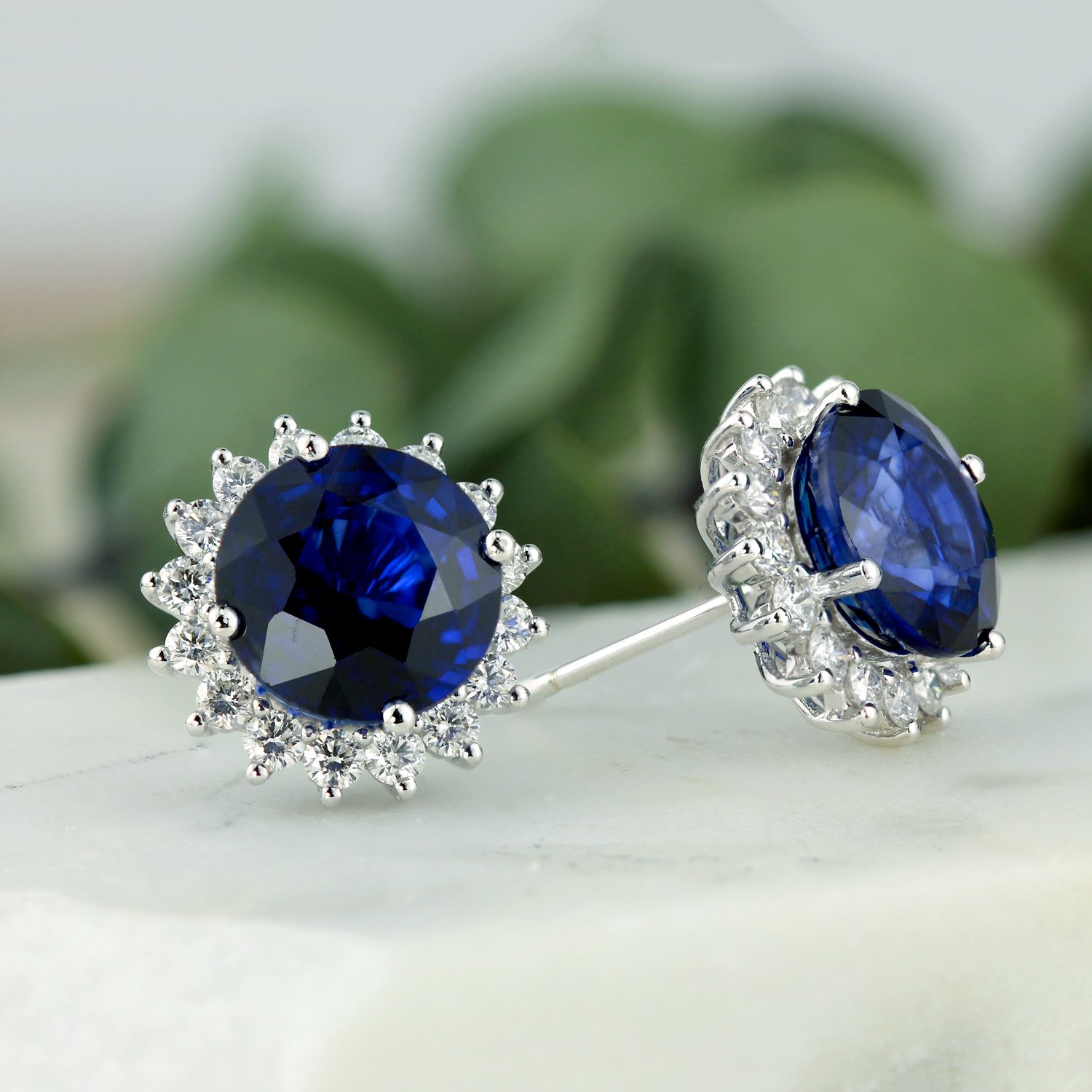 These blue sapphire and white diamond halo earrings are nothing short of stunning. In this design, two large, beautifully deep sapphires are surrounded by a diamond halo. This diamond halo gives the impression of blooming flower petals that spring from the depth of the center blue gemstones. The combination of the brilliant white diamonds and rich blue sapphires in this piece creates a gorgeous contrast that will draw eyes from across the room.
Shop Blue Sapphire and White Diamond Earrings
Andrea Halo Blue Sapphire and Diamond Ring
The design of this 8.70 carat oval blue sapphire and diamond ring was inspired by Princess Diana and her legendary blue sapphire engagement ring (now worn by Kate Middleton). This ring features a sizable center sapphire surrounded by a highly unique diamond halo. In this intricate halo setting, petite baguette and round diamonds interlock to create a shape similar to a classic tiara.
Blue Sapphire Stud Earrings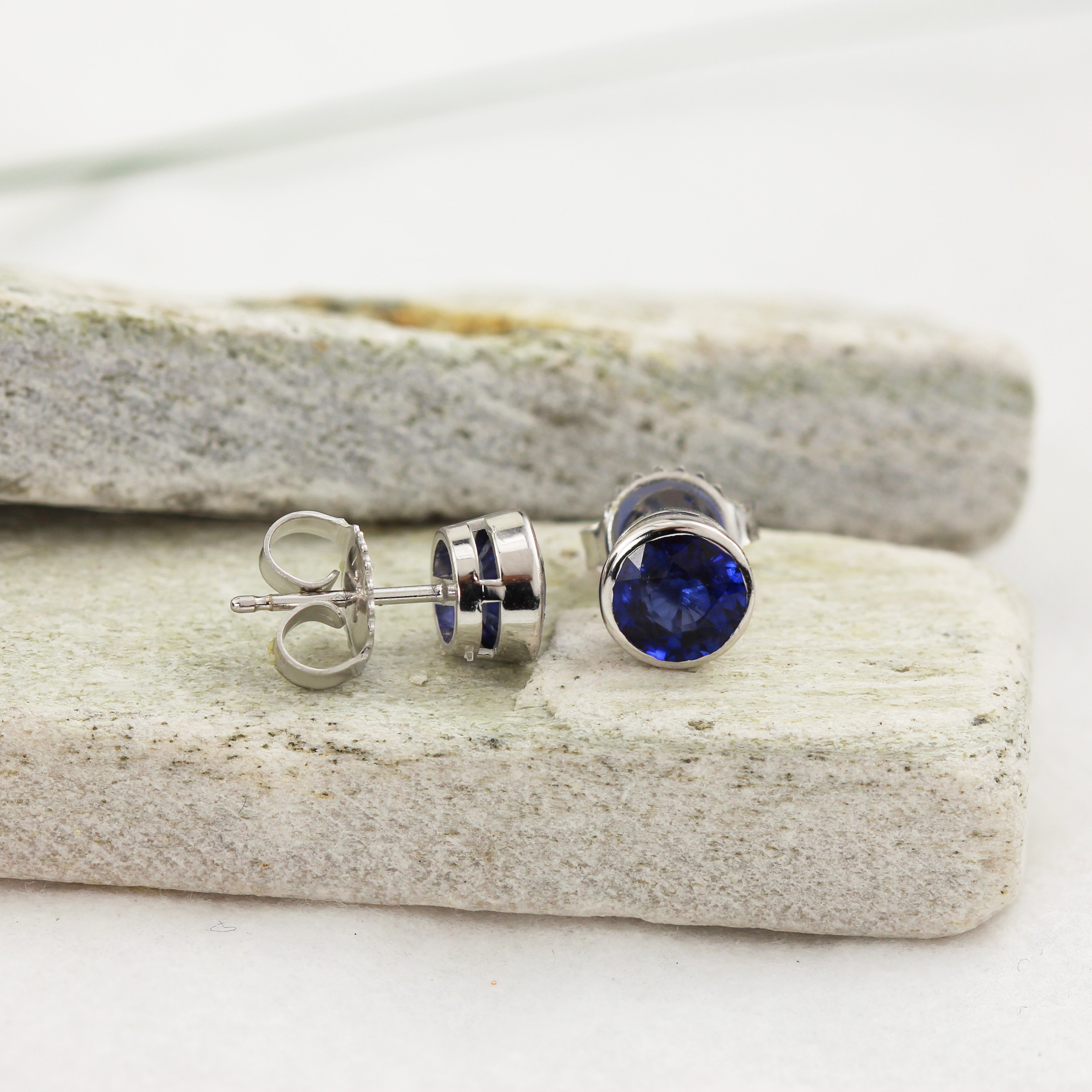 These solitaire sapphire stud earrings are a chic way to incorporate blue sapphires into your daily wardrobe. These stud earrings feature two deep blue sapphires enclosed in sleek bezel settings crafted from white gold. If you prefer a different precious metal or setting style, know that our solitaire blue sapphire studs are customizable. You can click the link below to select your ideal carat weight, setting style, and precious metal for your sapphire stud earrings.
Shop Blue Sapphire Stud Earrings
Charleston Ballerina Halo Engagement Ring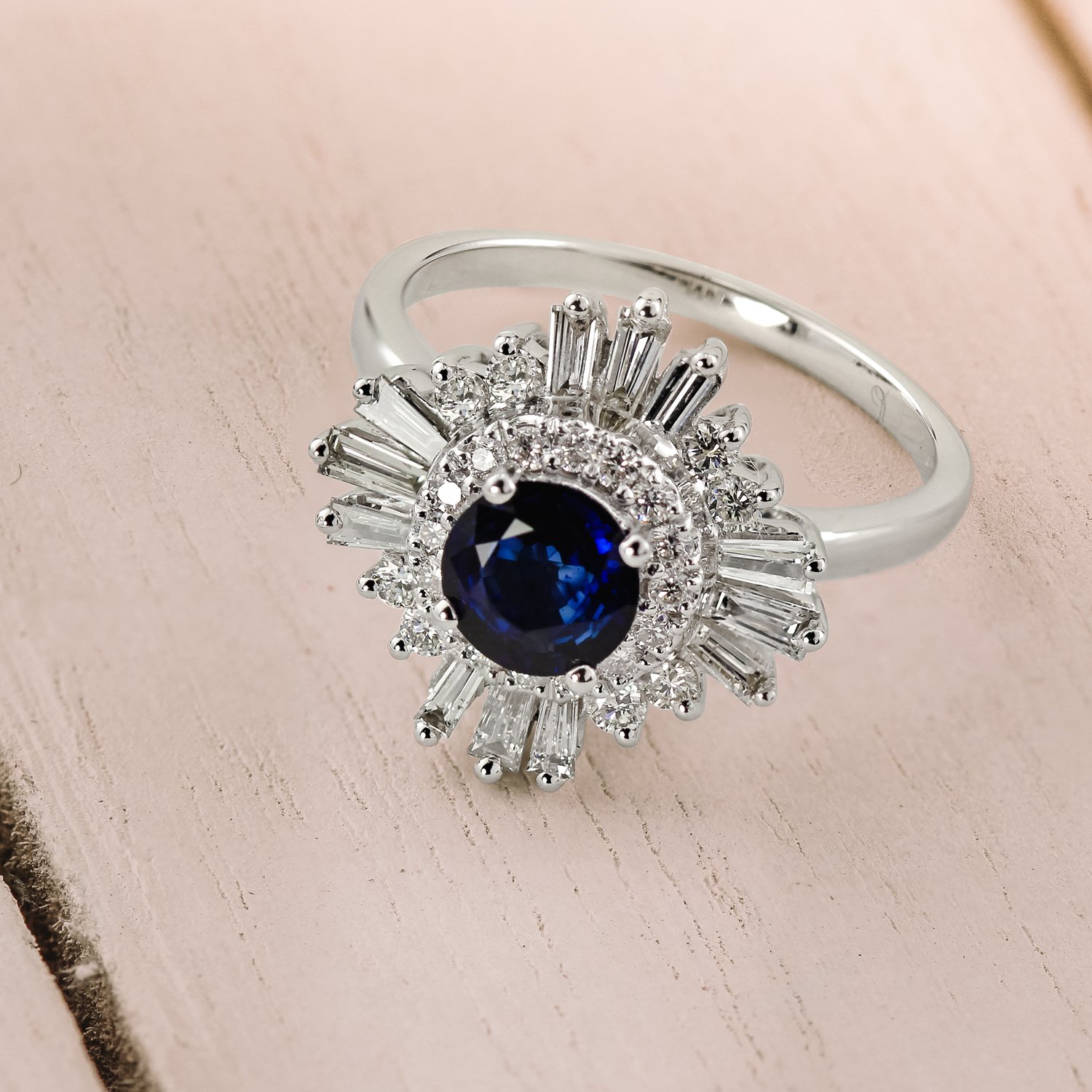 With its gorgeous Art Deco-style halo, the Charleston Ballerina Halo Engagement Ring is a true stand out within our blue sapphire engagement collection. This mesmerizing ring features a round blue sapphire enclosed within a ballerina halo. This beautiful halo is set with round and baguette diamonds, boasting 36 total diamonds that create incredible brilliance.