An anniversary band is a wedding band you give your partner to celebrate the anniversary of your marriage. While many people choose to gift anniversary bands on major anniversaries (like the fifth or tenth), they can be given on any anniversary. If you're considering giving this romantic, thoughtful gift, you might be wondering how to choose one. You might wonder what kind of style should you choose, if there are rules to choosing an anniversary band, or if an anniversary band is meant to replace a wedding ring. We'll answer all these questions and more in our guide to choosing anniversary bands.
Are Anniversary Bands Supposed to Replace Wedding Bands?
Many people wonder if anniversary bands are meant to replace their partner's wedding band. The answer to this question is that it isn't necessarily meant to, but it can. An anniversary ring can really be worn in any way the recipient likes. It can be worn in place of a wedding band, alongside a wedding band, or as a fashionable right hand ring.
If you like the idea of an anniversary band becoming an updated wedding band, be sure to choose an anniversary band that complement's your partner's engagement ring.
Are There Rules for Anniversary Bands?
There really aren't rules for anniversary bands but there are some anniversary traditions you can keep in mind. While old-fashioned rules say that gold isn't given until the 50th year of marriage, modern conventions have gold as the color of your year one anniversary. Let's go through some of the modern conventions for giving jewelry on major anniversaries.
Year One: Gold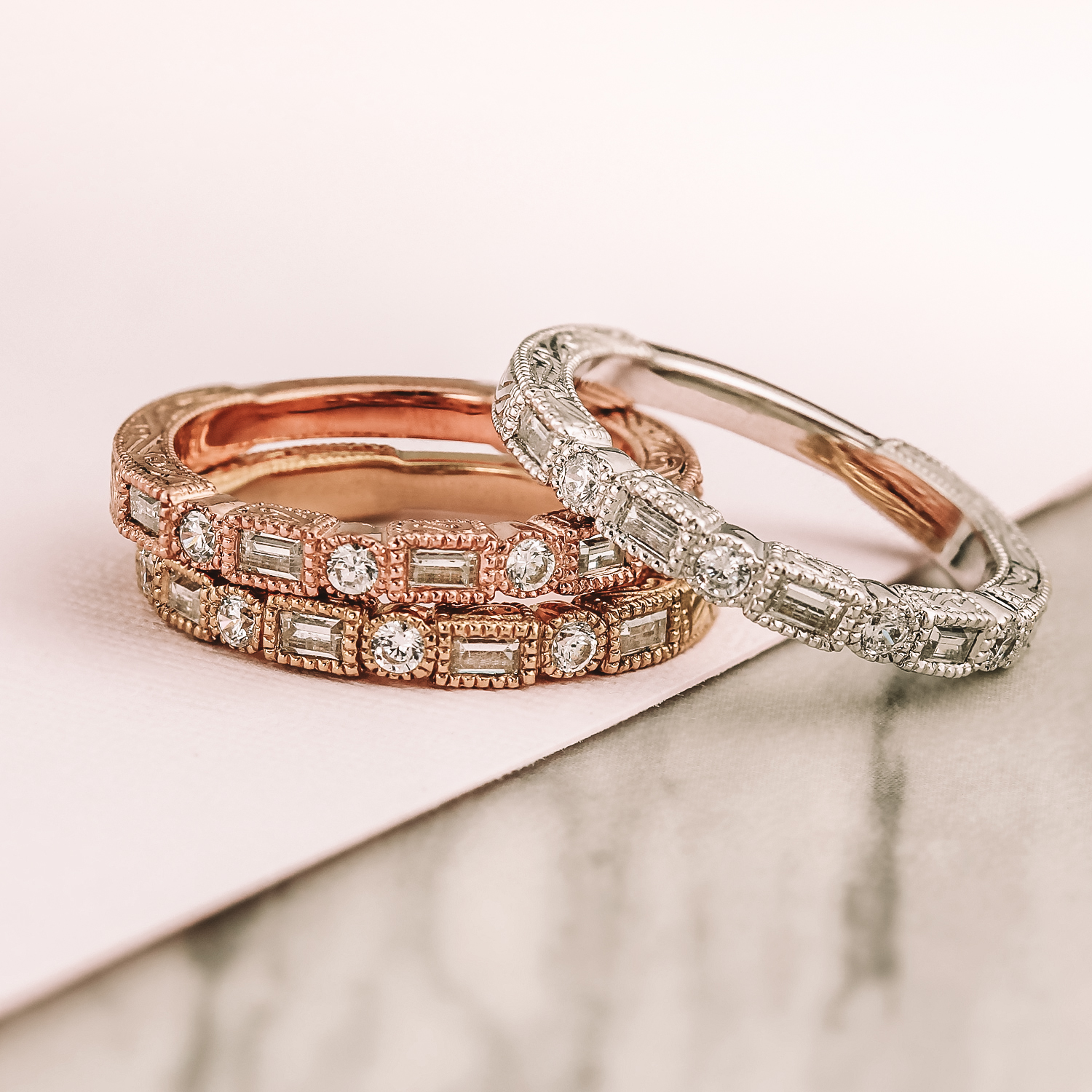 Gold is the modern tradition for gifting jewelry on your first anniversary. It makes sense: gold is precious and so is your first year as a married couple.
Gold is a highly versatile precious metal, so you should have no trouble finding a gold anniversary band that would fit your partner's personal style. You can choose from traditional yellow gold, chic white gold, or romantic rose gold for your partner's anniversary ring.
Year Five: Sapphire
Sapphires symbolize truth and loyalty, making it fitting that this precious gem is the traditional gift for a fifth year anniversary. While blue sapphires are the most popular variety, sapphires actually come a rainbow of hues, including the second-most popular color for sapphires, pink. No matter which color you choose, sapphire anniversary bands are classic, elegant, and something your partner is sure to love.
Year Ten: Diamonds
A ten year anniversary is incredibly exciting. You're marking a decade of life as a married couple— that's truly something to celebrate. If you want to follow tradition, the best way to celebrate and show your partner your appreciation is with the traditional ten year jewelry gift, diamonds. You can get your partner an anniversary band with just a few diamonds or go all out with a beautiful infinity band.
Do You Have to Follow Tradition?
If you love tradition, you may want to go with the gemstone or precious metal that matches your anniversary year. However, you definitely don't have to follow these traditions if you have something else in mind. If you want to get a diamond anniversary band, your partner will be just as thrilled to get it on your third anniversary as they would on your tenth (if not even more so!).
It's also important to note that you don't have to wait for a major year to give an anniversary band. You can give an anniversary band on any year or even on multiple years.
What Style Should An Anniversary Band Be?
There's no rule on what kind of style an anniversary band should be. When considering style, just think about what your partner would love. Would they want something sleek they could add to their wedding stack? Or would they maybe want an ultra glam ring that could be worn on its own? Choosing the right style for an anniversary ring is really just a matter of choosing the right style for you and your partner.
Browse more anniversary bands at diamondwish.com.