There are many different setting styles for engagement rings. When you shop for an engagement ring, you'll see classic, solitaire, halo, vintage, and modern style settings. Your choice of engagement ring setting will have a major impact on the style of your engagement ring, so it's important to understand what each of these setting styles brings to the table. To help you get a grasp on all the different options out there, here's our Engagement Rings 101 Guide, setting styles edition.
Classic: Traditional Elegance
The Alina Setting has a classic look and plenty of shimmering details.
Classic style settings are exactly what they sound like: classic, traditional setting styles. Classic style settings include settings with pave diamond set bands, three stone settings, and twisted band settings. Classic settings are great for someone with an elegant and traditional sense of style. They offer simplicity, sparkle, and sophistication.
Solitaire: The Ultimate Classic
The Isabelle Setting has a classic solitaire design.
While the solitaire setting is a classic style, it's so ubiquitous that we're giving it a section of its own. The solitaire setting design is the simplest of all: it consists only of a plain metal band and a center diamond setting. The diamond setting can consist of prongs (vertical pieces of metal that hold a diamond in place) or a bezel (metal that encircles a diamond).
In terms of style and functionality, prongs and bezels offer different advantages. Prong settings are what most people picture when they imagine an engagement ring. They're incredibly classic and have the advantage of allowing a lot of light entry, which allows the diamond to sparkle more. Bezel settings have a more modern look and allow for slightly less light entry but are extremely secure. They're also smoother than prong settings, which allows for less snagging or scraping.
Both prong and bezel style solitaire settings are chic and timeless. If you're considering going with a solitaire setting, just consider which prong style would work best for you when you're making your selection.
Halo: Glamour and Size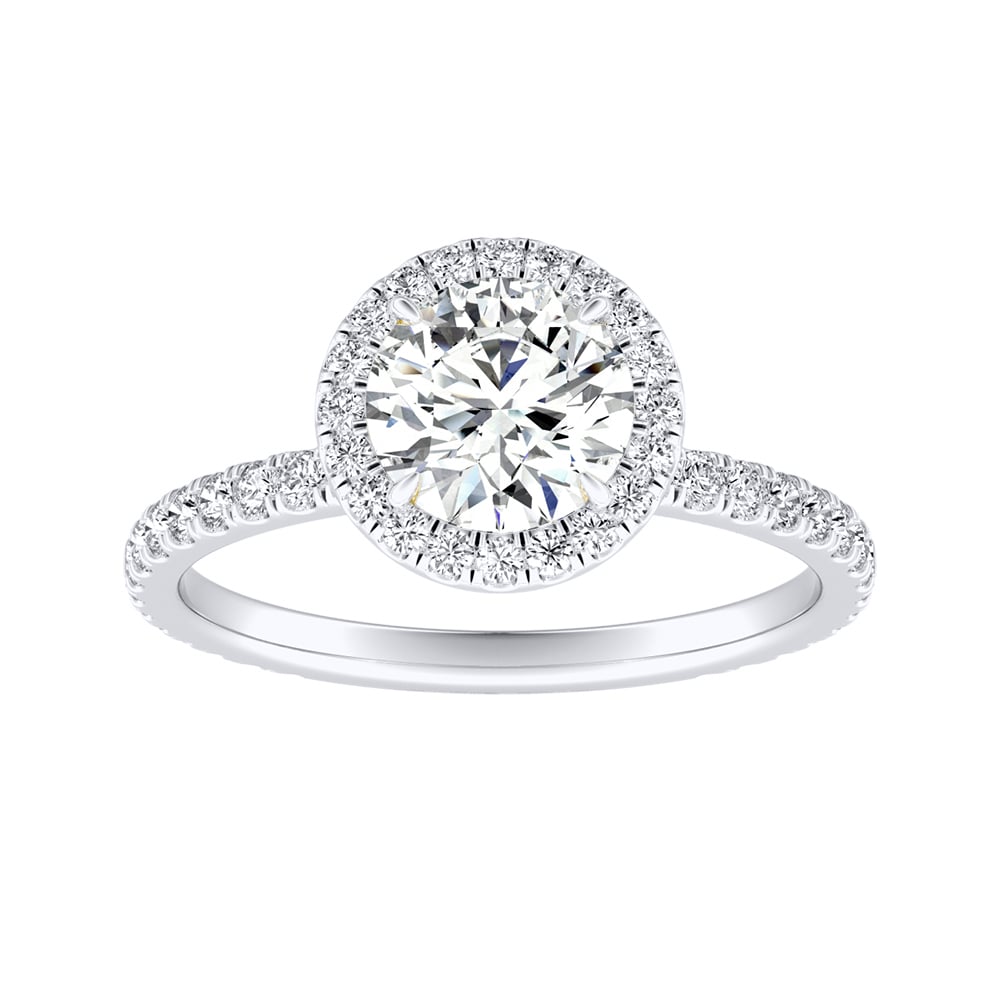 The Skylar Setting includes a diamond halo that brings drama and impact to its design.
The halo setting has become extremely popular in recent years. A halo setting is a engagement ring setting that features a halo of diamonds that run horizontally around the featured center diamond. This setting not only adds major sparkle to an engagement ring, it also gives the illusion that the center diamond is larger than it actually is.  Because of its size-enhancing shimmer, the halo setting is perfect for those who love glamour and impact.
Vintage: Romance and Old-World Beauty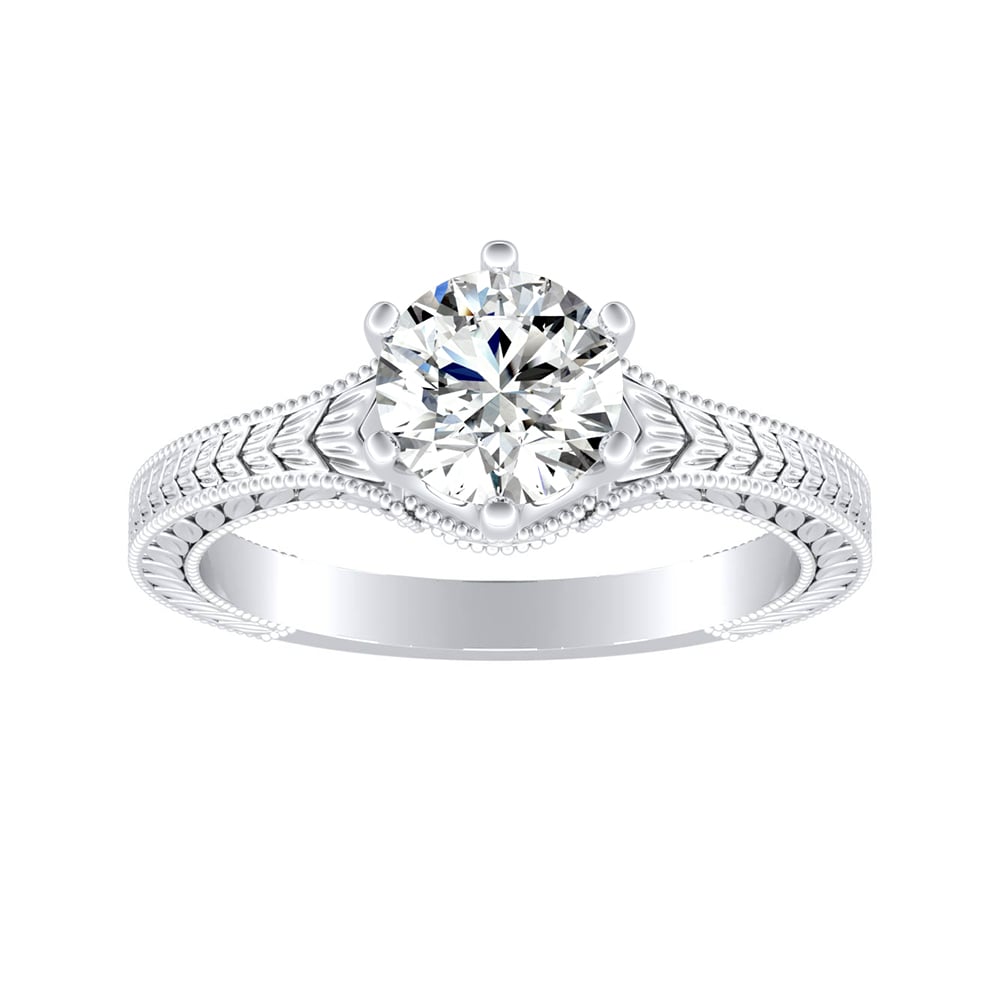 Beautiful engravings give the Reagan Setting a vintage look.
Vintage style engagement ring settings offer a romantic beauty. Among this setting style, you'll see many intricate designs that feature details like engraving, unique diamond placement, and swirling precious metal. The vintage style setting is perfect for those who love old world beauty. It's charming, elegant, and unique.
Modern: Sleek and On Trend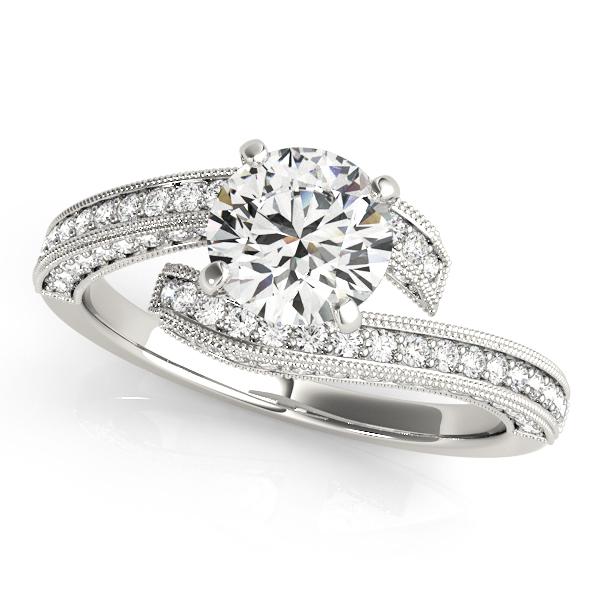 The Maira Setting features a uniquely modern pave diamond set open band. 
Modern setting styles are on trend and contemporary. They often feature unexpected shapes or beautiful detailing that is distinctly "now." A modern style engagement ring is an excellent choice for someone who loves modern or fashion forward design.
To see more examples of the different setting styles, browse our classic, solitaire, halo, vintage, or modern style settings.