Pantone's 2020 Color of the Year is the beautiful Classic Blue, a deep shade of true blue. Pantone describes Classic Blue as "reminiscent of the sky at dusk." Though, to us, it's also reminiscent of some of our favorite gemstones! The calming, timeless color of Classic Blue is perfectly reflected in blue sapphires and London Blue topaz, two gemstones that have a timelessness of their own. These blue gemstones have long been associated with royalty, loyalty, faith, and stability. The meaning of blue sapphires and blue topaz fit perfectly with Pantone's description of Classic Blue as a "reassuring, dependable, and stable" color.
Looking to add a bit of the Color of the Year's calming elegance to your jewelry box? Read on to see some of our favorite ways to wear Classic Blue. 
Classic Blue Sapphire Rings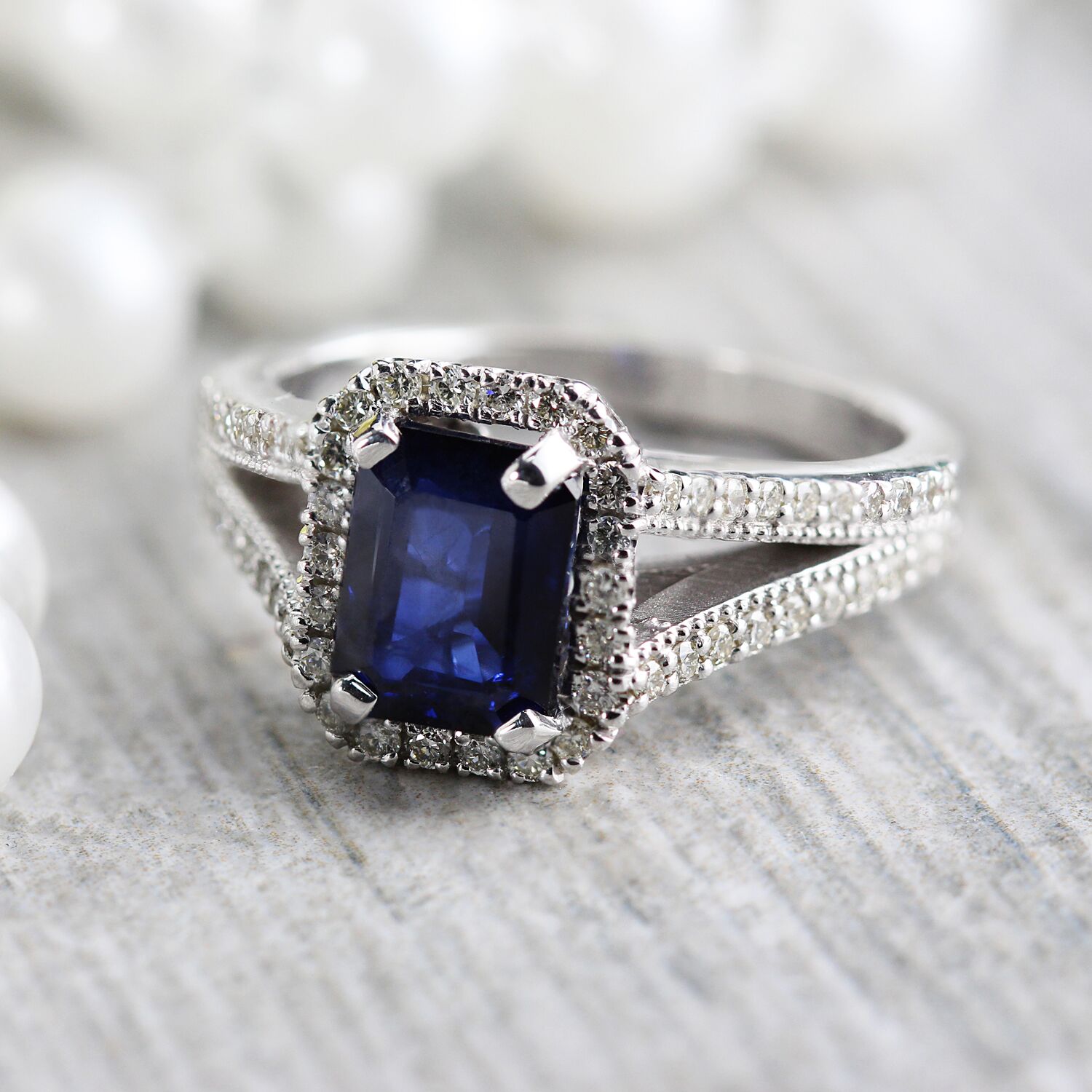 Blue sapphires perfectly echo the color of the sky at dusk, just like Classic Blue. One of our favorite ways to wear a classic blue sapphire is in an elegant sapphire ring that features diamond accents. White diamonds beautifully complement the depth of a blue sapphire. A white diamond's bright, shimmering radiance makes a blue sapphire look even more rich and colorful.
Classic halo settings, which follow the shape of a piece's center stone, are a lovely choice for sapphire jewelry. Then, another stunning option is a floral diamond halo, like the one pictured above. Floral halos are a romantic, timeless choice for a sapphire engagement ring or a sapphire cocktail ring. While floral halos are always a classic option, they've been even more popular in recent years, thanks to Kate Middleton's blue sapphire engagement ring, which features a floral halo setting.
Classic Blue Sapphire Stud Earrings
Solitaire stud earrings are a chic and sophisticated way to wear a classic blue sapphire. A pair of blue sapphire studs can add the perfect pop of color to any ensemble. For a more modern or streamlined look, we recommend going with a bezel setting for your blue sapphire studs, as seen above. For a more classic look, opt for a four prong basket setting. Then, if you want a more glamorous effect, we recommend forgoing a solitaire setting and selecting a halo setting that will give you added brilliance.
Explore Blue Sapphire Stud Earrings
Classic Blue Topaz Engagement Rings
Blue topaz ranges in color from a clear, sky blue to a deep, midnight blue. London Blue topaz, the deepest shade of blue topaz, is the color that best emulates Pantone's Classic Blue.
London Blue topaz looks gorgeous in many types of jewelry. However, we will say that one of our current favorites types of London Blue topaz jewelry is a London Blue topaz engagement ring. Blue topaz is associated with calmness, peacefulness, and inspiration, which makes it a lovely and meaningful choice for your engagement ring.
Explore Blue Topaz Engagement Rings
Classic Blue Sapphire Pendant Necklace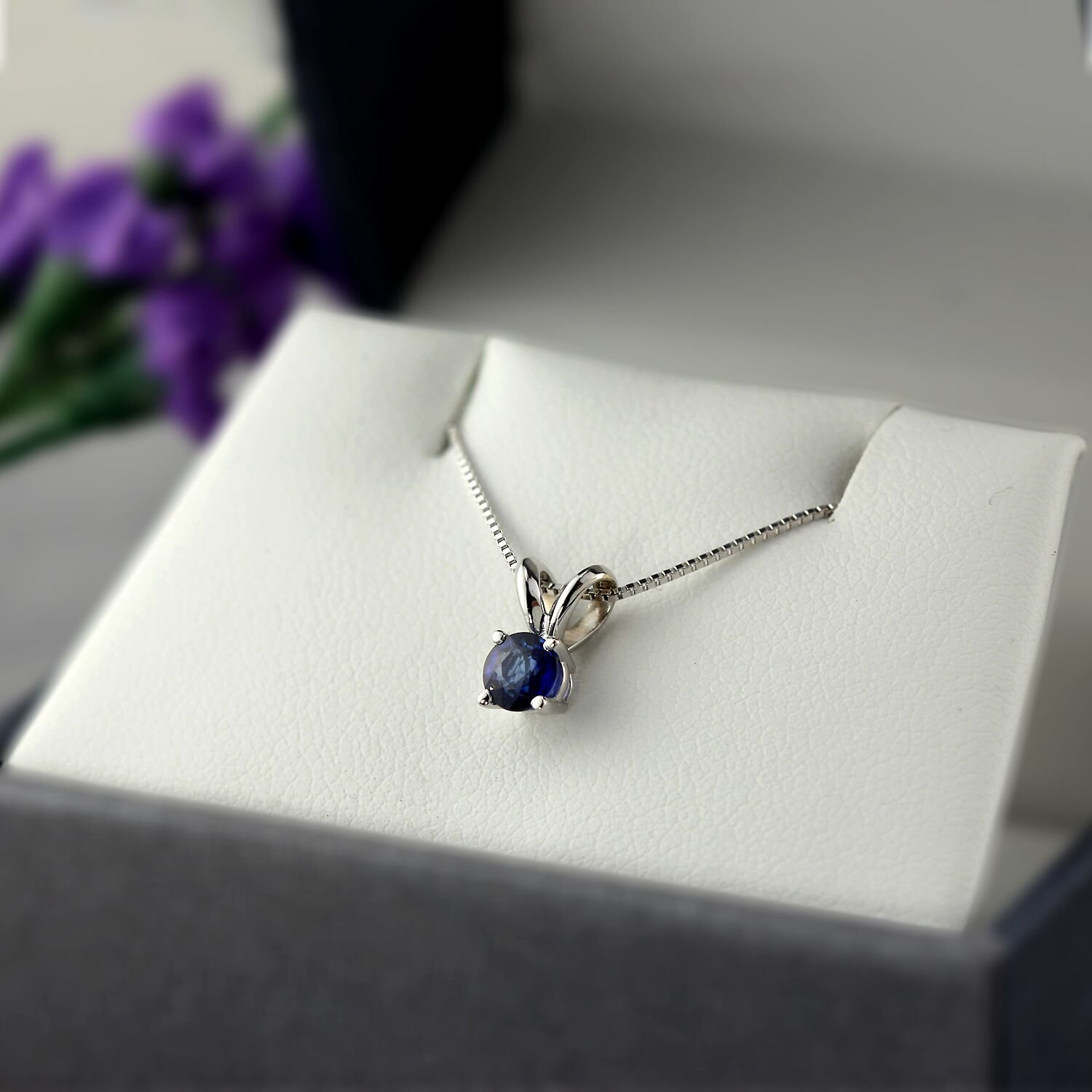 Last up in our list of Classic Blue jewelry, we have blue sapphire pendants. A blue sapphire pendant is incredibly elegant, classic, and beautiful. A blue sapphire necklace can be worn on its own to add a touch of timeless elegance to an outfit. Or, it can also add a gorgeous pop of color to an intricate layered look.