Unique engagement rings have been a big trend recently. And there's one type of unique engagement ring we're seeing everywhere right now: black diamond rings. In the past, black diamonds have been a more rare choice for engagement rings. However, we're seeing more and more couples gravitate toward the bold beauty of black diamond engagement rings.
To celebrate this emerging trend, in this post we're highlighting black diamond engagement rings. We'll cover why they've become so popular, the advantages of black diamonds, the meaning of black diamonds, and the best settings for black diamond engagement rings. We'll also highlight a few of our favorite styles to give you some black diamond engagement ring inspiration.
The Black Diamond's Rise in Popularity
One reason for the rise in popularity of black diamond engagement rings is that they perfectly fit the unique engagement ring trend. Another reason may be the influence of one of TV's biggest fashion icons, Carrie Bradshaw.
In the most recent Sex and the City film, Sex and the City 2, Mr. Big finally popped the question to Carrie. Though he initial proposed with a Manolo Blahnik pump, he eventually presented her with an incredibly unique engagement ring. This ring, crafted from white gold, featured a five carat black diamond and a white diamond halo. Explaining his ring selection, he stated, "Because you're not like anyone else."
Black engagement rings were trending a bit before the release of Sex and the City 2. And they have always been a top choice for those with a more bold, edgy style. But after this film's release, we saw a major increase in interest in black diamond engagement rings. Celebrity engagement rings always have an impact on the popularity of engagement ring styles. And though Carrie Bradshaw, played by Sarah Jessica Parker, is a fictional character, she's still a style icon. So it stands to reason that her engagement ring would start a trend.
The Best Settings for Black Diamond Engagement Rings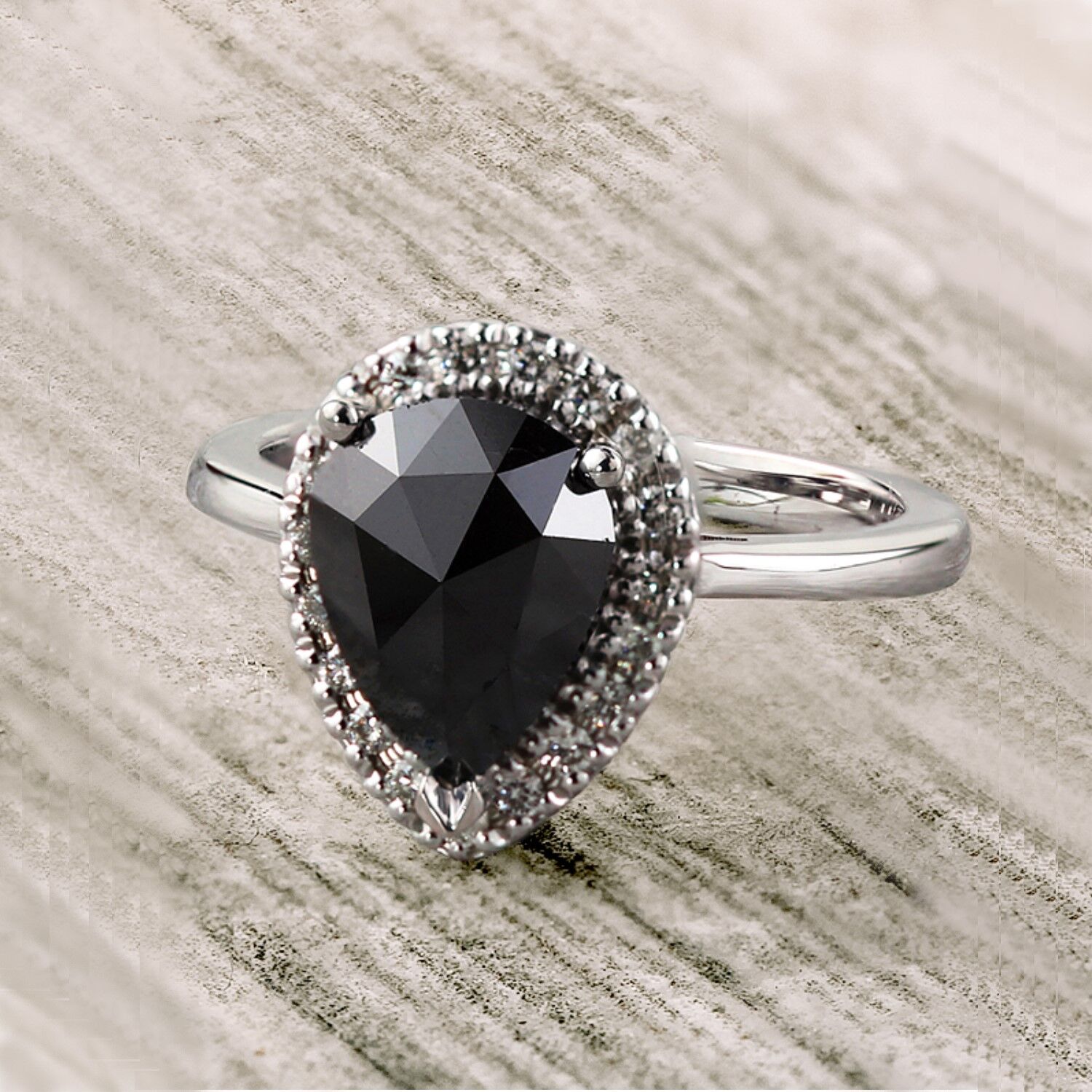 Black diamonds add a rich, mysterious look to any engagement ring. While black diamonds look beautiful in any setting style, there are two that are more popular for black diamond engagement rings: solitaire settings and halo settings. Solitaire settings let the luxe beauty of black diamonds take full focus. Then, halo settings provide a gorgeous white backdrop that really makes a deep black diamond "pop."
The Advantages of Black Diamonds
The style advantages of black diamonds are clear. They're gorgeous, eye-catching, and incredibly unique. But black diamonds also have another big advantage: their price. Black diamonds are actually one of the most rare diamond colors. Yet, they aren't as popular as many other types of diamonds, so they tend to be less expensive. Per carat, black diamonds can be thousands of dollars less expensive than white diamonds. This can allow you to fit a much larger center diamond into your budget. Or, just help you save quite a bit of money on the carat weight you were already thinking of choosing.
Additionally, black diamonds are real diamonds, so they come with all the same properties as white diamonds. Black diamonds rank at a 10 on the Moh's Scale of Hardness, so they're incredibly durable and excellent for everyday wear.
The Meaning of Black Diamonds
All diamonds are associated with purity, innocence, love, fidelity, and faithfulness. Then, each diamond color has its own special meanings. Black diamonds are associated with power, charisma, stability, originality, and creativity. When used in an engagement ring, black diamonds are also associated with passion.
Black Diamond Engagement Ring Inspiration
The Elise Black Diamond Engagement Ring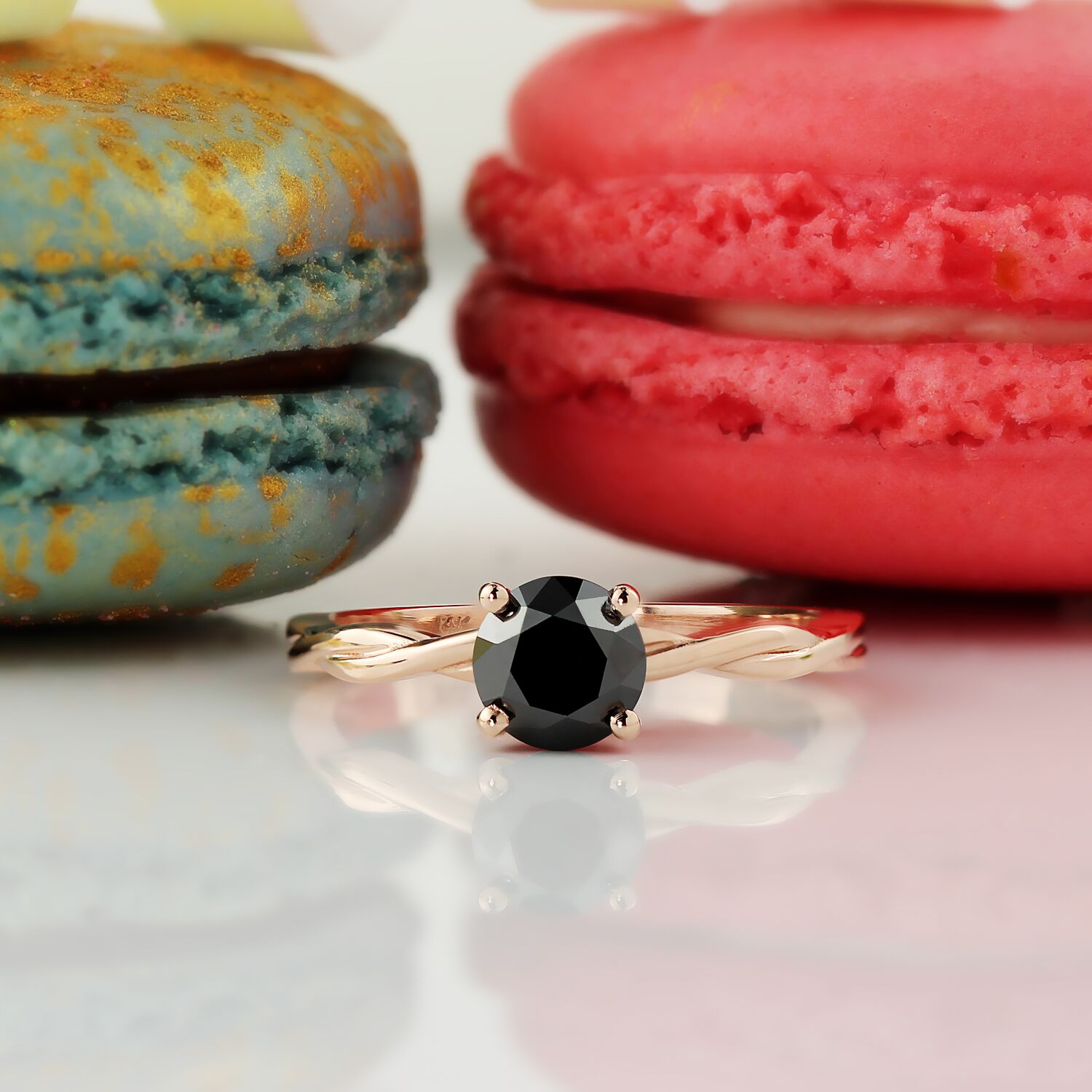 The Elise Black Diamond Engagement Ring shows just how much style a black diamond can add to a simple design. It also shows how affordable black diamond engagement rings can be. This stunning one carat diamond ring costs under $900!
The Elise Ring pictured above features a richly colored one carat black diamond. This diamond is set in a band crafted from warm 14k gold, which beautifully contrasts with the tone of the diamond. This ring's band features a twisted design that adds a touch of romance to this elegant style.
The Alaina Black Diamond Halo Ring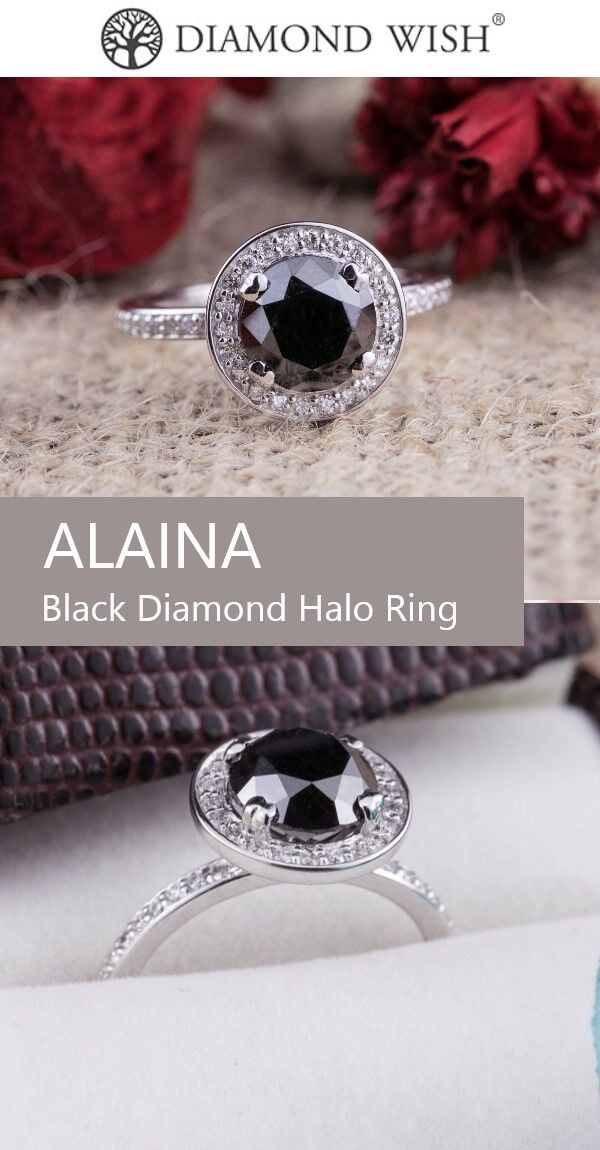 The Alaina Ring shows a black diamond in one of the most popular styles for black diamond engagement rings, the halo setting. Here, a two carat black diamond is surrounded by a shimmering ring of white diamonds. White diamonds continue along this ring's slim band, adding more brilliance to this luxe engagement ring.
The Adelyn Halo Round Black Diamond Engagement Ring
The Adelyn Black Diamond Engagement Ring provides another example of how exquisite black diamonds look in a halo setting. Here, a magnificent four carat round black diamond is enclosed in a white diamond halo setting. This halo further enhances the impressive size of this ring's center stone. It also provides a beautifully white backdrop that perfectly contrasts with the black diamond's depth. In this design, a wide split shank band perfectly balances out the impressive size of the black diamond. Along the band, dozens of white diamonds shimmer. Even more white diamonds are hidden along the sides of this ring's beautifully detailed band. A total of 116 white accent diamonds are used here, which adds breathtaking brilliance to this engagement ring.
Want to see even more beautiful black diamond engagement rings? Browse our full black diamond engagement ring collection.