Aquamarine is a gemstone that's known for its resemblance to a glittering, clear blue sea. Aquamarines are unique among gemstones because, not only do they have beautiful color, they also have a transparency and shimmer that's similar to that of a diamond. This pastel blue gem has been on the rise lately, as more and more brides are drawn to its glittering blue hue (not to mention aquamarine's very attractive, low price point).
To celebrate the aquamarine engagement ring trend, we've rounded up some of our favorite aquamarine engagement rings. Read on to see 7 alluring aquamarine engagement rings that will make you want to say, "I do."
1. Halo Aquamarine Diamond Ring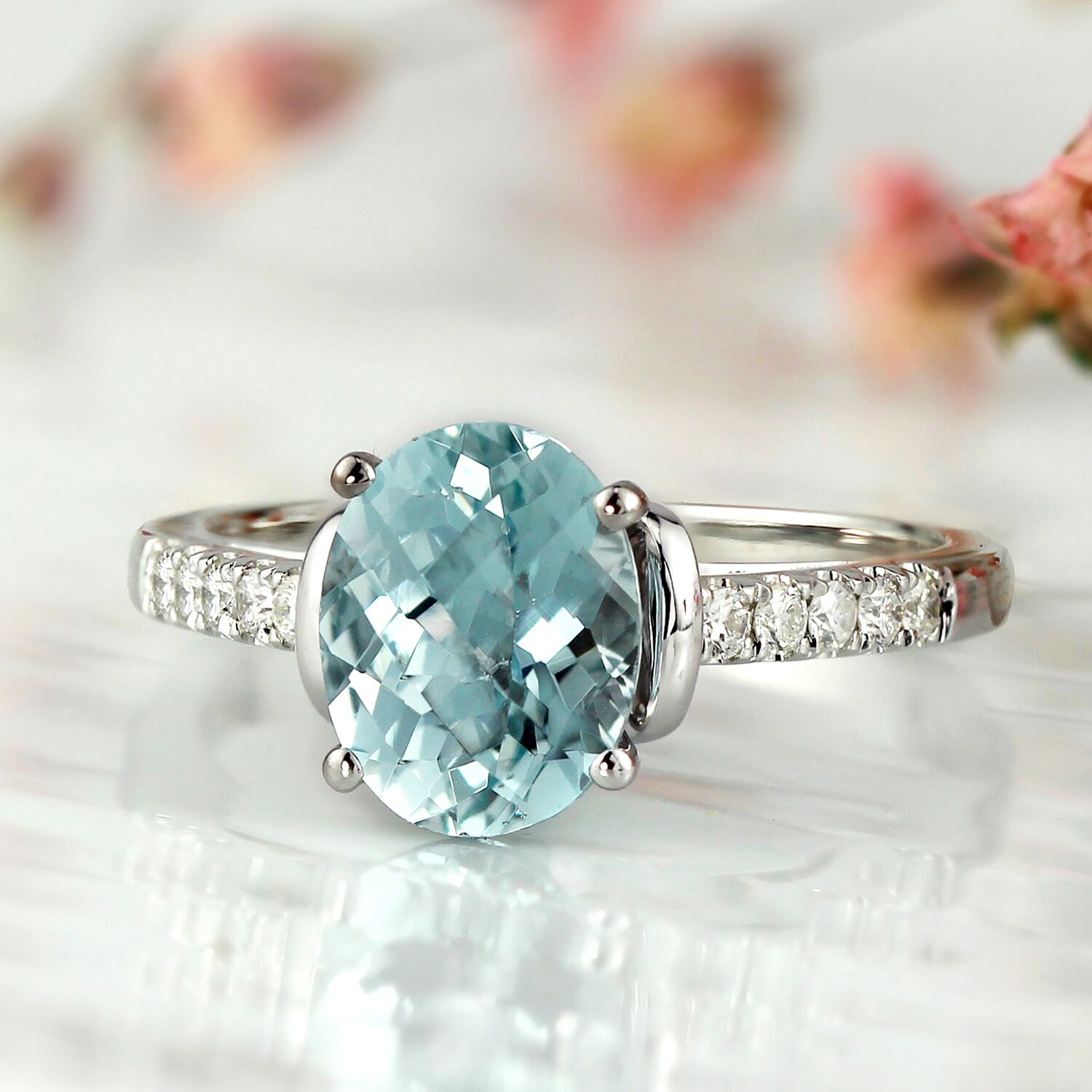 The 1.30 carat oval aquamarine center stone isn't the only thing that's unique about this beautiful engagement ring. It also features a distinctive partial halo metal setting that gives this piece a stand-out, romantic look. White diamond accents rest along this ring's band and on the sides of its raised setting, adding beautiful brilliance.
2. Skylar Halo Aquamarine Engagement Ring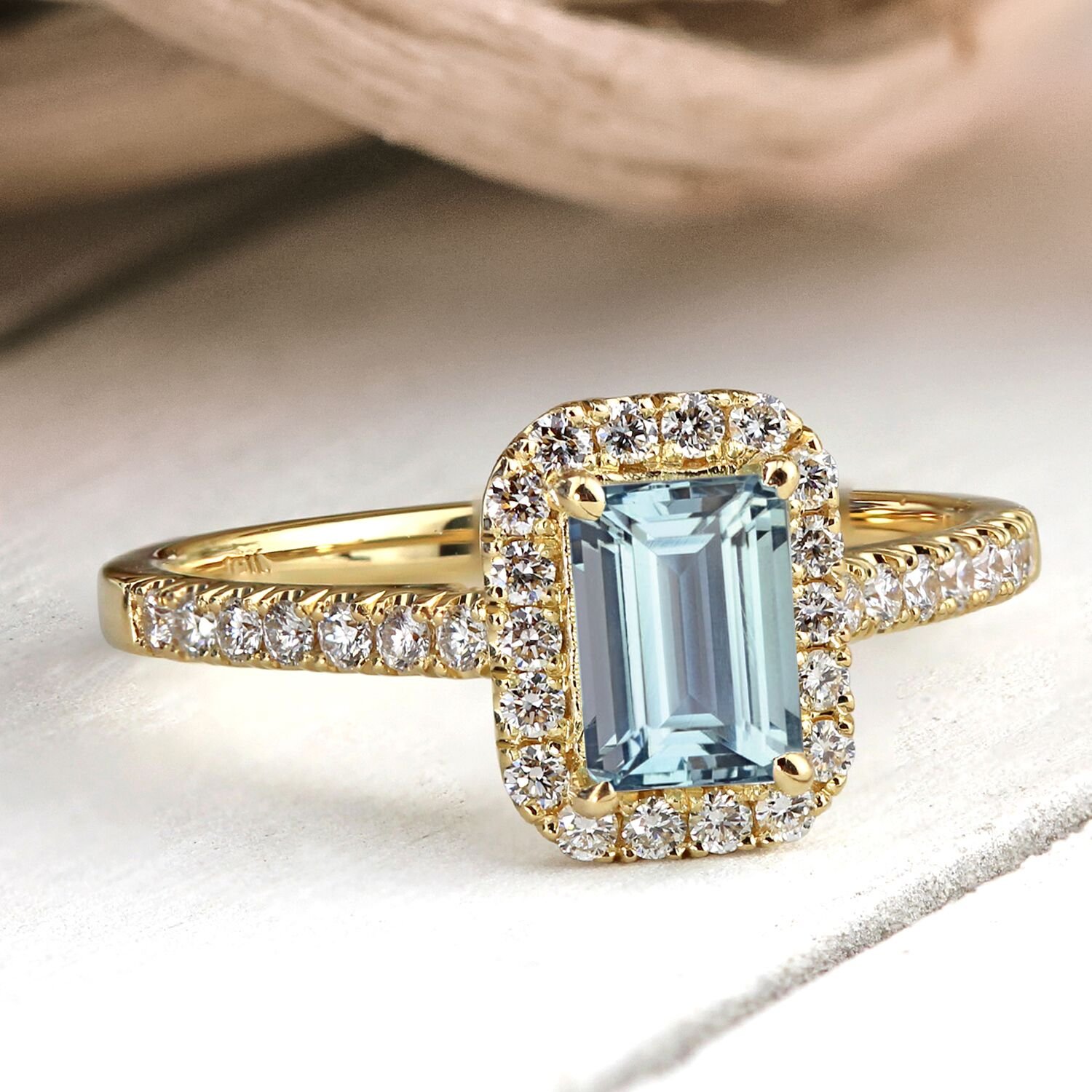 The Skylar Aquamarine Engagement Ring is at once retro and modern. The setting of this stunning engagement ring is all vintage: its emerald shaped halo and golden hue have an elegant, old Hollywood look. While the center 1.00 carat emerald cut aquamarine couldn't be more "now," as this gemstone is right on trend. In this design, old and new blend together to create an engagement ring that will get complements for decades to come.
3. Halo Aquamarine Diamond Ring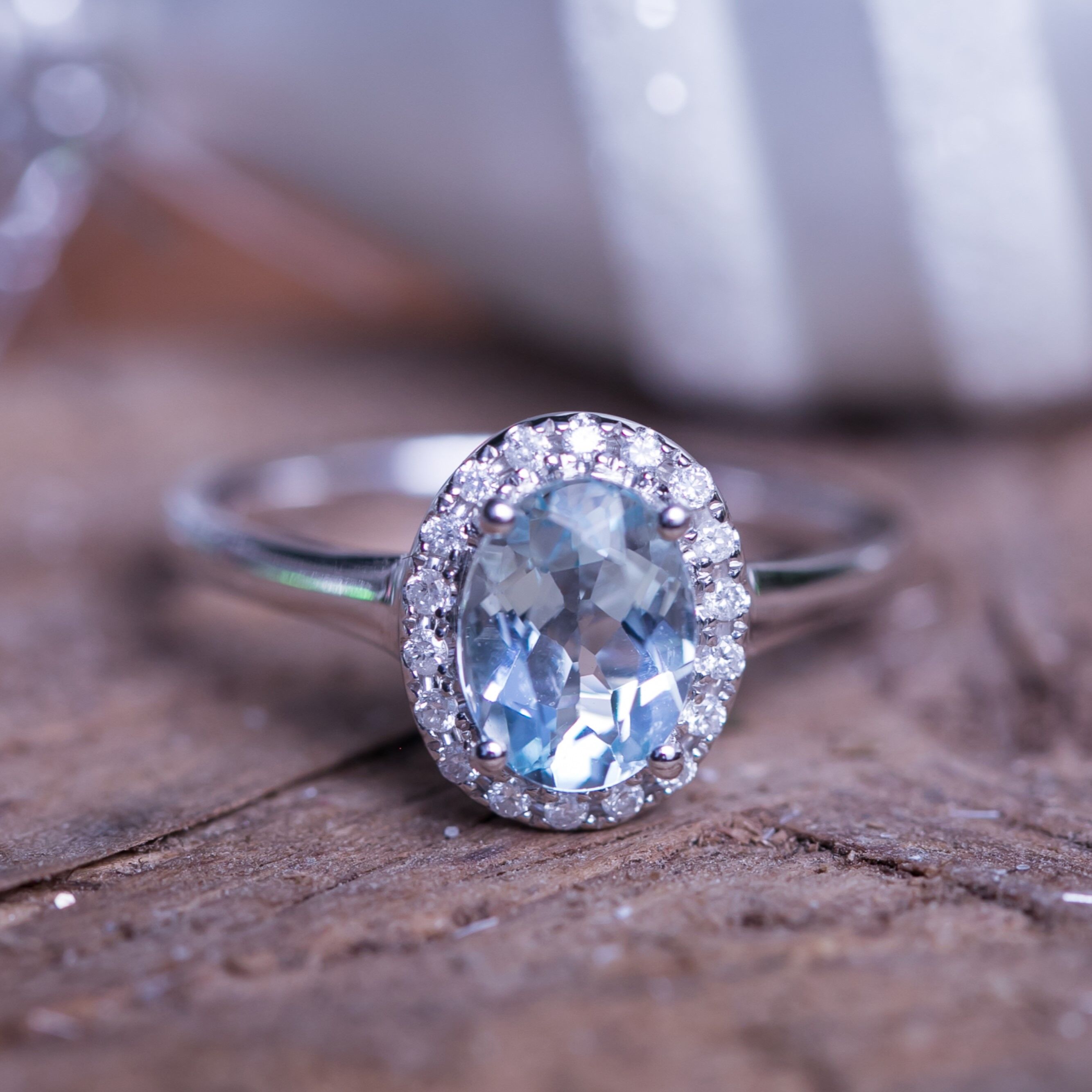 This halo aquamarine engagement ring is nothing short of mesmerizing. This engagement ring features a 0.75 carat oval aquamarine, which is surrounded by a chic, brilliant halo of white diamonds.
4. Charleston Ballerina Halo Aquamarine Engagement Ring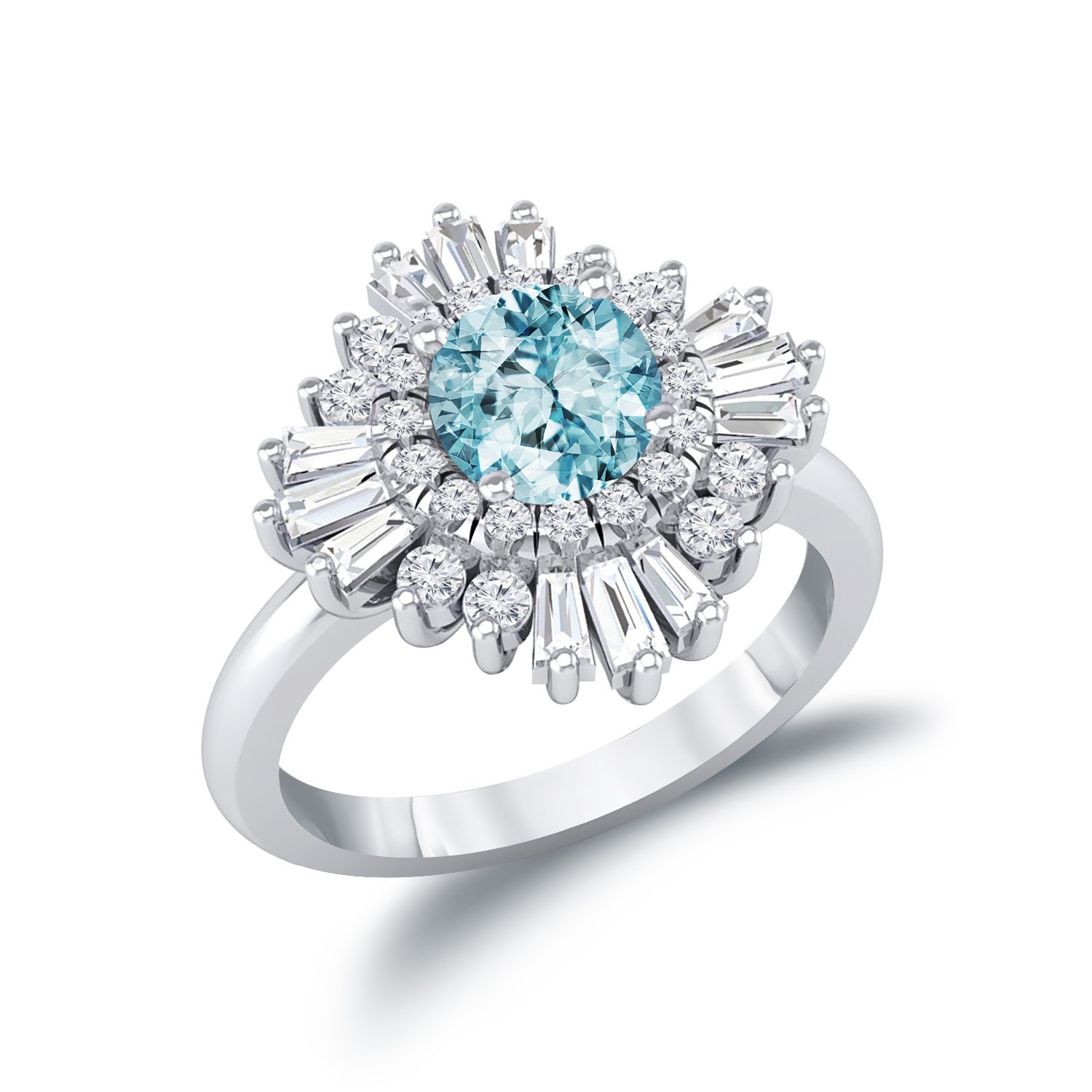 A big trend right now is unique halo settings. And you won't find a halo that's more unique than the breathtakingly intricate Charleston Ballerina Engagement Ring halo. This halo setting features a dizzying array of round and baguette diamonds, which together create a starburst effect. At the heart of this halo is the ring's main attraction: a shimmering 1.00 carat aquamarine that adds a pop of color to this blindingly brilliant engagement ring.
5. Reagan Solitaire Aquamarine Engagement Ring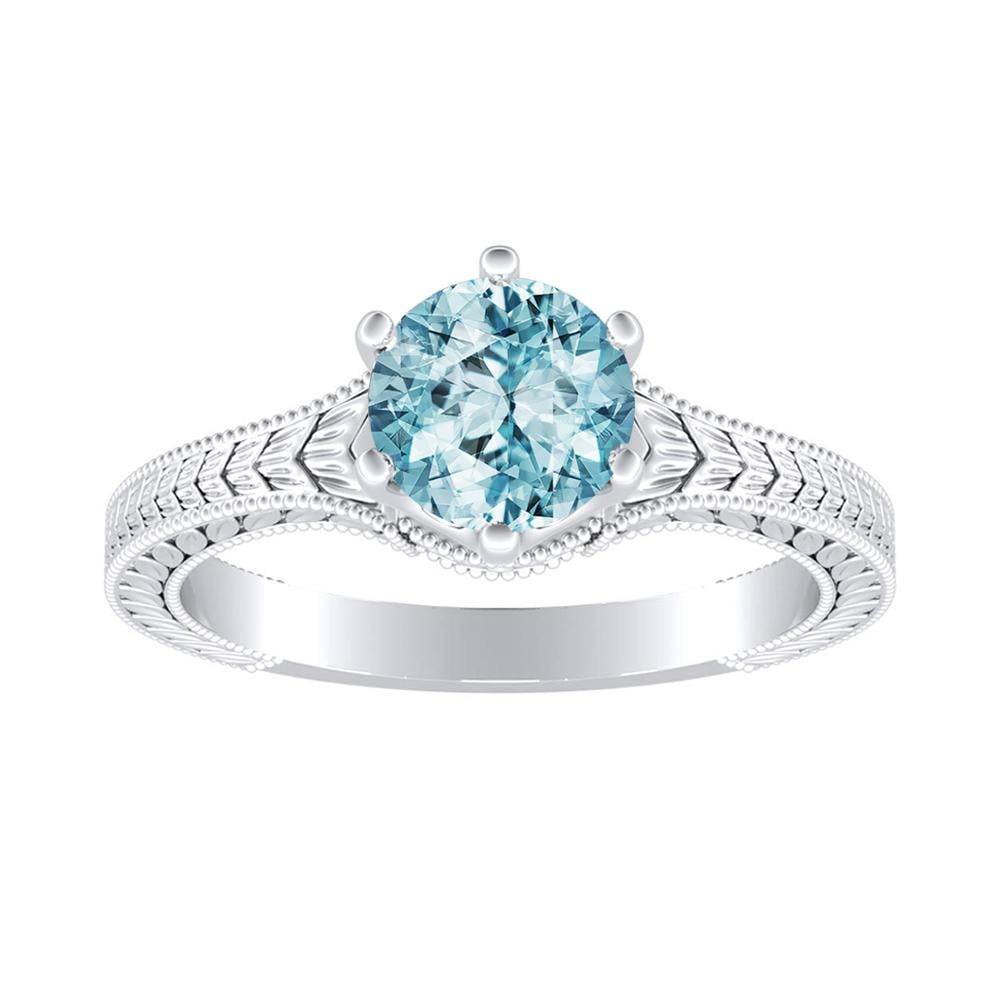 In the Reagan Aquamarine Engagement Ring, a round aquamarine is complemented by a beautifully detailed solitaire setting. This setting features delicate engraving along the band's top and sides, which gives this ring a vintage look.
6. Alexia Classic Aquamarine Engagement Ring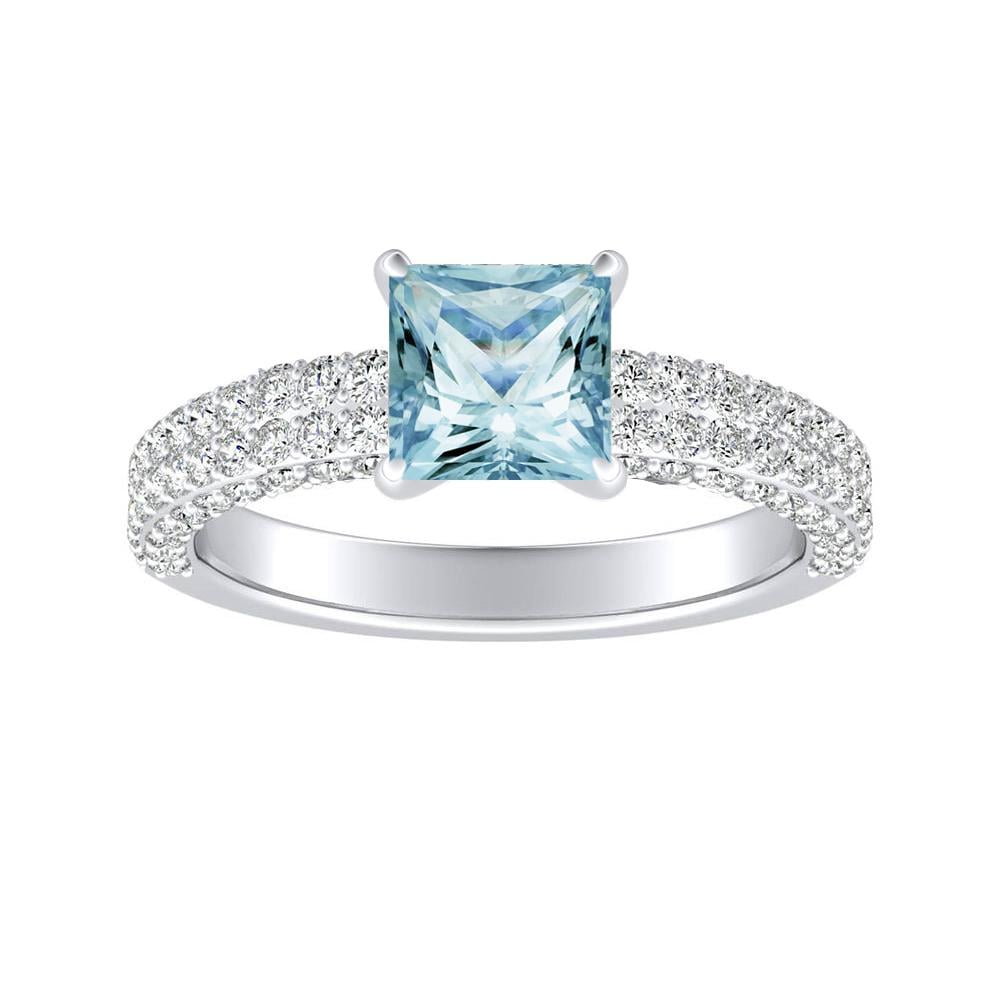 The Alexia Engagement Ring is glamorous and modern. In this design, a princess cut aquamarine sits atop a squared band. Along the sides and top of this band rest 120 glimmering white diamonds, which add spectacular brilliance to the ring.
7. Halo Trillion Aquamarine Diamond Ring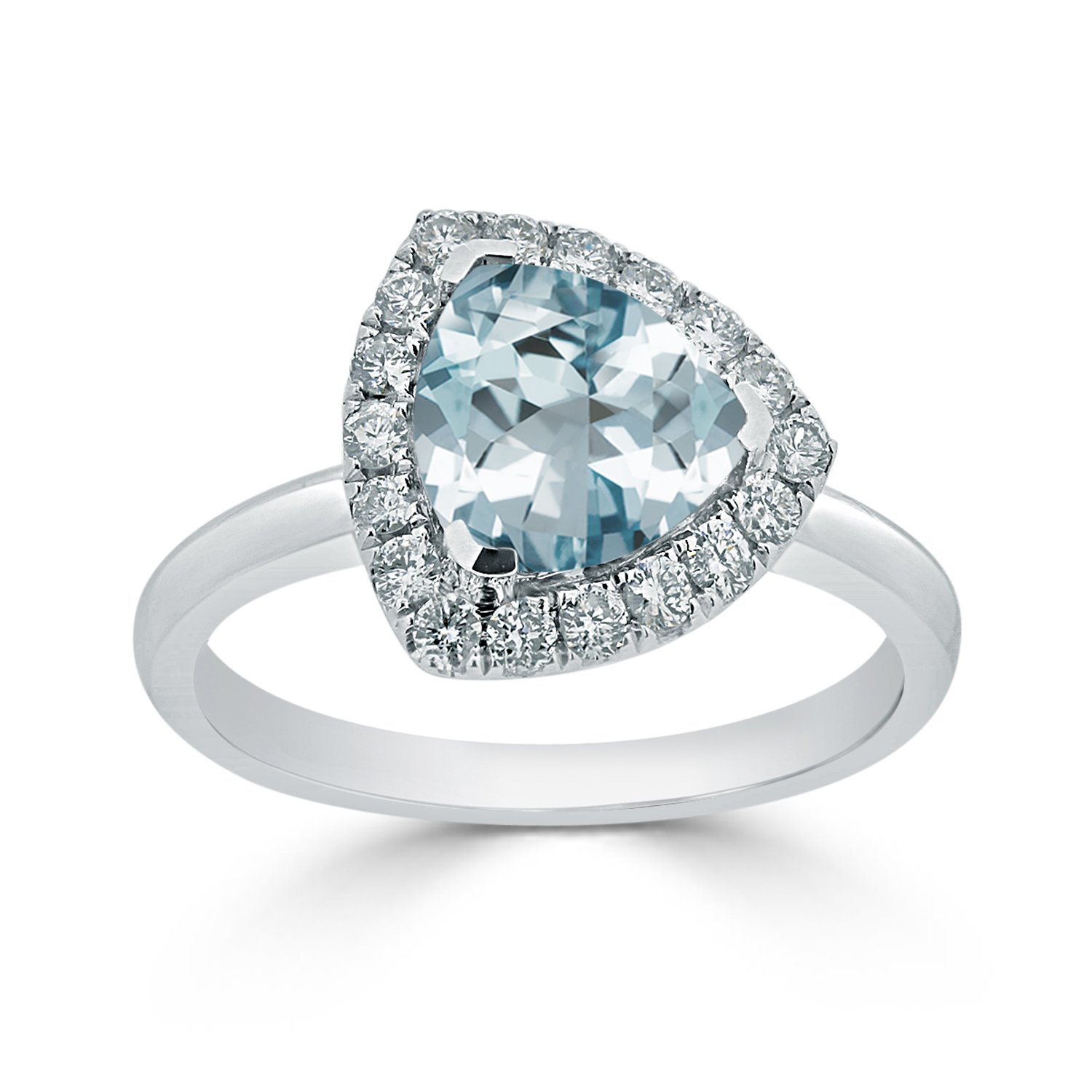 All aquamarine engagement rings are unique, but this halo trillion cut aquamarine engagement ring takes "unique" to a whole other level. The star of this engagement ring is its center stone, a 1.50 carat trillion cut aquamarine. This mesmerizing trillion cut aquamarine is side set in a diamond halo setting, which adds even more distinctive detail to this eye-catching engagement ring.
Want to see even more alluring aquamarine engagement rings? View our entire aquamarine engagement ring collection.