Engagement rings are usually made of durable materials, like gold and diamonds. But though engagement rings are built to stand the test of time, they do require a bit of maintenance if you want them to look their best year after year. Wondering what you can do to take care of your engagement ring? Read on to see 5 jeweler-approved ways to care for your engagement ring!
1. Get a Professional Cleaning Twice a Year
Getting your engagement ring regularly cleaned by a professional is extremely important. At a professional cleaning, your ring will, of course, be thoroughly cleaned, which will make it look brand new. But then, additionally, the jeweler who is cleaning your ring will inspect its structural integrity. They will examine your ring's settings under magnification to make sure they're secure, which will help your gemstones stay firmly within your ring when you wear it.
Wondering how often you should get a professional cleaning for your engagement ring? The general rule is to get your ring cleaned twice a year.
2. Clean Your Ring At Home, Gently
In between professional cleanings, you can clean your ring at home to ensure it looks bright and brilliant. The best way to clean your ring at home is to use the simple, jeweler-approved soap and water method. To use this method, first soak your ring in a dish soap and warm water solution for 20 to 30 minutes. Then, gently scrub your ring with a soft toothbrush. Finally, rinse your ring and either pat it dry with a soft cloth or let it air dry. If you think your ring still looks a bit dim or dull, simply repeat this process.
We recommend using this soap and water method because it's simple, effective, and gentle. Gentle is a key word here, since there are many harsh ways people may try to clean their rings at home, which can end up damaging their jewelry. To avoid damaging your engagement ring when you clean it, never use harsh chemicals to clean your jewelry, which can damage both precious metals and gemstones. Then, also never use anything physically abrasive, which can leave unsightly scratches on your ring. And lastly, we recommend that you do not use at-home ultra-sonic cleaners to clean your engagement ring. These machines can loosen gemstone settings, leaving you at risk of loosing a stone.
3. Don't Wear Your Ring in Potentially Dangerous Situations
There are certain activities that put your engagement ring at a high risk or being damaged or lost. For example, going out on a boat or swimming in the ocean. Being out in the open water is freeing and fun— but if your engagement ring slips off into the ocean's depths, you'll almost certainly never see it again. Then, to give another example, many common activities put your ring at risk of getting extremely dirty or even damaged. Playing sports, working out at the gym, and even doing certain types of chores (such as gardening) can put your ring at risk of getting grimy or damaged.
So if you're going to be engaging in any situation where your ring could easily get damaged, lost, or even especially dirty, what should you do? We recommend that you leave your engagement ring safely at home. If you're ever unsure whether or not a particular situation would be risky for your ring, we also recommend erring on the side of caution and leaving your ring at home to keep your ring safe and sound.
4. Rock a Backup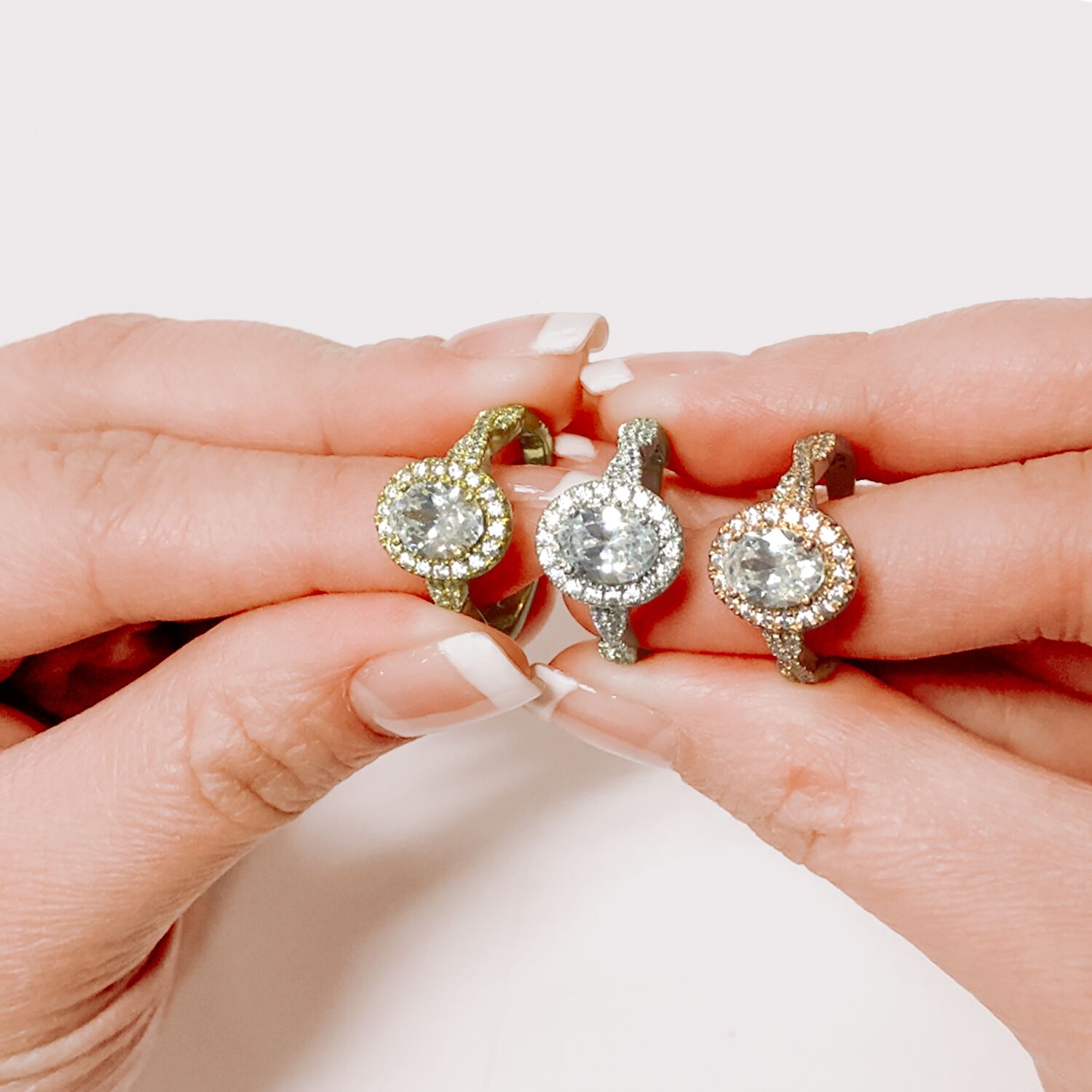 So, we mentioned in our last tip that you should avoid wearing your ring in potentially dangerous situations. However, we know that some people just really want to wear an engagement ring all the time. And if you're one of these people, we have another tip that's perfect for you: get a backup ring.
If you want to wear an engagement ring during a potentially risky situation, you can keep your real engagement ring safe by rocking a backup. There are many department stores that sell costume jewelry rings that look very much like engagement rings. Also, if you want to wear a backup ring made that looks just like your engagement ring, a jeweler that does custom work can easily make you a faux version of your ring using non-precious materials.
By having a backup available, you can still wear an engagement ring whenever you want— but also protect the monetary and sentimental value of your real engagement ring.
5. Get Your White Gold Ring Re-Plated When Necessary
If you have a white gold engagement ring, eventually it's going to start looking a bit yellow. This is because white gold is actually yellow gold that has been plated in an exceptionally shiny white metal called rhodium. With regular wear and a bit of time, rhodium plating will always start to wear off. And at that point, your white gold ring may start to look yellow.
But if your white gold ring is starting to get a golden glow, you can easily just have it re-plated with rhodium. Rhodium plating is a standard maintenance treatment that's simple and fairly inexpensive (on average, it costs between $60 to $120 have a ring rhodium plated). And after your ring gets a touch up with a rhodium plating, it will look bright white, shiny, and brand new again.