The 10th wedding anniversary is something to truly treasure. You're celebrating a decade of life lived together, a decade of loving and supporting each other through good times and bad. But what should you gift for a 10th wedding anniversary? Diamonds are the traditional gift given on a 10th anniversary and they're certainly an appropriate one. What better way to show your spouse just how much you appreciate them than with a beautiful, timeless piece of diamond jewelry that they can enjoy wearing for decades to come?
If you're looking for the perfect diamond piece for your 10th anniversary, we're here to help! Read on to see our list of the top jewelry gifts for the 10th wedding anniversary!
Diamond Stud Earrings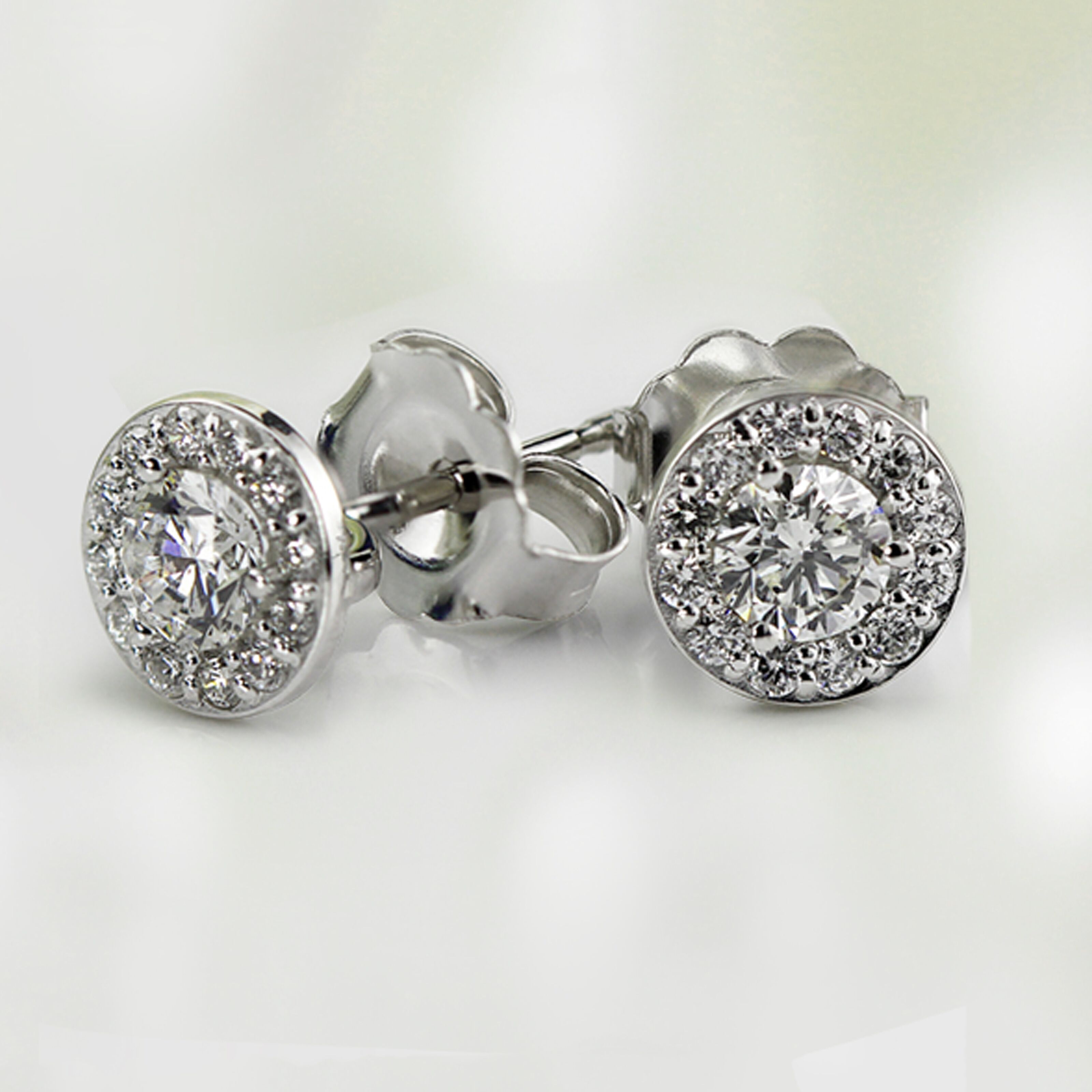 Diamond studs are easily one of the most popular gift options for the 10th anniversary. Perhaps that's because diamond studs are a chic, gorgeous, and effortless way to wear diamonds. Diamond studs work perfectly with any ensemble, including everything from jeans and a t-shirt to a black-tie-ready gown. They're also excellent for any age group and are sure to stand the test of time. If you're looking for a jewelry gift anyone would adore, diamond studs are the perfect option.
If you're considering selecting diamond stud earrings for your anniversary, you actually have numerous options within this category. Diamond studs come in many different styles and you also have many different diamond shapes to choose from. One of the most popular diamond stud designs of today is the halo set diamond stud (pictured above). Halo settings add gorgeous shimmer and glamour to a pair of diamond studs.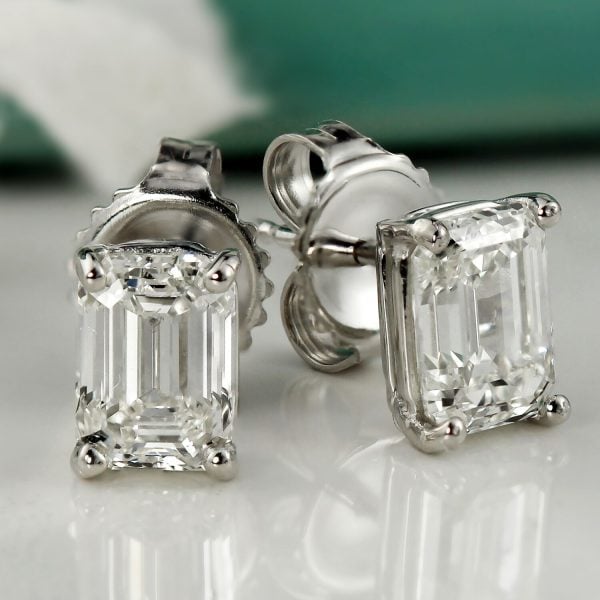 Another excellent option for diamond studs is the solitaire design, like the beautiful emerald cut diamond studs pictured above. Solitaire studs are elegant, classic, and always ready to dazzle.
Diamond Tennis Bracelet
A diamond tennis bracelet is another enduringly popular 10th anniversary gift. A diamond tennis bracelet is one of the most classic— and stunning— pieces of jewelry anyone can have in their collection. Diamond tennis bracelets are, of course, gorgeous. A tennis bracelet adds spectacular shimmer to the wrist, catching eyes from across the room. Then, diamond tennis bracelets also carry beautiful meaning. The endless ring of diamonds that makes up a diamond tennis bracelet represents your eternal love for one another. With its dazzling look and lovely meaning, a diamond tennis bracelet is a sweet and simply stunning gift option they'll adore.
If you're considering selecting a diamond tennis bracelet for your anniversary gift, know that you have many designs to choose from. Tennis bracelets come with different settings, diamond shapes, diamond sizes, and precious metals. Browse our collection of diamond tennis bracelets to find the perfect custom design for your sweetheart.
Diamond Monogram Necklace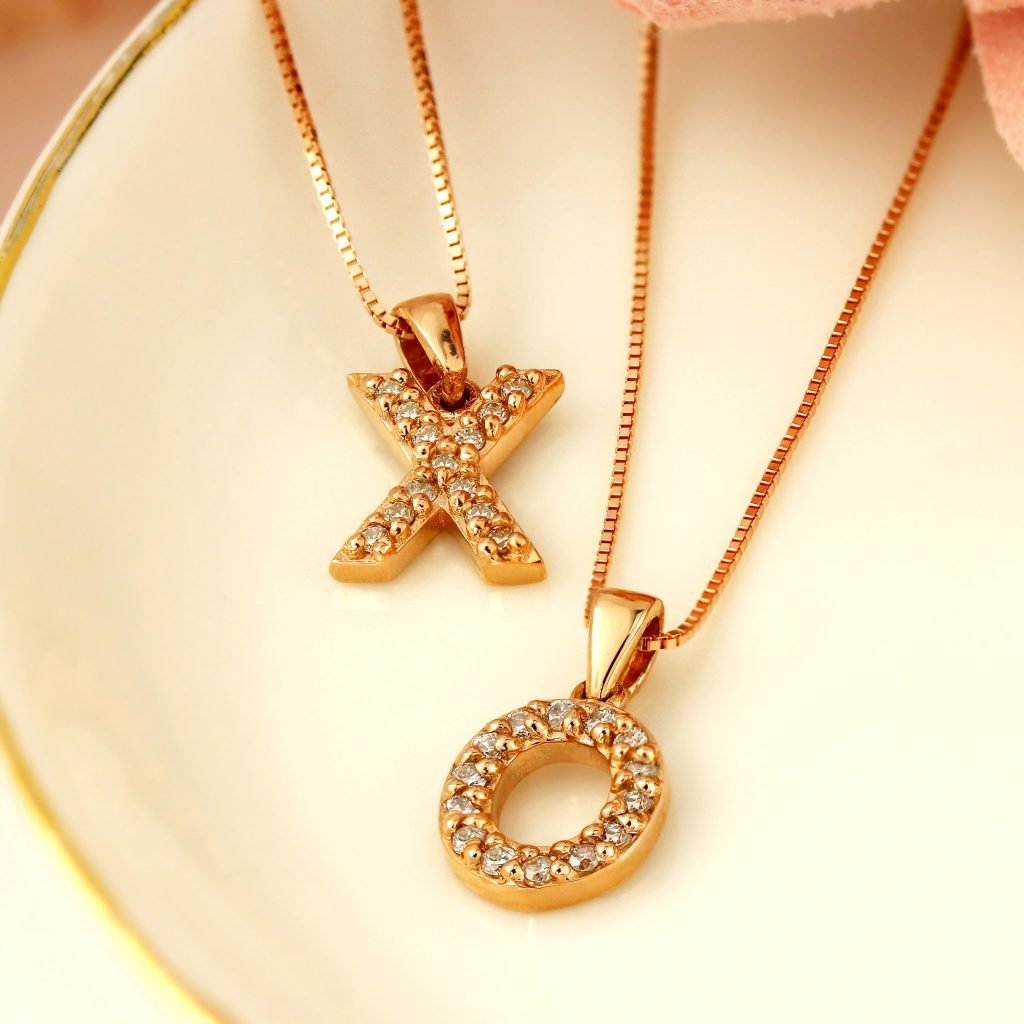 If your spouse loves a sweet, sentimental touch, a diamond initial necklace is the ideal choice for them. Initial pendants are an incredibly popular anniversary gift, no matter the year. Initial pendants are always classic, thoughtful, and so easy to wear. Then, of course, since diamonds are the traditional anniversary gift for the 10th anniversary, diamond set initial pendants are a top choice for the 10th anniversary.
When selecting an initial pendant for your spouse, you can go one of four ways with your initial customization. You could gift them their initial, your initial, both of your initials, or you can use the necklace's letters to send a sweet message (like the "XO" pictured above). Whatever option you choose, your spouse is sure to think of you fondly each time they wear their initial pendant.
Diamond Pendant Necklace
Last up in our list of gift ideas for the 10th wedding anniversary is the chic, timeless diamond pendant necklace. Much like diamond stud earrings, diamond pendant necklaces are enduringly popular because they're as classic as they are wearable. A diamond pendant is a beautiful, traditional piece of jewelry that your spouse can enjoy wearing for decades, since this design never goes out of style. Then, a diamond pendant necklace is also incredibly versatile. A diamond pendant necklace pairs well with casual looks, upscale looks, and everything in between.
The most popular style of diamond pendant necklace is a classic solitaire pendant. But then, within that category, you have options. You can go with a pronged setting for a more traditional look or select a bezel setting (like the one pictured above) for a more sleek, modern look. You can also choose your ideal precious metal for your diamond pendant necklace. Most people who wear jewelry have a precious metal preference, so we generally advise that you select your spouse's favorite precious metal for anniversary jewelry. If you're not sure which precious metal your spouse prefers, take some time to observe the jewelry they usually wear so you can determine which precious metal they love wearing the most.
Looking for even more top gift ideas for the 10th wedding anniversary? Browse our Jewelry Gift Guide. Using our gift guide, you can browse diamond jewelry by price, occasion, or recipient.