Wedding rings are a representation of your unique love story and personal style. Engagement rings and wedding bands symbolize something incredibly personal, and your rings should be as distinct as your love itself.
Wedding ring shopping is all about finding the rings that feel right for you. And for many people, that means looking for more non-binary options. While anyone can wear any piece of jewelry regardless of their gender identity, there's no question that wedding jewelry is often marketed as being just for women or just for men. Because of this, finding unisex wedding ring styles can sometimes feel like a challenge. So, to help make non-binary wedding ring shopping more seamless and fun, we've rounded up some of our favorite non-binary wedding and engagement jewelry.
This non-binary wedding ring guide features gender-neutral jewelry in a range of styles. Our picks include chic bands for those with a minimalist sense of style, and also include a range of striking and colorful non-binary designs for those who like more eye-catching jewelry.
Non-Binary Bands
Band-style rings are a very popular gender-neutral ring option. With an inherently minimalist design style, band-style rings look at home on the wearer regardless of their gender. They also tend to be quite comfortable (and can usually be made with a comfort fit), making them a wonderful option for people who don't normally wear much jewelry.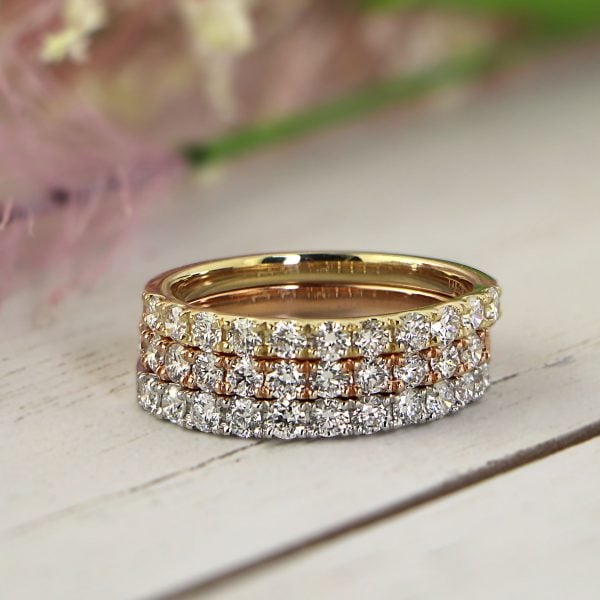 Band-style wedding rings are available in many design styles, as exhibited by the modern and classic diamond wedding bands pictured above. This makes it easy to find a wedding band that suits your aesthetic. Band-style rings can also work for both wedding rings and engagement rings, so they're a versatile choice.
Unique Gemstone Engagement Rings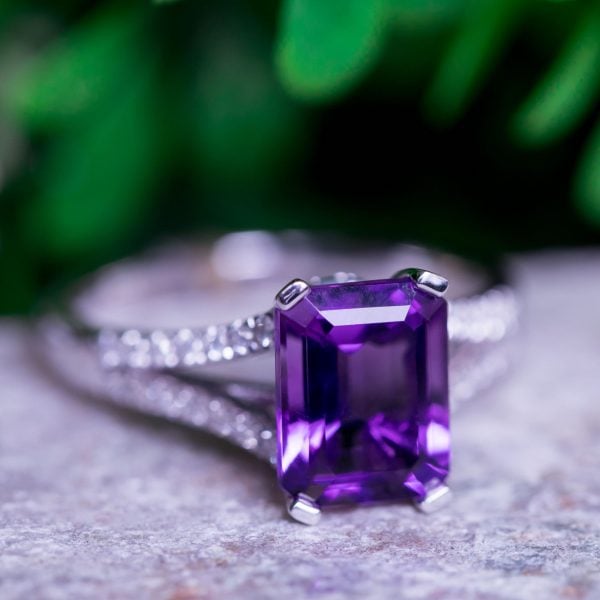 Some people think that gender-neutral rings have to be simple in order to be non-binary, but we certainly don't agree. Many glamorous ring styles can be considered gender-neutral, especially when they're unique in design. Take, for example, the beautiful purple amethyst and diamond ring pictured above. The luxe materials and graphic, streamlined design details of this alternative engagement ring give it a strong, modern style that's perfectly unexpected.
In general, gemstone rings are a great option for people who love color and want a gender-neutral look. Rings that feature colored gemstones as their center stones tend to have more unique designs, so they're less likely to have traditionally feminine or masculine elements. And, of course, they'll always feature lush color, so they're an ideal option if you want your wedding rings to have vibrance.
Black Diamond Engagement Rings
Black diamonds have a deep, mysterious style that ensures every black diamond ring stands out. Black diamonds also have a beautiful meaning. Like white diamonds, black diamonds symbolize eternity, but they also have a meaning that's all their own. Black diamonds symbolize transcendence, strength, unchanging love, and passion, making them a fitting choice for an engagement ring or wedding band.
Stackable Wedding Rings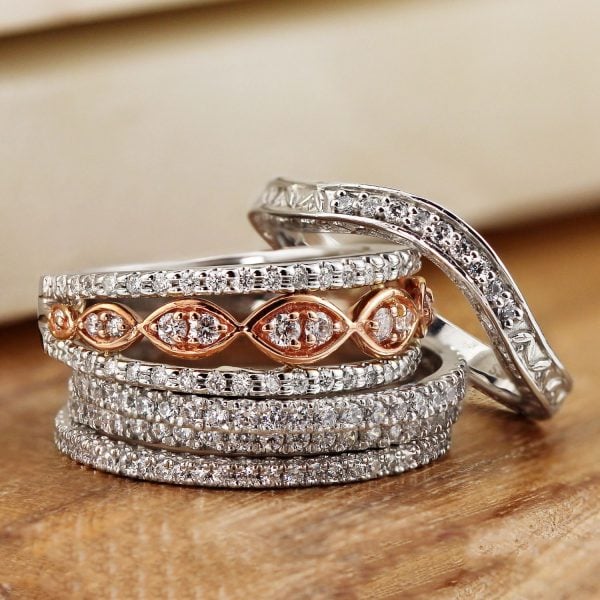 Stackable rings offer an easy way to create a custom wedding ring look. You can keep things simple and choose only two bands, or create an intricate style by layering on your rings. For a more understated take on stackable wedding rings, stick to pure gold wedding ring styles. For a more luxe take, try choosing all diamond or gemstone styles.
Colored Diamond Rings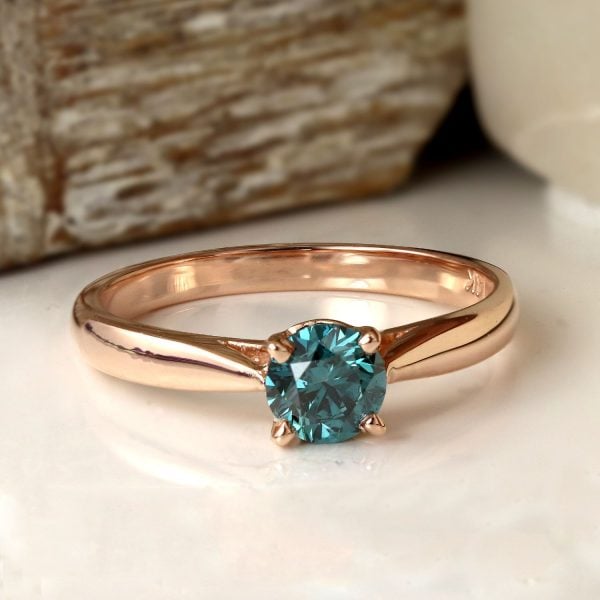 Colored diamond rings are currently trending for non-binary and LGBTQ+ rings. Rainbow rings with multiple diamond colors are a popular choice, as are rings with colored diamond center stones.
If you're considering a colored diamond engagement ring or wedding band, you can choose your diamond color based on looks, meaning, or both. All diamonds are a symbol of eternity, but each diamond color also has its own unique meaning. For example, blue diamonds are a symbol of truth, devotion, spirituality, and royalty, while purple diamonds symbolize pride and yellow diamonds symbolize optimism. Choosing a center stone that has a meaning you connect with can make your wedding ring feel even more special than it already does.
Final Thoughts

Your wedding jewelry should showcase your unique style, personality, and relationship, and we hope this guide has helped you find a design that fits the bill. At the end of the day, the most important thing about your wedding jewelry is that you adore it. If you didn't find your ideal non-binary ring style on this list, please don't hesitate to reach out to us at Diamond Wish. We'd love to help you find the wedding ring or wedding ring set that perfectly represents your love story.