A promise ring is a special gift that can have more than one meaning. Depending on the intent of the recipient and receiver, a promise ring can represent a long-term exclusive relationship, a promise to become engaged in the future, or a devotion to protect and nurture a relationship. While the exact meaning of a promise ring can vary from couple to couple, it's always a beautiful symbol of commitment and love.
Because promise rings are an expression of something that's inherently unique to each couple, it can take time and thought to pick out the perfect ring for your relationship. This is especially true if you're searching for a more distinctive ring design. But if you're wondering how you can select a promise ring that's as unique and beautiful as your love, we're here to help. Below, we're going over the five things you should do in order to select the right promise ring for your romantic relationship, then featuring some of our favorite unique promise rings.
How to Select a Uniquely Perfect Promise Ring
Decide on Your Ring's Meaning
Before you start actively shopping for a promise ring, consider the meaning you'd like to convey with your ring. Is the ring an expression of something general, such as love and connection? Or, is it perhaps a representation of something specific, like a memory, a quote, or a bible passage that's relevant to your relationship? The specific meaning you want your ring to have may change what you're looking for in terms of design details. So, taking the time to consider the full meaning of your ring before you shop can help you find your ideal ring more easily.
Pick a Precious Metal
After honing in on the exact meaning you want to convey with your ring, it's time to start thinking about the specific design you'll choose. If you have no idea what type of ring design you're interested in, we recommend that you narrow things down by picking your precious metal out first. 
Promise rings, pre-engagement rings, purity rings, engagement rings, and wedding bands are typically made from one of four precious metals: yellow gold, rose gold, white gold, or platinum. Most people who wear jewelry actually have a precious metal preference, which can make deciding on your precious metal easier. If the ring recipient only wears yellow gold jewelry, you'll want to get them a yellow gold promise ring. If the ring recipient doesn't have a clear precious metal preference, consider choosing a precious metal based on which metal's style or undertone you think would most flatter the recipient. White gold and platinum are both sophisticated options with cool undertones, while yellow gold is a classic choice with a warm undertone. Then, rose gold has a neutral undertone and romantic, vintage look.
Select Your Style
Like engagement rings and wedding rings, promise rings come in many different design styles. They can be minimalistic, traditional, vintage-inspired, glamorous, modern, and much more. The key to choosing the right style for your promise ring is to make sure it aligns with the recipient's personal style. For example, if your partner tends to wear more classic clothing, they may want a classic ring style. Or, if they often wear clothes and accessories with a romantic or vintage flair, a vintage style may be perfect for them.
Figuring out the right style for your ring is an important part of making sure the wearer will love it, so don't rush this part of the shopping process. If you're having trouble honing in on your loved one's personal style, you may want to enlist the help of a stylish friend or relative who can help you with this part of the shopping process.
Pick & Personalize Your Ring
Now that you know what you want your ring to mean, which precious metal you're interested in, and what style of ring you're looking for, it's time to do the hardest part of promise ring shopping: picking the specific ring you'll give to your love. As you browse through your options, think about the personalized touches you can incorporate into your choice. Perhaps there's a gemstone or a design motif that has special meaning to you, or perhaps you'd like to engrave a thoughtful message inside the ring's band. Personalized touches like these are often what take a promise ring from good to great. So, take your time looking at rings until you find something that feels unique to you and your love.
Featured Unique Promise Rings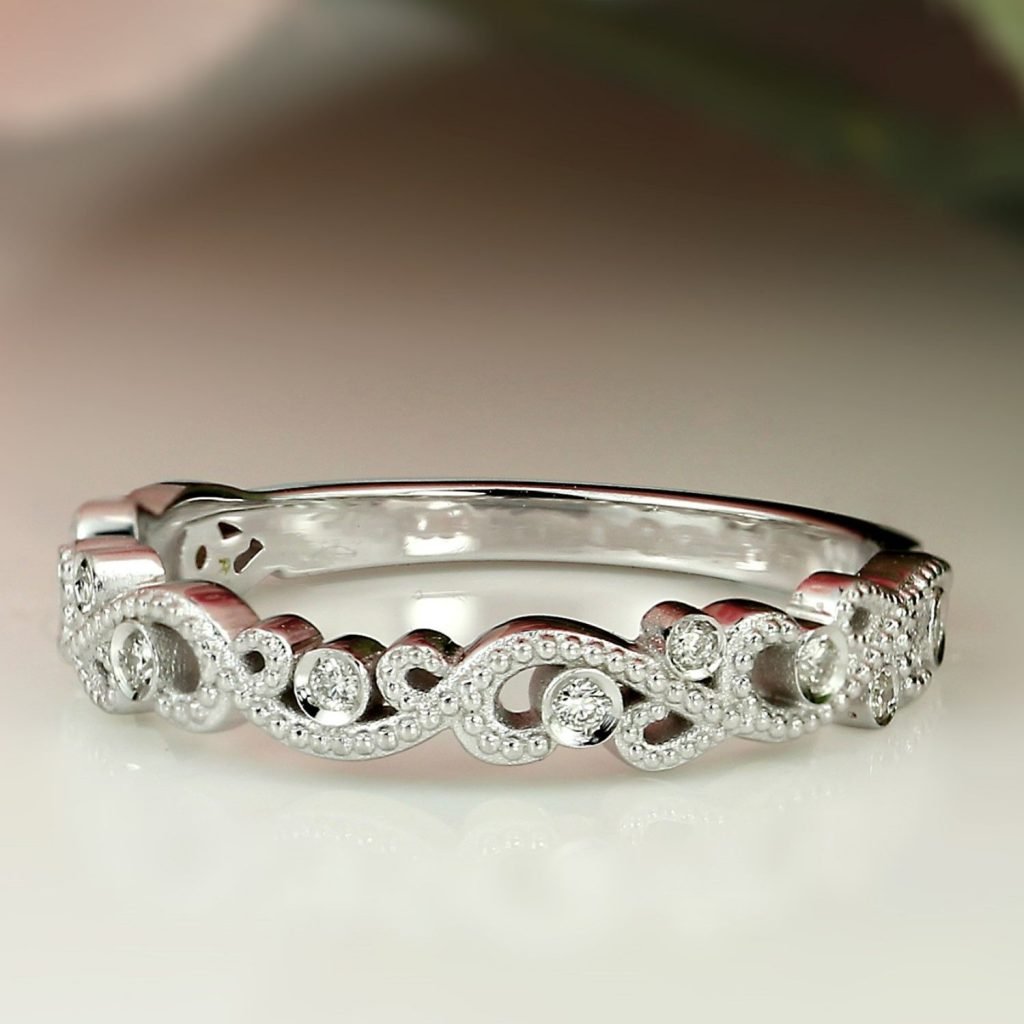 With its captivating curves and delicate details, this vintage-inspired floral band is perfect for the romantic at heart.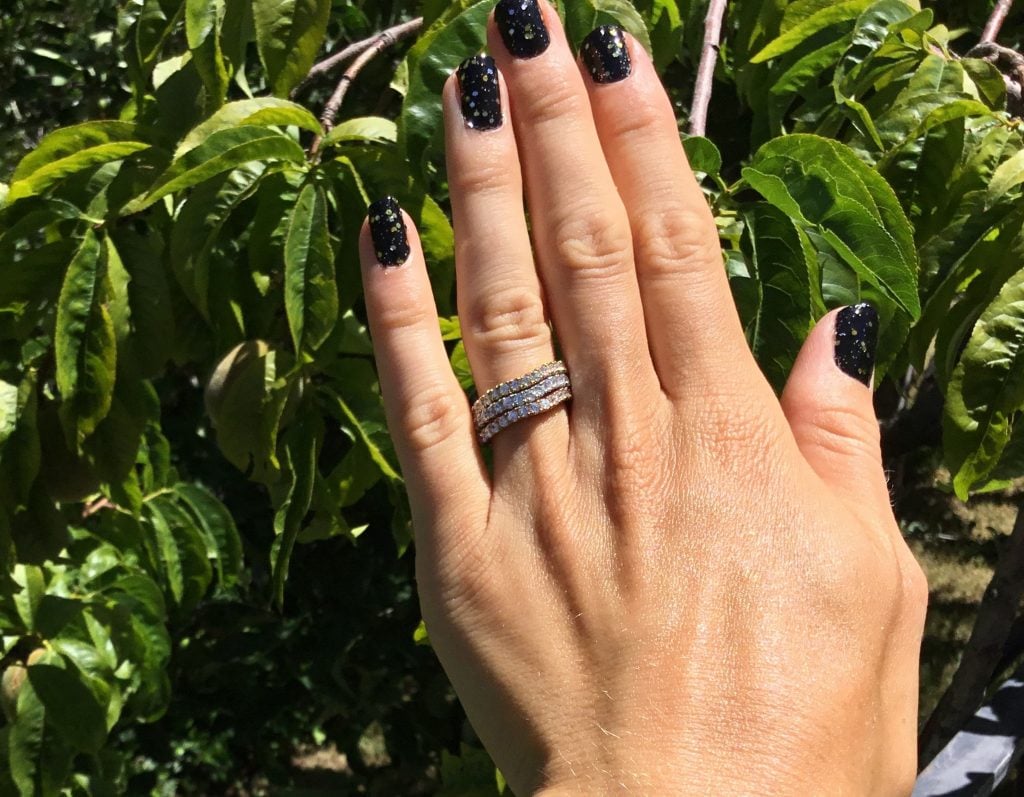 Kylie Curved Diamond Promise Ring or Wedding Ring
Available in yellow gold, white gold, rose gold, and platinum, the Kylie curved diamond ring is a customizable option that's sure to dazzle.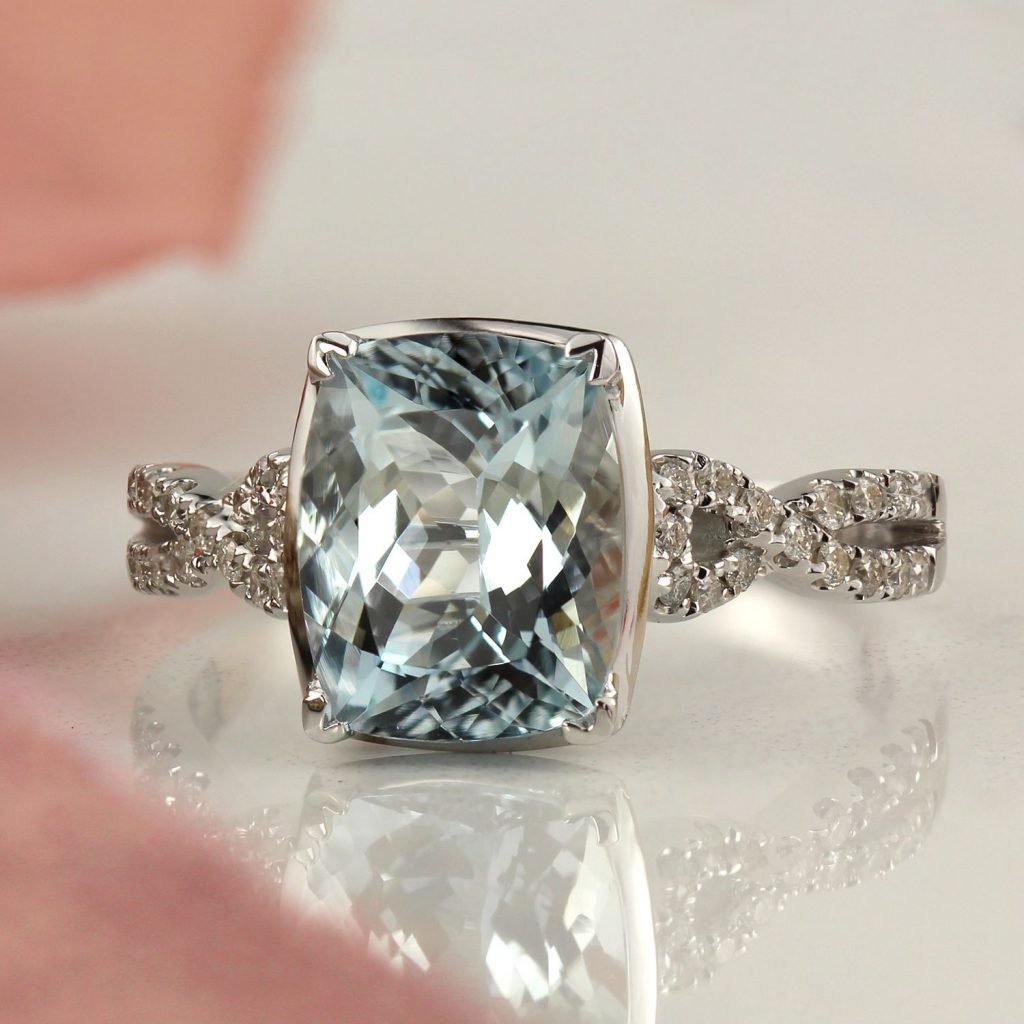 Cushion Cut Aquamarine Promise or Engagement Ring
This lovely twisted band style ring features dozens of pave diamonds and a breathtaking cushion cut aquamarine. In addition to being the March birthstone, the gemstone aquamarine has a lovely meaning that makes it particularly fitting for a promise ring or engagement ring. This clear blue gem represents purity, truth, and trust.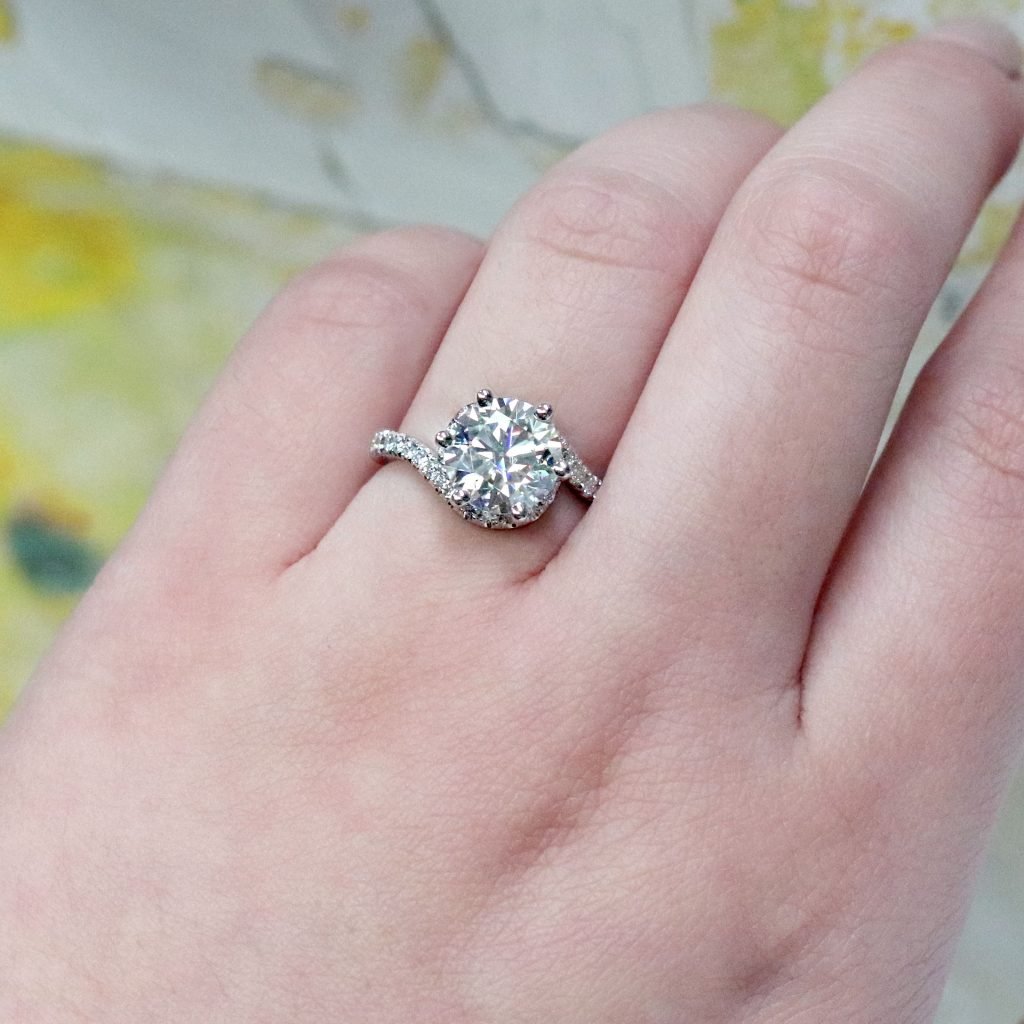 Coral Round Moissanite Engagement Ring
Go for glamour with a brilliant yet budget-friendly moissanite ring, like this unique curved band style that's not short on carat or shimmer.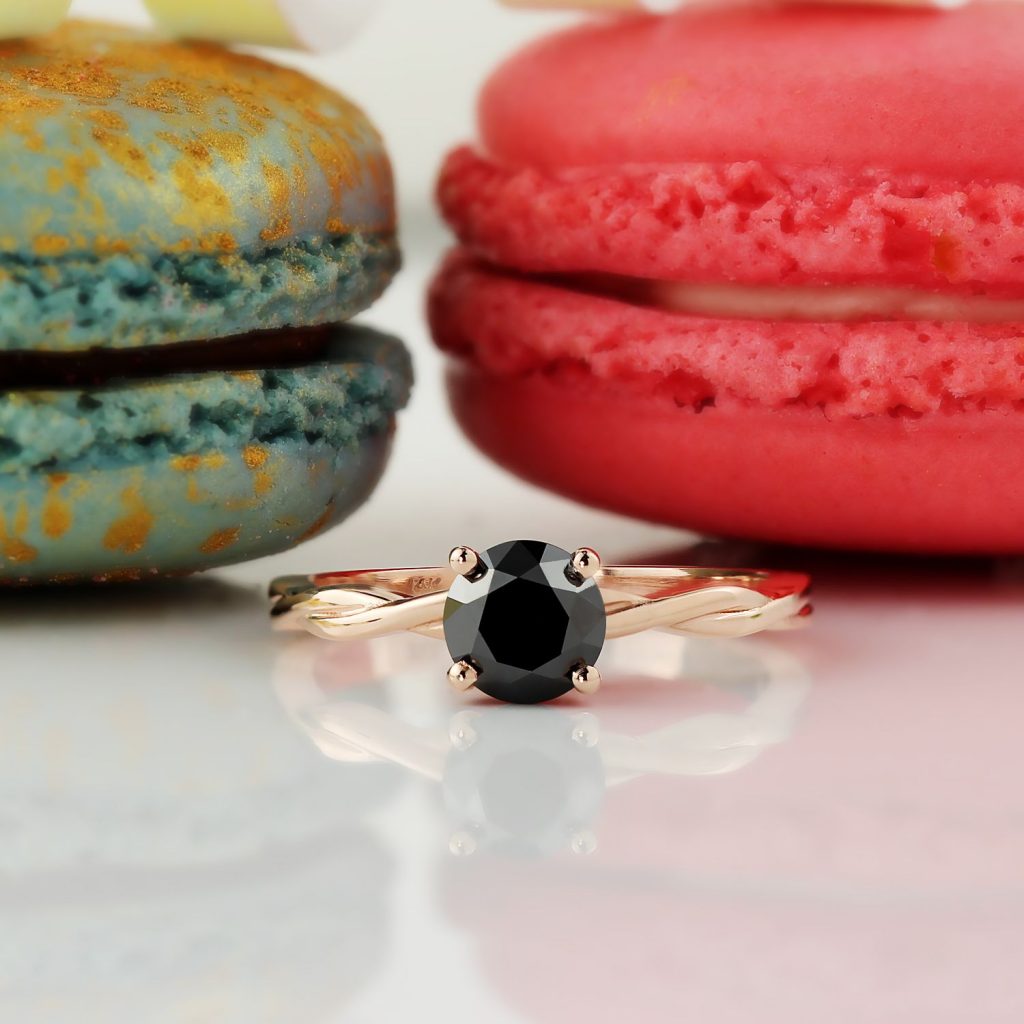 Elise Black Diamond Engagement Ring With Twisted Band
Thanks to the warm lustre of its twisted gold band and the captivating depth of its round cut 0.5 carat center black diamond, the Elise Ring has a lush beauty that's simply stunning.
___________________________
Don't see the promise ring that's perfect for you and your significant other? Browse our full collection of diamond, gemstone, and gold rings. Some examples of the gorgeous pieces you'll find in our selection include marquise cut diamond rings, morganite designs, heart promise rings, white diamond eternity rings, prong set solitaire birthstone rings, princess cut styles, amethyst designs, split shank rings, topaz rings, celtic love knot rings, art deco rings, garnet designs, and a variety of matching ring sets and stackable rings. With such an expansive range of styles, we have something to suit every taste, budget, and sentiment.