The holidays are all about spending time with your loved ones— and, of course, hitting those fabulous holiday parties! Holiday parties are a time to eat, drink, and be merry. But for all the fashionistas out there, holiday parties are also an opportunity to have fun putting together some show-stopping holiday party looks. If you're planning your holiday party looks, don't forget your diamond details. The holidays are all about shimmer and a fabulous diamond accessory (or two) can make any ensemble look perfectly holiday-party ready.
Some carefully selected diamond details can take a holiday outfit from good to incredible. But which diamond details should you choose for your holiday party looks? Read on to see our top recommendations as we share the best diamond details for the perfect holiday look!
Diamond Hoop Earrings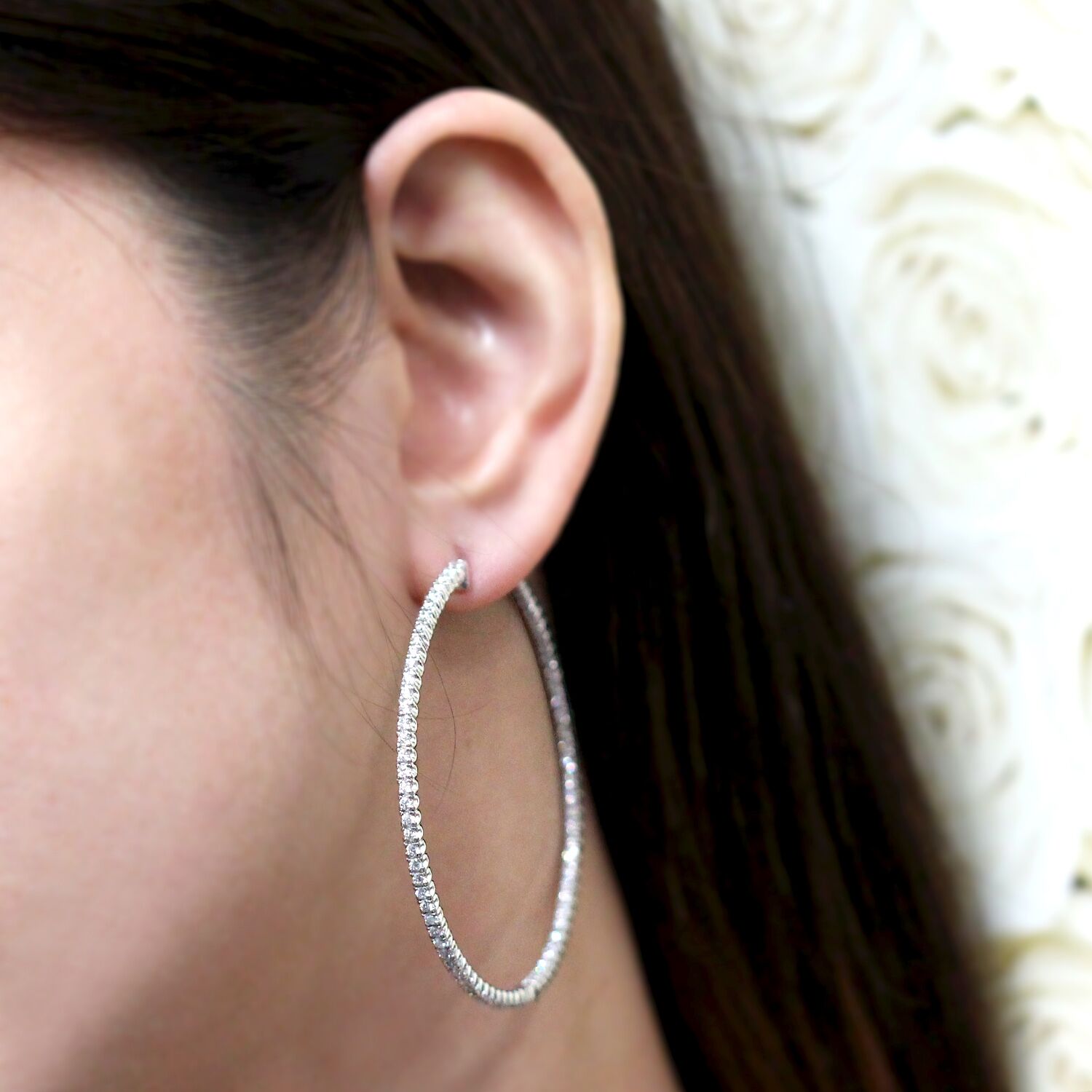 Diamond hoop earrings have it all: they're beautiful, classic, elegant, and eye-catching. So if you're hunting for some diamond jewelry that will take your holiday looks to the next level, you can't go wrong with a pair of spectacular diamond hoops!
One thing we love about diamond hoops is how many options you have to choose from. Diamond hoops come in so many sizes and colors, and they can be set with any size of diamond. So when you pick out your diamond hoops for the holidays, consider what type of look you're going for. Do you want to go bold? Try an oversized pair of hoops, like the elegant yet glamorous pair pictured above. Do you want to keep your look a bit more delicate? Try a pair of petite diamond hoops that will add the perfect amount of shimmer to your ensemble.
Diamond Studs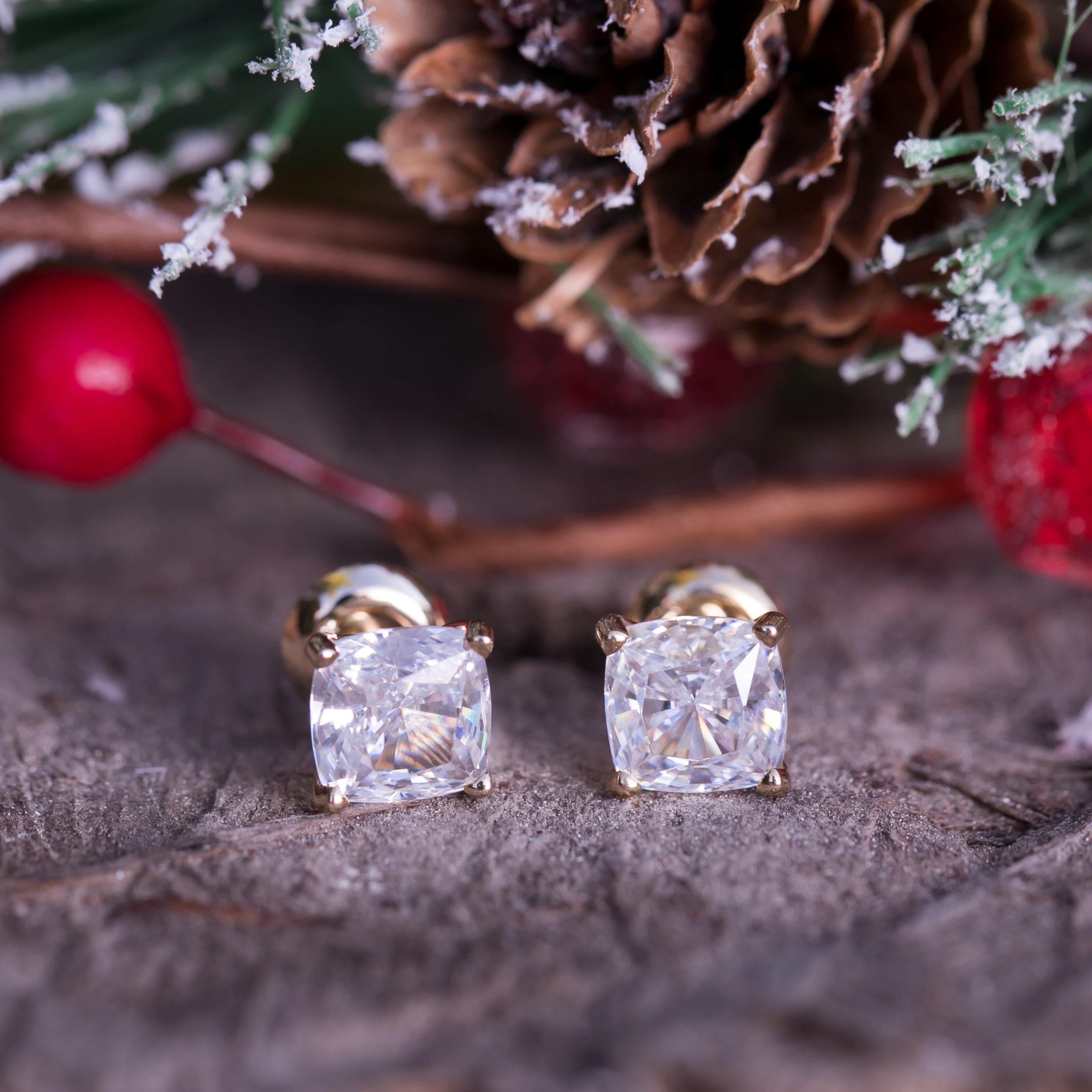 Diamond studs are always a top choice for holiday looks, since there's no piece of jewelry that is more classic and versatile. If you want to get just one new piece of jewelry to wear during the holidays, diamond studs are an ideal option. They pair beautifully with cocktail attire, black tie looks, casual-cool looks, and even work looks (for those times when you need to take your outfit from day to night). A single pair of diamond studs is something you can use to elevate your looks all season long— and also enjoy wearing for decades to come.
As with hoops, there are many styles of diamond studs. If you want to keep your studs ultra classic, you could opt for a chic, traditional pair of round brilliant diamond studs. Or, if you want a more unique look for your studs, you could go for a pair of fancy shaped diamond studs. One of our favorite fancy diamond shapes of the moment is the cushion cut diamond (pictured above), a romantic and elegant shape with a vintage-style. Cushion cut diamonds look quite classic, but also have a distinctive, romantic beauty that adds something incredibly special to a pair of studs.
Diamond and Blue Topaz Cocktail Ring
If you love a colorful, vibrant look, rock a diamond and gemstone cocktail ring this holiday season. Diamond and gemstone jewelry is one of our favorite ways to wear diamonds. You get some rich, eye-catching color from your gemstone, while also getting dazzling brilliance from  your diamonds— it's the perfect combination!
There are so many different types of gemstones you can use to add a bit of color to your holiday looks. One of our current favorites is blue topaz, a glimmering sky blue gemstone. Blue topaz is rich in color, yet is also one of the more reflective colored gemstones, which makes it particularly mesmerizing. When paired with diamonds, blue topaz looks extra icy, so a blue topaz and diamond piece is an ideal glam winter accessory.
Black Diamond Pendant
If you're shopping for the perfect diamond details for your holiday look, remember that white diamonds are not your only option! Diamonds come in every hue imaginable, including in a rich, velvety black.
We absolutely love black diamond jewelry for a holiday look, since black diamonds add a stunning, luxe depth to any ensemble. Black diamond jewelry is a bit unexpected. It's striking, bold, mysterious, and incredibly eye-catching. So if you're looking to add a uniquely luxurious touch your holiday look, black diamond jewelry is an excellent choice.
One of our favorite ways to wear black diamonds is in a solitaire pendant, like the lovely rose gold and black diamond pendant necklace pictured above. We love black diamond pendants because they're both beautiful and versatile. They look spectacular when worn on their own or when worn as a part of an intricate layered look.
Want to see even more dazzling diamond jewelry that can amp up your holiday looks? Browse our full selection of handcrafted fine jewelry.