So, you're considering popping the question. Congratulations! Now that you've found the one, it's time to find the ring. For many men, buying an engagement ring can seem overwhelming. There's a lot of pressure to get the perfect ring and many men don't know where to start. But there's no need to fear— we're here to help! In this post, we'll cover everything you need to know about buying an engagement ring, from the initial steps to making your final purchase.
The First Step: Setting Your Budget
The very first thing you should do when shopping for an engagement ring is set your budget. If you have a budget in mind before shopping, it will set you up for success. If you know what you're able to comfortably afford, you'll be able to narrow your search and view only what's within your budget. 
It's a common misconception that there's a certain amount you "should" spend on an engagement ring. You may have heard that you should spend the equivalent of two or three months of your salary. But, really, there are no rules— you should spend only what you're comfortable with.
If you have no idea what engagement rings cost, we'll give you some numbers to keep in mind. The average amount Americans spend on an engagement ring is approximately $6,300. The averages across states vary widely, ranging from around $2,800 in Missouri to almost $10,000 in California. These are just some ballpark numbers to help you get a frame of reference for what other people spend. But, remember, you can spend as little or as much as you're comfortable with.
Know What You're Buying: Settings and Gemstones
If you haven't bought an engagement ring before, you might not know that ring settings and center stones (traditionally diamonds) are usually sold separately. This is something to keep in mind when shopping, as you'll need to buy both a ring setting (this is the band that holds the center stone) and a center stone.
While there are preset engagement rings that include both the setting and featured gemstones, they're less common today. So, when you're looking at price tags during the shopping process, just remember to check whether that price tag is for the ring setting alone or for both the ring setting and all its enclosed gemstones.
Choose a Style
Now that we have those basics out of the way, it's time to start shopping! The first thing to is to pick the general ring style you'll be looking for.
Engagement ring settings come in many different styles. There are classic, modern, glamorous, and vintage styles, as well as many others. If you have no idea which one would be right, you can take a cue from your partner's style choices. Do they dress in a classic style? Do they love contemporary designs? Do they love glamour? Or a vintage look? Taking clues from your partner's wardrobe can be a huge help when it comes to finding the right setting style.
Other ways you can find what your partner might like are asking their friends or family and looking to see if they have a Pinterest board. If you've been talking about the possibility of engagement, there's a good chance they've told their close loved ones what they might like. And, if they have a Pinterest, it's very possible they'll have a dedicated engagement ring board filled with styles they like.
Here are some examples of what the different engagement ring styles look like:
Classic
The Ella ring is the picture of classic beauty. Featuring a diamond set band, a simple four prong enclosure, and a round diamond center*, this engagement ring is as traditional and classic as they come.
Modern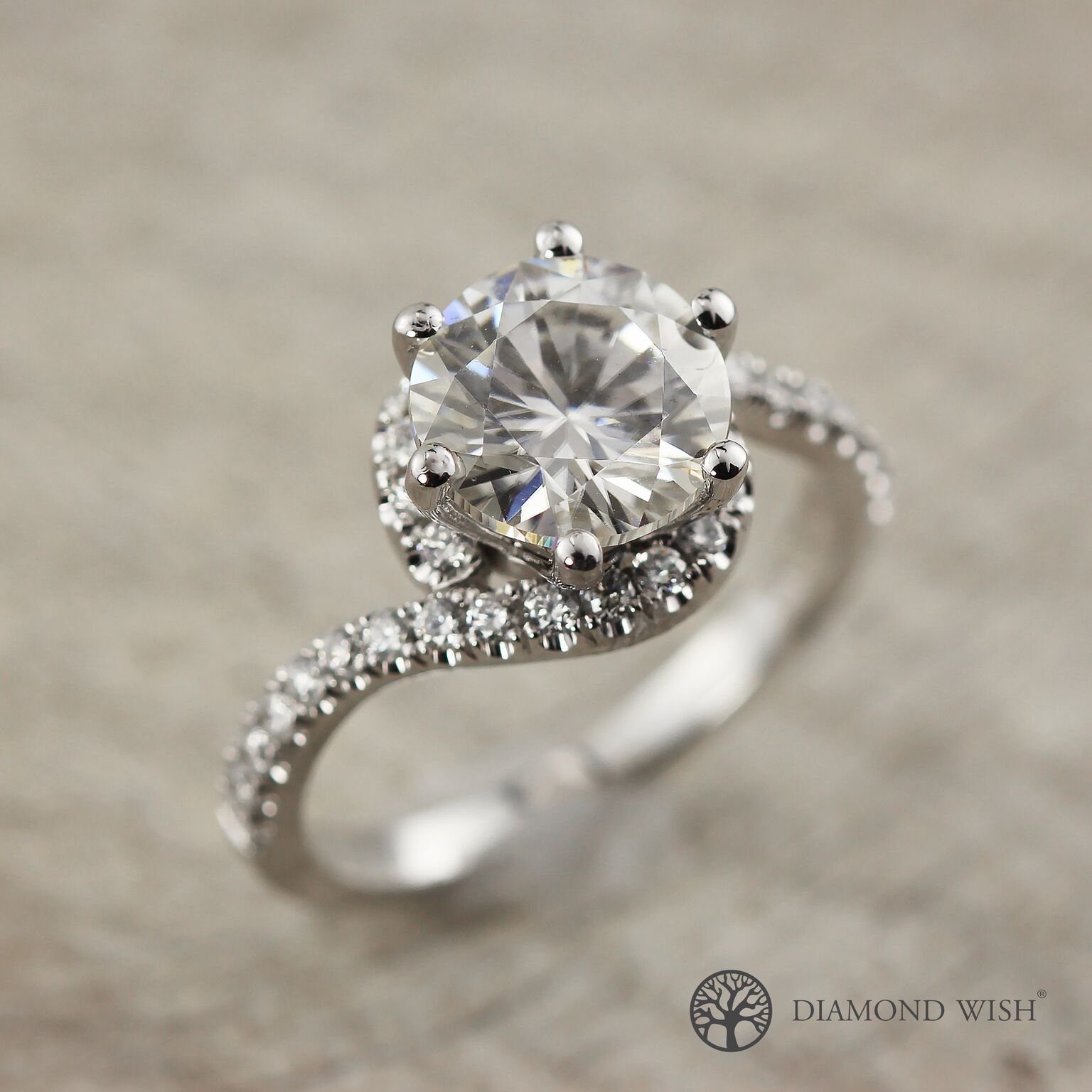 With its unique, curving band, the Coral ring is the perfect example of an engagement ring that features contemporary, modern design. The one featured above has a moissanite center. 
Glamorous
With a stunning, eye-catching double halo setting, the Alyssa ring is as glamorous as can be.
Vintage-Inspired
The romantic, swirling band of the Daisy ring provides a lovely vintage look.
Once you know which style you're looking for, you can narrow down your search and choose the perfect engagement ring for you from that style.
Choose a Precious Metal
Many settings come in multiple precious metal options, so you'll also need to choose a precious metal for your engagement ring. The most common options are yellow gold, white gold, rose gold, and platinum. There are two things to consider about precious metals: style and durability.
In general, gold is less durable than platinum, but offers more style variety. Yellow gold has a traditional look, while rose gold has a romantic, vintage-inspired look. Platinum and white gold have similar looks (both provide a chic, classic look) but differ in durability and price. White gold is more affordable, but a bit less durable and more prone to scratching. Platinum is the most durable precious metal, but is the most expensive option.
If you aren't sure which precious metal to choose, take a look at what your partner usually wears. Most women have a preference between precious metals and you'll be able to see which one she prefers by looking at the jewelry she normally wears. If you can't tell based on her jewelry, you can ask her friends or family what they think she might like. And, of course, if she has a Pinterest board, you can get some clues there.
Choose a Gemstone Type
Once you choose your setting, it's time to choose a gemstone. By far the most popular choice for a center gemstone is a white diamond. However, gemstone rings are becoming more popular. Among gemstones, blue sapphires are the most common choice for an engagement ring.
If you do decide to go with a diamond for your center stone, there are some things you should know about buying a diamond. Diamonds are graded by their qualities, which are referred to as the "4Cs." The 4Cs are color, cut, clarity, and carat. You'll need to understand the 4Cs in order to buy a diamond with the quality you want. Here's a breakdown of what each of the 4Cs grade:
Color: Color is a measurement of how white a white diamond is, which is ranked on a scale of D to Z, with D being completely colorless. The more colorless a diamond is, the more it will shimmer, and whiter diamonds are considered more desirable.
Cut: Cut is not the shape of a diamond (we'll cover gemstone shapes in our next section), it's a measurement of how well a diamond was cut. Cut is a very important grade to consider. If a diamond has a poor cut, it won't sparkle well, even if the diamond is very white and clear. Because of this, most jewelry experts consider cut the most important diamond quality.
Clarity: Clarity is a grading of flaws a diamond may have (interior flaws are called inclusions and exterior flaws are called blemishes). Flaws can be microscopic, and have little effect on a diamonds beauty, or be more noticeable, being visible to the naked eye. The higher the clarity, the more flawless the diamond, and the more valuable it's considered.
Carat: Carat is the simplest diamond quality to understand: it's a basic weight measurement. The higher the carat, the higher the weight and, generally, the larger the diamond will look.
Choose a Gemstone Shape
There are many different gemstone shapes, both for diamonds and other gemstones. Some gemstone shapes include round, princess, cushion cut, asscher cut, emerald, oval, pear, and marquise. Round is by far the most popular shape, especially for diamonds. Round diamonds have a classic, traditional look. The second most popular gemstone shape is princess (which is square from the top), which has a classic yet contemporary look.
Your choice of gemstone shape will have a big effect on the overall style of your engagement ring. To help guide you on choosing a shape, here are some style notes on the most popular shapes:
Round: Classic, Traditional
Princess: Traditional Yet Modern
Cushion Cut: Vintage, Romantic
Asscher Cut: Art-Deco Vintage (Think: The Great Gatsby)
Emerald: Retro Vintage (Think: Old Hollywood)
Oval: Unique, Sophisticated
Pear: Unique, Eye-Catching
Marquise: Unique, Dramatic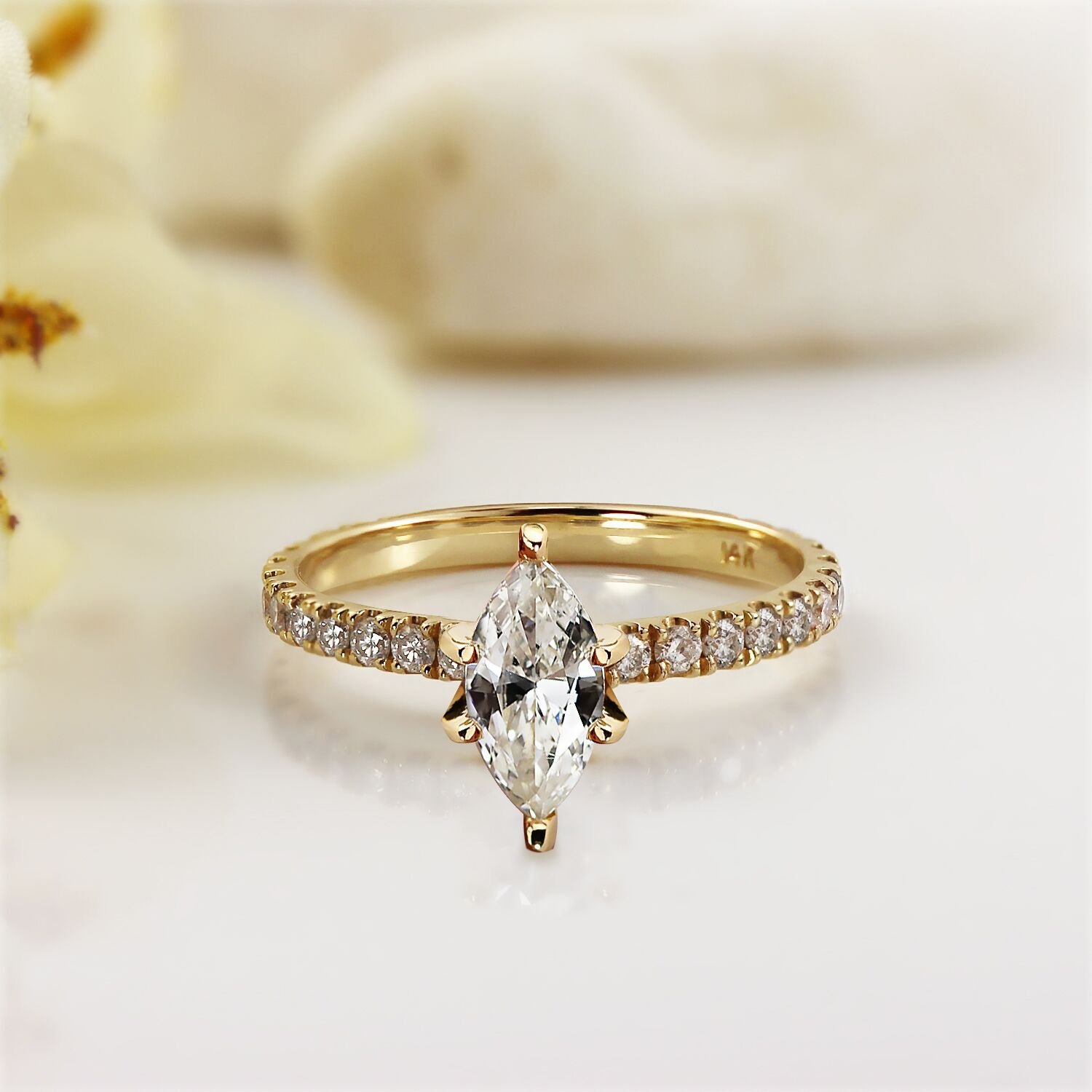 The Ella engagement ring setting with a marquise diamond center
Ring Size
Once you know which setting and gemstone you want for your engagement ring, it's time to purchase. But there's one last thing to figure out before buying: ring size. This can be tricky to learn without asking outright. One idea is to ask her friends or family if they know her size.
Use our ring sizing guide here
*Pictured above is the Ella ring with a moissanite center.