Priyanka Chopra and Nick Jonas have had a whirlwind romance. The pair started dating only a few months ago but are reportedly already engaged. While neither of the two lovebirds have officially confirmed their engagement, we do have one major clue that the pair will be tying the knot: Priyanka Chopra's dazzling new engagement ring.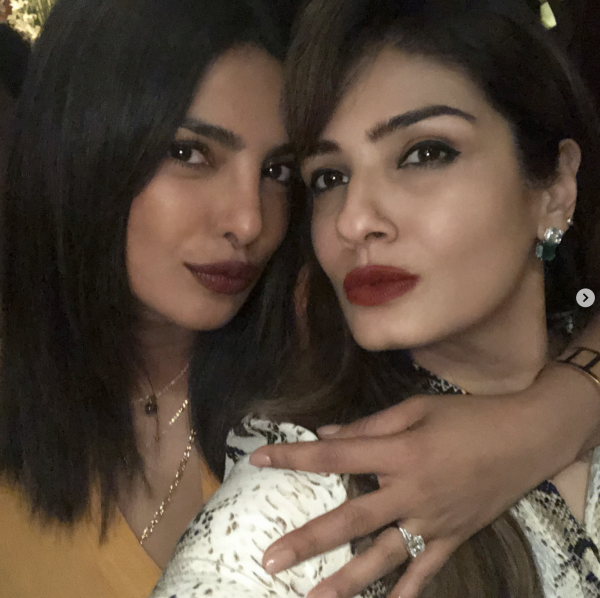 We got our first glimpse of Chopra's engagement ring when her friend and fellow actress Ravenna Tandon posted a picture that featured the ring on Instagram. Tandon posted a photo of her and Chopra with the caption, "Peecee and I getting our pouts in order." The picture, a selfie of the two actresses, prominently features Chopra's massive, eye-catching engagement ring.
Chopra's engagement ring ring features a cushion cut white diamond in a simple setting. The cushion cut diamond is quite large; judging on the picture from Tandon's Instagram, it's probably around 5 carats. The ring's classic white setting is crafted in either white gold or platinum. The setting appears to have some side detailing, with additional white diamonds on the band.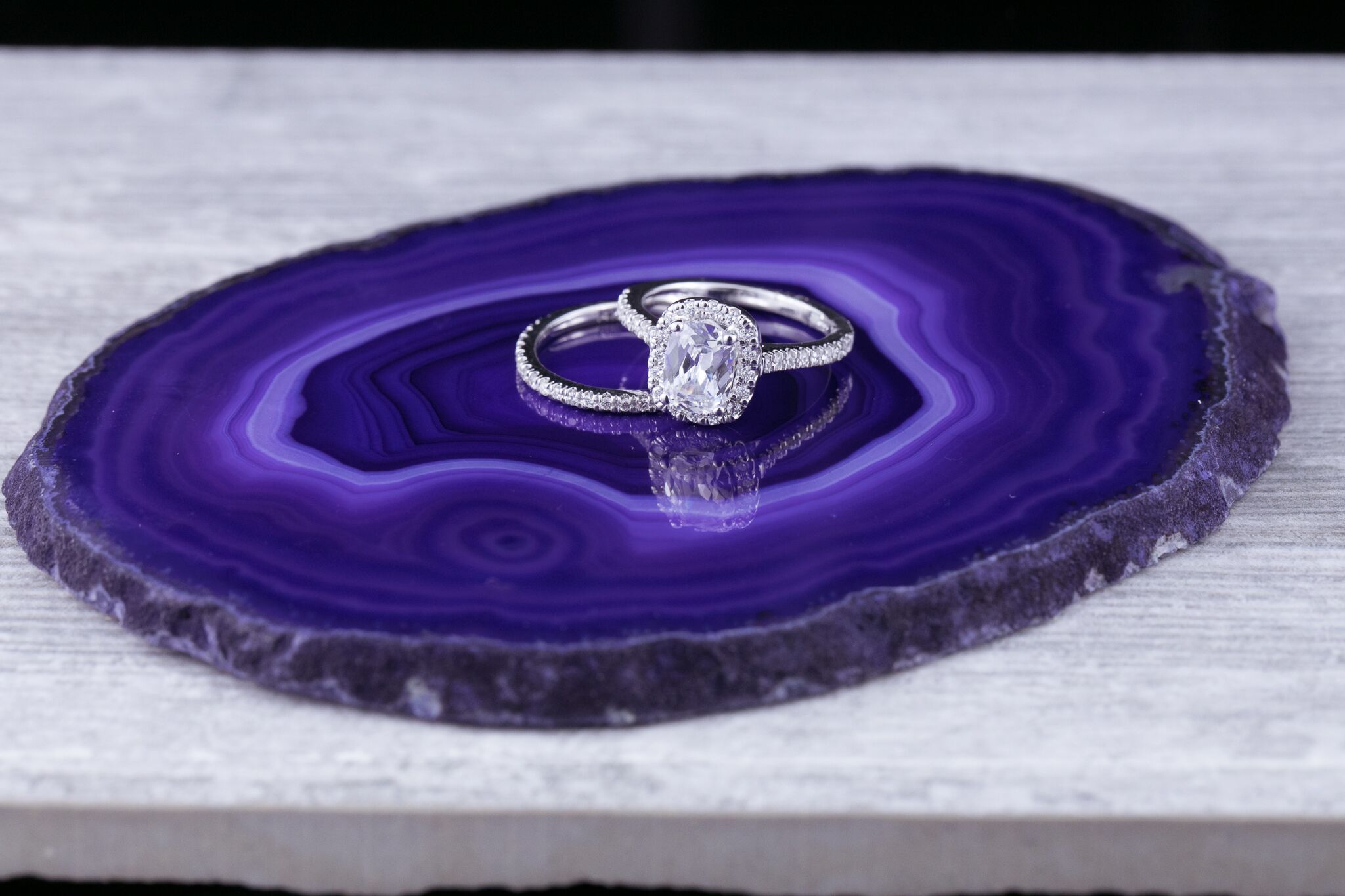 Shop the Look: The Skylar cushion cut diamond engagement ring  echoes the classic and chic look of Priyanka Chopra's new engagement ring.
Nick Jonas seems to have made an excellent choice with his new fiancé's engagement ring. The ring has an elegant and timeless look, which perfectly compliments Chopra's classic style.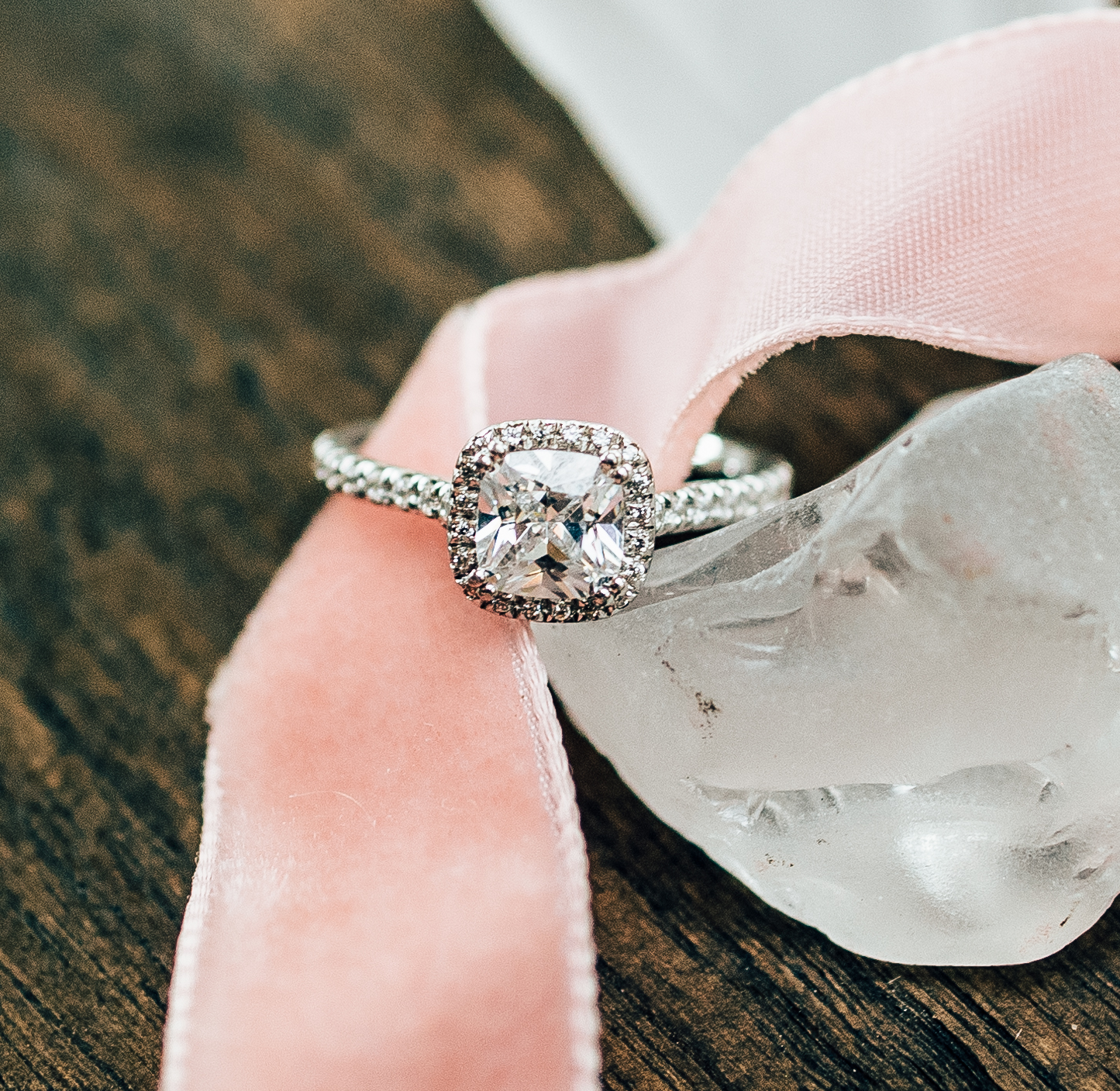 Shop the Look: Like Chopra's engagement ring, the Skylar ring features a cushion cut diamond and detailing on the ring's band.
As of right now, Tandon's Instagram photo is the only picture of Chopra's ring that has made it to the public. Reportedly, Chopra is being extremely careful about not allowing others to see her ring. It's been said that Chopra always takes her ring off before heading anywhere there might be cameras.
Both Chopra and Jonas have been very quiet about their engagement, seemingly preferring to keep the details private, at least for now. But it appears that their engagement is in full swing, as Jonas' parents were recently spotted in India, reportedly to attend an engagement party being thrown by Chopra's parents.
We hope that when Chopra and Jonas do tie the knot, they'll give us a glimpse of their wedding, which is sure to be incredible. And, hopefully, they'll share some more photographs of Chopra's incredible engagement ring.