When Justin Bieber popped the question to Hailey Baldwin in the Bahamas, he chose a truly spectacular engagement ring. The couple took a few days to enjoy the glow of their engagement on their vacation, where the world got its first look at Hailey's new ring, thanks to some fan captured pictures and videos that surfaced on social media. And the ring Bieber chose was nothing less than spectacular.
The Oval-Cut Diamond
Justin Bieber is one of the most famous (and successful) pop stars of our time, so it's no surprise that he chose to go all out with his choice of engagement ring. Bieber gave Baldwin an absolutely incredible oval diamond ring. The oval diamond in Hailey Baldwin's ring is massive, with some experts estimating that it's around six to eight carats.
A chic and radiant oval diamond ring similar to Hailey's new engagement ring.
The setting for Baldwin's ring lets its sizable center stone shine. Baldwin's dazzling diamond is set in a slim silvery setting, which could be made of either white gold or platinum. The band of the ring is quite slim, which creates a delicate look and helps its large oval diamond look even bigger.
A dazzling oval diamond ring with a slim diamond accent band.
Bieber's choice of ring for his new fiancé shows the pop star is in tune with the latest trends. Oval diamond rings have become incredibly popular engagement rings in recent years, especially in solitaire or halo settings. This trend is likely due to the unique, yet classic look of oval diamonds, as well as the fact that oval diamonds are a great value, as they look larger per carat than similarly weighted round diamonds. But, of course, the value of oval diamond rings was something Bieber was unlikely to be thinking of, thanks to his estimated $83.5 million net worth.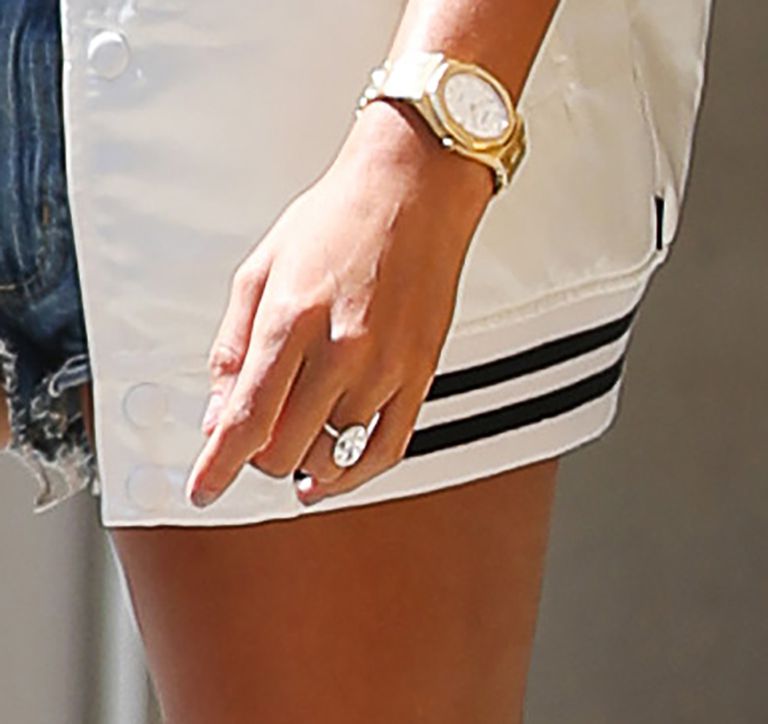 After Baldwin was spotted wearing her new engagement ring in the Bahamas, Bieber took to Instagram to officially announce their engagement. He confirmed the rumors of his engagement, saying, "Was gonna wait a while to say anything but word travels fast," and went on to profess his love for his new fiancé. Bieber also let his fans know that his choice of proposal date (the 7th on the 7th month of the year) was intentional, saying that the number seven is "the number of spiritual perfection."
The happy couple has since been spotted back home in New York, with Hailey donning her gorgeous new ring as the couple dashed around town. As of right now, we only have fan and paparazzi pictures of Hailey's beautiful new ring, since Bieber's model fiancé has yet to post a close of up of the dazzling oval diamond ring. We can't wait til we get a closer look at her gorgeous engagement ring! Congratulations to the happy couple!