Some celebs go for classic engagement rings, some want a glamorous engagement ring, and some favor unique engagement rings. While ultra-glamorous celebrity engagement rings (which usually feature massive white diamonds) tend to get talked about more, in this post we're looking at an under-appreciated celebrity engagement ring category: unique celebrity engagement rings.
Unique engagement rings are glamorous in an unexpected way. They feature unexpected silhouettes and colorful gemstones. In this post, we're taking a look at 10 of our favorite unique celebrity engagement rings, organized by their type of unique center stone. Read on to see the best of unique celebrity engagement rings!
Sapphire Rings
1. Penelope Cruz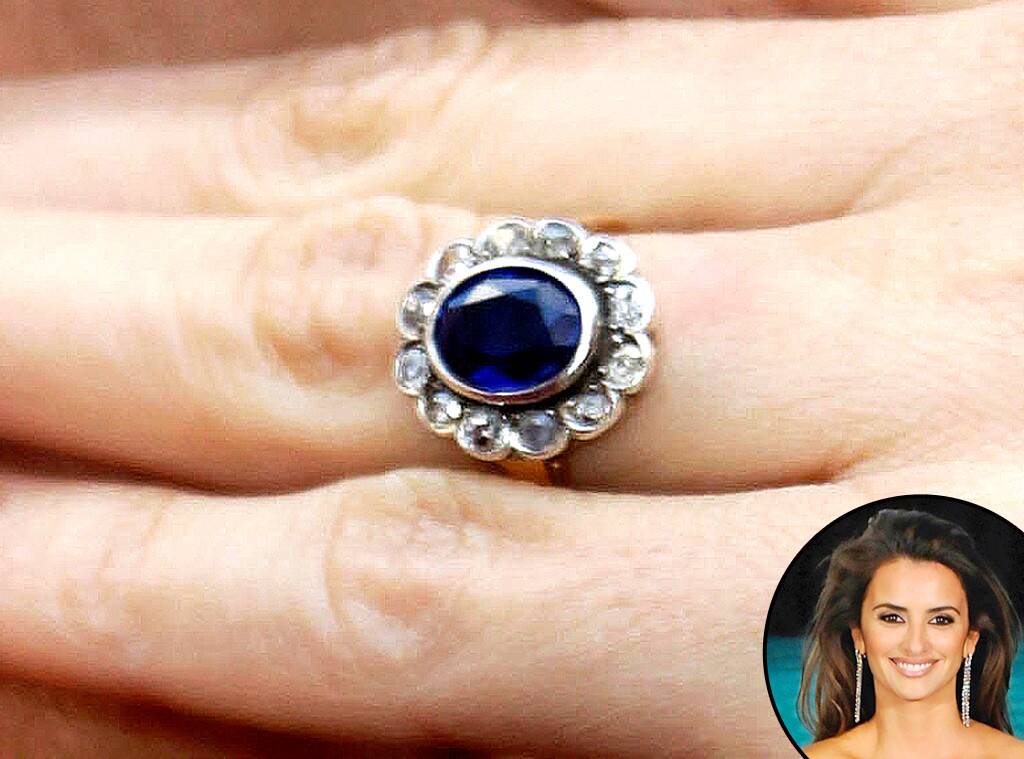 Starting off the sapphire engagement ring category, we have Penelope Cruz's engagement ring from Javier Bardem. Cruz's ring features a beautiful deep blue sapphire that's estimated to be around three carats. Her sapphire is enclosed in a floral diamond halo setting, which gives her ring a highly romantic look.
2. Elizabeth Hurley
Elizabeth Hurley's engagement ring features a breathtaking 9 carat blue sapphire. Hurley's ring also features two trillion cut white diamonds as side stones, making this a very unique three stone ring.
3. Kate Middelton
Kate Middleton's engagement ring is one of the most legendary engagement rings of all time. Middleton wears an 18 carat blue sapphire and white diamond engagement ring that was once worn by Princess Diana.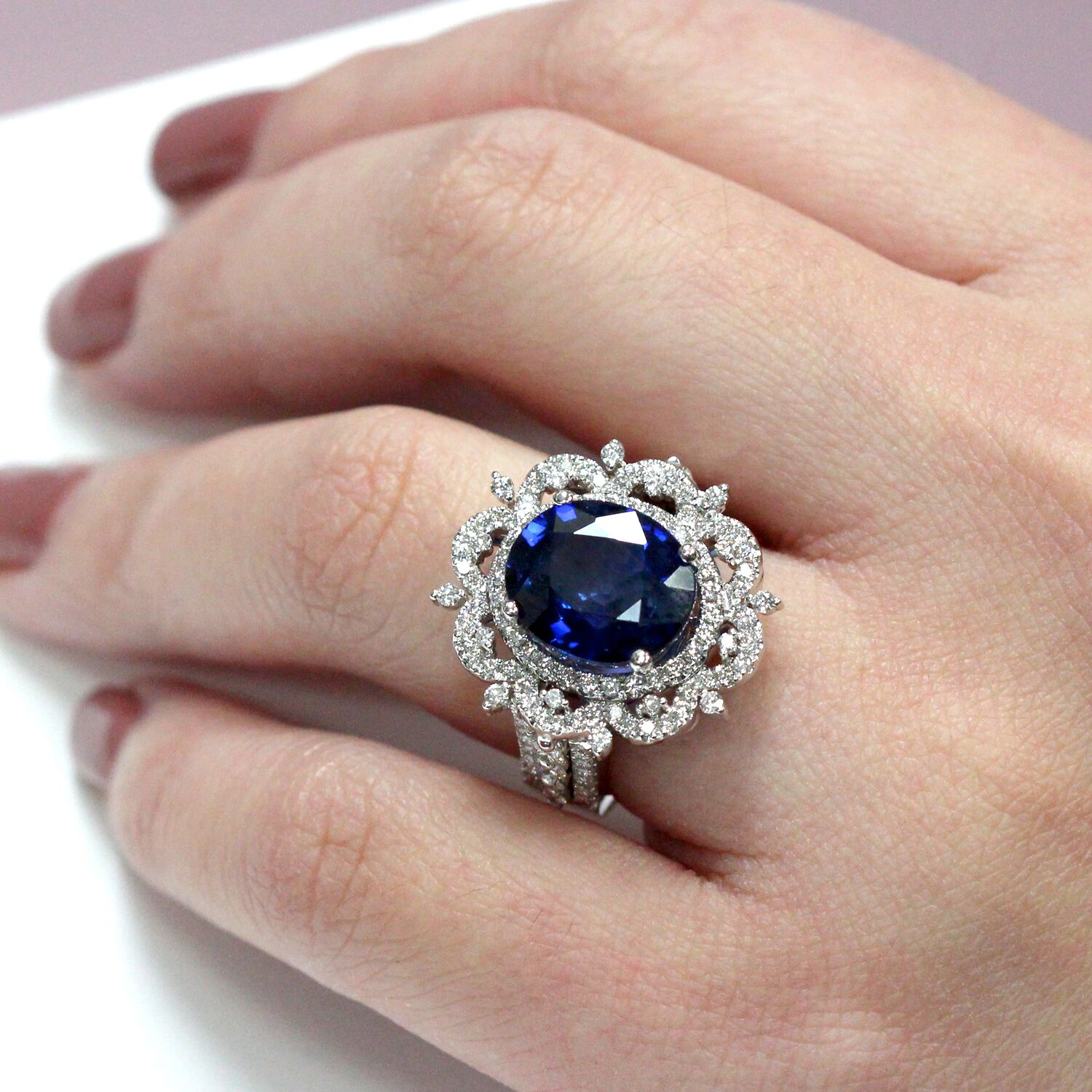 Get the Look: Celebs know that sapphires look their best when they're surrounded by white diamonds, as they are are in the Mya Ring. In this design, an incredibly beautiful 10.15 carat blue sapphire is surrounded by an intricately detailed diamond halo comprised of round and marquise diamonds.
Colored Diamond Rings
4. Blake Lively's Pink Diamond Engagement Ring
Blake Lively's engagement ring, given to her by her now husband Ryan Reynolds, is a unique colored diamond engagement ring. Lively's ring features a massive oval cut light pink diamond (it's thought to be around 12 carats!). The setting for this stunning engagement ring is crafted from rose gold, which beautifully complements the pink hue of her diamond.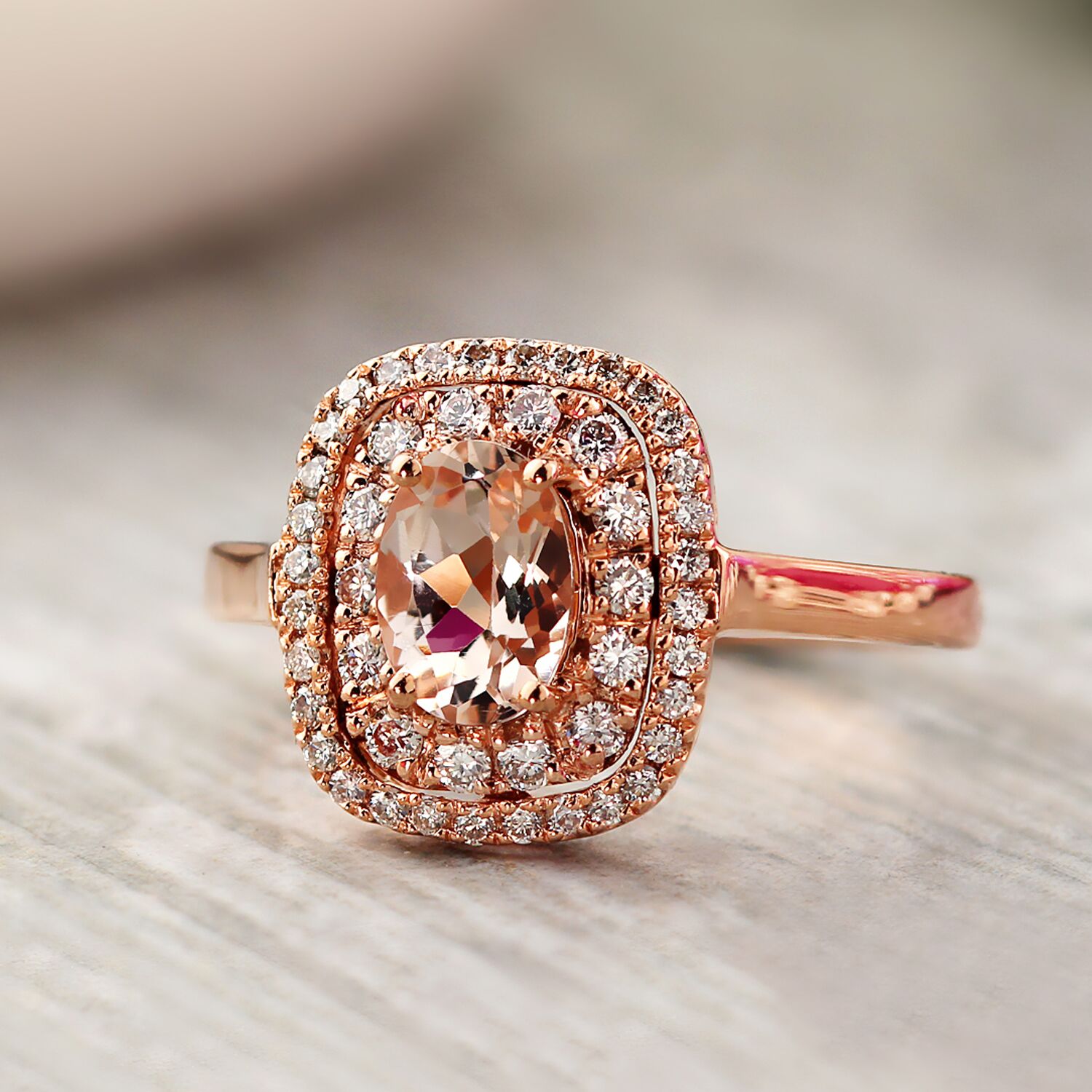 Get the Look For Less: For a much more affordable version of Blake Lively's massive oval cut pink diamond engagement ring, try an oval cut morganite engagement ring like the Hazel Ring. This glamorous engagement ring features an oval cut pink morganite surrounded by two cushion shaped diamond halos.
Ruby Rings
5. Jessica Simpson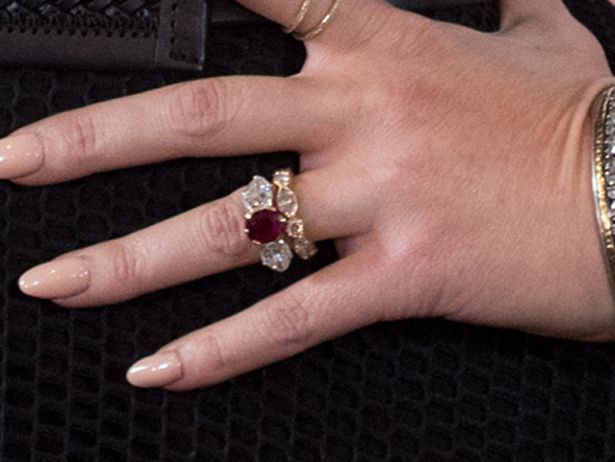 Jessica Simpson heads a trendy, modern fashion line that's decidedly mainstream. Her engagement ring, on the other hand, is anything but. Simpson wears a unique three stone ruby engagement ring, which has a 5 carat ruby at its center and two pear shaped diamonds as the ring's side stones.
6. Ashlee Simpson
Jessica Simpson's sister Ashlee Simpson also rocks a ruby engagement ring, though hers has a very different style. Ashlee, who changed her last name to Ross after marrying Evan Ross, has a one-of-a-kind Edwardian Era-inspired ruby and white diamond engagement ring that was designed by jeweler Neil Lane.
7. Victoria Beckham
Victoria Beckham has not one, but thirteen engagement rings, all from her husband David Beckham. We're currently honing in on her 2009 engagement ring look starring a breathtakingly beautiful and massive oval cut ruby gemstone with a diamond encrusted halo.
Feeling inspired by these ruby engagement rings?  View our Ruby Engagement Ring Collection.
Emerald Engagement Rings
8. Halle Berry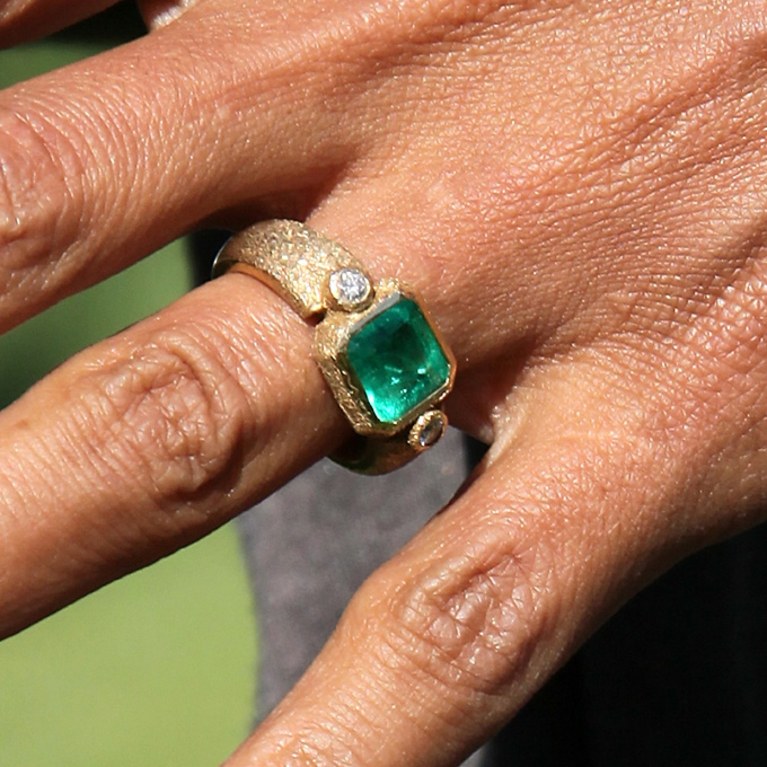 First up in the emerald engagement ring category, we have Halle Berry's yellow gold and emerald ring. Halle Berry's ring, which is modern yet has an antique look, was created for Berry by Parisian jeweler Robert Mazio. It features a four carat emerald at its center and, supposedly, it contains hidden codes that only the wearer can see.
9. Olivia Wilde
Though Olivia Wilde's engagement ring has a diamond as its center stone, its extremely eye-catching and unique, thanks to its unusual halo setting. Wilde's engagement ring has an emerald halo setting, which her husband Jason Sudeikis said he selected because the emeralds reminded him of Wilde's beautiful green eyes.
10. Jackie Kennedy
Jackie Kennedy's engagement ring is one of the most famous engagement rings in modern history. When John F. Kennedy proposed to Jackie O, he presented her with an engagement ring with two center stones: a 2 carat emerald cut diamond and a two carat emerald cut diamond. While this ring originally featured baguette diamonds along its band, Jackie Kennedy had the band revamped during her time as First Lady, swapping out the baguette diamonds for marquise and round brilliant diamonds.
Do you think the unique green emerald could be right for your engagement ring? Explore our Emerald Engagement Ring Collection.