Any bride lucky enough to have a summer wedding should take full advantage of the warm, sunshine-filled day that brings about a captivating vibrancy and exuberance to the already special day. The summer day also provides the perfect setting for the most special person of the day, the bride, to shine her absolute brightest. While the dress is undoubtedly the most important aspect of a bride's look, the jewelry that complements her dress and engagement ring cannot be overlooked. A bride's jewelry has the ability to bring her whole look together and add the perfect finishing touch. In this article, our expert team at DiamondWish.com suggests jewelry pieces for three different bridal looks that will make a bride shine brighter than the sun at her summer wedding.
For the Rose Gold Bride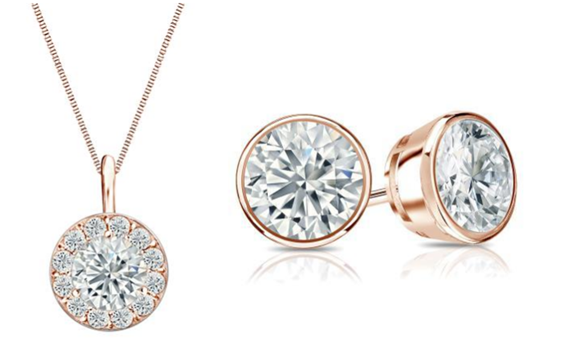 One of our favorite combinations brings about a true one-of-a-kind look for a bride in an elegant white wedding dress paired flawlessly with rose gold jewelry. The rose gold jewelry provides a dashing finish that fits perfectly with the summer season. This breathtaking diamond pendant features a halo setting wrapped in 14K rose gold. Together with these diamond stud earrings that feature a 14K rose gold bezel setting, this jewelry set creates an ultra-sophisticated yet understated look that is perfect for a summer bride.
Find this look here: Bezel Diamond Stud Earrings in Rose Gold, Halo Diamond Pendant in Rose Gold
For the Classic Bride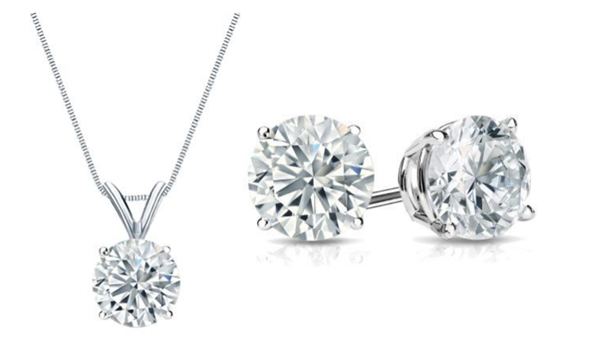 A bride who wants a classic look on her big day is making a very wise decision that she is sure to be happy about when looking at her wedding pictures years from now. A diamond solitaire pendant paired with basket diamond studs is a definitively timeless look that can take a bride to the next level. The bonus: you can wear this jewelry for a long time after your big day!
Find this look here: Basket Diamond Stud Earrings, Diamond Solitaire Pendant
For the Modern Bride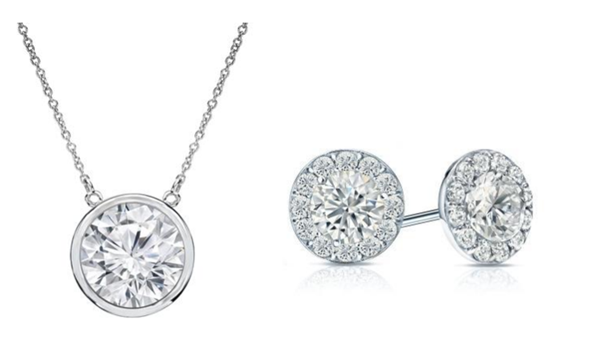 If you're a trendy bride who wants to be up on the latest fashion, our last bridal jewelry suggestions are specifically for you. It's your big day and your look will determine a lot of how you feel, so be sure to choose jewelry pieces that you absolutely love! Our first suggestion for a modern bride is a simple-yet-sophisticated diamond solitaire pendant with a bezel setting. The bezel setting makes a bold fashion statement without overdoing it. For earrings for the modern bride, our choice was clear: halo diamond studs. The halo setting is currently one of the most popular, and with these halo diamond studs you are sure to shine your brightest at your summer wedding.
Find the look here: Halo Diamond Stud Earrings, Bezel Diamond Solitaire Pendant