It's the most wonderful time of the year: winter wedding season! Winter weddings have a charm and magic all their own. And this year's winter wedding season brings with it a ton of fun trends to help light up your wedding night. Ready to learn all about this season's dazzling trends? Here are the seven winter wedding ideas we are loving this year.
Leather and Lace
Photo Courtesy of Monique Lhuillier
This fall, we saw sweaters with wedding gowns emerge as a huge trend. This winter, it's all about leather. You can pair a white leather jacket with your wedding gown to add a cool (but warming) touch to your wedding day look. And, of course, you can wear a vegan leather jacket if you prefer not to wear real leather.
Mixed Patterns
A big trend this year is mixing patterns. Brides are getting creative and straying away from the traditional rule of having only one pattern used in their wedding decor. This year, you'll see plaids, polka dots, stripes, and many more patterns mixing things up at weddings across the world. A good rule of thumb if you're thinking of mixing patterns: stick to a simple color palette, with just one or two colors used in your patterns. This will help make sure your mixed patterns still have an elegant feel.
Icy Flowers
The biggest winter trend in florals is ice-y flowers. Suspending your wedding blooms (whether it be all or just a few) in blocks of ice is a gorgeous way to showcase your flowers. This is a newly emerging trend so, you may not have seen it yet, but you're sure to see these icy blooms popping up everywhere this winter. If you want to try this trend but don't want to go full ice block, you can try a variation on the trend by putting flowers in your ice buckets or freezing small blooms into ice cubes for your guests to enjoy with their cocktails.
Velvet Touches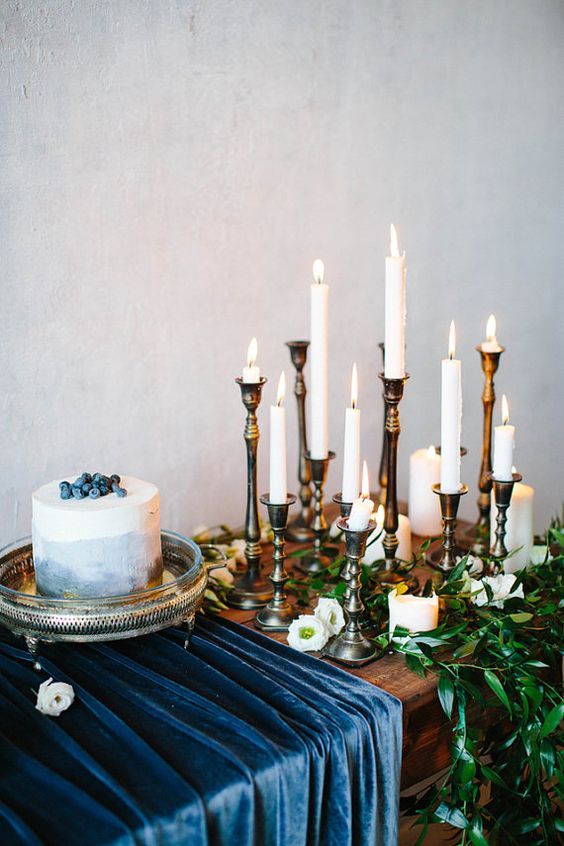 Using velvet to decorate your wedding is a great way to add a luxe winter touch. There are so many ways to use velvet to enhance your wedding, whether it be decking out your groomsmen with velvet pocket squares or wrapping your floral arrangements with a soft velvet ribbon.
Neon Lights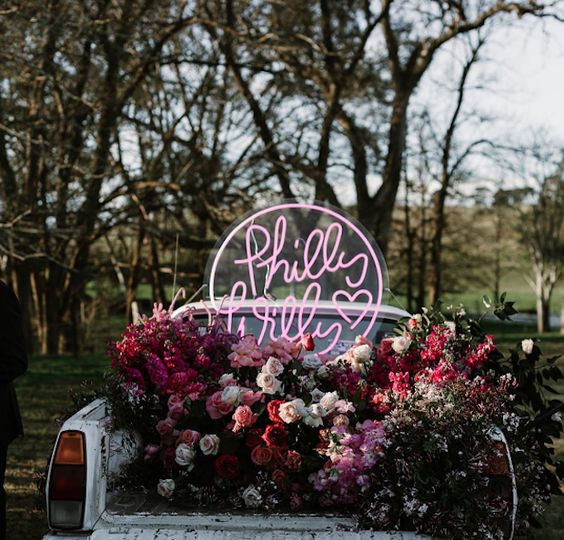 Photo Courtesy of Electric Confetti
Neon signs have a retro appeal yet also look new and fresh when used outside of one of their more common locations (i.e., a bar or a restaurant). We absolutely love the trend of incorporating neon into your wedding. Using a neon sign to decorate your wedding is a fun and beautiful touch that your guests are sure to remember.
Metallic Cakes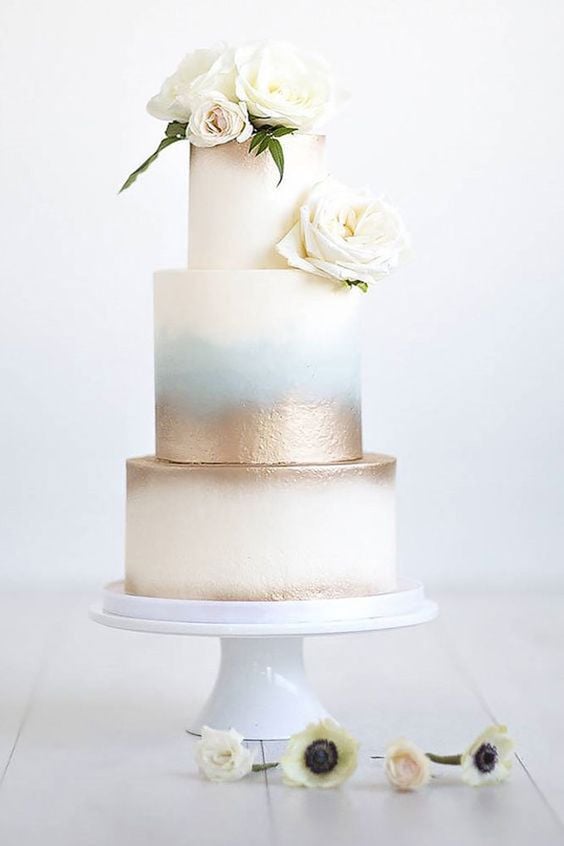 Photo Courtesy of Cake by Nicole
Adding a metallic touch to your wedding cake is a great way to add some extra winter magic to your wedding. You can go full metallic with a cake frosted in gold or silver or simply add some metallic touches, like a glittering cake stand or shimmering decorations. You don't have to stick with just traditional metallics, either. You could use bronze, copper, rose gold, or even use a colorful metallic shade.
Food and Drink Pairings
Many guests are in for a treat this wedding season. That's because food and drink pairings are all the rage this year. Fun wedding foods, like taco bars or s'mores stations, have been popular for a few years. But, this year, many brides and grooms are treating their guests to multiple customized drink pairings. From serving mini tacos with margaritas to serving spiked apple cider with pie, there are so many combinations waiting to delight wedding guests this winter.