If you're a TV-lover, why not take a cue from the small screen for your Halloween costume this year? In this post, we've put together a list of 12 amazing Halloween costume ideas for the TV buff to give you some costume inspiration. Whether you want to go with something that's glam, creepy, funny, or nostalgic, we've got just the costume idea for you.
1.CatDog
This CatDog costume scores high on both nostalgia and creativity. This is a great couples costume (or BFF costume) that will be a big hit among those who have fond memories of watching this Nickelodeon series. This costume is also easily DIYed— just make sure you remember to include the iconic CatDog sign from the show's opening.
2. The Addams Family: Wednesday and Pugsley
If you're searching for a creepy Halloween costume, there's no better choice than going as a member of the iconically macabre Addams Family. If you have a group, you can go as the whole family or you could do Wednesday and Pugsley if you're looking for a two person option. Remember to use props to your advantage to complete your costume, like this perfectly executed Wednesday and Pugsley did.
3. Mindy from The Mindy Project
Who doesn't love Mindy Kaling? If you're a big fan of her hilarious show The Mindy Project, consider going as Dr. Mindy Lahiri. Just top a colorful business casual outfit with a lab coat, be sure to include some key accessories (Mindy loves a statement earring), and complete your look with some long dark locks.
4. Joan from Mad Men
Get into the retro vibe this Halloween by dressing up as Joan from Mad Men. Joan essentials include a jewel toned, form fitting dress and her signature red hair. To complete you look, try pairing your dress with some retro statement jewelry and a 60s cocktail.
5. The Spartan Cheerleaders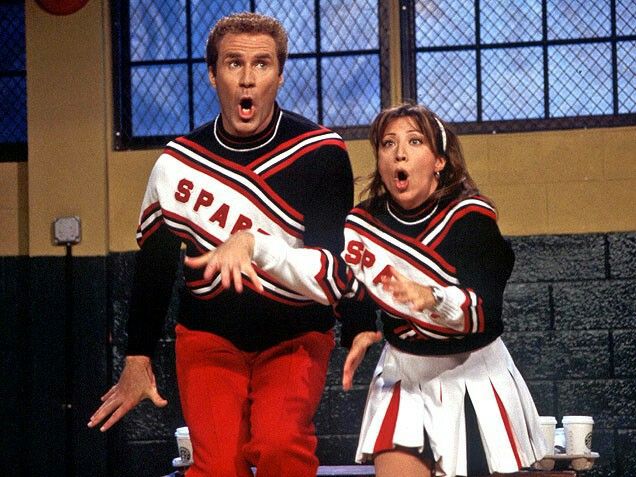 Here's a couple's costume that'll have you (and all your friends) laughing all night long: the Spartan Cheerleaders from SNL. This costume comes with built in poses that you can bust out every time you take a picture. And if you want to really get in the spirit, try learning one of the Spartan Cheerleaders' cheers before Halloween so you can be ready to perform.
6. The Rugrats
Continuing with the nostalgia theme, The Rugrats babies make a hilarious group costume that every 90s baby will love. You'll definitely want to have the core four Rugrats characters for this one, so make sure you have your Tommy, Chuckie, Phil, and Lil lined up. If you have more than four people, you can draw from the extended cast and choose from characters like Angelica, Susie, Dylan, Kimi, Reptar, or the parents to round out your crew.
7. The Adventure Time Characters

If you're a fan of the quirky hit show Adventure Time, you have your pick of fun characters to dress up as. Everyone on this show has a memorable look, so choose the one that you love most and get your catchphrase ready. Or, take a cue from this group and go as the whole Adventure Time gang.
8. Arthur
Arthur is the lovable cartoon aardvark who taught many children how to handle the challenges of growing up. He's also been back in the public consciousness lately, thanks to the popular "Arthur's fist" meme. Arthur costume musts include his signature yellow sweater, his round glasses, his jeans, and his round ears.
9. Bob Ross
Bob Ross is perhaps the most famous painting teacher of all time, thanks to his ultra relaxing The Joy of Painting series. He also has an iconic look that is easy to replicate in a costume. Essentials for a Bob Ross look include a light blue button up, blue jeans, big curly hair, a palette, and a paintbrush.
10. Edina and Patsy from Absolutely Fabulous
Absolutely Fabulous is a classic British sitcom with some wild characters and even wilder ensembles. The show's two leads, Edina and Patsy, are never afraid to be bold with their fashion choices, making them both excellent Halloween costume options. Be sure to round out your Edina or Patsy costume with some key accessories, like a graphic print purse and a fabulous wig.