Photo Courtesy of Alex's Instagram
Spring is here, which means engagement season is now in full swing. Couples all around the world are making the decision to tie the knot— and celebrity couples are no exception. We've already seen some pretty spectacular celebrity engagement rings in 2019. But Jennifer Lopez's new engagement ring might be the most stunning of all.
The actress and singer's new fiancé Alex Rodriguez (more popularly known by his nickname "A-Rod") announced their engagement through sharing a photo of J-Lo's engagement ring on Instagram. In the picture, captioned "she said yes," we get a close-up view of Lopez's breathtaking diamond ring.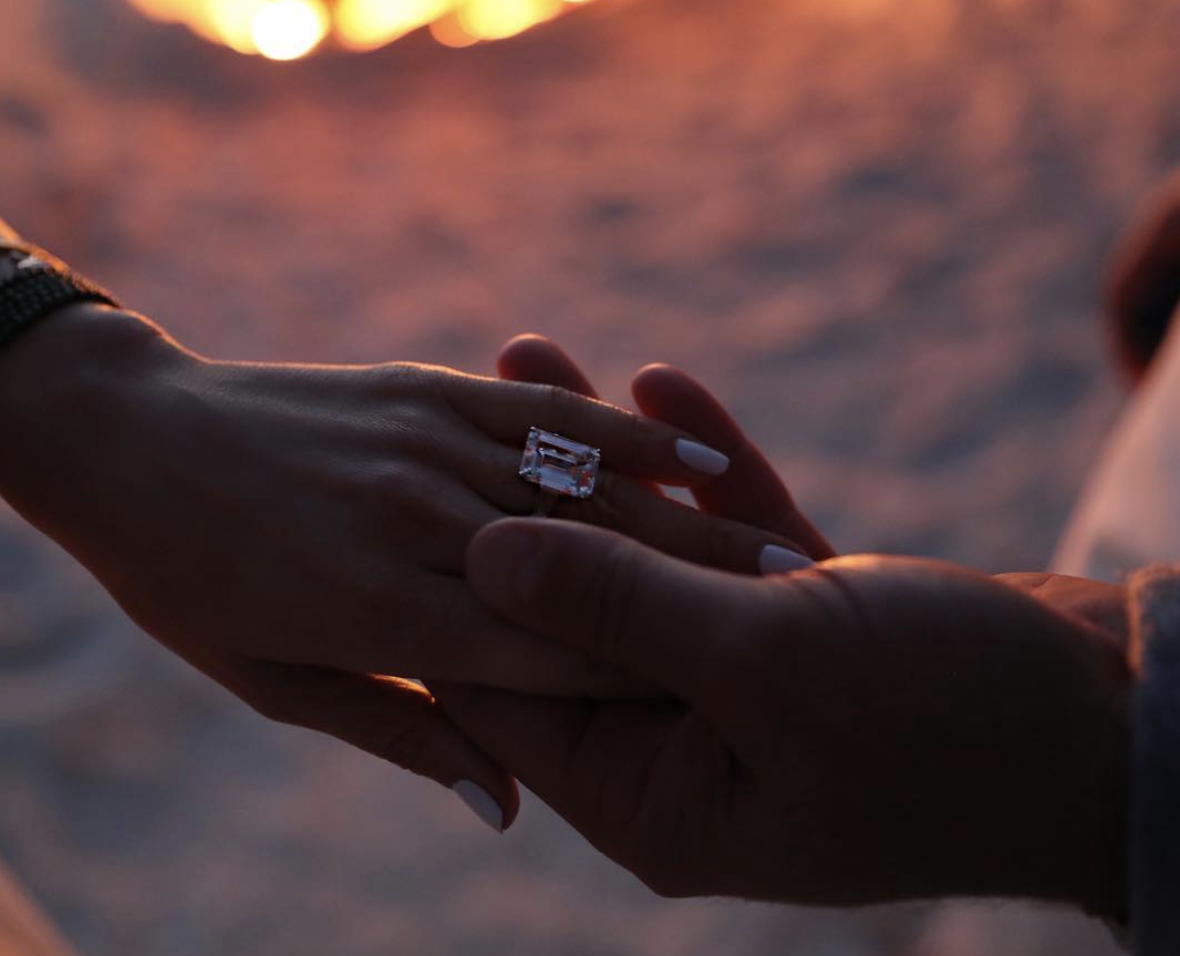 Photo Courtesy of Alex's Instagram
J-Lo's engagement ring features an emerald cut diamond in a chic solitaire setting. And her center diamond is truly something to behold. It appears to be between 10 and 15 carats and looks remarkably clear. Experts are estimating that her ring is worth somewhere between $1 million and $5 million dollars.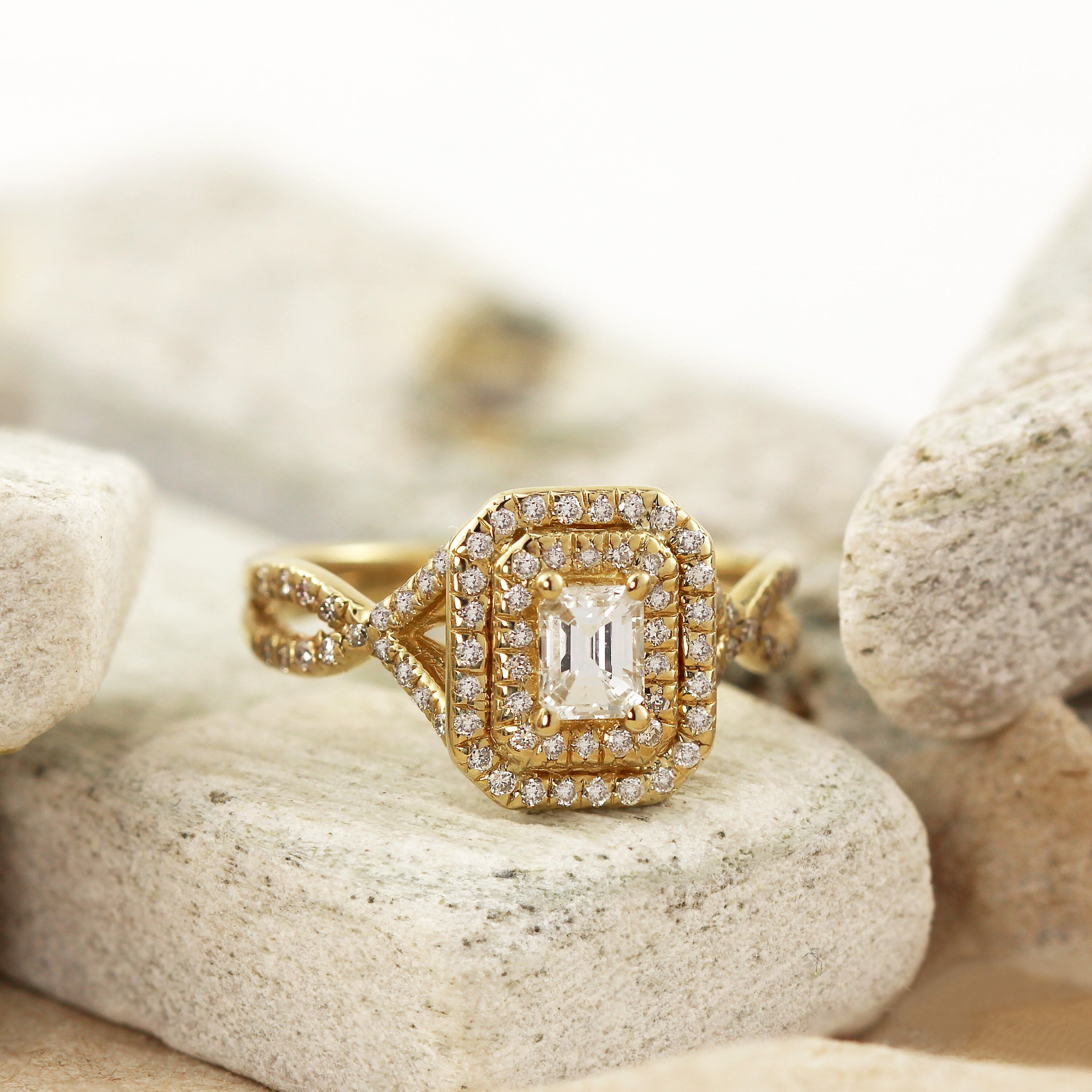 Featured is the Natalia engagement ring with an emerald cut diamond, double diamond halo, diamond paved criss cross shank, and yellow gold.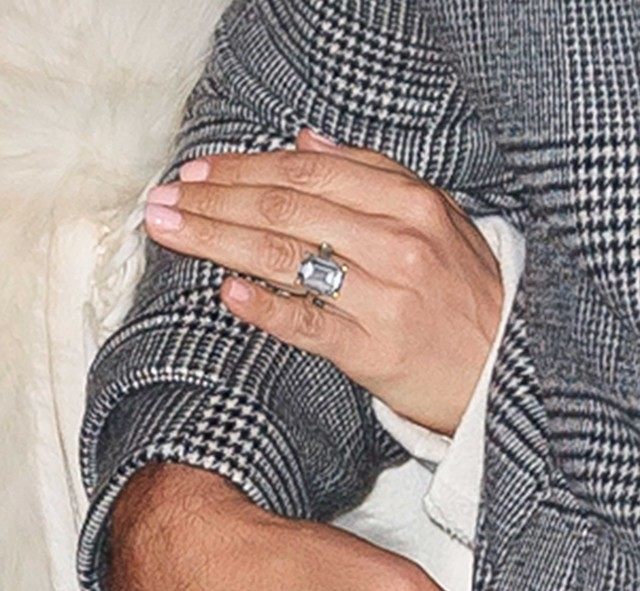 Photo Courtesy of E Online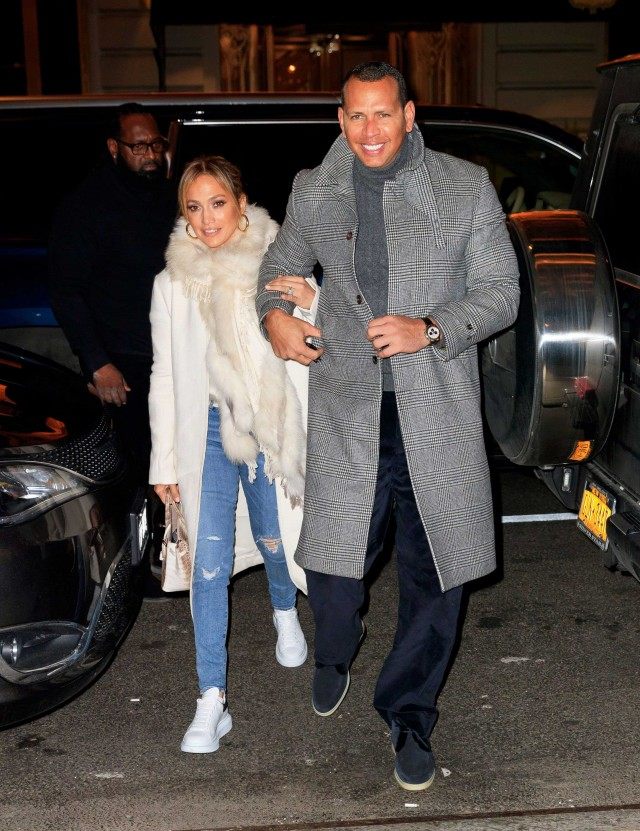 Photo Courtesy of E Online
Lopez was also photographed wearing her new ring after her engagement out in New York City this week. While neither J-Lo or A-Rod have revealed the jeweler who made her ring, their outing gave us an opportunity to see it in a different light and speculate on the details.
We got to see an Lopez's ring in even better lighting as the couple was spotted leaving a gym in Miami. In these photos, you can see that Lopez's setting is crafted from either platinum or white gold. And in natural light, you can see just how impeccable the quality of her emerald cut diamond really is. It looks spectacularly white, even against its white setting, and beautifully clear.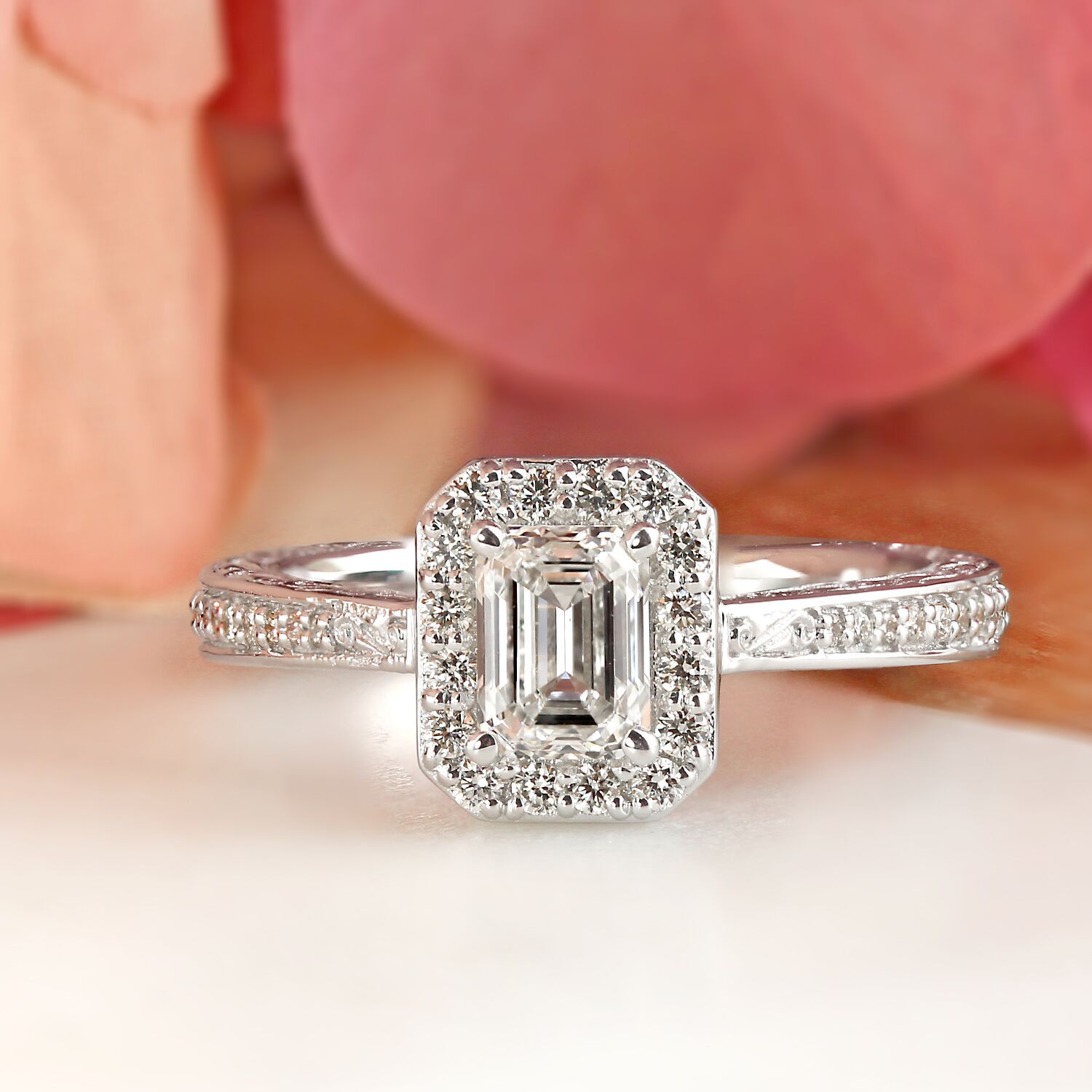 Get the Look: The Nora Ring's delicate emerald-shaped solitaire halo echoes the impressive size of Lopez's engagement ring.
Emerald cut diamonds have become incredibly popular for celebrity engagement rings lately. Jennifer Lawrence, Anne Hathaway, Amal Clooney, and Beyonce all have emerald cut engagement rings. But it would seem that J-Lo isn't hopping onto a trend. Based on her previous engagement rings, Lopez seems to favor emerald cut diamonds and the similarly shaped radiant cut diamond. Lopez wore an emerald cut engagement ring when engaged to Cris Judd and had two separate radiant cut engagement rings (a pink radiant cut diamond from her relationship with Ben Affleck and a blue radiant cut diamond from her relationship with Marc Anthony).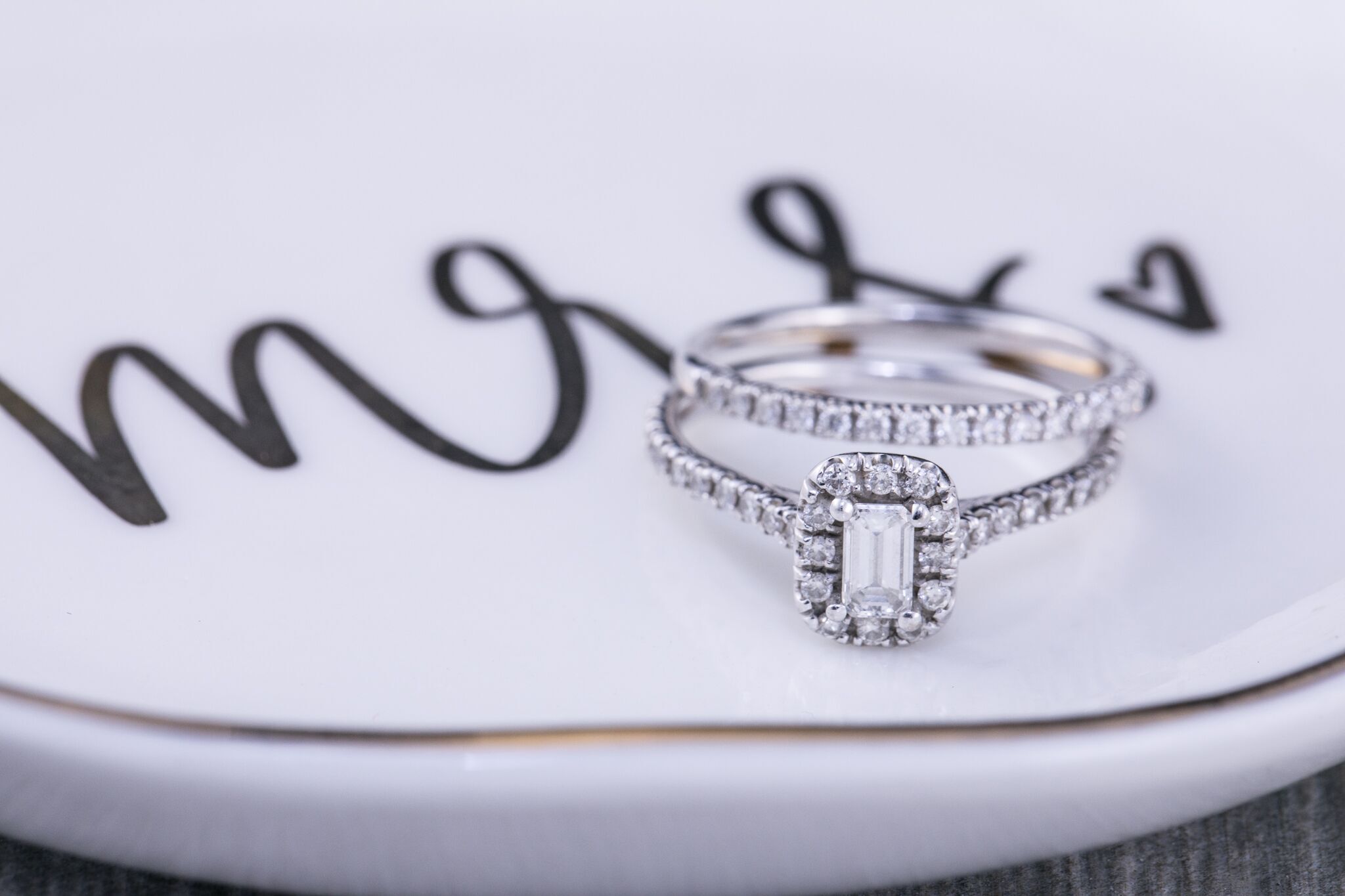 Get the Look: The Merilyn Ring offers a romantic variation on Lopez's emerald cut engagement ring.
While all of Lopez's engagement rings have been beautiful, her new white emerald cut solitaire engagement ring may be the most gorgeous of the bunch. Congratulations to the happy couple!